When longtime Eugeneans decided to build another home, they knew they wanted something that was posh and elegant, but also comfy and inviting, especially for their three children. Armed with eager anticipation and a slew of ideas, the couple quickly enlisted the help of their friend and home designer Dan Cooper, owner of DC Eugene, who succeeded in creating a unique domicile that met all their needs.
Situated on a one-acre plot in the Southeast Hills neighborhood, the 5,800-square-foot home was completed last summer. The dwelling boasts five bedrooms, five bathrooms, a huge kitchen with top-of-the-line appliances, a grand entrance with a Hollywood-inspired staircase, and a game room that comes equipped with a TV sound system, a sports bar, and a billiards table. In addition, the backyard features a pool, a fire pit, a spa, and an outdoor deck that offers jaw-dropping views of Oregon's natural beauty.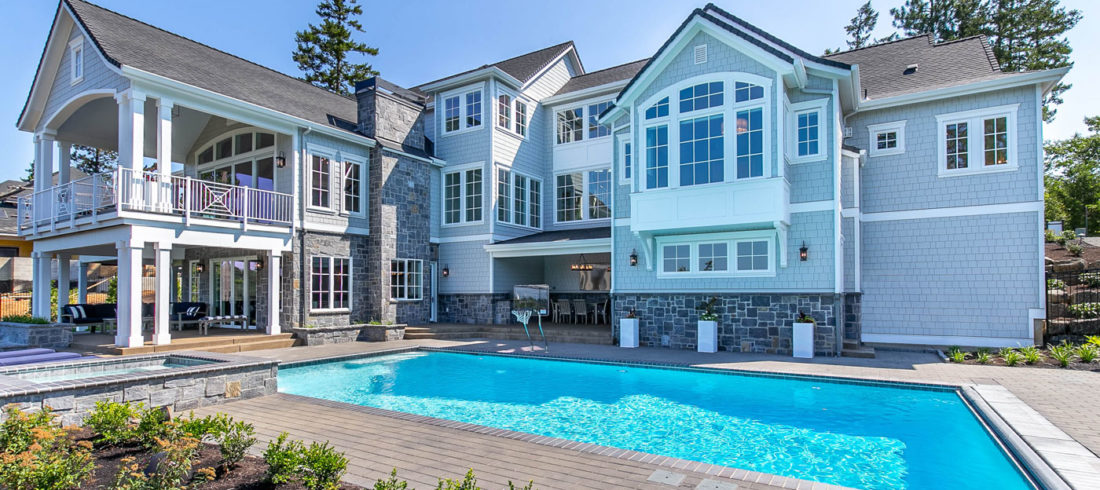 "Probably our favorite spot is the outdoor deck," the husband says. "We enjoy sitting up on the deck and looking at the peacefulness of the valley and the sunset. We can see Spencer Butte to the left and a little bit of the city to the right. We didn't realize how nice the view would be."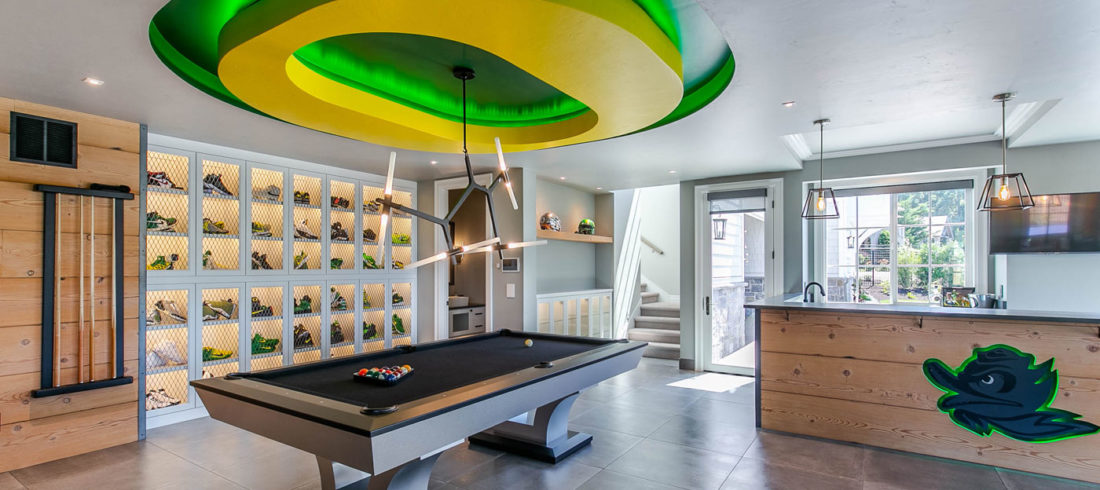 Their second favorite spot, he adds, is definitely the game room. Since he and his wife are both University of Oregon graduates and avid Duck fans, it was important for them to have a special room to honor their beloved team. He explains that his wife's grandfather played for the Oregon Ducks' 1939 NCAA Champion basketball team, for which he received a special blanket. That blanket, which has the Oregon "O" and his name on it, is on display in the game room, as is a Nike shoe collection (42 pairs of Oregon Duck Nikes).
He notes that finding the right style for the house was simplified due to Dan Cooper's extensive experience. "Dan knew our tastes, which made it easy for us to make good choices," he says.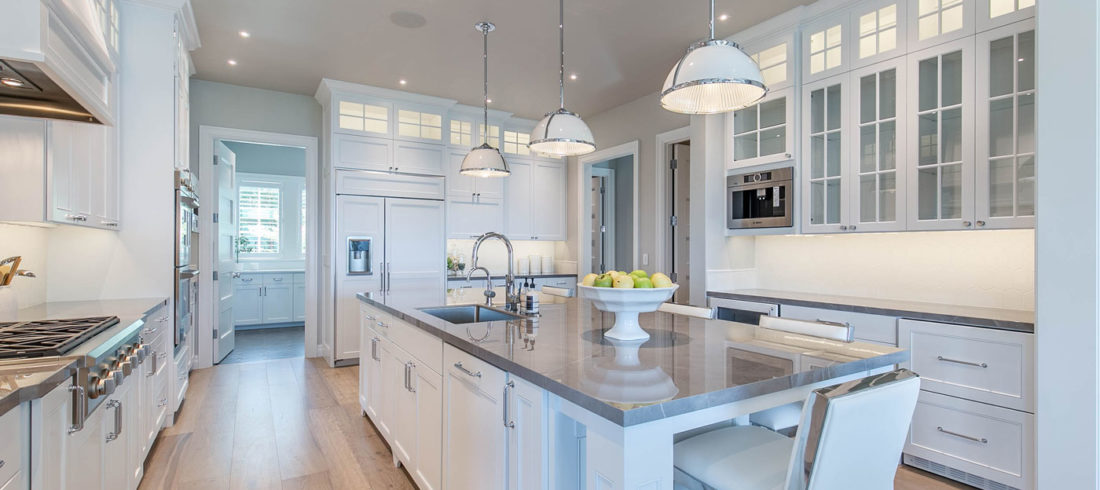 "My wife loves to cook, so the kitchen was a huge focus—having a light and bright space and really good appliances," he says. "And the color scheme—we have pretty neutral tastes. The house has a lot of different variations of gray and silver, a neutral, long-term-lasting look that doesn't go out of style."
The primary focus of the new house was "designing spaces that worked well for daily living, entertaining with friends and family, my husband working from home, and for our kids to be comfortable with their space as well," she says. "This led to designing a level for entertaining indoors and outdoors at the bottom level with the bar and pool, the street level having the normal daily living and home office, and the upstairs level being focused on the kids."
Cooper, who designed and built a home for the couple more than a decade ago, says he was thrilled when they requested a second project. "They asked me to do a new home for them in a New England shingle style, a casual version of their prior home," he says. "Their prior home was a little more formal, this one was a little more casual."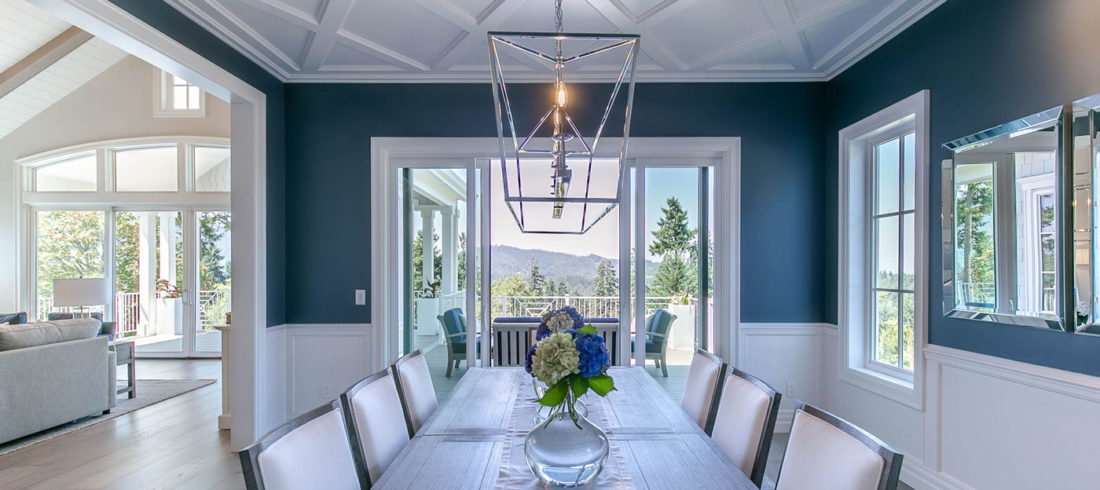 Cooper and his team added some unique features that reflect the couple's individual style, too. "The one thing that we do in-house is all of our finish work," he says. "We came up with diamond-shaped patterns on the ceiling in the dining room, and for the great room, the vaulted ceiling is made of stained oak beams and shiplap (paneling that locks together)."
Aside from the ceilings, Cooper says he's particularly proud of the home's entrance with its massive double doors that, when opened, reveal a one-of-a-kind spiral staircase. "That's what welcomes you when you walk in the front door: a beautiful staircase and a beautiful view of the west hills."
The couple "gave us a lot of trust as to how this would all come together," Cooper says. "The house was designed around the family—it was about designing a home [in which] they can grow and evolve."
RESOURCES
DC Eugene, DC Design & Consulting | 1369 W 6th Ave., Ste. 220 | 541/344-3234 | dceugene.com
Hardwood Paz | 750 Commercial St. | 541/736-3873 | hardwoodpaz.org
Kelly's Appliances | 1465 W 7th Ave. | 541/485-6000 | kellyshomecenter.com
Kustom Kraft Cabinets | 697 34th St., #1, Springfield | 541/242-0530 | kustomkraftcabinets.com
McKenzie Stone & Tile | 4085 W 11th Ave., Ste. 3 | 541/342-8366 | mckenziesurfaces.com
Northwest Tile Inc. | PO Box 352, Brownsville | 541/206-0660
Rutledge Staircase and Handrail | 27711 Clear Lake Rd. | 541/461-6800 | rutledgestaircase.com
Sunset Electric Inc. | 34706 Seavey Loop Rd. | 541/741-3885