The exhilaration of building your own home is a time full of anticipation and optimism unlike anything else. It's an amazing opportunity to create your own living space by selecting everything from the fixtures to the floors to the fine details that match your individual style. And more importantly, it allows you to watch this highly personal creation come to life right before your eyes.
That's exactly what Ron and Colleen Howard experienced when they built their custom dream house on the picturesque banks of the McKenzie River. The couple relied on the guidance of longtime friend and local architect Dan Hill to oversee the entire building process. The result? An exquisite eco-friendly property that allows the river setting to be enjoyed all year-round thanks to an expansive cantilevered deck, large triple-sliding glass doors, unobstructed views, and easy access. Each room, other than storage areas, has abundant natural light and a framed view of the spectacular surroundings.
The couple purchased the five-acre parcel in 2017. "It was untouched ground and needed a lot of infrastructure," says Ron, a retired businessman. "We had to do some tree removal, but not much. Our goal was to build as green a house as possible. We had to build a road, we had to build a septic system, and we had to build a well. It really was starting from scratch."
The almost 4,000-square-foot house features a master bedroom with a bathroom on one side of the house and two additional bedrooms with bathrooms on the other side. "In between those two areas, we have what's called the great room that includes the kitchen and dining area and a big stone fireplace," he says. "And we have glass windows all the way across where the river is."
Ron appreciates the high ceilings of the great room, which makes it feel very open and inviting. The dwelling also features large Douglas fir beams (both interior and exterior), as well as a 1,000-square-foot. bamboo deck. Outdoors, there's a swimming pool, a pool house, a fenced garden area, and two pickleball courts.
"I love sitting out on the deck because the view is beautiful," says Ron, "but I really love the great room. It's perfect for entertaining."

Colleen, who is also retired after spending almost three decades in wine sales, also agrees that the great room is her preferred area because that's where the kitchen is and that's where she entertains. "The kitchen has two islands, two dishwashers, and two ovens," she says. "That way, I can actually cook for many people. I love nothing more than cooking in the kitchen."
She knew from the outset that she wanted her dream home to be casual and inviting, comfortable and warm, yet sleek. "We kind of put it into Dan's hands because he's so good at what he does, and we ended up building this beautiful house," she says. "We couldn't have picked a more beautiful place to live. We're very happy here."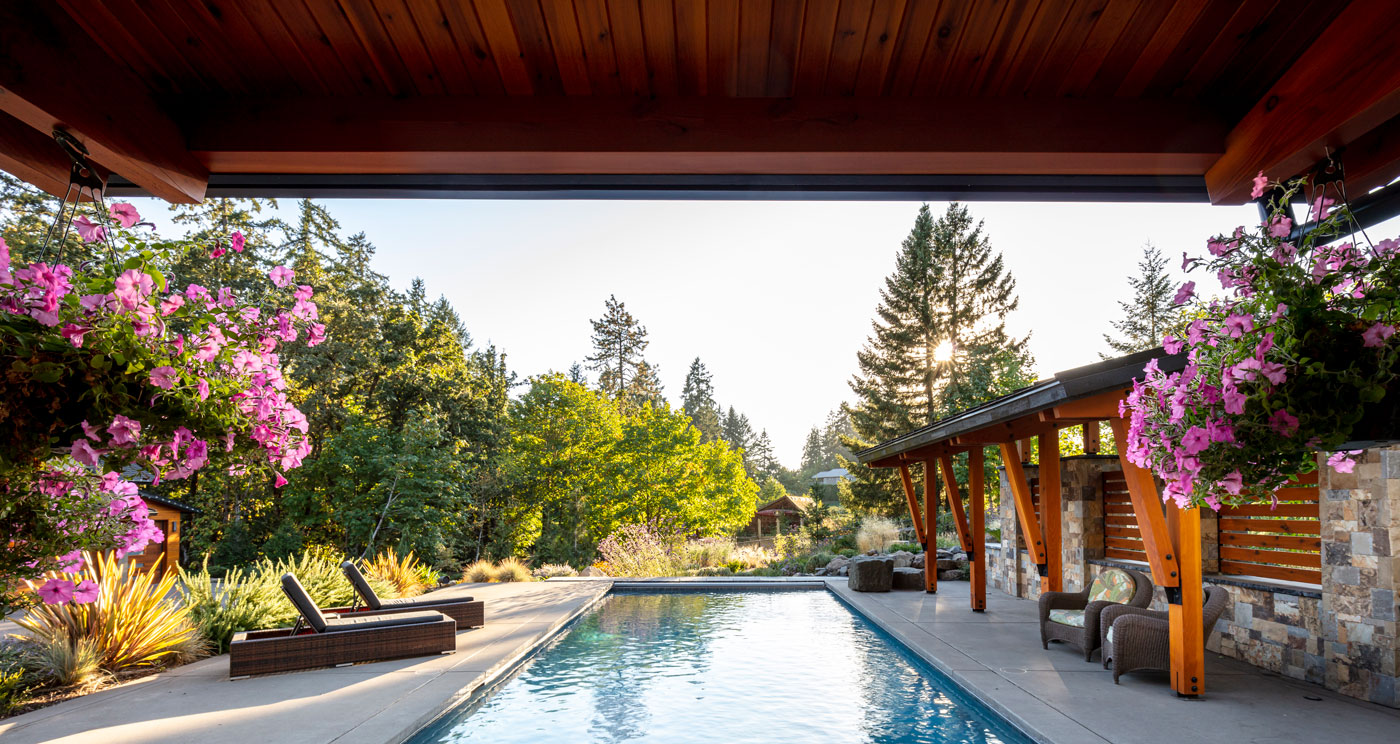 Hill, co-founder of Arbor South Architecture in Eugene and project architect on the Howards' home, says his primary goal was to create a Northwest contemporary structure that represented both of his clients' personalities. "They're both friendly and inviting people, and they wanted that to be reflected in their home," he says, adding that the location is a "real magical spot on the river."
Hill's colleagues, interior designer Sarah Ambrose and intern architect Ryan Walla, were instrumental in designing the project's two very distinct outdoor living spaces. "The concept of the plan was that the house became linear from east to west, where almost every room in the house had a view of the river," Hill says. "The other key piece is the swimming pool, where there's this big central area. It's a really wonderful space, and it sets the stage for how fun the house is. It almost makes you feel like you're entering a resort."
Additionally, Hill says the entire building process was a great success and he singled out several folks for their outstanding contributions. These include onsite project manager David Hesla (of Seven Bridge Inc.) who played "a huge part in getting this project built. Mike Jones of Mike Jones Masonry designed and built the fireplace, which is the focal point of the great room. Hill also credited landscape architect Brad Stangland for tying the whole landscape together.
The best part of the project, Hill says, was being able to create this idyllic home for his friends. "Their openness, their trust in us was just so wonderful and it made our jobs so much more fun," Hill concludes. "I've been doing this for 40 years and I'm so blessed to have worked with such cool people."
Resources
Architecture/Interiors
Arbor South Architecture, PC, arborsouth.com
Cabinets
The Cabinet Factory, thecabinetfactoryeugene.com
Doors, Windows, Millwork, Hardware
Mid-Valley Glass & Millwork, mid-valley.com
Construction Manager
Arbor South Construction, arborsouth.com
Electrical / Low Voltage
Reynolds Electric & Plumbing, reynoldsep.com
Finish Work
Randall Pool Construction, 541/914-0128
Flooring
The Carpet Company, thecarpetcompany.biz
Foundation
3C Custom Commercial Concrete, customcommercialconcrete.com
Framing/Siding
Lamm Brothers Construction, 541/520-7691
Gas
Ferrell Gas, ferrellgas.com
Gutters and Downspouts
Expert Rain Systems, 541/935-0200
Insulation
ECI Insulation, eciinsulation.com
Masonry
Mike Jones Masonry, 541/342-4745
Mechanical
Comfort Flow Heating, Air Conditioning & Refrigeration, comfortflow.com
Overhead Doors
Overhead Door Company, overheaddoor.com
Painting
Home Styles Painting, 541/345-8000
Pool
Northwest Pool & Spa, nwpoolandspa.net
Plaster
Jeff McLaughlin Plastering, jeffmclaughlinplastering.com
Plumbing
Specialty Plumbing Co., 541/554-4384
Roofing
McKenzie Roofing, mckroof.com
Structural / Specialty Steel
Elliott Specialty Metal, elliottspecialtymetal.com
Steel And Gates
Access Control Unlimited, acusecurity.com
Tile
David Mendonca Tile, dmtile.com
Mark Bellamy Tile, bellamytile.com