When Danielle and Shallum Bivens, owners of Eugene-based homebuilder firm Nordic Homes, moved into their Ferry Street Bridge house in 2016, it was supposed to be the "forever home" for them and their four children. And it was—briefly.
A fifth child, plus interests ranging from mountain biking to boating, meant the Bivens needed more space. And they realized that while Danielle liked being in town, Shallum preferred more rural living. Plus, more land would mean "the kids could run around more," he notes, and Danielle "wanted it to be a home that our kids can all bring their friends to."
Multi-use spaces, a family room, outdoor living, and an open and integrated kitchen and living room were other must-have priorities, Shallum says.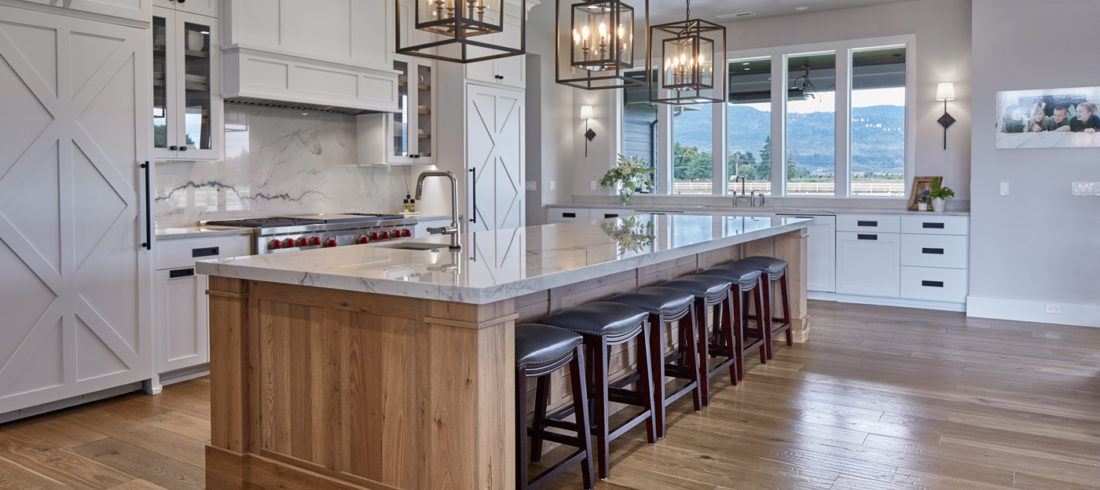 "The kids needed their own rooms," Danielle adds. "And we wanted a nice-size master suite."
When five acres just outside Coburg became available in 2016, complete with a panoramic view of the Coburg Hills, the Bivens family realized that their true forever home was the one they were about to build. The property also served as a compromise: a more rural feel for Shallum but close enough to Coburg and the Eugene/Springfield area for Danielle.
"I love that it's flat," Danielle says, "and the views are gorgeous."
Danielle and Shallum spent two years designing and building their home, employing the same process they use with their clients. Danielle envisioned a family-focused, two-story house that fit its setting with farmhouse-inspired elements but was built around bright, modern, clean lines and open spaces.
"We worked in three big congregation areas," Shallum says, referring to the kitchen island, the family room, and the fire pit on the east-facing patio. "The kids love the fire pit."
In February, the Bivens family moved into their 6,000-square-foot dream home, complete with four bathrooms, a playhouse built in under the stairs, and six bedrooms, each with a walk-in closet.
The moment you step inside, panoramic doors on the far side of the living room greet you with a view of the Coburg Hills—or as Shallum says, "bringing the outdoors indoors." Downstairs, an airy foyer leads to a spacious open living room, kitchen, and separate semi-formal dining room.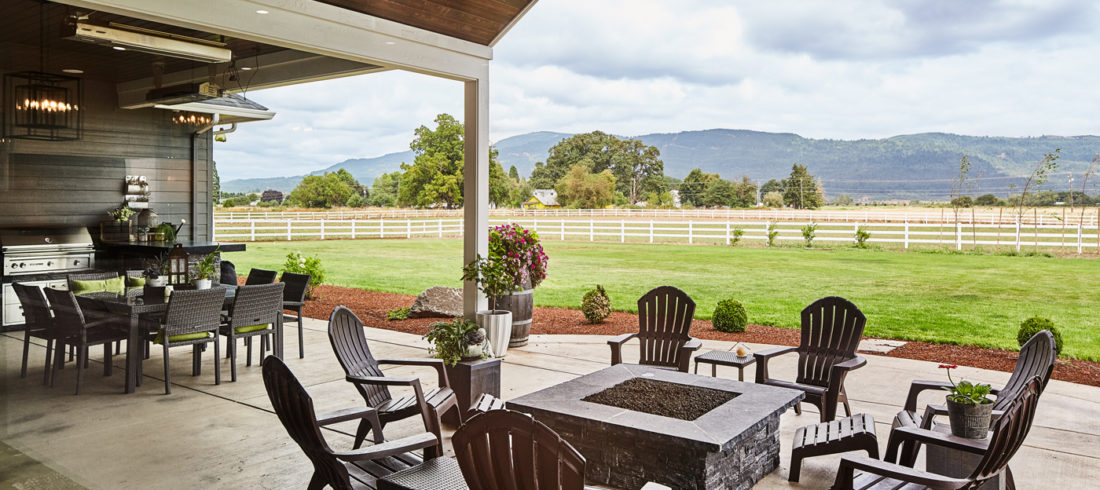 Exposed distressed dark reclaimed wood beams from Salem Salvage in Albany draw the eye to the windows. Another beam serves as the mantel for the living room's gas fireplace.
European white oak runs through the house, from the eight-inch-wide plank floors (distressed for active kids and the family's Australian labradoodle) to the cabinetry and hand-finished solid doors. Evoking a traditional farmhouse table, a large island gives ample space for meal prep, entertaining, family time, and casual eating. And while the kids usually do homework in their rooms, "if they need help, they come to the island," Shallum says.
A paneled, built-in fridge and freezer bookends the six-burner cooktop. Left of the kitchen, a butler's pantry increases food storage, prep, and refrigeration space.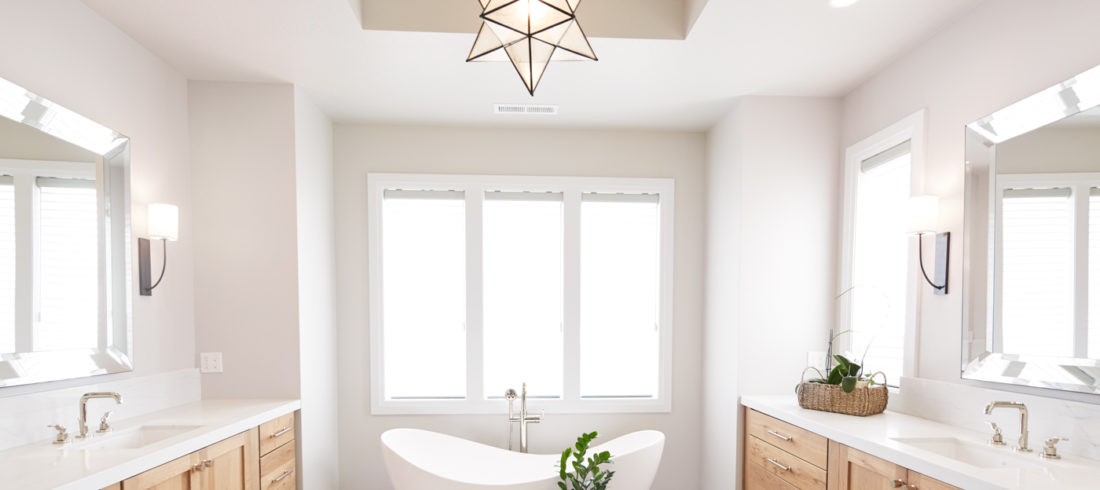 The downstairs master suite opens to his-and-hers walk-in closets, a bath with separate counters, and a free-standing, solid-surface tub—perfect for holding in the warmth of a hot bath while enjoying a view of the hills. A custom gym gives the couple space to work out together.
Their two sons have bedrooms and a shared bathroom downstairs. Follow the hand-forged steel rail from Elliott Specialty Metal in Eugene to the upstairs "girls' wing." The area includes the bedrooms and shared bathroom for their three teenage daughters. At the far end of the hall on the second floor, a multi-purpose space can serve as a guest room, play room, or sleepover central.
Add in the three-car garage, laundry and craft room, coat drop mud room, and family room (complete with a bar lined with handmade blue tile and topped with black walnut), the Bivens have space for both fun and function for their busy family.
Off the kitchen and living room, the 900-square-foot covered patio's outdoor kitchen, dining area, and fire pit provide full outdoor living. "We do s'mores on a regular basis," Danielle says. "We've brought the karaoke machine out there; we crank the music and dance by the fire."
The Bivens family knows they've now truly built the home of their dreams—and a place where their five children can always feel at home. That doesn't mean Danielle and Shallum are done, though.
"Next projects include more landscaping," Danielle says. "We'll put in flower gardens, vegetable gardens, blueberries."
Inside, though?
"We're not changing anything," she says. "We love it."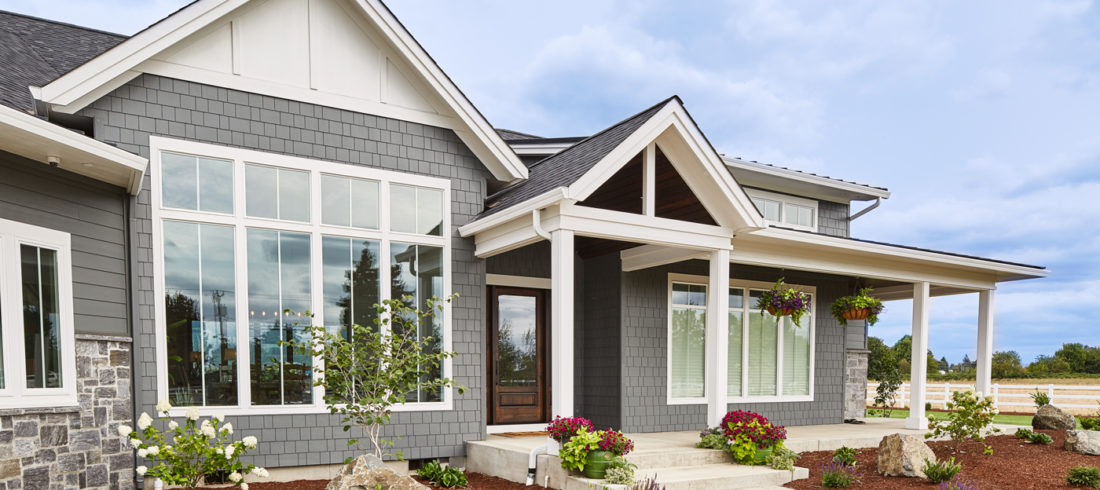 RESOURCES:
Elliott Specialty Metal, 4030 W 1st Ave., Ste. 200, 541/343-0881, elliottspecialtymetal.com
Nordic Homes, 1600 Executive Parkway, Ste. 330, 541/521-9324, nordiccustomhomes.com
Salem Salvage, 2280 Three Lakes Rd. SE, Albany, 503/754-3500, salemsalvage.com