Forget those "48 hours in some exotic destination" articles that are so common. You might not be going anywhere after all, but you also don't really need to. We've outlined 48 hours of activities to make you feel relaxed, happy, healthy, and well-fed right here at home. Dive in and follow along from Friday night dinner through Sunday dinner, or pick and choose the activities that sound the most fun to you. Consider this an at-home retreat, with some online and delivery options, and some out-of-the-house activities, too.
7 pm Friday Dinner
Eat some nourishing food. Cooking dinner at home is fun, but the point of this wellness weekend is to relax! So we're not going to start off by making dinner at home, with food to put away and dishes to wash. Laughing Planet is almost as fast as fast food but is actually healthy, and more importantly, delicious. They have gluten free, paleo-friendly, and vegan options for burritos, salads, soups, bowls, and more. Eat in, or order online and pick it up to have at home later. Or, have it delivered so if you're already home, you can stay home.
Laughing Planet, two locations: 760 Blair Blvd.; 2864 Willamette St. Suite 100, laughingplanet.com
8 pm Friday Evening
Light an aromatherapy candle from Uncommon Scents. Lavender is known to be relaxing — recent studies confirm that if you can't smell lavender's fragrant compounds, it doesn't have the relaxing effect. So go ahead and get that lavender candle, that lavender essential oil for your diffuser, and that lavender bubble bath.
Uncommon Scents: 1801 Willamette St., uncommonscentsmeridian.com
9 pm Friday Bedtime
A bedtime ritual will help you settle in for a good night's sleep, and preparing a cup of herbal tea is a great way to relax. Prep yourself for a good night's sleep by making yourself some of Mountain Rose Herbs' always-organic nighttime tea. Their Fidnemed Tea is named after a forest shrine or sacred forest grove, so you can imagine falling asleep in a protected fairy glen as you sip this tea flavored with citrus, red berries, and a floral aroma. Pick up some of their Relaxing Aroma Spray and keep it at your bedside, so you can spritz it around you before you even get out of bed on Saturday morning.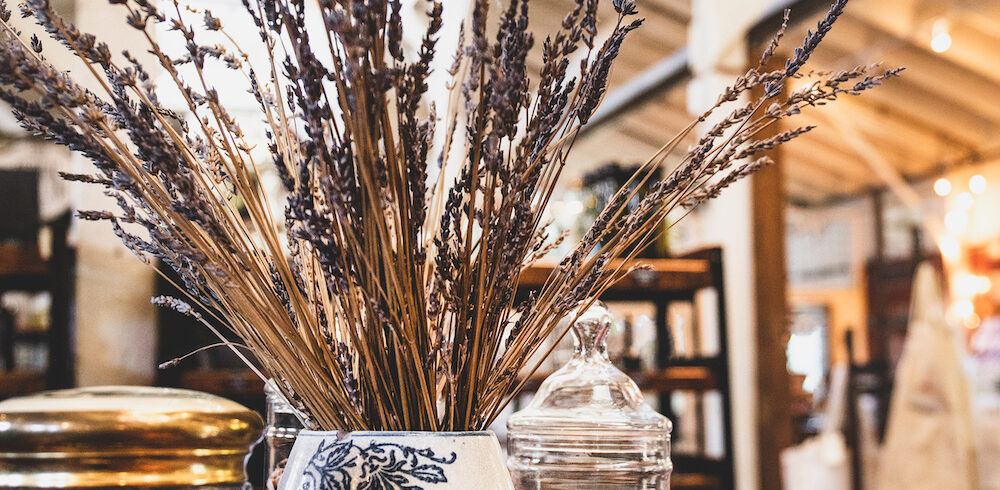 Mountain Rose Herbs, two locations: Mercantile: 152 W. 5th Ave.; Aroma Bar, 590 Pearl St. Suite 110, mountainroseherbs.com
8 am Saturday Breakfast

Start your day with a filling, healthy meal that will nourish your body and soul. Eugene's oldest vegetarian restaurant, Morning Glory Cafe, cooks only with whole ingredients, most of them organic and local. In-door dining and take-out are always available. Choose the Happy Morning Sandwich (a fresh biscuit, herbed tofu sour cream, soysage patty, tofu patty, spinach, and tomato slices with potatoes smothered in mushroom gravy) and a blueberry ginger smoothie.
Morning Glory Cafe, 450 Willamette St., morninggloryeugene.com
10 am Saturday Morning
Get outside and get moving with a walk at one (or why not both!) of Eugene's most glorious places . . . a riverside trail or the Hendricks Park rhododendron garden. The forested North Bank Path (5 miles) passes through Alton Baker Park and winds within view of the Willamette River. The South Bank Path (4 miles) takes you toward the Owen Rose Gardens.
eugene-or.gov/DocumentCenter/View/4762/Ruth-Bascom-Riverbank-Path-System
Rhododendrons are in full bloom in May, but any time of the year is a great time for a walk through the 80-acre Hendricks Park. It's Eugene's oldest city park and has a maze of paths for plant admiration, birdwatching, or just sitting on a bench and enjoying the quiet views.
Hendricks Park: Summit Ave. and Skyline Blvd., eugene-or.gov/facilities/facility/details/80
12 pm Saturday Lunch
Now that you're hungry again after the walk and fresh air, check out Park Street Cafe downtown for another healthy, delicious, organic meal. They take pride in catering to special diets, and use as many organic ingredients as possible. Lunch includes sandwiches featuring salmon, hummus, turkey, and tempeh, plus beans and rice, salads, and soup.
Park Street Cafe: 776 W Park St., parkstcafe.com
1 pm Saturday Afternoon
Pick up some flowers. Since you're right downtown, take a short stroll over to the Saturday Farmers Market, which runs from April through November. Depending on what's in season, pick up some herbs or fresh produce for another day, or for your dinner tonight if you want to cook.
Saturday Farmers Market: lanecountyfarmersmarket.org
2 pm Saturday Afternoon
There's nothing more pampering and special than a massage. Make an appointment ahead of time for a relaxing full body massage or foot and leg massage. If it's a cold day, try the warm water foot soak — even without the massage the foot soak feels pampering thanks to the small river rocks in the bottom of the bowl for stimulation on the bottom of your feet. The warm, penetrating heat of the paraffin dip is especially healing for arthritic hands.
Footloose Massage Center: 35 W. 8th Ave., footloosemassage.com
4 pm Saturday Afternoon
Pick up a juice from Nourish or set up delivery of cleansing juices, juices for energy, or just plain delicious juice blends like "Dusk Til Dawn," with grapefruit, lemon, honey, turmeric, and cayenne. Subscribe to receive either five, six, or seven juices per day.
Nourish Noodle & Juice Bar: nwnourish.com
6 pm Saturday Evening
Schedule yourself for a hot tub session at either Onsen in Eugene or Springfield Spas in Springfield. Onsen has hot tubs and saunas, while Springfield Spas can give you either a hot soak or a cool one (you can specify your temperature).
Onsen: 1883 Garden Ave., onsenspas.com
Springfield Spas: 1100 Main St. Springfield, springfieldspas.co
8 pm Saturday Dinner
If you bought something from the farmer's market, your dinner's all set. If not, settle in for the night and get delivery. Sushi is a delicious, healthy food that makes you feel good after you eat, and there are a lot of great sushi places in town. Sushi Pure offers a variety of unique signature sushi rolls. Plus they serve black rice intermixed with white rice in their rolls. Black rice is highest in antioxidants and contains more protein than brown rice.
Sushi Pure: 259 E 5th Ave., sushipureeugene.com
9 pm Saturday Bedtime
Yoga nidra is a guided meditation technique that leads you into a deep brainwave state — it is perfect for helping you enter deep, restful sleep. Even though it's got yoga in the name, it's more of a sound technique than physical movement, and no meditation experience is necessary. There are numerous links to online yoga nidra, or purchase a sound file from Eugene-based yoga instructor Aricha Pluid. Get into bed, because you'll be so relaxed afterwards that you won't want to move.
Be Light Yoga Nidra: belightyoganidra.com
8 am Sunday Breakfast 
For breakfast, get a juice delivery from Oolong Bar. Oolong Bar has an extensive menu of loose leaf teas. They also make an extensive menu of tea-based drinks (not just hot and cold!) and kombucha, and nitro cold brew coffee. They offer a weekly juice delivery service of three signature cold-pressed juices each week, plus rotating seasonal juices throughout the year. Add kombucha to your delivery, if you like.
Oolong Bar: 1607 E. 19th Ave., oolongbar.com
9 am Sunday Morning
Enhance your juice with some culinary artistry from Noisette Pastry Kitchen. Sunday's signature baked good is bagels (with lox and cream cheese), but on other days of the week choose from walnut sourdough (Wednesdays), rye (Thursdays), and more. Croissants, goat cheese biscuits, or scones await, as does lunch items like paninis or focaccia. Noisette offers in-store or curbside pickup or local delivery.
Noisette Pastry Kitchen: 200 W Broadway, noisettepk.com
10 am Sunday Morning
Eugene's yoga studios have pivoted to offering both in-studio and online classes for most types of yoga. Eugene Yoga offers a virtual gentle yoga session on Sunday mornings that you can access through Zoom. Or try for a in-person, more energetic Sculpt class that integrates hand weights and cardio bursts from Glow Yoga. (Check for current times and classes).
Eugene Yoga, two locations: ​​South Location: 3575 Donald St. Ste 180, Downtown Location: 199 E. 5th Ave. Suite 33, eugeneyoga.us/online-class-schedule  
Glow Yoga: 110 Oakway Center, yogaeugene.com
12 pm Sunday Lunch
Lovely's mission is healthy, clean food. They opened right before the pandemic and quickly offered pantry goods for pickup or delivery along with their super cute eatery. Choose from sandwiches and superfood salads and bowls.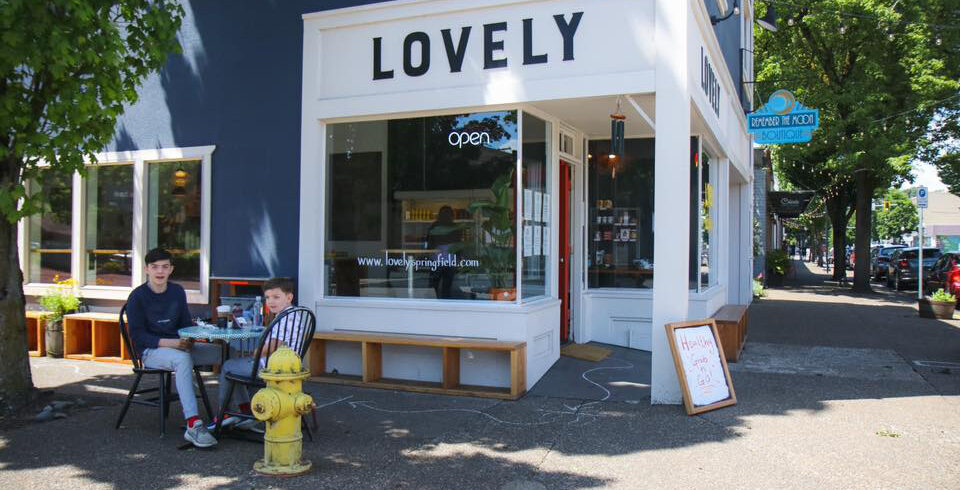 Lovely: 349 Main St., Springfield, lovelyspringfield.com
2 pm Sunday Afternoon
Sensory deprivation sounds negative, but really the experience is anything but. You float in a clean, private tank of water and enjoy freedom from distractions for 90 minutes, or a mega-float for 3 1/2 hours.
Float Om: 111 E. 16th Ave., float-om-isolation-tanks.com
4 pm Sunday Afternoon
Pick up some flowers to take home and brighten the rest of your night. But avoid the pesticide-sprayed ones that were flown in from who knows where. Flicker Towns Farmette focuses on unique varieties and very early and very late season flowers. Order ahead, or stop by their cute front yard flower stand to pick a bouquet that speaks to you. Another local florist is Rhythm & Blooms. They are a specialty grower so many of their flowers come from right here in the Willamette Valley.
Flicker Townes Farmette: flickertownesfarmette.com
Rhythm & Blooms, two locations: 5th Street Public Market, 2433 Hilyard St., rhythmandblooms.com
7 pm Sunday Dinner
Wrap up your wellness weekend with something special. Party Downtown has some of the most unique and highly seasonal food in town. Order a satisfying full meal with an entree or sides, depending on what looks good in the market that day, or a chilled seafood platter that will feed two people like kings. Party always has fresh oysters, and delectable bites like gnocchi tots or fried chicken sliders, and pantry goods like vinegar and olive oil.
Party Downtown: 55 W. Broadway, partyeugene.com
8 pm Sunday Evening
Remember that lavender candle and bubble bath you picked up from Uncommon Scents at the start of your 48-hour wellness weekend? Break 'em out and start relaxing. Fill the bath, light the candle, and do nothing but soak it in and enjoy the feeling of having done so many good things for yourself over the past two days. After that weekend of activity, hopefully you are feeling energized and refreshed, and ready to start the week.