[Editor's Note – This article was posted in 2020. Please call your favorite restaurant for updated information.]
The holidays will definitely look different this year, but that doesn't mean the food you consume needs to be any different, even if the number of people you're sharing it with is smaller. These restaurants and eateries have made the holiday meal preparations easy.
Order soon! Many of these restaurants are closing their orders in the next couple days, so drool over their menus now and get your order in.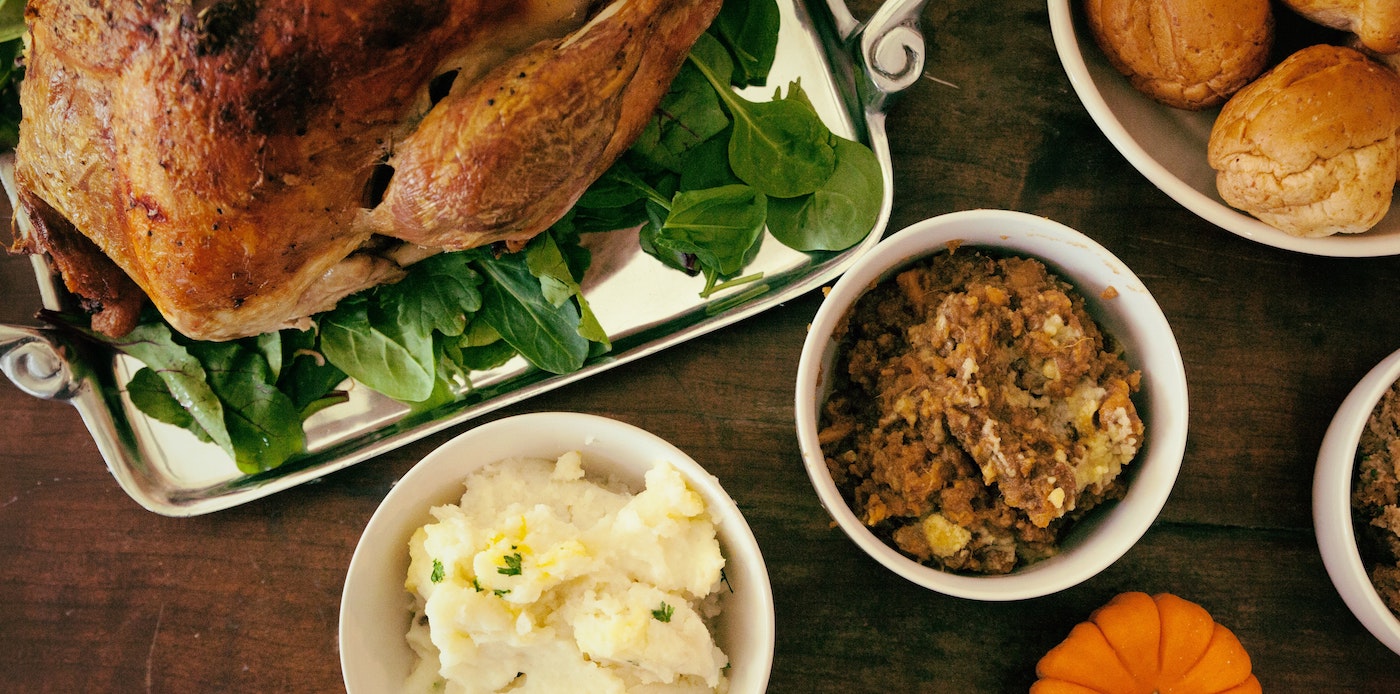 Full meal
Bar Purlieu
Bar Purlieu is offering a special Thanksgiving Day meal that will feed two to three people. This take and bake meal includes a whole game hen, Tail & Trotters smoked ham, potato gratin, fall roasted veggies, herbed stuffing, sweet potato crumble, a bean chutney made with a secret family recipe, green salad, a citrus-rich sauce, and of course, gravy. There are several optional add-ons as well like a cheese board and wine pairing. Pickup is available the Wednesday before Thanksgiving as well as Friday or Saturday after for those late celebrators!
Bar Purlieu | $100 (serves 2-3) | 458/201-7044 |1530 Willamette St. | barpurlieu.com
Busy Bee Café
Busy Bee Café is offering a free Thanksgiving dinner. They are also accepting donations, which they will distribute to FOOD for Lane County. Their meal comes with turkey, ham, mashed potatoes, sweet potato casserole, corn, stuffing, gravy, a dinner roll, and pie. Message them or call to reserve your meal and schedule a pick up time. They are also taking pie-specific orders (for sale) to end your Thanksgiving dinner with a bang. Order pies by Sunday, November 22, to pick up on Wednesday, November 25.
Busy Bee Café | Free (donations accepted) | 2152 Main St., Springfield | 541/747-6331 | facebook.com
Cornbread Café
Get your order in early for Cornbread Café's annual Harvest Feast. Slated for pick up on Wednesday, November 25 (the restaurant will be closed on Thanksgiving Day), this meal has two options. The full Harvest Feast comes with one main dish, four sides, cranberry sauce, your choice of cornbread or a biscuit, and a slice of gluten-free pumpkin pie. With the Small Feast, you just choose two sides instead of four. Call to order before Friday!
Cornbread Café | Order before Friday, Nov. 20 | $22 per person for Harvest Feast, $11 for Small Feast | 1290 W 7th Ave. | 541/505-9175 | cornbreadcafe.com
Jazzy Ladies Café
Serving four to six people, Jazzy Ladies Café's Thanksgiving dinner includes your choice of turkey breast, roasted half turkey, or roast porchetta. Pair this choice with Mom's Stuffing, sweet potato soufflé, mashed potatoes and gravy, roasted brussels sprouts, biscuits, cranberry sauce, and a mixed berry cobbler. They also have optional additions to add even more flavor to your dinner.
Jazzy Ladies Café | Order by Sunday, Nov. 22 | $150 (serves 4-6) | 45 E 8th Ave. | 458/201-7062 | jazzyladiescafe.com
Lion & Owl
Order this scrumptious full dinner from Lion & Owl by Saturday to have your turkey day taken care of. Stocked with all the classic dishes, their take includes appetizers, an herb-roasted turkey breast and confit leg, gravy, cranberry orange chutney, green bean casserole, stuffing, mashed potatoes, vegetables, a salad, and a pumpkin pie bar. Perfect for you and your significant other to enjoy.
Lion & Owl | Order by Saturday, Nov. 21 | $170 for two | 60 E 11th Ave. | 541/606-0626 | lionandowl.com
Provisions Market Hall
Provisions has your side dishes settled with their Thanksgiving offerings. Choose from their selection of starters like creamy leek and gruyere tartlets, side dishes like mashed potatoes or sausage and sage stuffing, artisan breads and dinner rolls, pie and tarts, sweet extras like ice cream and chocolate ganache, and macarons. Pick it all up on Wednesday. You'll just have to worry about the turkey!
Provisions Market Hall | Priced per item | 296 E 5th Ave. | 541/743-0660 | provisionsmarkethall.com
Reality Kitchen
Reality Kitchen is offering both dinner boxes with all the fixings, or the option to order by the item. They have dinner rolls (including turkey pull-apart or rosemary/garlic rolls), brown butter bourbon pumpkin or apple pies (among other offerings), pastries like scones or chocolate challah knots, full bread loaves, gravy, quiche, and much more.
Reality Kitchen | Order by Friday, Nov. 20 | Prices vary | 645 River Rd. | 541/505-8867 | realitykitchen.org
Sheild Bistro and Catering Kitchen
Sheild Bistro is offering to deliver Thanksgiving right to your door! Their Thanksgiving Family Box includes all the traditional eats, or you can choose from their a la carte menu. Gluten-free and vegetarian meals are available. Through their partnership with FOOD for Lane County, you can also sponsor two boxes for families in need and a third will be donated on your behalf.
Sheild Bistro and Catering Kitchen | Order by Friday, Nov. 20 | Prices vary | 418 A St., Ste. 213, Springfield | 541/968-2403 | sheildcatering.com
The Vintage
The Vintage is serving up dinner for two, featuring a house-roasted rosemary garlic turkey, homemade turkey, Chef Ryan's famous mashed potatoes, roasted veggies, gravy, Vintage-style port cranberry sauce, and a baguette. They also have a vegetarian option with a vegetarian field roast and vegetarian stuffing. They are also selling pumpkin cheesecake cinnamon rolls for dessert! Pair dinner and dessert with a bottle of wine for a $5 bundle discount!
The Vintage | Priced per item | 837 Lincoln St. | 541/349-9181 | eugenevintage.com
Baked goods
Noisette Pastry Kitchen
Need some baked goods to complement your meal? Noisette Pastry Kitchen is offering pies, baguettes, rolls, and brioche stuffing mix, as well as salted caramel sauce, cranberry compote, and pork or chicken liver pate. Order by Monday, November 23, for pick up on Wednesday, November 25.
Noisette Pastry Kitchen | Order by Monday, Nov. 23 | Priced per item | 200 W Broadway | 541/654-5257 | noisettepk.com/thanksgiving
Sweet Life Patisserie
Sweet Life has you covered for all your pie needs. Choose from crumble-top fruit pies, crust-top fruit pies, cream pies, classics like pecan or pumpkin, and other seasonal desserts like pumpkin cheesecake or caramel apple walnut cake. Gluten-free, egg-free, and dairy-free options available.
Sweet Life Patisserie | Order by Sunday, Nov. 22 | Priced per item | 755 Monroe St. | 541/683-5676 | sweetlifedesserts.com
Metropol Bakery
Metropol is offering their seasonal menu, boasting a pumpkin hazelnut torte, traditional pumpkin pie, roasted pecan pie, pumpkin or cranberry-topped vanilla cheesecake, and muffins like fresh cranberry and orange or pumpkin and roasted walnut.
Metropol Bakery | Priced per item | 2538 Willamette St. | 541/465-4730 | metropolbakery.com