You may need to do a little searching for this quaint little town nestled along the southern border of Oregon, as Ashland sits at the base of the Siskiyou and Cascade mountain ranges, but the tall peak of the mountain by the same name should point you in the right direction.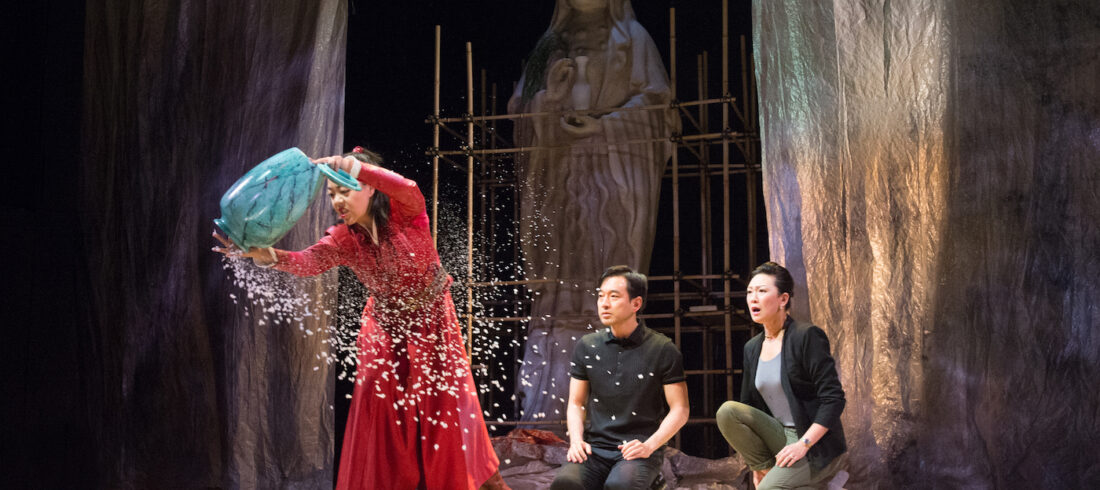 Ashland has a lot to offer travelers throughout the year. Famous for the Oregon Shakespeare Festival, fellow thespians travel from near and far March through October to see the impressive Shakespeare originals, summer concerts, and modern musicals at the stunning outdoor Allen Elizabethan Theatre.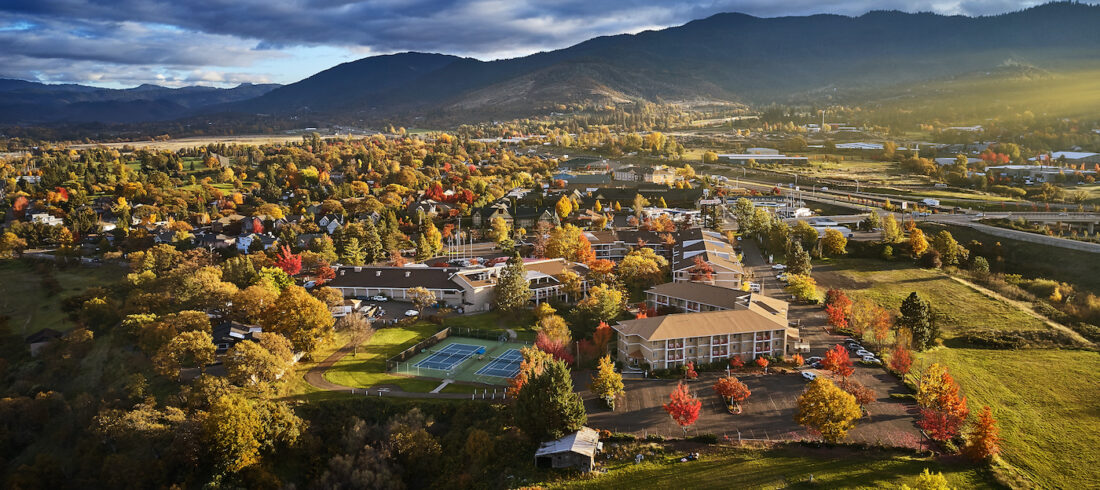 Abigail's Bed and Breakfast Inn is conveniently located within walking distance to the Shakespeare festival and offers its guests a two-course homemade breakfast. If you're looking for a luxury suite, rent a room at Lithia Springs Resort, where you can sip wine in the wine garden from four local wineries and get a massage or facial at their spa. Dogs are welcome at the Ashland Springs Hotel, and with its stellar location right in the heart of downtown Ashland, you can walk to restaurants and the beautiful Lithia Park.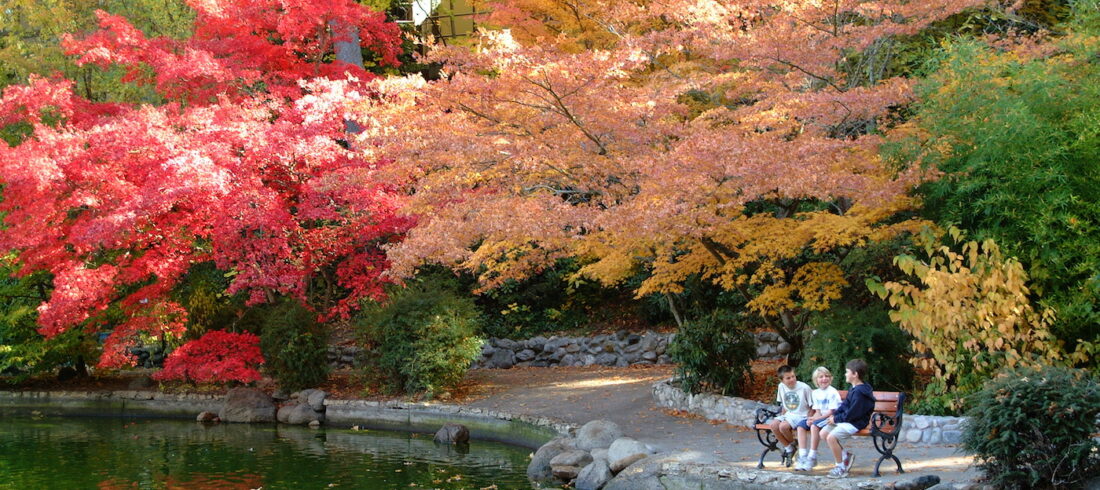 No matter what time of year you visit Ashland, visiting Lithia Park is always a must. In the spring, see the cherry trees explode with pale pink petals. Visit the duck ponds, Japanese Garden, and rose garden in the summer. In the fall, walk through the crisp fall leaves of the maple trees. Head out with a warm cup of coffee for a quiet winter stroll through a frosty forest in the winter. With pickleball courts, tennis courts, and miles of easy trails, Lithia Park is an Ashland must-see.
Lithia Park isn't the only outdoor attraction in Ashland. In the summer, float the scenic Rogue River or try your hand at fishing. Raft the Upper Klamath River or mountain bike the Rogue Loop. View spring wildflowers on the Grizzly Peak Trail. If it's snow you seek, try some ski runs at Mt. Ashland.
For a more relaxed day, spend some time strolling the streets of downtown Ashland. Browse the rows of vinyl records at the Music Coop or snuggle into a cozy corner with a warm drink and a good book at Bloomsbury Books, an independently-owned bookstore with a delightful coffee shop inside. Find some vintage gems at Three Penny Mercantile, or pick out your new favorite houseplant and necklace at Bestow & Bloom. Every Tuesday and Saturday through late November, you can make your way to the Rogue Valley Growers Market and peruse the outdoor tents filled with local produce and crafts.
After a long day out in the gorgeous Rogue Valley or an afternoon out on the town, it's time to eat, drink, and be merry and Ashland does not disappoint. Head to Long Walk Vineyard, where you can view the remarkable vines (as well as their five-acre working orchard) from their wraparound deck with a glass of Syrah in hand. Play bocce ball or enjoy wine by the outdoor or indoor fires at Dana Campbell Vineyards. Sit on the gorgeous patio at Irvine & Roberts Vineyards and sip on their famous Pinot Noir or Chardonnay while taking in the view of the rolling hills of the Rogue Valley. If you want to make a day out of it, schedule a wine tour with Bravo Outings, Main Street Tours, or Premier Wine Tours in Southern Oregon.
If fine dining is what you're after, make your way to one of the many local eateries. Visit MÄS, where chef extraordinaires Josh Dorcak and Luke Vancampen piece together seasonal ingredients to make impressive, one-of-a-kind dishes. Walk up the cobblestone path to Alchemy Restaurant & Bar, a converted Victorian house that serves elegant food and craft cocktails. Or head to Peerless Restaurant, the neighborhood eatery, and spend the evening on their outdoor patio, in one of their dining rooms, or at their cozy bar eating delicious food and dessert made by chef Harlan Brooks.
If you're wanting to pick up some treats for the road, make sure to stop at Mix Bakeshop for homemade ice cream and pastries and Lillie Belle for luxurious handmade chocolates. If you're headed North, Rogue Creamery is worth the quick drive to grab some of the best cheeses in Oregon. It's the perfect place to stop on your way back to Eugene, after a delightful stay in the sweet little town of Ashland.
EAT AND DRINK
Alchemy Restaurant & Bar | 35 S 2nd St., Ashland | 541/488-1115
Dana Campbell Vineyards | 1320 N Mountain Ave., Ashland | 541/482-3798
Irvine & Roberts Vineyards | 1614 Emigrant Creek Rd., Ashland | 541/482-9383
Lillie Belle Farms Artisan Chocolates | 211 N Front St., Central Point | 541/664-2815
Long Walk Vineyard | 1800 N Valley View Rd., Ashland | 541/552-0534
MÄS | 141 Will Dodge Way, Ashland | 541/581-0090
Mix Bakeshop | 57 N Main St., Ashland | 541/488-9885
Peerless Restaurant | 265 4th St., Ashland | 541/488-6067
Rogue Creamery | 311 N Front St., Central Point | 541/200-2353
PLAY
Allen Elizabethan Theatre | 15 S Pioneer St., Ashland | 541/482-2111
Bravo Outings | 541/690-9393
Lithia Park | Winburn Way, Ashland | 541/488-5340
Main Street Tours | 541/625-9845
Mt. Ashland | 11 Mt. Ashland Ski Rd., Ashland | 541/482-2897
Premier Wine Tours in Southern Oregon | 541/476-9463
STAY
Abigail's Bed and Breakfast Inn | 451 N Main St., Ashland | 541/482-4563
Ashland Springs Hotel | 212 E Main St., Ashland | 888/795-4545
Lithia Springs Resort | 2165 W Jackson Rd., Ashland | 800/482-7128
SHOP
Bestow & Bloom | 1606 Ashland St., Ashland | 541/414-4128
Bloomsbury Books | 290 E Main St., Ashland | 541/488-0029
Music Coop | 268 E Main St., Ashland | 541/482-3115
Rogue Valley Growers Market | See website for locations and dates | 541/261-5045
Three Penny Mercantile | 101 E Main St., Ashland | 541/482-3760
EVENTS
Ashland Culinary Festival | November
Children's Halloween Celebration | End of October
Festival of Light Celebration | December
Oregon Chocolate Festival | March 4-6, 2022
Oregon Shakespeare Festival | See website for performance dates and current offerings