Whether you're returning to Oregon from a trip away or arriving for the first time, a common thought that runs through many minds is: This state is beautiful.
"What I notice every time I come back is the variety of landscapes," says Franziska Weinheimer. "Oregon has the ocean. We have beaches. We have rainforests, high deserts, mountains, incredible canyons, rivers, rock formations."
That sentiment, and the scenic views and outdoor spaces to back it up, abounds throughout Eugene, Springfield, and other parts of Lane County. An avid hiker, Weinheimer maintains the Hike Oregon online resource and community. She is also the author of the recently updated 52 Hikes for 52 Weeks: In the Willamette Valley, Central Oregon Cascades, and Coast; Oregon's Best Views: 50 Breathtaking Viewpoint Hikes in Oregon; and the newly released Lakes of the Cascades: 50 Enchanting Oregon Lake Hikes.
Whether you are a resident or a visitor, Weinheimer has a few suggestions for some of Lane County's best trails and views.
Sweet Creek Falls
On the western side of the Coast Range, about 45 minutes from Eugene, Weinheimer's first family-friendly hike awaits.
"I always recommend Sweet Creek Falls," she suggests. "It's quaint. It's short. You get lush forest and wildflowers."
For a less-visited trailhead nearby, Weinheimer also recommends Beaver Creek Falls. "You can even see Sweet Creek Falls from the other side of the river," she explains. "In my opinion, it's a much cooler way to see Sweet Creek Falls. You see the entire waterfall, complete with two of three drops."
Waldo Lake
Off scenic Highway 58, about an hour and a half southeast of Eugene, lies Weinheimer's second top area recommendation — hiking optional.
"The whole Waldo Lake area is riddled with trails," she explains. "I love that area because you can do short hikes to various little lakes, or just see Waldo Lake. If you don't want to hike, you can walk around the lake. Or you can do viewpoint hikes, where you can take in the lake or the Cascade peaks."
Covering 10 square miles and up to 417 feet deep, Waldo Lake is Oregon's second largest natural lake — after Crater Lake. As one of the state's most iconic outdoor recreation areas, Waldo Lake has plenty to offer.
"You can mountain bike around the lake, paddleboard in the water, or go fishing," says Weinheimer. "Whether hiking or not, you can go there for any sort of activity. It's so wonderful there."
Mount June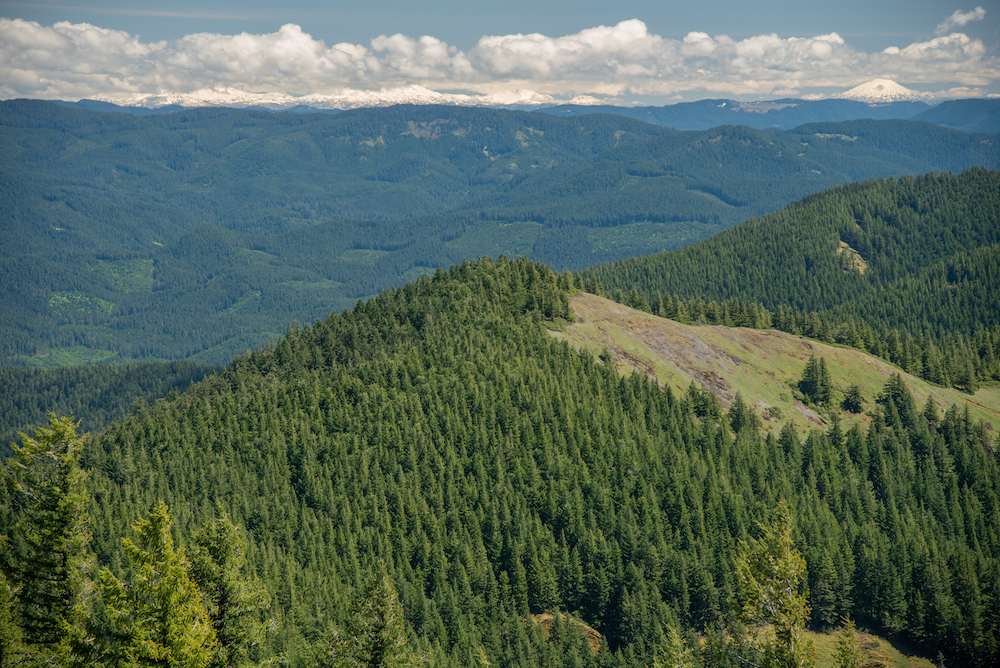 Beautiful views and just-right hikes are available closer to town, too. While Skinner Butte, Spencer Butte, and Mt. Pisgah Arboretum are perennial local favorites, Weinheimer has a special suggestion that's only 45 minutes away.
"I always recommend Mount June," she says. "It's just enough out of town to feel like an excursion. There are incredible mountain views, and in June there can still be wildflowers."
Be Prepared
Summer hiking in the Willamette Valley offers beautiful trails, scenic landscapes, and sunny weather, thanks to the area's Mediterranean-style summer climate. However, temperatures can get hot, and Weinheimer recommends sunscreen, a sun hat, and lots of water.
Some trail access roads can also be a bit rough. "There's not really anything where you'd get stuck, but you don't want to take, say, a Prius to some trailheads."
Ticks and mosquitoes can also be unwelcome guests, so a good insect repellent is useful. Above all, "know what poison oak looks like," she adds. "A lot of our trails have poison oak in the summer."
Whether in town or just a short drive away, the local area is rich with hiking trails, forests, hills, lakes, and much more. Getting out on a trail can be a perfect way to add all the more magic to summer in Oregon.
"Oregon really has it all," says Weinheimer. "Eugene and the Willamette Valley, it's such a perfect location to experience the outdoors. Within an hour and 10 minutes, you can be at the beach. In the same timeframe, you could also go into the mountains and touch snow. That's a rare thing to find."
3 Must-do Summer Hikes:
Sweet Creek Falls
26 miles east of Florence, off Highway 126
Follow a wooded trail that occasionally crosses the creek on boardwalks. It's an easy out-and-back hike, about 2.1 miles with 705 feet of elevation gain.
South Waldo Lake Loop
28 miles east of Oakridge, off Highway 58
Here you will find a thick forest along Waldo Lake, leading to beautiful alpine meadows. Easy to moderate, with your choice of a 3.4-mile loop, or a 10.2-mile trail with up to 2,130 feet of elevation gain.
Mount June
36 miles southeast of Eugene, off Eagles Rest Road, in the Willamette National Forest.
"The views from the 4,618 foot summit of Mount June are absolutely spectacular!" says Franziska Weinheimer. On a clear day you are able to see Mount Bailey, Mount Thielsen, Diamond Peak, Mount Bachelor, Broken Top, the Three Sisters, Mount. Jefferson, and Mount Hood (Oregon's tallest peak). If you do not want to do the 7.5-mile hike, you can opt for a shorter 2.4-mile round-trip version and get the same views."
For details, directions, and more on Oregon hiking, follow Franziska Weinheimer on Instagram @hike.oregon, or check out hikeoregon.net.