As Oregon's seat of government, Salem is rich in history and culture. But it is also a delightful center of creativity, learning, and imagination—the perfect destination for kid-sized adventures. From discovering a land of fairy tales at the Enchanted Forest to exploring Silver Falls State Park, you'll find yourself playing right alongside your kids, making lasting memories for the whole family.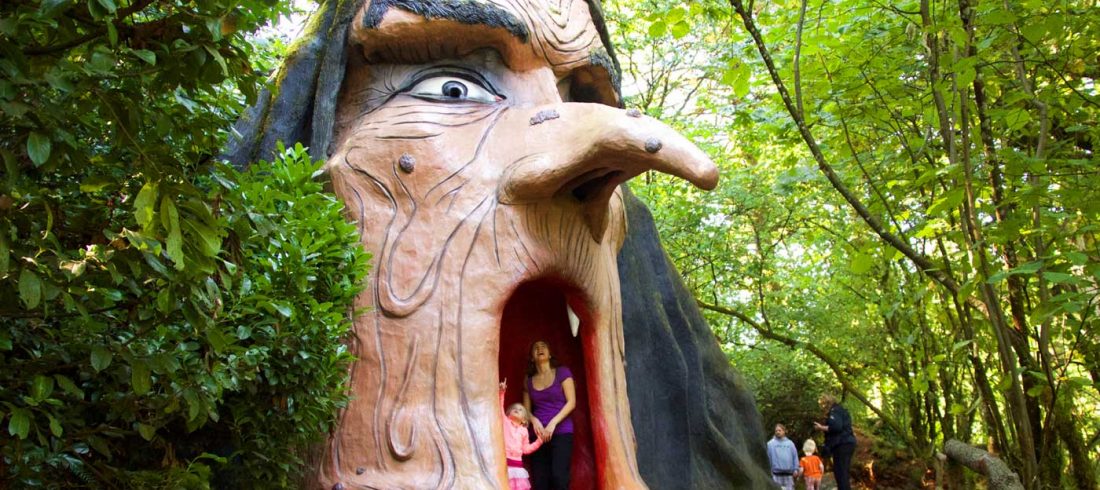 Enchanted Forest
Tucked into the Turner hills, Oregon's largest theme park offers 20 acres of family fun. From the toddler-friendly Kiddy Bumper Boats and the European fantasy adventure Challenge of Mohan to the Pacific Northwest–inspired Big Timber Log Ride, there's a ride for any age. For kids (and parents) less interested in rides, a host of other attractions await discovery here. Bolder children might venture into a haunted house. Others will explore Storybook Lane, featuring attractions inspired by Alice in Wonderland, Brothers Grimm fairy tales, and Mother Goose. Families can stroll through the English Village, featuring a lighted fountain display, and check out the Tofteville Mining Town. Any hunger pangs can be satisfied in the Bavarian village–themed food court. Owned by a local family, the park operates on a seasonal schedule, open on weekends only from late March through April, daily from May to Labor Day, and weekends only through the month of September.
Gilbert House Children's Museum
The Gilbert House Children's Museum, located in downtown Salem, combines engineering, history, and unhindered creative fun. Composed of three historic houses and an outdoor discovery area, this museum operates on the belief that kids learn best through play. Inside exhibits include Fortopia, a child utopia of fort building, problem solving, and exploration; Creation Station, a multicultural art studio; and Tinker Tracks, where kids explore motion by building vertical tracks for a ball to roll through. Outside, the 20,000-square-foot Outdoor Discovery Area beckons. Here, kids explore the adventurous playscape of Discovery Campground, hopping logs and stumps, scaling rocks, and crawling through tunnels. This play area is designed for kids to develop motor skills, self-awareness, and a heightened level of self-confidence. For spring, the museum is open Monday through Sunday, 10 am to 5 pm.
Riverfront City Park
Next door to the Children's Museum, kids can stretch their legs at Riverfront City Park. This 23-acre park stretches out along the Willamette River, offering a playground, large grassy areas, and walking, biking, and jogging paths. A railroad track runs alongside the park, providing quick entertainment for kids as both freight and passenger trains pass by. One of the park's biggest highlights is the Salem Riverfront Carousel, an indoor merry-go-round featuring 40 mounts carved by hand by local volunteers. The ride is open daily, but if you come on a Sunday, you can also reserve a two-hour Sunday Lunch Cruise on the nearby Willamette River Queen.
The Oregon Garden
No trip to Salem is complete without a side trip to the Oregon Garden, located just east of Salem in Silverton. Parents and kids alike can adventure within the Kid's Garden. Kids can seek out dinosaur bones in the Dinosaur Dig, pretend they live in the canopy of a jungle in a tree house, and visit the Shire as they explore a real Hobbit Hole. The whole family can also enjoy a 25-minute narrated tram tour of the garden (complimentary with admission). Picnicking is encouraged anywhere in the garden, but a variety of food is also available at the Garden Café. To make your trip to the Salem area a true weekend getaway, stay the night at the family-friendly Oregon Garden Resort. Along with serving lunch and dinner, the resort has an outdoor swimming pool (opening Memorial Day Weekend), and a stay includes complimentary admission into the Oregon Garden.
Silver Falls State Park
Twenty minutes south of the Oregon Garden, Silver Falls State Park is the largest and one of the most popular state parks in Oregon—for good reason. Within its borders lie 10 stunning waterfalls, several of which are over 100 feet tall, and most are easily accessible regardless of physical ability. The park also features the Natural Play Area, a children's nature park located in the North Falls day-use area. Here, kids can climb trees, duck into a bear den, and try their hand at weaving a bird's nest. For more family fun in the park, be sure to check out the South Falls day-use area, sporting a playground, volleyball area, lawns, picnic shelters, cafe, and horseshoe pits. You can also find safe, easy waterfall access here in a short hike to a misty cavern behind thundering South Falls—an epic ending to a weekend of family adventure.
Salem Dining
Family adventures can be a hunger-inducing endeavor, for parents and kids alike. Luckily, several snack, coffee, and dining options are available—all worthy of Oregon's capital.
The Little Cannoli Bakery presents a great snack and coffee opportunity near the Gilbert Museum and Riverfront Park. Fresh-baked breads and bakery treats, including a variety of cookies, pastries, and pies, suit any age. Coffee, Italian sodas, and tea are also available.
IKE Box Café offers Sisters Coffee Company java and Metolius Artisan Tea, along with a variety of bagels, sandwiches, quiches, pastries, and other various snacks.
A movie theater–restaurant hybrid, Northern Lights Theatre Pub serves up an extensive menu with its movies. Families should plan on a show starting before 6:30 pm, the cut-off time for minors.
Enchanted Forest
8462 Enchanted Way SE, Turner
Gilbert House Children's Museum
116 Marion St. NE, Salem
503/371-3631
IKE Box Café
299 Cottage St. NE, Salem
503/581-6154
The Little Cannoli Bakery
189 Liberty Street NE, Ste. 102, Salem
503/585-9288
whttp://www.littlecannolibakery.com
Northern Lights Theatre Pub
3893 Commercial St. SE, Salem
503/585-4232
The Oregon Garden
879 W Main St., Silverton
503/874-8100
Oregon Garden Resort
895 W Main Street, Silverton
503/874-2500
Riverfront Park 
200 Water Street NE, Salem
Silver Falls State Park
20024 Silver Falls Hwy SE, Sublimity