With rolling vineyards and world-class pinot noirs, among many others, Oregon's Willamette Valley is a paradise perfect for a weekend escape, especially if you can go with your partner or bestie. Unplug and unwind, and also enjoy outstanding scenery and delicious food with a winery getaway to sip and savor. Even with just 48 hours, your wine tour can hold intimate encounters and memorable vintages that will have you planning your next trip the moment you depart. Elizabeth Ragozzino Kellogg and Jordan Kellogg enjoyed a recent wine tour, where they said the views were spectacular, the wine was great, and they made memories and plans for a future visit. "This trip was totally an adventure because I didn't know about any of these wineries," says Elizabeth. "There's nothing more romantic than tasting some wine and looking at a gorgeous view and watching a sunset and having a nice meal and cuddling up together." 
Furioso Vineyards, Dundee
"We drove by Furioso and just decided to stop," says Elizabeth. "The wines were spectacular, and we loved the view as you drove up. The feeling was modern rustic, and the inside room was surrounded by windows highlighting the gorgeous views in all directions. And where there wasn't a gorgeous view there was beautiful art." Furioso Vineyards owner Giorgio Furioso was born in Italy, so their tagline of "Art, Wine, Famiglia" makes perfect sense.
"My earliest memories of my grandfather are of making wine," he says. Mom Anna, dad Vincenzo (also his grandfather's name), uncle Pietro, and aunt Gina immigrated together from Italy, and all have wines named after them. Furioso first produced wine from the 30-year-old Dundee estate in 2015. Beginning with the 2018 vintage, their Yamhill-Carlton estate Trovato Vineyard (named after Giorgio's mother's maiden name), added 22.5 acres under vine. French winemaker Dominique Mahé ages the wines for 10 months in French oak barrels, then the pinot noirs are bottled unfined and unfiltered, producing easy-to-drink, food-friendly wines with lower alcohol and higher acidity.
Furioso looked all over Virginia for wine property to buy, thinking he would enjoy the fruits of the French vines Thomas Jefferson planted in Virginia more than 250 years ago. "And yet, I found the wines not that great, and the landscape just didn't speak to me," he says.
"In the Willamette Valley, the landscape spoke to me and reminded me of Umbria, a beautiful region in Italy, just north of where I was born," he says. Furioso has transformed the former utilitarian outbuildings on the property into a tasting room that in 2019 received an American Architecture Award. "Art, design, and architecture are some of the passions of my life," says Furioso, who worked as a professor of art and architecture. "I knew that I could make this place into something incredibly special."
Potters Vineyard & Vino Vasai Wines, Newberg
By appointment only
"Each one of the wineries we went to on this trip had cozy places where you could just sit and talk with each other or you could wander around the grounds and see the sights," says Elizabeth. "We liked Potter's Vineyard because they have an actual pottery studio where they do events and you can watch people making pottery."
Owners Bill and Sandy Sanchez, from Tigard, are perfectly happy to be and remain "a very small winery" producing just about 1,000 cases a year. They purchased Laura Volkman's estate vineyard with 3.5 acres of pinot noir in 2012. For 20 years, Bill had been an amateur winemaker in Tigard, and he's a potter. Make an appointment to visit the organic vineyard and tasting room for limited production, boutique wines along with the Clay Art Gallery, where you can also expect to find paintings, photography, and other art.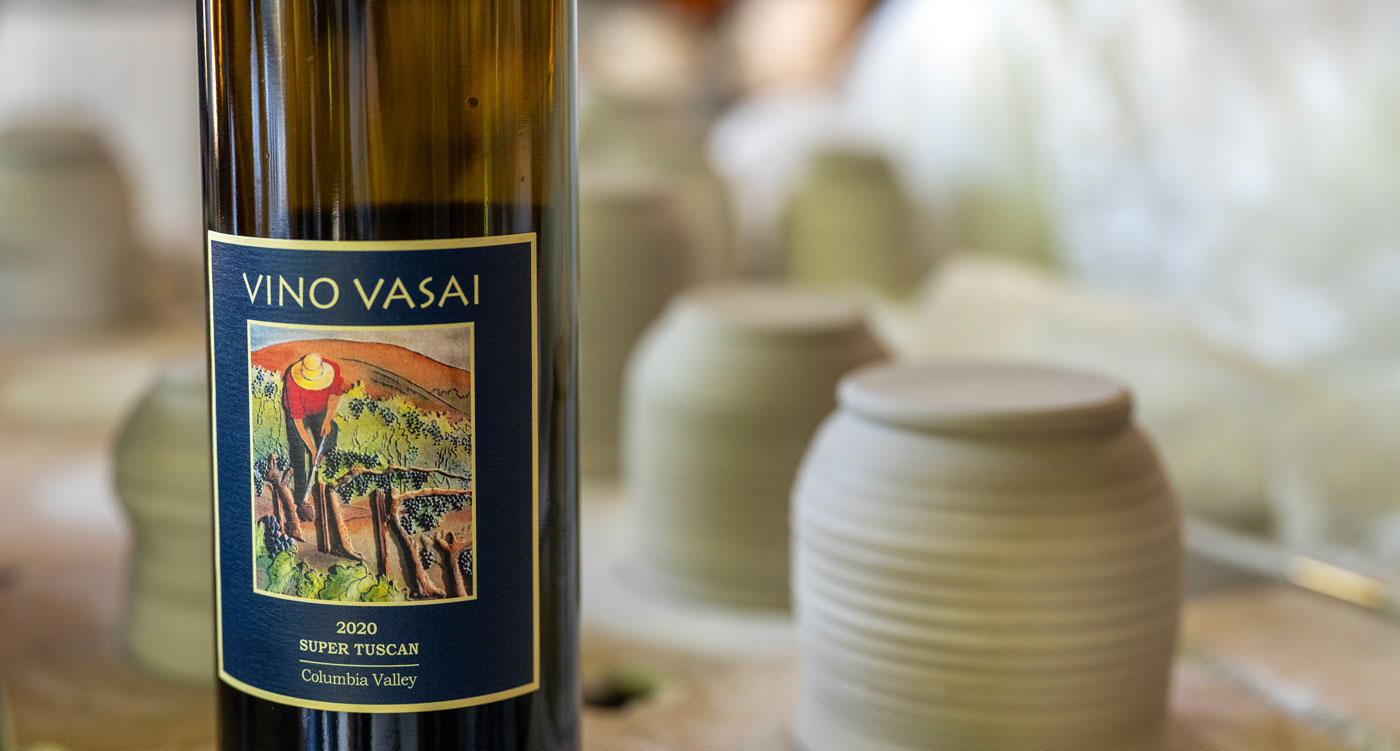 Bill and Sandy met in high school, where Sunday dinners for the sweethearts revolved around Sandy's Italian culture and her grandfather's homemade wine. Later, Bill earned a PhD in nutrition and worked with a microbiology team making yeast cultures. His winemaking hobby progressed from the bathtub to the garage, and now to the vineyard where he learned under Volkman's tutelage before she retired from winemaking. Potter's is known for five estate wines. "Dario Estate Pinot Noir, named after Sandy's father, is our house wine, a good expression of the whole vineyard," says Bill. "We also make a couple of reserves that are just mind boggling. When you find the best grapes, the best barrels, and the best juice you make the best wine." Visit and enjoy reserve chardonnay, estate reserve pinot noir, a rosé of pinot noir, a barrel select estate pinot noir, and a white pinot noir named after their yellow lab, Terra. Their Super Tuscan, made from sourced high-altitude grapes, is "an expression of Italy," being cabernet sauvignon, sangiovese, and merlot aged in neutral French oak for 18 months.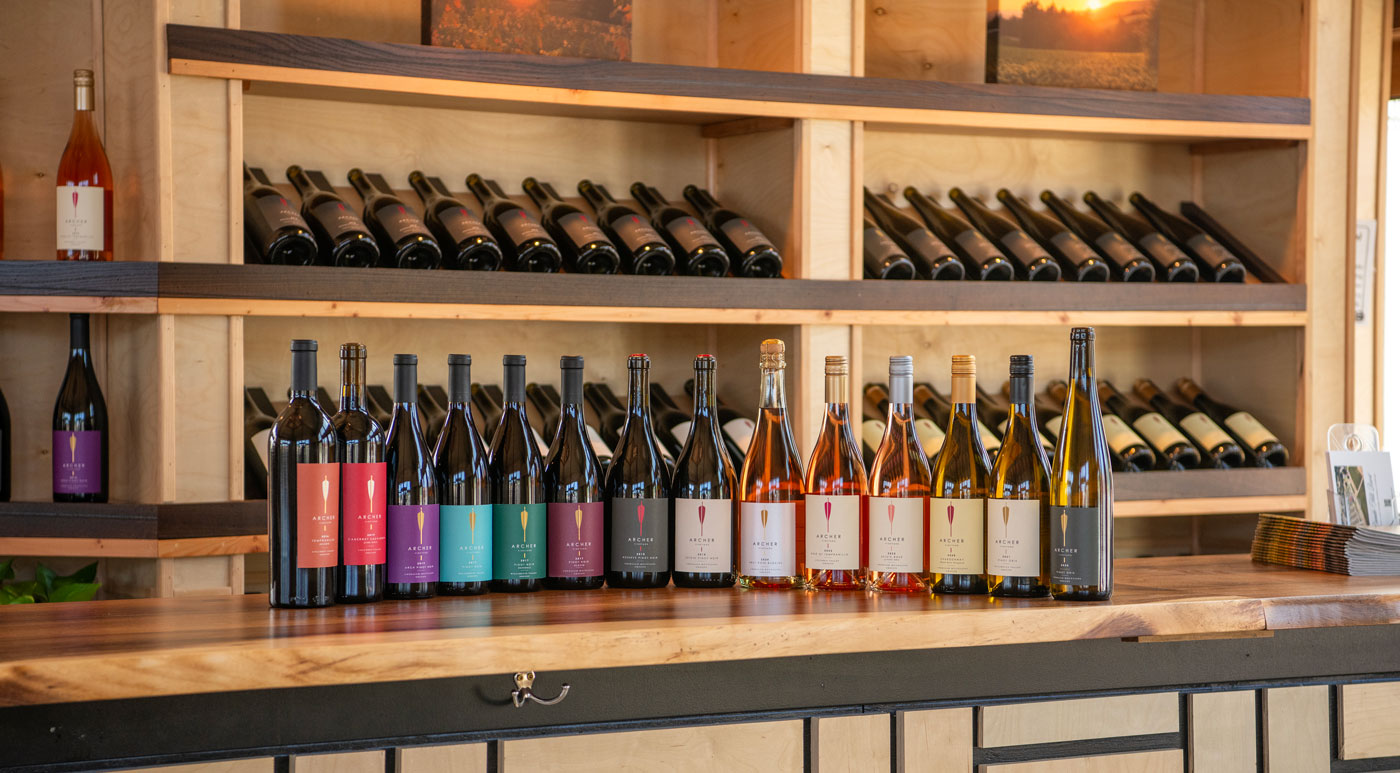 Archer Vineyard, Newberg
"We enjoyed this place and it's nice because you can stay near it, so you don't have to drive far to get back to your place for the night," says Elizabeth. "And Sara shared her family's really interesting story with us. It was beautiful, and the wine was really good." Sara Jivanjee's parents bought Archer Vineyard in 2005 and did their first production, in their on-site facility that her father designed, with winemaker Jim Sanders in 2014.
"With respect to the original owners, the Archers, everything is named after the Archer family," Jivanjee says. Archer is known for an award-winning rosé of pinot gris from estate vines planted in 1989. "Another thing we're known for is pinot noir, cabernet, and a tempranillo," says Jivanjee, who balances her flights with older vintages as well as wines that are ready to drink now. "We show a variety of different styles, but highlight that they're ready now and not just a featured new release," she says.
The Jivanjees came to the wine world as immigrants — her father, Saj, is of Indian ethnicity born and raised in Kenya, and her mother is British; both live on the vineyard property. "He's always liked the connection between culture, art, food, wine, and community," Jivanjee says of her father, an architect. "My mother's background is as a professor of social work, so she's always been supportive of our business including purpose-driven and inclusive events." Now, they have developed an RV resort with their second tasting room and two new rentable Airstreams and six cottages, just down the road from the vineyard. "It's an opportunity for people to stay locally and be in the heart of wine country," she says. "We also serve local beer and have a really gorgeous charcuterie board and in-house bread, and we book a lot of different musical guests."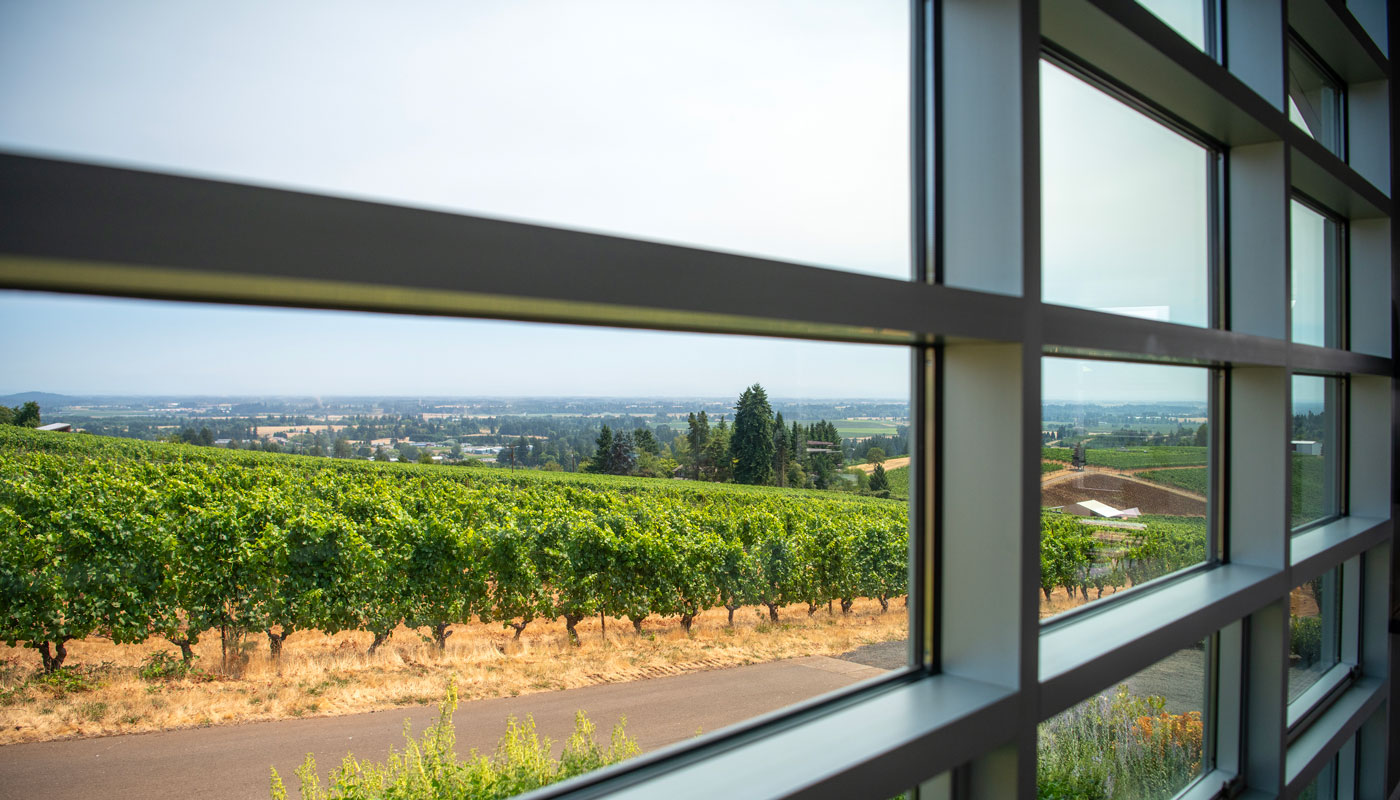 Winderlea, Dundee
By appointment only
"Winderlea is definitely worth a stop," said Elizabeth, who loved the wines and the view. "It's in the hills above Dundee and they have a balcony overlooking theirs and a lot of other vineyards." Donna Morris and her husband, Bill Sweat, are the winegrowers and proprietors of Winderlea. They have farmed the vineyard organically since 2008 and biodynamically since 2009, and earned Demeter Biodynamic certification in 2015.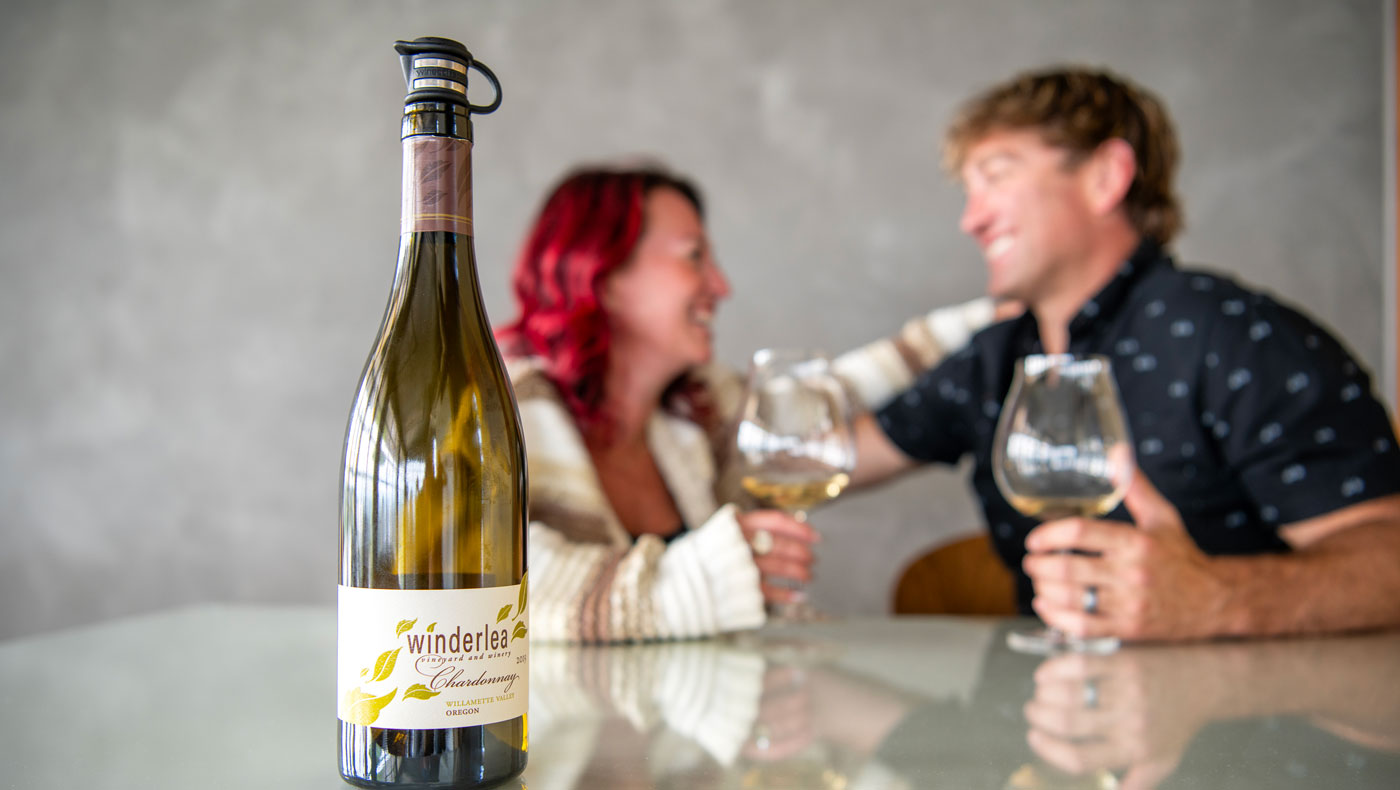 Winderlea was also only the second winery in Oregon to become a B Corp-certified business. "Bill and I started Winderlea in 2006 with the purchase of the original Dundee Hills Vineyard which was planted in 1974," says Morris. "We named our winery and re-named the vineyard Winderlea Vineyard and Winery as we released our first 2006 pinot noirs. Since then we've added chardonnay, pinot blanc, rosé of pinot noir, and most recently a sparkling brut in 2016." Winderlea recently introduced three new pinot noirs from a new estate vineyard called Worden Hill Vineyard. In addition to being open daily for tastings, Winderlea hosts Friday summertime lunches, Vineyard Hikes, and Grape to Glass experiences throughout the week, with groups limited to no more than six guests.
"We host guests in our tasting room, our balcony overlooking the vineyard, and in our vineyard garden," says Morris. "During the winter months and rainy season, we also host guests in our Winderlea Garden Domes." The couple are dedicated to sustainability, and have tripled their energy producing capacity by installing solar panels. The owners are longtime supporters of iSalud!, the organization that provides access to healthcare services to Oregon's vineyard stewards and their families, and donates 100% the proceeds of their tasting fees to iSalud! each month.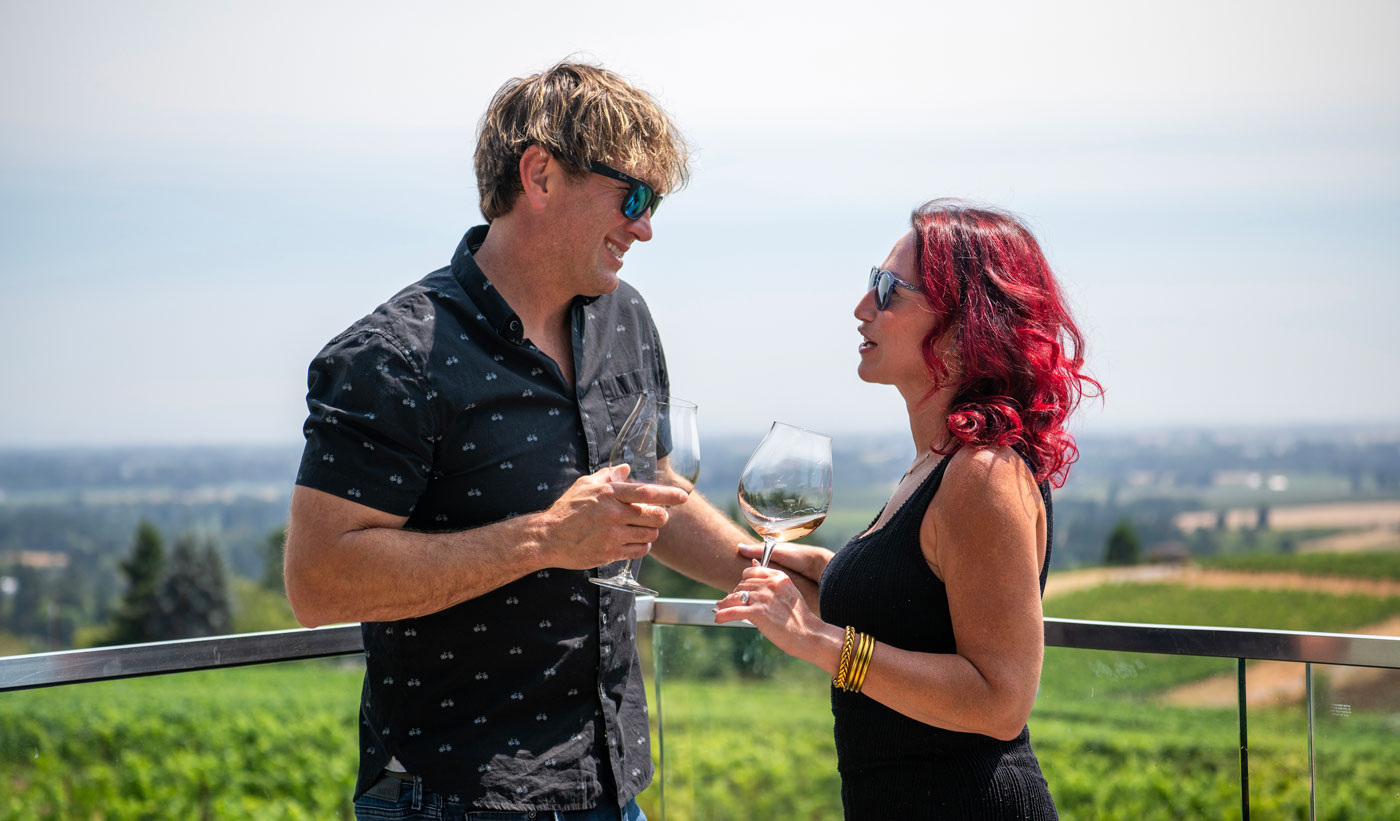 "At wineries, everyone's enjoying themselves, the service is great, the food is nice, the views are the best, and everyone is happy because they're enjoying conversation and great wine," says Elizabeth. 
Planning a visit to a few wineries over a day or two gives you time to indulge and enjoy the different personalities and feelings at each location. Going to wineries as a couple makes the occasion even more memorable, Elizabeth and Jordan both said. 
"It was really nice to see the variety of styles of winemaking in this area and then the different styles of tasting rooms," said Elizabeth. "Some were rustic, some were modern, some were more cozy, but they were all beautiful. We can't wait to go back!"