Opening a craft distillery in the Whiteaker neighborhood was no accident. One particular strip along the railroad tracks of 1st Avenue is becoming a burgeoning distilling district.
"It's the Whiteaker, where everyone wants to be!" declares Bryan Jensen at the tasting room of Thinking Tree Spirits. Thinking Tree, a "farm to flask" distillery, was founded by Jensen, his wife, Emily Jensen, and distiller Kaylon McAlister—a "South Eugene" boy.
Thinking Tree's tasting room and distillation facility are housed in an 89-year-old building nearby other craft distilleries, Heritage Distilling Company and Wolf Spirits Distillery. The trio is bringing vodka, rum, gin, and other distilled liquors to Eugene's growing menu of locally made libations.
Thinking Tree held its grand opening in April, and Jensen says several hundred people attended, spurring brisk bottle sales in the tasting room. Jensen and his partners want to make the distillery something special and hope to become the "neighborhood liquor store." Until, distillery's products can be found locally at restaurants and bars like Hot Mama's Wings, Sam Bond's Garage, Papa's Soul Food, liquor stores and, of course, the tasting room.
Using a 400-gallon system, Thinking Tree makes three spirits on-site: Main Stage Vodka (inspired by the Main Stage at the Oregon Country Fair), Genius Gin, and Whiteaker Rum, with a full menu of seasonal cocktails.
Order a flight for $12 and get a sample of each spirit as well as a mixed drink of your choice. I recommend the mojito in warm weather. Whiskey will one day be in the mix, but it will be years before it's ready.
Jensen says Thinking Tree's vodka is made with wheat, sourced locally from Camas Country Mill, instead of potatoes. The vodka is smooth with a gentle bite and hints of vanilla. Sample the gin and get hits of flora. Taste the rum and it's warm and smooth with tones of molasses.
Touring the distillation equipment—imagine a steampunk mad scientist's laboratory—Jensen mentions that Thinking Tree's Caribbean-style rum is made with a yeast strain given to the Jensens by a Cuban-American from Florida.
A byproduct of making rum is called dunder, or the fluid left over in the boiler after the distillation process. Dunder looks like a science experiment gone wrong, but it's highly flavorful. After the dunder settles in a vat or barrel, nature takes its course: bacteria and yeast mix and grow, developing what's called in the distillation business "rum oils."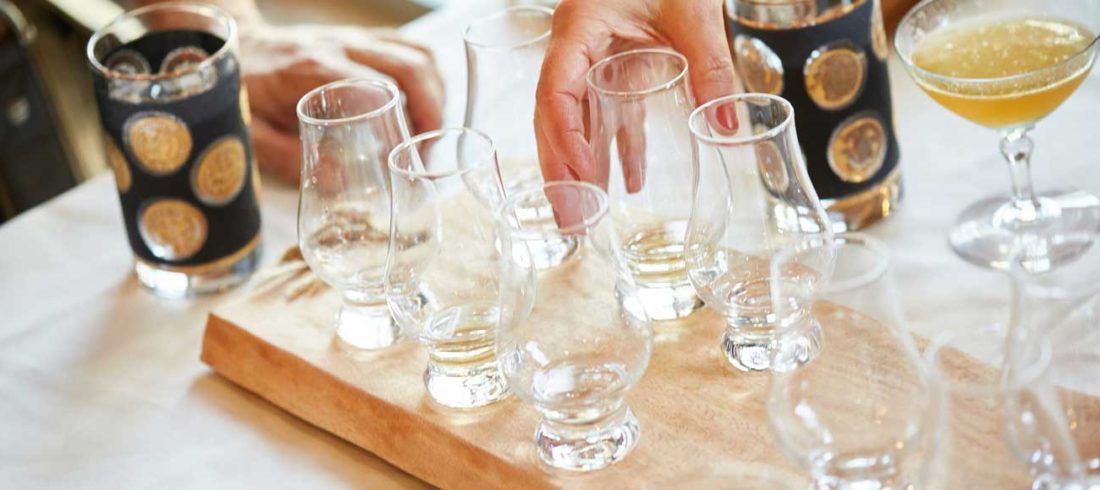 What's important is that the oils are tasty and filtered back into the distillation process for future rum batches. Jensen says traditional "dunder pits" in Jamaica were literal holes in the jungle floor, and such unappetizing things as dead bats and goat heads were also allowed to age in the pits. Yum.
Thinking Tree has a dunder pit, of sorts, but don't worry about the bats. Instead of a hole, it's more of a barrel. If you peek into the top you can see a fascinating web of bacteria and yeast. Take in the aroma and understand that this muck is key to the flavor of authentic Jamaican rum.
And back in the warmly and artfully decorated tasting room there's an artist's playful interpretation of a thinking tree mixed with the aesthetic of the distillation process—a large metal tree with dials and gauges.
A friendly server offers to let me smell the aromatic ingredients—like rose hips added to Main Stage Vodka in the process of taking vodka to gin—a nice touch anyone can try, making the Thinking Tree experience something special, indeed  .