When the weather turns blustery and cool in the fall, I forget all about popsicles and shortcakes and I start to crave warm, rich desserts full of chocolate and spices. This deliciously gooey chocolate cake—flavored with cinnamon and baked just long enough to leave it silky and luxurious—is the perfect example. The hot fudge sauce topping adds to the richness, while the vanilla ice cream helps brighten the flavors and provides a nice temperature contrast. And possibly best of all, the cake is supremely easy to make: It can be mixed up in one bowl, is ready from start to finish in less than 30 minutes, and can be eaten straight out of the pan.
Gooey Mexican Chocolate Cake
Serves 6-8
INGREDIENTS
1 cup granulated sugar
2 eggs
1 teaspoon vanilla extract
1/2 teaspoon table salt
3/4 cup all-purpose flour
1/4 cup cocoa powder
1/2 teaspoon cinnamon
1/2 cup plus 2 tablespoons butter, melted
Hot fudge sauce, for serving
Vanilla ice cream, for serving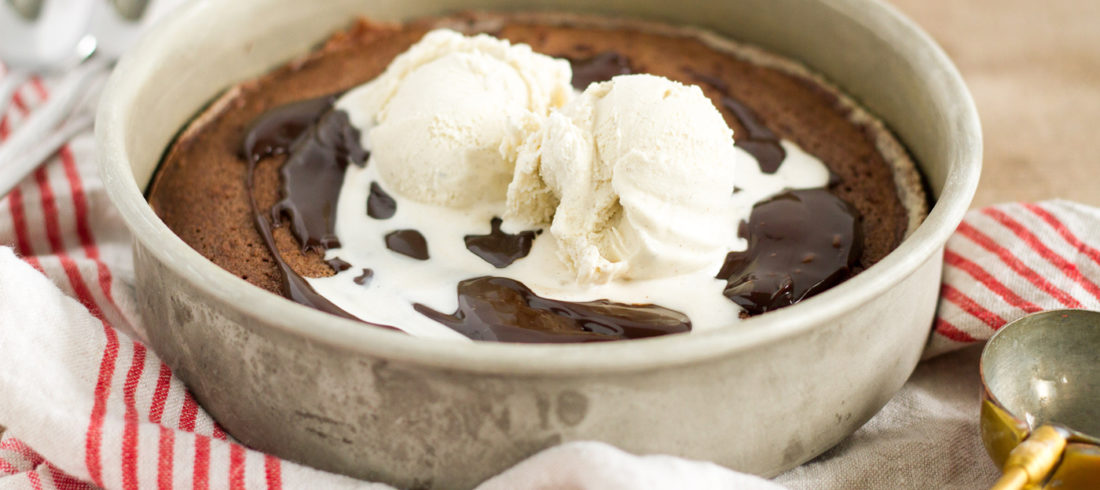 DIRECTIONS
Preheat the oven to 350 degrees Fahrenheit. Grease an 8-inch round cake pan either with nonstick baking spray or with butter and flour; set aside. In a medium bowl, whisk sugar, eggs, vanilla, and table salt until smooth. Add flour, cocoa powder, and cinnamon, whisking until smooth. The batter will be thick at this point. Gently whisk in the melted butter until it is completely incorporated. Pour the batter into the prepared cake pan, and bake for 20 to 25 minutes, until the top of the cake is set and the sides are just beginning to pull away from the pan.
Allow the cake to cool in the pan for 3 to 5 minutes at the most. Top the cake with a drizzle of hot fudge sauce and several scoops of vanilla ice cream, and serve immediately. You can either dish up individual servings, or let everyone dig right into the cake pan.