In fall, Iris Vineyards celebrated its new tasting room at 322 Main Street in Springfield. The wine bar represents the first wine bar for Springfield, and a much more visible location for husband and wife proprietors, Eugene natives Richard Boyles and Pamela Frye. The 800 acres holds their 36-acre estate vineyard, which formerly held their tasting room, along with their family home. Now, the former tasting room is an AirBnb that evokes being in Mediterranean wine country, views of rolling hills, rare birds, and old vines included. King Estate Winery borders on the south.
The elevation of the vineyard and the family's dedication to preserving and restoring the property informs their wines and the approach by winemaker Aaron Lieberman. After 15 years with Iris Vineyards, Lieberman has honed his winemaking philosophy, which works with the vineyard elevation being from 800 to 1,000 feet with cooler temperatures than most of the rest of the valley floor. His technique brings forth bright, fruit-forward wines with crisp acidity and low alcohol. "No flabby fruit bombs!" Lieberman says.
His annual production is 14,000 cases of Willamette Valley chardonnay, pinot gris, rosé, and pinot noir. Additionally, Iris Vineyards also makes varietals such as viognier, tempranillo, syrah, malbec, and a "House Call" red blend from warmer regions of Oregon (Applegate, Umpqua, and Rogue valleys). One unique offering is the estate-grown Areté reserve, representing traditional method sparkling wines like blanc de blancs, blanc de noirs, and brut rosé that they typically make each year.
Boyles's family farmed cattle and hazelnuts while he was growing up. He jokes that he became a winemaker's assistant at age 7 helping his grandmother turn some of her table grapes into wine. Those wines were too sweet, he says, recalling how he drank them by the thimbleful, but he continued making wine into his teen years from wild fruits like plums and blackberries. He also opted not to continue cattle farming, because, he jokes, he spent too many cold rainy nights chasing cattle. "Vines don't run away like cows do!"
As a kid growing up, wine and food were always an integral part of how his family gathered. Later, he and Frye lived and worked in Europe, where they explored the great winemaking regions. "When Pamela and I came back to Oregon, part of our goal was to return to my roots in farming and pursue our interest in wine," recalls Boyles. They planted their first vines in 1996, among the wild Douglas irises growing in profusion, which led to the vineyards's first identity as Iris Hill. Family history led to the name of the "House Call" blend, which honors Boyles's grandfather, who was a Eugene physician and one of the last to go out on house calls.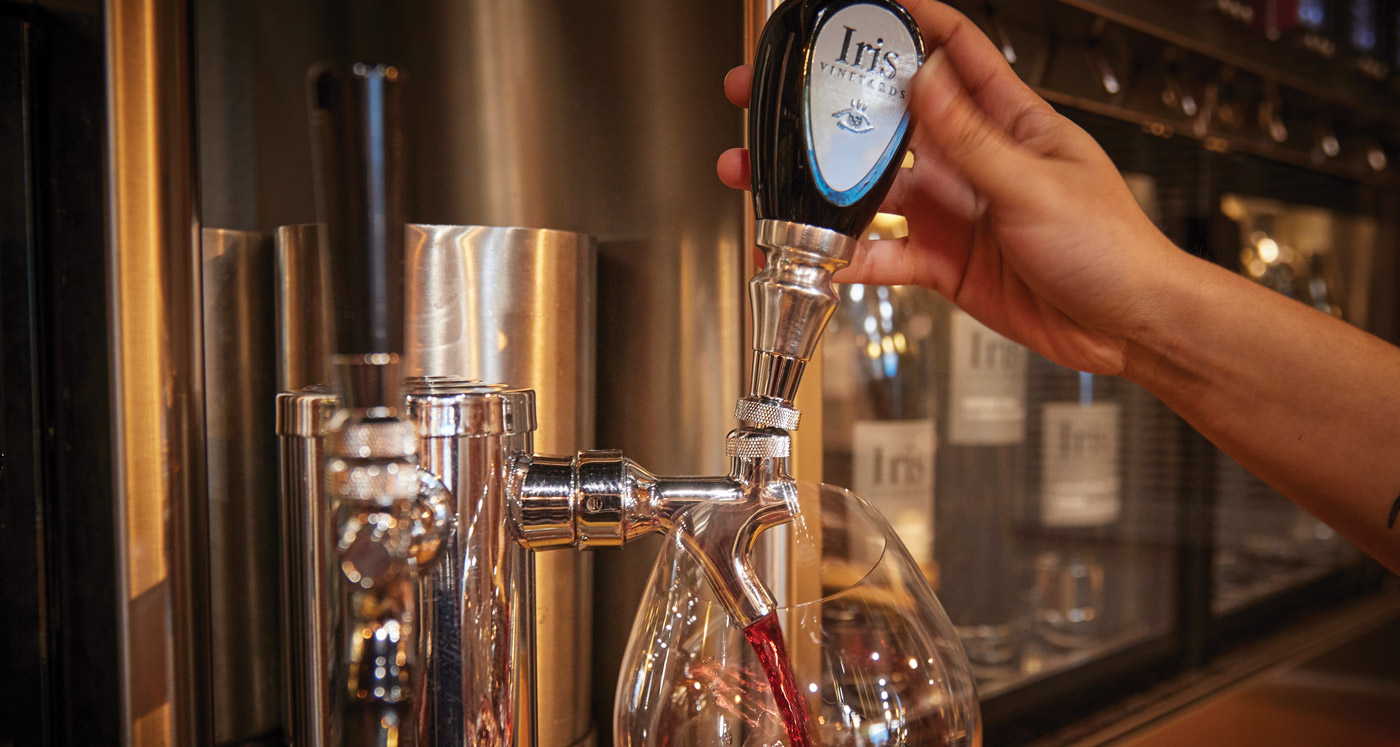 The tasting room doesn't just have wine. Lieberman personally created wine-based cocktails that infuse wine, bourbon, and amaro in much the same way that other spirits are infused to create flavor. The Negroni and Gin & Tonic, for instance, are made from wine infused for a month with the same herbs that would be used to flavor gin. The Manhattan uses chardonnay infused with oak to evoke bourbon. Future cocktails in development include the boulevardier and gin martini.
Lieberman, who developed the cocktail recipes, hopes to satisfy wine bar visitors who may not be interested in wine. He says he is striving to bring the flavor profiles of the cocktail components as close to the liquors they represent as possible. Another nice thing about the wine-based cocktails is they are much lower in alcohol than traditional cocktails. "Traditional cocktails are often 25 to 35% alcohol where our wine-based cocktails are going to be between 5 and 15%," Lieberman says.
Iris Vineyards-Wine Bar, 322 Main St, Springfield, 541/242-6588, irisvineyards.com