Stepping into the new Provisions Market Hall on the ground level of the Fifth Street Public Market is an undeniably sensual experience. Vibrant conversations reflect off tiled surfaces and warehouse-style walls and flooring. The hiss of espresso steam intertwines with the light clatter of dishes and knives tap-dancing on cutting boards. The sounds of Market Hall employees at work ripple over the general buzz. It all signals hearty dedication to service and craft.
Intriguing sights and smells continuously flow around and past you as you weave your way down Market Hall pathways. Progress sometimes stalls, arrested by countertop and case displays. They boast artful arrangements of cookware, fabrics, books, and food. Nearly everything in the Market Hall, you suddenly realize, is about food!
Cashew cardamom butter. French Rosette salumeria. Pumpkin éclairs. Saffron honey. Spanish bomba rice. Dry sparkling rhubarb soda. Lamb navarin. Mint marsala chai.
Pizza with apples and hazelnuts. Parsnip sorbet.
The market hall concept has long been a staple in many European cities. It's also reflected in emporiums like Pike Place Market in Seattle and San Francisco's Ferry Building Marketplace. Market halls are often found outdoors, typically featuring a variety of vendors selling fresh farm goods and prepared foods. According to Provisions Market Hall owner, Stephanie Pearl Kimmel, popular market halls provide shoppers "everything you need to put together a wonderful meal."
Kimmel is a familiar force in the local culinary community. She's known for her pioneering efforts bringing "farm to table" food culture to the Willamette Valley. She's also the founding owner of the renowned, Marché Restaurant and Marché Provisions casual cafés. She describes the new Market Hall experience as "like going behind the scenes at Marché."
Apple-fennel slaw. Preserved lemons. Curried shrimp tartines. Rabbit pot pie. French green lentils. Herb crème fraîche crudo.
 "Customers at the Market Hall. . . will not only be able to purchase hand-selected produce, fish, meat, and groceries," says Kimmel, "they will also be able to take home Marché's philosophy. We think food should be easy and fun to prepare, especially if you have the best locally sourced ingredients, cookware, and other key tools with which to do it. Provisions Market Hall will bring the Marché experience full circle.
"We've been lucky enough," says Kimmel, "to provide our restaurant customers with great food and wine for years, and now we can be even more hands on and show them how to use the best kitchen tools, how to prepare the finest local ingredients, and to bring the experience home."
Vegetable fermenting kits. Seven of Hearts Willamette Valley Pinot. Black steel fry pans. Market Hall spices. Armujan Barbera. Fresh shelling beans. Amaranthus blooms.
The Market Hall represents an expanded physical presence and vision for Marché Provisions, a long-standing tenant of the Fifth Street Public Market. Fresh elements in Provisions' new, 9,000-square-foot space, include a butcher shop and charcuterie selling meats sourced from Long's Meat Market in Eugene and Laughing Stock Farm. And a fishmonger providing seafood supplied by Newman's Fish Company or traded from merchants such as Brandywine Fisheries and Taylor Shellfish Farms on the Oregon Coast.
The Market Hall also features a fresh produce section offering seasonal organics grown by Willamette Valley farmers, and a dairy case stocked with fine cheeses and popular local dairy products.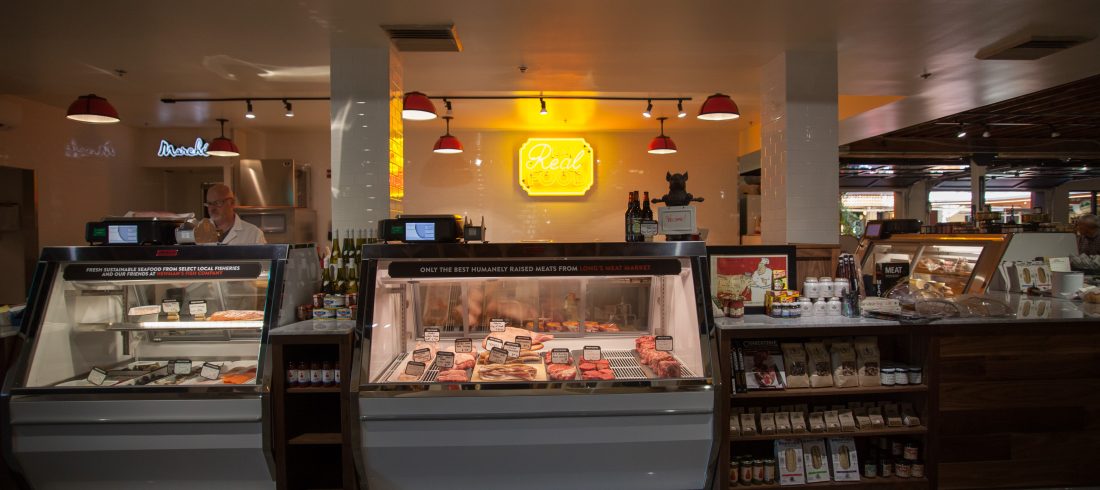 Soppressata. Oregon huckleberries. Black futso squash. Fresh rabbit sausage. Hot Coppa prosciutto. Ossau-iraty cheese. Pressed fruit and nuts. Gorgonzola piccante. Beech mushrooms.
 There's also an impressive collection of wines available at all price points; Oregon, Washington, Italy, France, and Spain vintages dominate the shelves. Taken together, the wine selections stand up to nearly any cellar in town. Other spirits—many chilled—include hard ciders and a wide, intriguing selection of beers, ales, and other craft brewed beverages.
Angelique Léon Chinon. Pear cider. Green Flash, Red IPA. St. Bernardus Abt 12.
Kung Fu Girl Riesling. Reverend Nat's hard cider. De Bourgogne Belgian ale.
 But there's much more to appreciate in the Hall. Like the hard merchandise—or as Kimmel like to say, the "tools not gadgets." It's her way of underscoring the Marché team's emphasis on aesthetics and product quality. Mauviel pots. Staub Dutch ovens. Wüsthof knives. Fine French linens. The inventory of kitchen tools reflects top of the line items sharing space with affordable classics and simple, commercial-style implements.
The main hard goods section of the Hall also includes a small demonstration kitchen with a range and countertop workspace. The kitchen is used for classes and private events. It stands across the hall from grocery aisles stocked with an unusual assortment of high quality, basic food stocks, and gourmet goods. We're talking dry goods, sauces, spices, preserves, pastas, specialty salts, spices, oils, vinegars, nuts, candies, and canned foods.
And then there's the array of food kiosks: A coffee bar with pastries, breads, and other baked goods made daily at the Market; Nancy's homemade ice cream counter; The Provisions Deli, featuring fresh salads and sandwiches; and, a brick oven pizzeria. There's also the full service, Blackboard Cafe—a cozy corner featuring wine by the glass and a daily-changing menu prepared by the staff at Marchè Restaurant.
Parisian cafe' au lait. Jupiter grape macarons. Finocchiona. Garrotxa cheese. Curried chicken sandwiches. Sauerüben. Orecchiette pasta. Almograno pomegranate vinegar. Peppadew peppers. Rougie duck fat. Buckwheat and couscous mix. Falafel chips. Harissa spread. Hot Ethiopian kulet.
 To Stephanie Pearl Kimmel, who has spent most of her professional life presenting prepared food, Provisions Market Hall represents coming full circle in her career. "This is about bringing things around to the source of foods," says Kimmel. "And about sharing the ingredients that drive my cooking. . . For years, I've wanted to see our community do something like this and it just didn't happen.
"The Market Hall is one of a kind for our community!"
296 E 5th Ave.
541/743-0660