Grabbing a bite to eat on a bustling community college campus isn't often associated with gourmet dining, but that's exactly the stigma that the Lane Community College Renaissance Room and the LCC Culinary Food and Service Program have come to dispel. By combining the art and science of culinary skills with hands-on professional development from a core of working chefs, the LCC Ren Room provides delicious, locally sourced meals to both students and the public.
"We are a working restaurant," Chef Chris Crosthwaite says. "What's happening in the industry now is what we try to expose our students to so they are up-to-date and ready."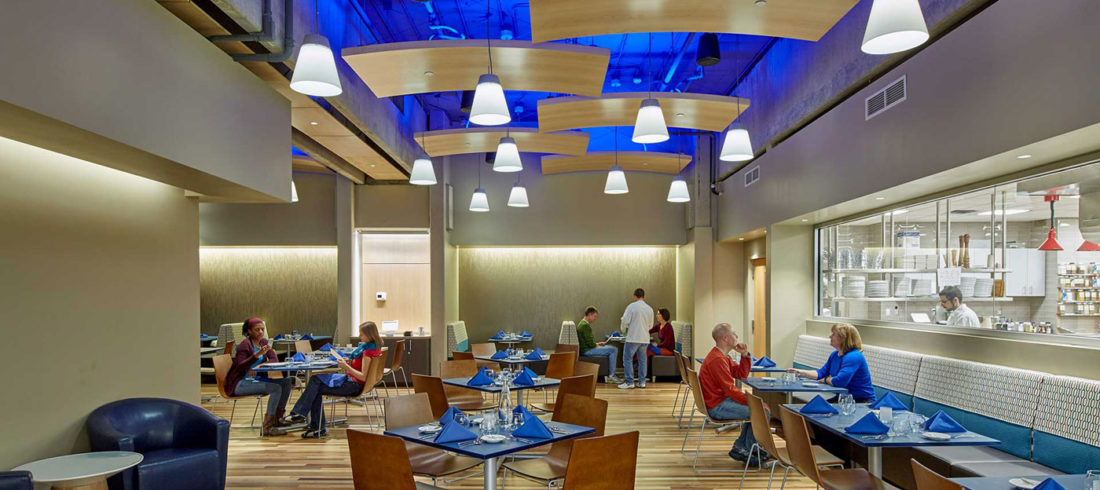 Located inside the Center for Learning and Student Success building, the Ren Room sits in the middle of campus and operates from 11:30 am to 1:30 pm, fully staffed and run by second-year culinary arts and hospitality management students. They serve seasonal and sustainable cuisine to all who come.
"No matter which menu is showcased, we always incorporate local, seasonal products into our meals," Crosthwaite says.
Each season brings a new theme to the Ren Room, allowing students and patrons the opportunity to sample both international and regional American cuisine. This rotating menu has featured New England and Atlantic cuisine like codfish balls with tartar sauce and roasted Long Island-style duck breast, and Central Plains specialties like Wisconsin cheddar beer soup or planked whitefish. These are multi-course meals with appetizers like goat-cheese coquettes and satisfying entrées such as blackberry barbequed chicken. Don't worry, they didn't forget dessert—everything from tres leches cake to butterscotch pudding can grace your plate to conclude these refined, gourmet meals. 
"In industry talk, the definition of gourmet food has to do with the quality of ingredients being used, how well prepared the meal is, and how well presented it is," Crosthwaite says. "By that standard, we definitely serve gourmet food."
Crosthwaite, alongside Chef Clive Wanstall, are working chefs who double as head instructors. They have worked with each other at LCC for 14 years, tapping a combined 80 years of real-world experience in the restaurant industry. Crosthwaite and Wanstall teach safe and correct knife handling, the proper preparation of proteins, baking, and other fundamental culinary principles. Both of them also go out of their way to see to it that each aspiring chef they work with cultivates a personal touch when it comes to cooking.
"Part of cooking is adding your own element to it," Crosthwaite says, "We're a close-knit program, which lets us ensure that our students have freedom for self-directed learning."
The work of these chefs and students doesn't just stop at the doors of the Ren Room. An emphasis on keeping the students working in the community also plays a role in developing the exquisite meals that patrons enjoy when dining on campus. Multiple volunteer opportunities place these same aspiring culinary professionals at events such as the Mount Pisgah Mushroom Festival, the Oregon Truffle Festival, and the Whiteaker Free Community Thanksgiving Dinner. At events like the LCC Foundation Harvest Dinner, the students work alongside guest chefs and gain new skills they'll continue to implement when preparing the top-notch table fare that Ren Room patrons experience.
As to be expected, if you're looking to enjoy the delectable delights of the LCC Ren Room, making a reservation ahead of time is advised. While walk-ins are always welcome based on seating availability, it can fill up fast.
LCC Culinary Arts and Hotel, Restaurant, and Tourism Management, Building 19, Room 204, 4000 E 30th Ave., 541/463-3518, lanecc.edu/culinary