Cornbread Café started as a food cart on 13th Avenue and Oak Street in early 2010, but it soon became apparent that a brick-and-mortar location would be well received by their quickly growing crowd of fans.
In 2011, they opened their Eugene location, rocking delicious vegan comfort food items like their signature Eugenewich and Chik'n Biscuit sandwiches. All recipes were inspired by owner Sheree's Grandma Jean, who became vegetarian 60 years ago, before it was a more common practice. They were even featured on Diners, Drive-Ins and Dives a few years ago.
This year, they expanded, opening their Springfield location along the newly revitalized Main Street. This new location touts a Cajun and Creole-inspired menu, with specials like the recent pimento cheese-stuff potato. They're also hosting more events at this location, like swing dancing nights and live music, complemented by their custom-built (by Fire Smith Copper) bar, which serves local spirits and a mocktail menu.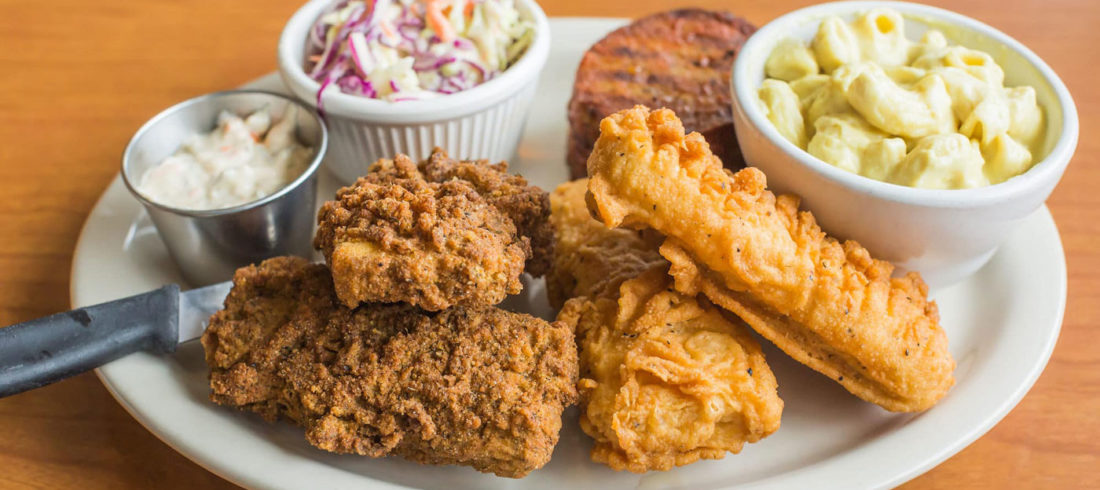 On November 27, they will be hosting their 10th Annual Harvest Feast at both of their locations. You can pre-order for takeout by November 20, or dine in between 11 am and 7 pm. Every feast comes with mashed potatoes and cashew gravy, southern kale, cornbread and sourdough stuffing, candied yams, and cranberry sauce. Then you can choose from one of their three main course offerings (wild rice-stuffed seitan roast, Chik'n-fried tempeh, or gluten-free Chik'n-fried tempeh—all with cashew gravy), a bread selection, and choose between pumpkin pie or gluten-free pumpkin cheesecake for dessert.
They are planning the official grand opening for their Springfield location this Saturday and set for their ribbon-cutting ceremony on the 22nd. Follow them for more details and updates about special menu items and events around the opening!
Cornbread Café, 1290 W 7th Ave., Eugene, Mon-Sat, 9 am-9 pm; Sun, 9 am-3 pm, 541/505-9175
 338 Main St., Springfield, Tues-Sat, 11 am-9 pm, 541/650-6672, cornbreadcafe.com