What used to be a church in a quiet pocket of Springfield is once again a place for congregation, but of a different sort. Walking into the vast beer hall from the labyrinthine complex of downtown Springfield's Public House, the high vaulted ceiling and kaleidoscope of stained glass windows conjure a lightness and excitement for conversation. "That's the goal of this space," says co-owner and operator Colby Phillips. "This is meant to be a meeting place and a space for people to gather." Since it opened in its current incarnation in 2018, the building has continued to adapt and change with the times and the needs of the community.
When Public House first came to fruition, the few established cafes and brewpubs in the area had set a precedent for success that Phillips and co-owner Patric Campbell were intent on emulating. "There were already big stepping stones for community development in the area," says Phillips. "I was born and raised in Springfield, and when I was young there wasn't much down here that was 'family friendly.' The city and Chamber of Commerce have put a lot of effort into changing that, and we're happy to be adding to that momentum."
Public House originally operated a temporary bar in the Whiskey Lab with the handful of other restaurants and vendors out front that had collectively participated as Sprout, a local business incubator in the space. As that project shifted and the building was sold, Phillips and Campbell, who had been operating Beergarden in the Whiteaker neighborhood for seven years, saw the garden space outside and had an immediate vision. "It was too cool of a space to not do this for the community of Springfield," says Phillips.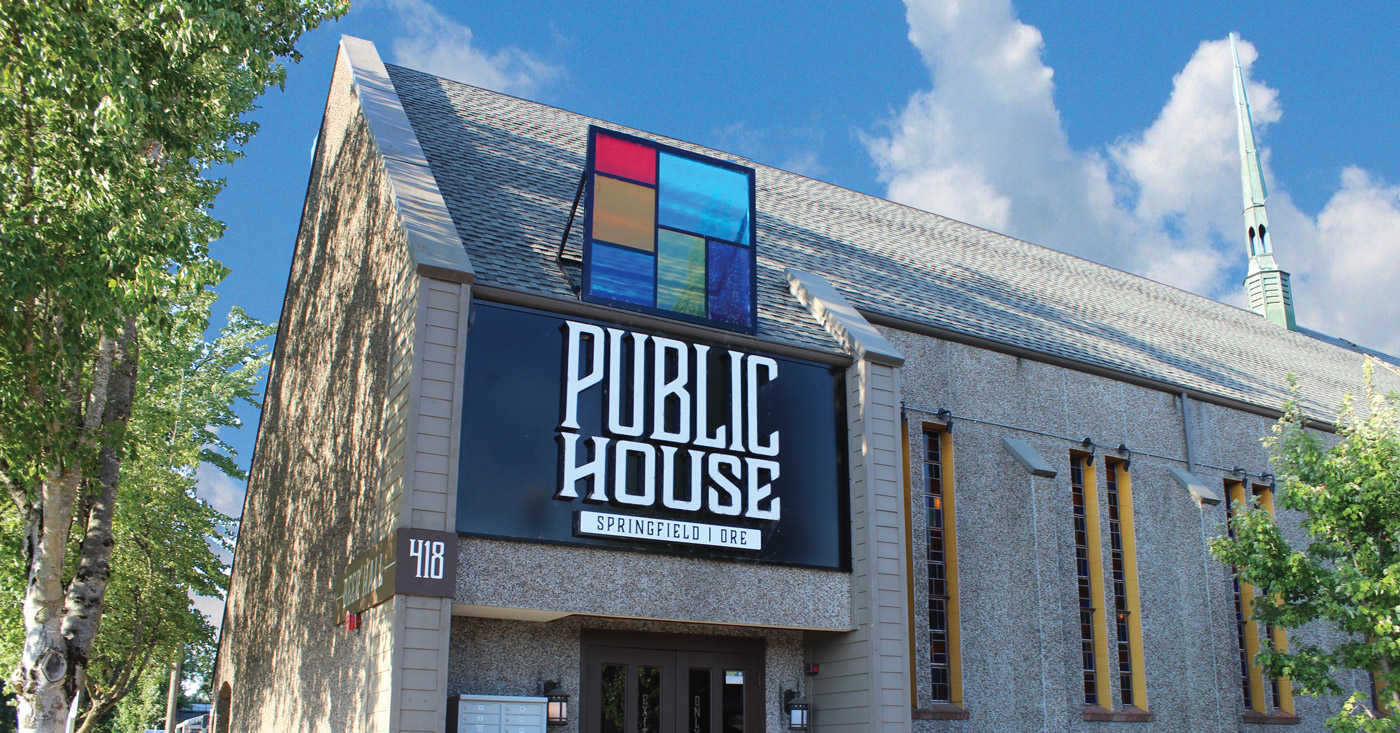 The complex is huge and multi-faceted, offering an incredible breadth of nooks and corners and lawns, all organized to operate cohesively for maximum variety and comfort. "Different areas appeal to different people, and you could have a different experience here every day of the week," says Phillips.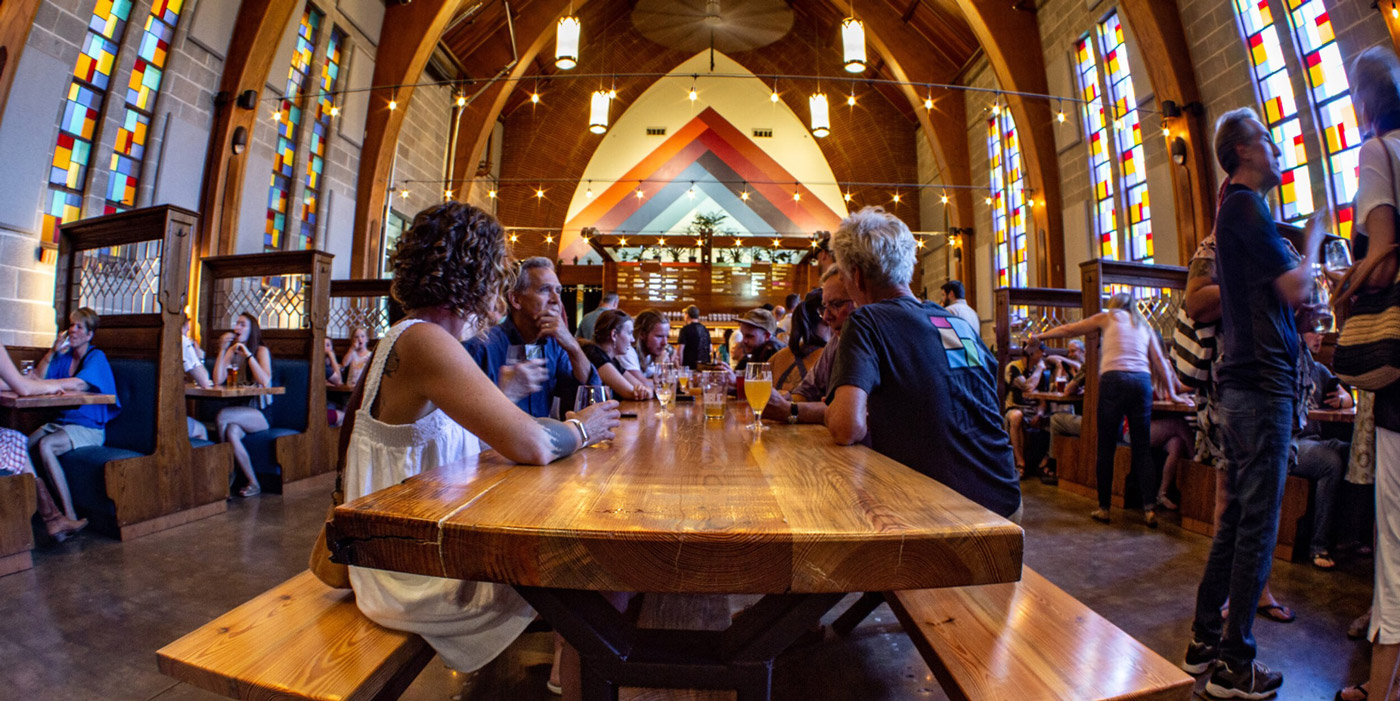 A tour of the building begins with the courtyard, buzzing with plentiful options. The open kitchen is shared between several separate food vendors, with a counter facing the courtyard. Over the course of the Public House endeavor, several culinary options have come and gone but right now, says Phillips, "we are set up particularly so that menus don't overlap. Everyone is sharing a snug environment, so it is important that we all get along."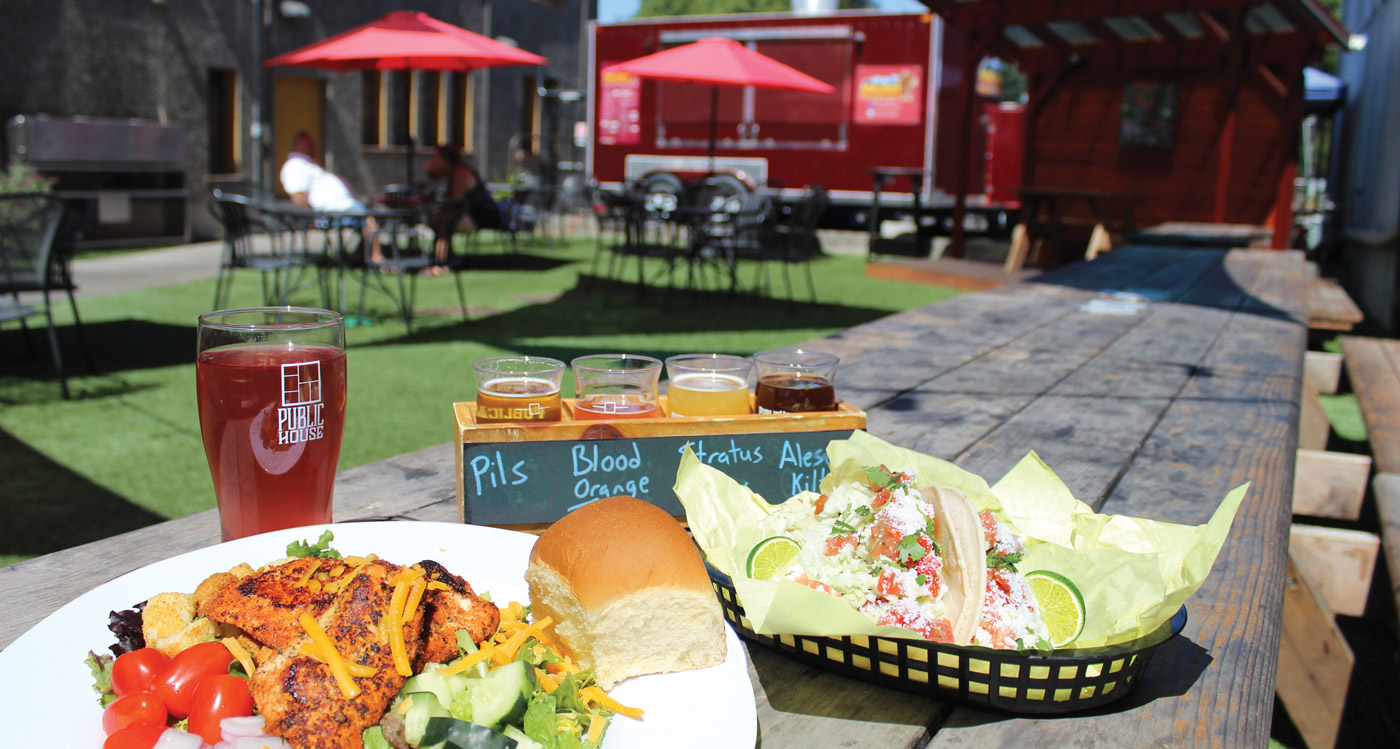 A notable addition to the courtyard was the introduction of Fisherman's Market about a year ago. The local institution was able to expand from its popular Eugene location serving up fish and chips and a plethora of seafood, to align with the Public House vision of "bringing in people with good products and name recognition," says Phillips. NW Burger Annex is the most recent counter to arrive, with made-from-scratch everything from the fresh ground local beef to the house ketchup. Moi Poki Grill (with a fraternal cart at Beergarden) offers a wide array of bowls and sushi handrolls as well as rotating Asian-inspired dishes. Anything involving "Pele's Tears" is highly recommended! Pizza Cue operates from the same counter, but serves up cast-iron pies along with smoked chicken and ribs to round out the courtyard cuisine. Squacho's Nachos, a mobile food truck that lands in the outdoor garden several days a week, loads on gourmet chili (plus hot dogs!) as well as smoked pork quesadillas. Overall, there's an incredible array of options for any group of peckish folks.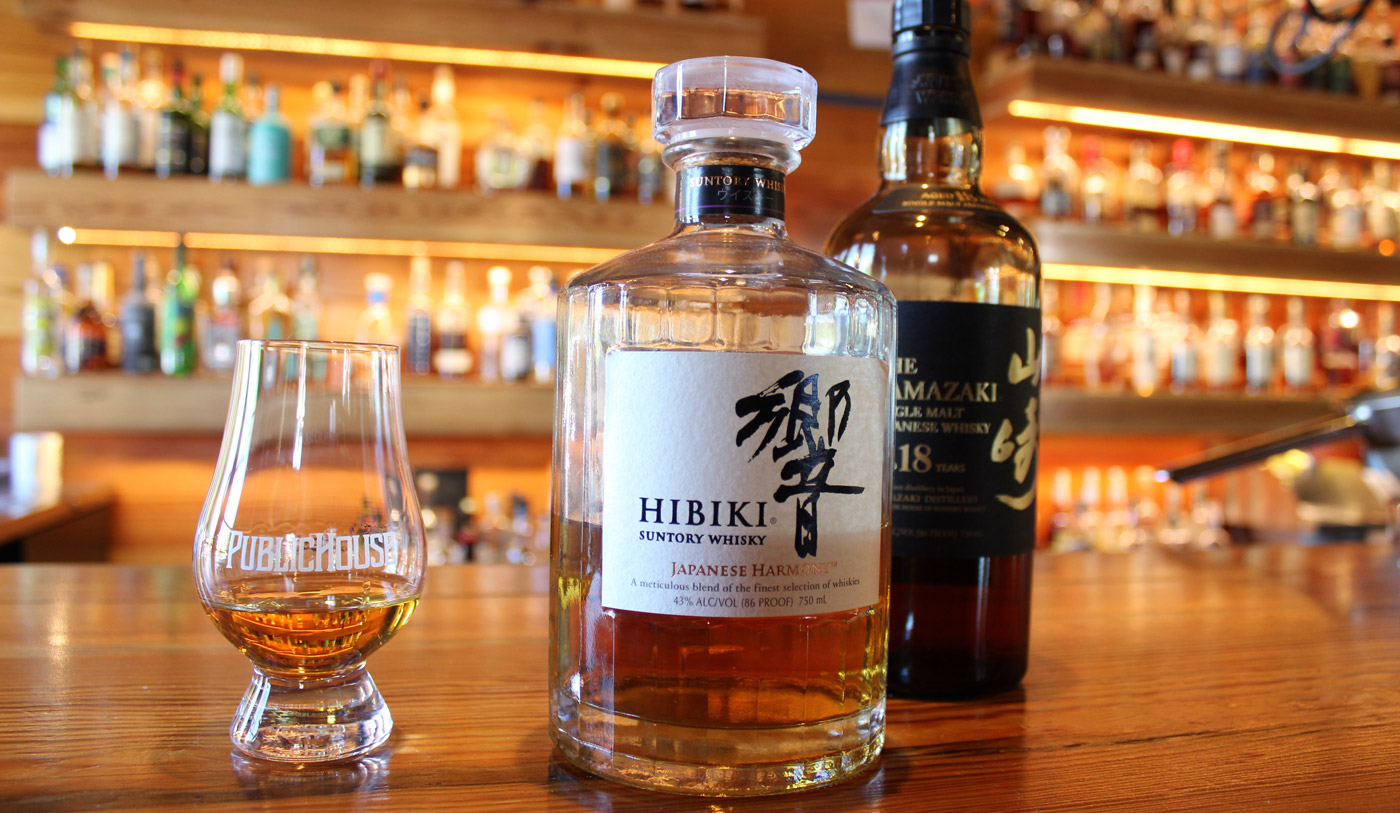 The tour continues toward the Whiskey Lab, an intimate space adjacent to the courtyard, with rich wood, subdued lighting, leather-upholstered booths, and a clean, quiet vibe. It's a solid place for a conversational dram. The back bar is lined with a generous selection of American, Japanese, and Scotch whiskeys — a fine display for those who prefer the focused enjoyment of a seasonal craft cocktail without the entire din of the outside world.
Just up the back stairs is The Attic, a semi-private lounge that serves as a mini-sports bar or a place for small parties featuring big screens and bright, easy access for a relaxed event. Here, and everywhere else in the complex, the in-house online ordering platform, Porter App, developed and programmed specifically for Public House, functions well for "people who are chasing kids and ordering different things from different places," says Phillips.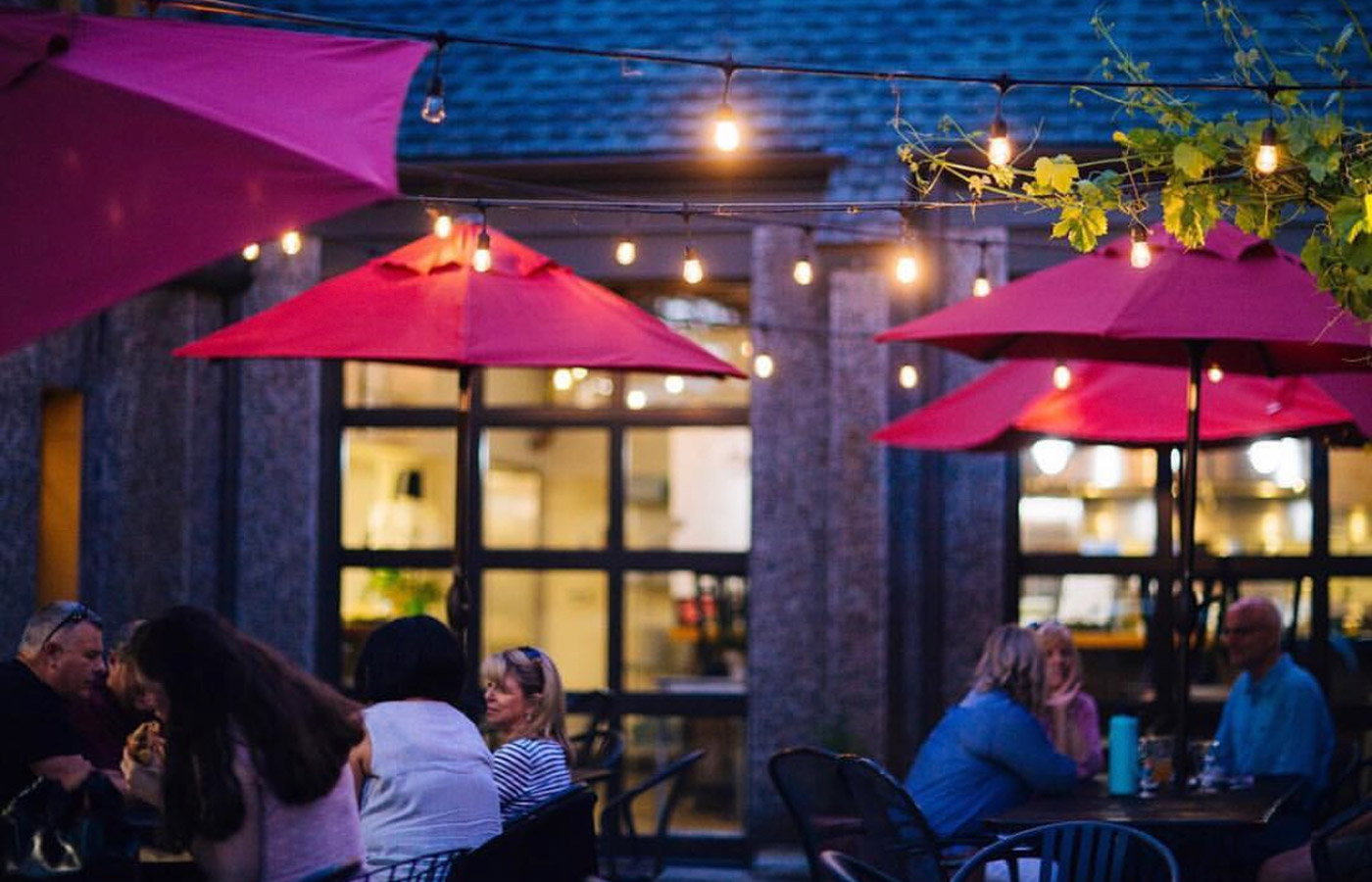 Along the hallway are a series of offices that end with a few large rooms with computers, monitors, phones, and conference equipment, all for the new co-working space with flex-desks, private areas, and the opportunity for Springfield professionals to set up shop in a convenient, high-tech zone. Public House allows you to order a beer from your desk and then meet a co-worker downstairs for a casual conference or meeting.
"This was our way to utilize space to bring people in every day," says Phillips. "We wanted to provide something Springfield doesn't yet have." Down from the private offices and back around behind the kitchen, The Garden opens up to a 3,000-square-foot semi-covered patio with tons of seating and a stage. "This is what sold us on the spot," says Phillips.
After all that, coming back into the large choir-lofted Beer Hall is both a relief and an inspiration: This whole space has a place for everyone, even if your preferences change by the hour. Whether it's music in the evening, a business drink in the afternoon, or a leisurely courtyard lunch, Public House, says Phillips, "was built for the community of Springfield to use and enjoy."
Public House, 418 A St., Springfield, 541/246-8511, publichousehub.com
Patrick Newson is a writer and beverage professional from Eugene. He has worked in and around the wine industry for over a decade, near and afar
Photos courtesy of PublicHouse and Megan Keough