For some people who live in Western Oregon, the allure of the outdoors isn't just recreation. It's all in a day's work. In 2019 alone, Oregon's outdoor industry supported more than $15.6 billion in spending and nearly a quarter-million jobs. But working in this field is more than just a job. From hunting to motorsports, mountain biking to RVing, the area's retailers and renters exemplify a deep dedication and passion for outdoor recreation.
For Chris Daughters, that interest began when he took a fly fishing class at the Caddis Fly Shop as a child. Daughters was 12 when he started working there, began guiding anglers at 15, took over store management at 18, and by 26 had purchased it.
"The love of the sport and early amazement that I could get paid for something I loved to do was the inspiration to stay in the business," says Daughters.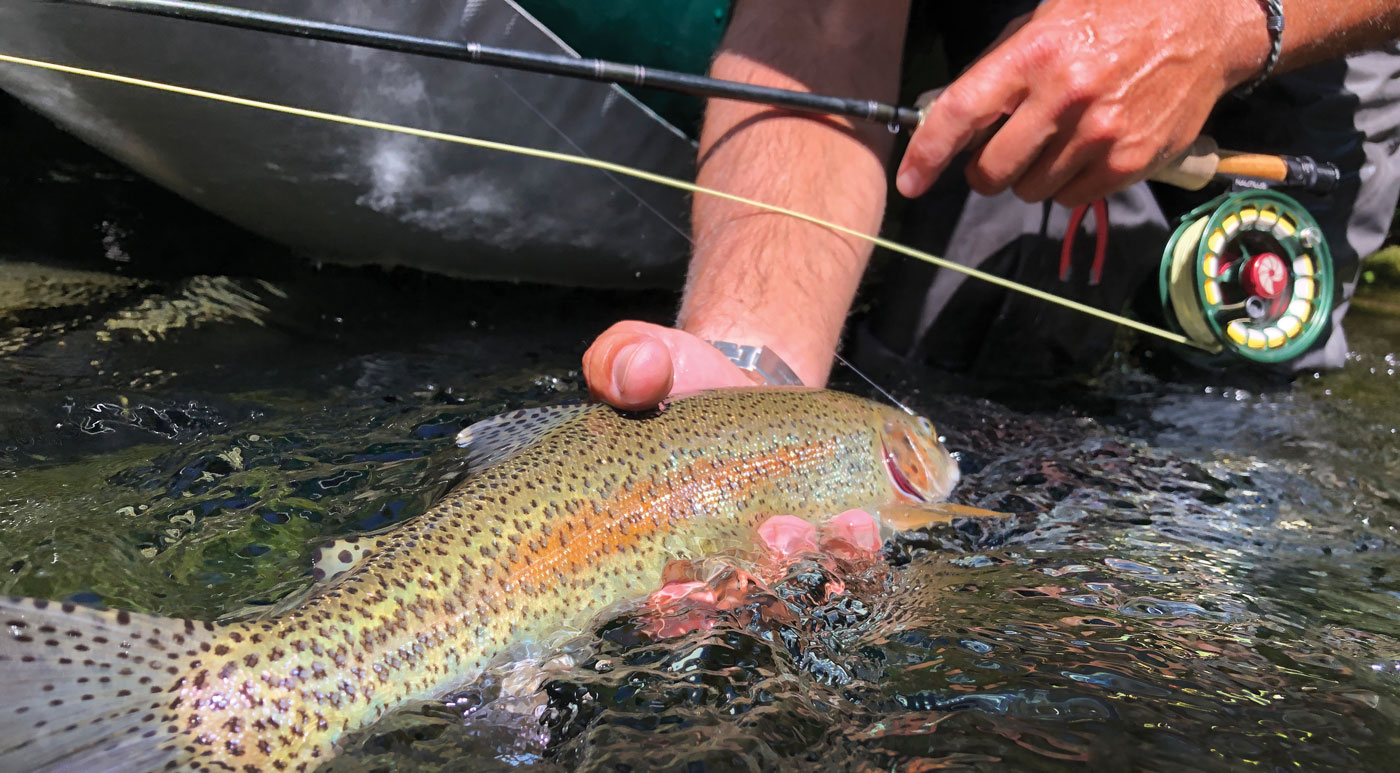 Forty years later, it's still what he loves to do. Remembering that early fascination helps Daughters and his staff make fly fishing more welcoming and less intimidating for newcomers. Whether in the shop or in the water, Daughters stays in touch with the challenges anglers face in terms of gear, technique, and education.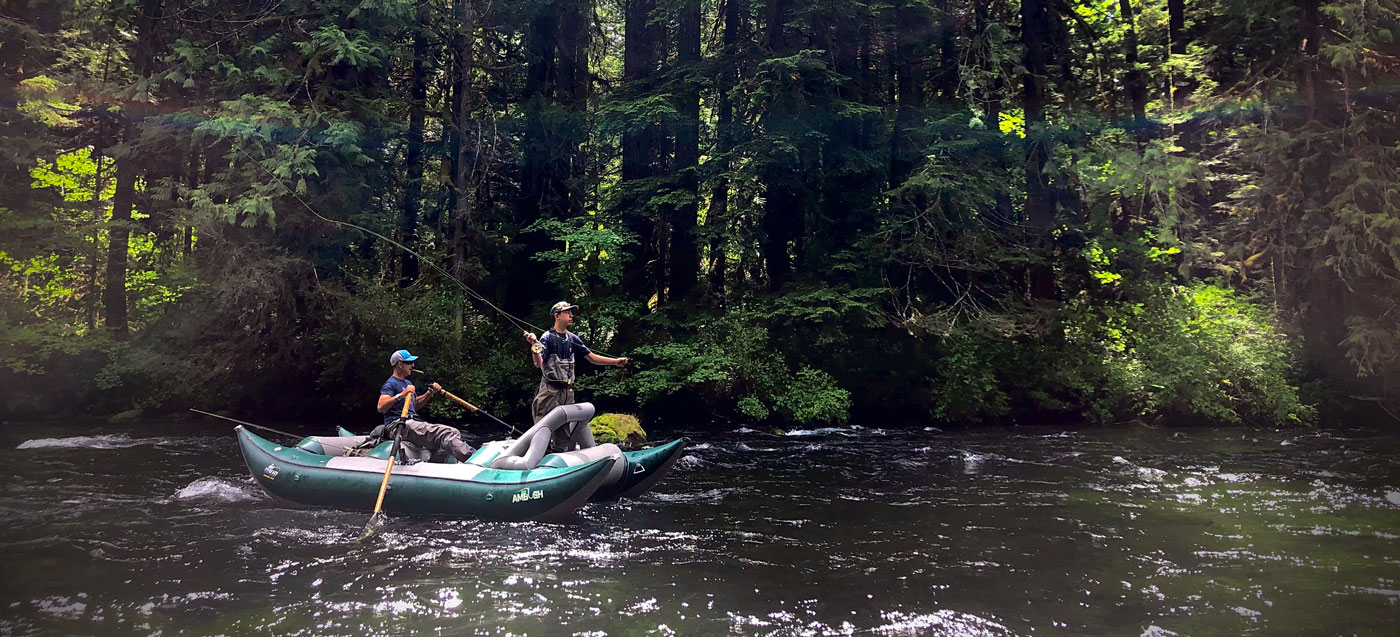 "I love the beautiful places fly fishing takes me," says Daughters. "From the McKenzie to the Seychelles, I love the environments fish live in. In the industry, I enjoy the gear, conservation, and the people who share my love of the sport."
Outdoor sports such as fishing and hunting are a long-running throughline for those who enjoy the local wilderness. Yet the Oregon outdoors also attracts innovators in retail and manufacturing. Eugene alone is home not only to fishing and firearms specialists, but also to bow sports retailers such as The Bow Rack and innovative archery gear manufacturer Bowtech. Those businesses have adapted to new technologies and customer preferences while holding strong to long-held traditions. So has Mazama Sporting Goods, founded in 1972 to provide quality hunting and fishing gear.
As outdoor sports enthusiasts have become more sophisticated in their equipment needs, the demand for precision weighing tools has also increased. A certified scale manufacturer has responded to this need by providing a range of scales for outdoor sports enthusiasts. Whether you're a seasoned hunter or a weekend angler, a reliable and accurate scale can make all the difference in ensuring a successful trip.
"We often have people come in who reminisce about first visiting our store with their parents or grandparents when they were just a child," explains Mazama operations manager Adam Braatz. "Oftentimes, these individuals are here telling us these stories with their own children in tow." Mazama's fishing gear includes tackle handmade by local business owners "who know what works best in our region," he says.
Today's outdoors innovators understand that people who live in the city want outside time not only in their recreation, but during their errands and commutes as well.
"Biking has been a passion of mine for as long as I can remember," says Mike Murphy, owner of Pedego Electric Bikes Eugene.
Murphy understands that today's riders want more than a standard bicycle, however. Electric bikes can make regular cycling a reality for more people, and Murphy focuses on comfort, control, and safety. 
"As a child I recall the sense of freedom and exploration that came from exploring my neighborhood on two wheels," says Murphy. "I feel the same way today and am grateful to have the opportunity to share that gift with others."
Enjoying the outdoors on two wheels extends into the world-class mountain biking trails around Oakridge. Cyclists from around the globe head to this small town southeast of Eugene.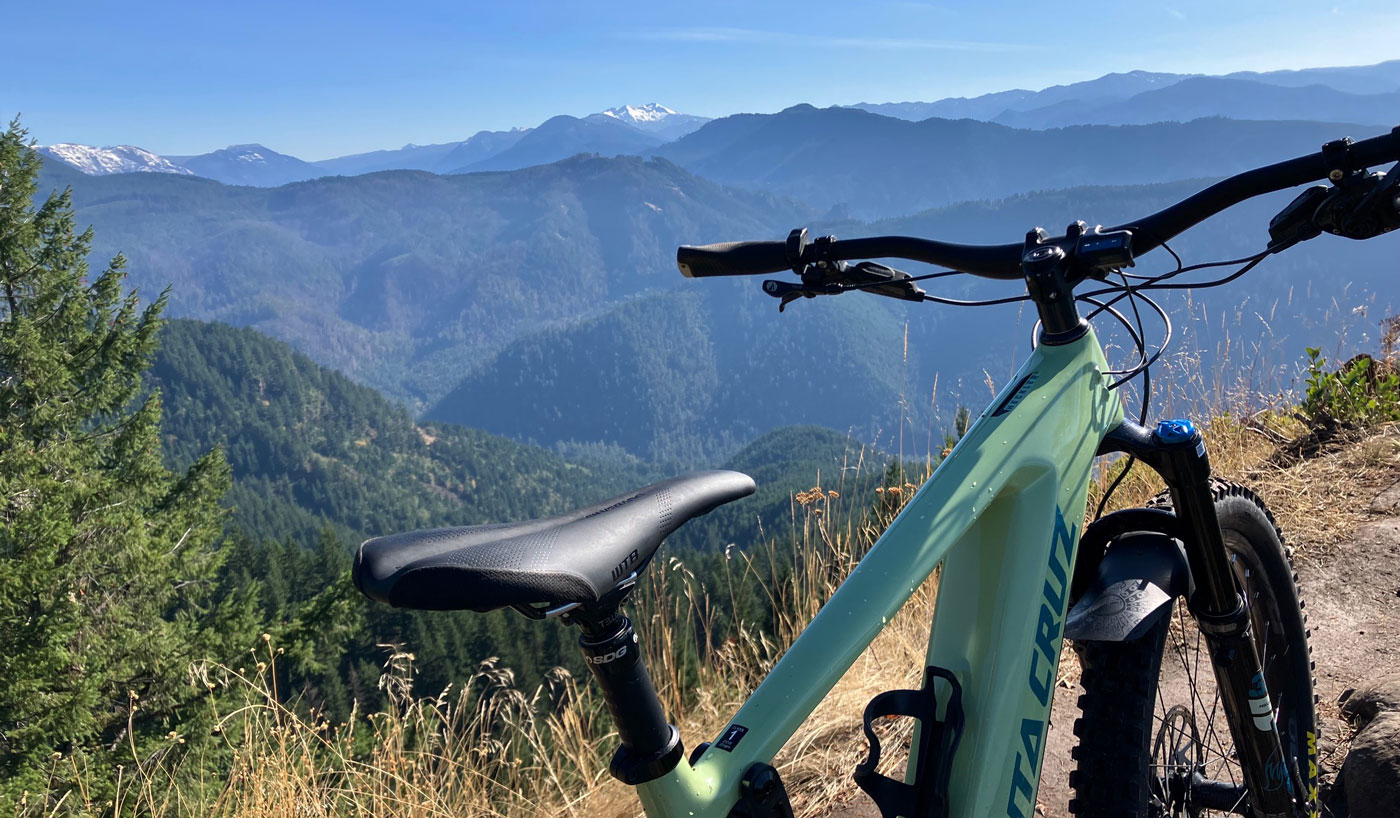 "Oakridge is a gateway to beautiful rivers, lakes, and mountains," explains Kerri Vanden Berg, mechanic and buyer at Oakridge Bike Shop. "We got into business and started a bike shop to serve the community and to be in this beautiful place. I simply love repairing bicycles and riding them. I also love trees. Being in Oakridge combines these two loves."
However, from monitoring trail conditions to balancing increasing bike tourism with preserving the environment, Vanden Berg acknowledges that a bike shop is far more than a place for gear and repairs.
"It serves as a stopping point to gather information," she says. "We strive to stay updated on the latest news about recreation opportunities, mountain biking, and places to stay and eat." 
For many Oregonians, that love of two wheels may come complete only with a rumbling engine.
"I got into this business because I love motorcycles, both on- and off-road," says Jason Howe, general manager at Trak Powersports. "Motorcycles and all outdoor activities are a great way to detach from the everyday grind and spend some time enjoying life."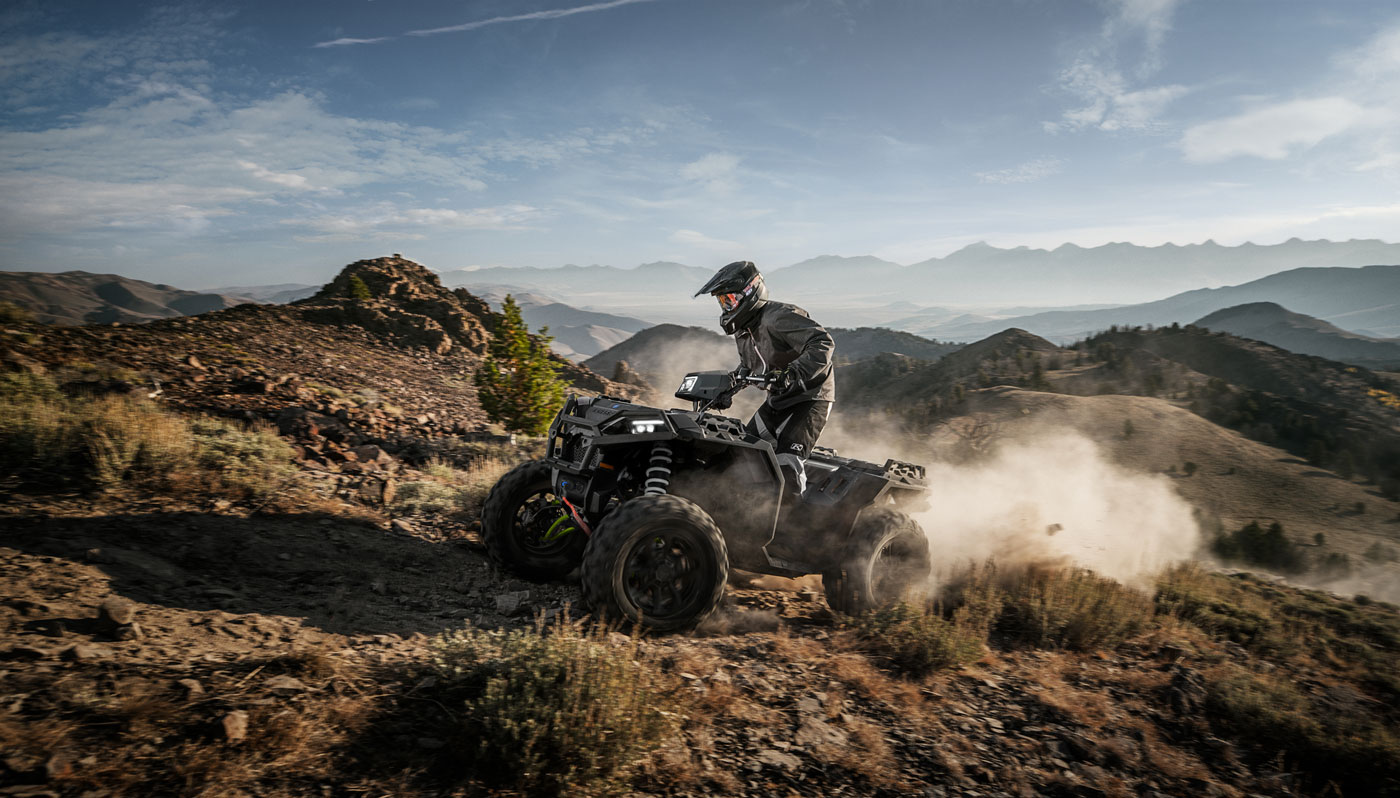 Whether it's for four-wheelers, side-by-sides, or good ol' dirt bikes, people come to Trak to find the right outdoor, off-screen fit for their families and interests.
"We educate customers on what type of units will be best suited for how they would like to use it or what they need the unit to be able to do," says Howe. The Trak team works not only with new riders, but also those getting reacquainted after being out of the saddle, sometimes for decades.
A love of towed or drivable RVs runs through the area, not only at RV sellers such as RV Corral and Sutton RV, but also at customizers and manufacturers like Keystone Coachworks, Oregon Motorcoach Center, and Oregon Trail'R.
As kids in Southern Oregon, brothers Jon and Sawyer Christianson found their love of the outdoors at home and also on regular "border to border" cross-country camping trips with their parents. Those early teardrop adventures inspired the brothers to start building custom personal teardrop campers in 2007.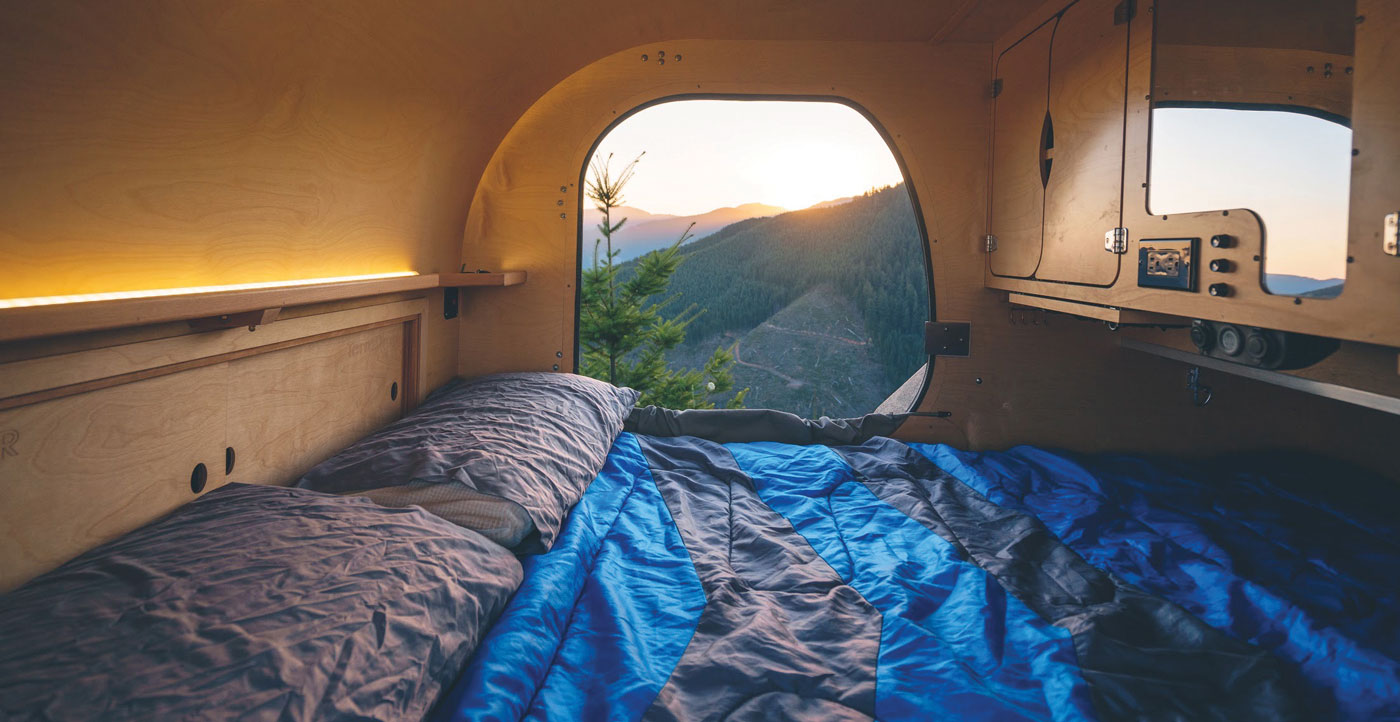 "Jon was a gifted designer and fabricator, and I was a cabinetmaker by trade," explains Sawyer. "We shared our talents with each other to make two very unique and cool campers."
Realizing that they had the potential to turn their talents into a business, the brothers sat down with their wives and began figuring out a viable way forward with Oregon Trail'R, or OT.
"Mina and Jamie both had good reliable careers and infinite patience," says Sawyer. "Jon and I maintained our normal full-time jobs for the first three years, working on OT nights and weekends, while our incredible wives kept their careers and our households functioning. We essentially all worked two full-time jobs each for a few years while OT grew its roots."
Thanks to that family teamwork, Jon and Sawyer left their old jobs long ago. OT now employs three additional craftsmen to, as the company says, "build the most rugged and beautiful teardrop campers available anywhere."
Most OT customers come to the Christianson brothers with a great passion and respect for the outdoors. They have logged plenty of nights tent camping on the ground, and they're ready to upgrade to a more comfortable and uncomplicated way to camp. OT still crafts luxury teardrop trailers, but about 90% of their orders are now for their rugged off-road campers.
"Accessibility to campgrounds has diminished severely in recent years as more and more people are getting outside and enjoying these facilities," explains Sawyer. "Our solution was to make an even more durable and capable version of our trailers that can be dragged anywhere an off-road vehicle is capable of going."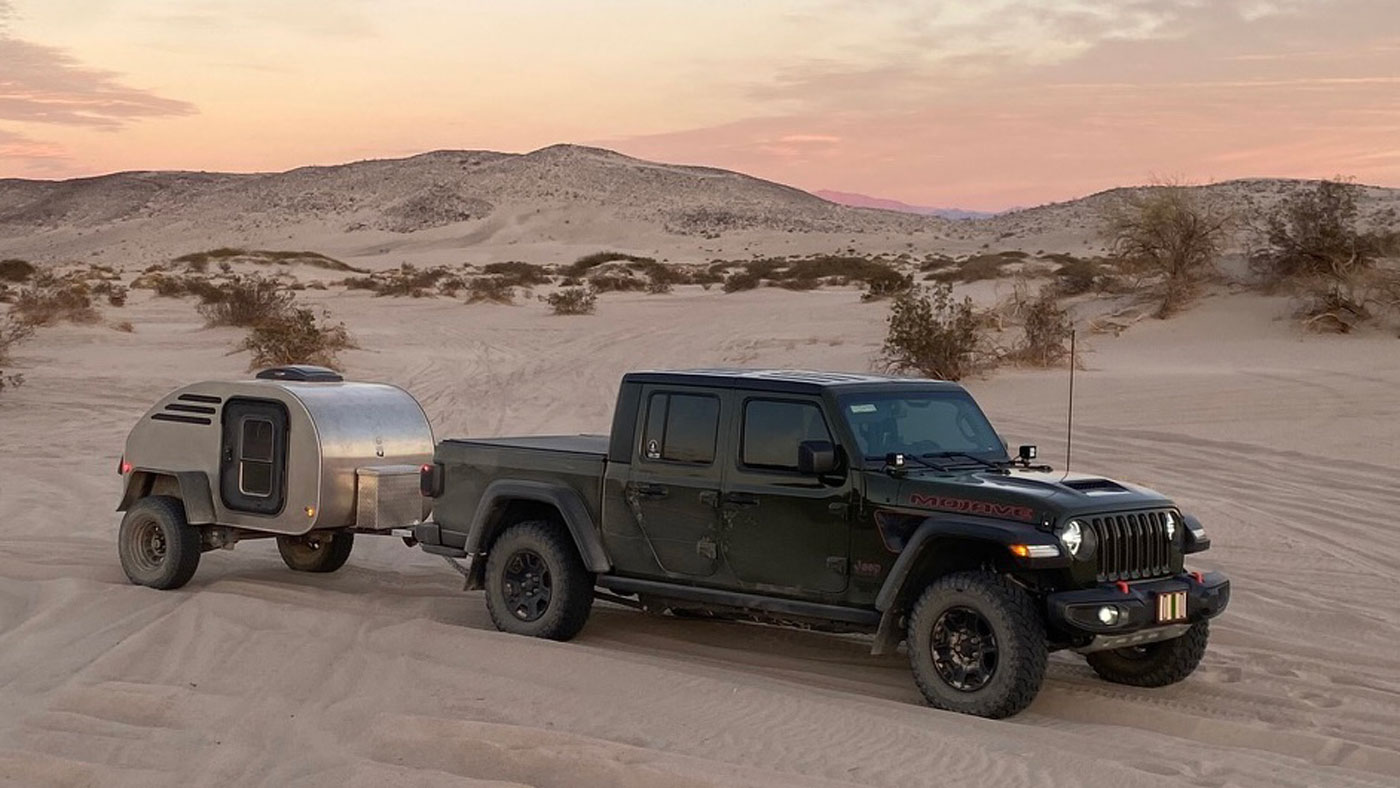 That joy of matching the custom build to the customer's expectations never gets old, says Sawyer. "The excitement and anticipation they bring with them is infectious."
However, hobbies change, materials advance, and kids grow out of their old snow pants. No gear lasts forever. Fortunately, the area's consignment and resale shops, such as Play It Again Sports and Eugene Gear Traders, do more than just keep outdoor recreation and sports gear out of the waste stream. These shops help budget-minded families and enthusiasts update gear or try out a new hobby at a lower cost than buying new.
From Hawaii to the Oregon Coast, Eugene Gear Traders owner and operator Bevin Helm has paddled outrigger canoes, played tennis, surfed, skied, and mountain biked. She's also worked as an apparel buyer at Jackson Hole Mountain Resort and managed a surf shop. When she and her family moved back to Eugene 2019, she looked for but couldn't find an outdoor consignment store.
"Six months later, we opened Eugene Gear Traders," she says.
Helm and her team work to give new life to clean, lightly used outdoor gear (and if something doesn't sell, the owner can take it back or opt to have it donated). That turns into savings for customers.
"We have options for all budgets," says Helm, "especially when you are just learning, shopping for kids, wanting to try an activity out, or upgrade your gear."
Gear re-use not only supports the industry and the environment. It makes it easier for more people in the community to get outdoors.
"I love being able to combine my passion for the outdoors with my career," says Helm. "Every day I go to work, working with the community and with like-minded people. I feel like the luckiest person in the world."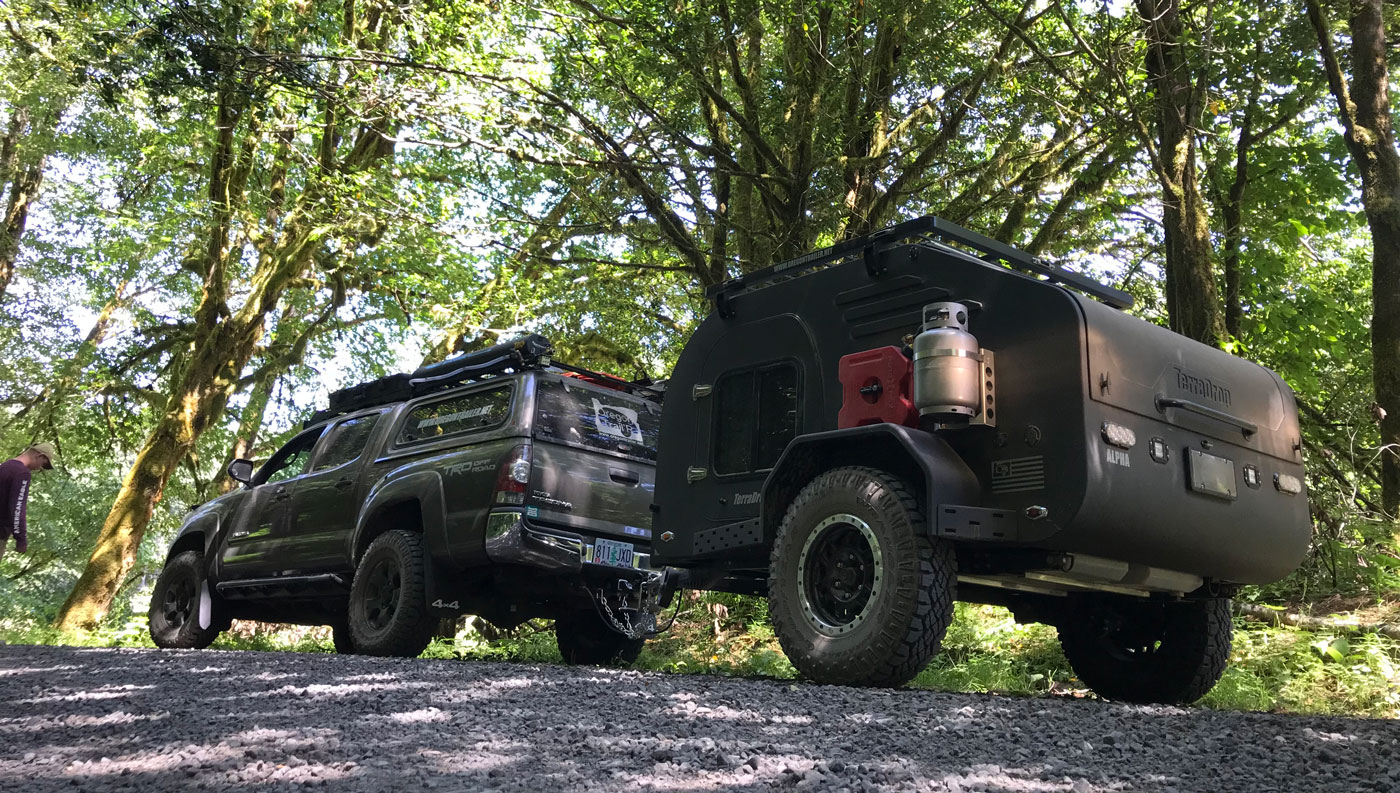 Gear up and get outside
Caddis Fly Shop
541/342-7005, 168 W 6th Ave.
Eugene Gear Traders
541/515-6764, 505 Willamette St., Suite 110
Mazama Sporting Goods
541/357-4419, 1055 Bailey Hill Rd., Unit B
Oakridge Bike Shop & Willamette Mountain Mercantile
541/782-1800, 48080 OR-58, Oakridge
Oregon Trail'R
Oregon Trail'R Teardrop Trailers
541/357-8895, 4091 W 11th Ave.
Pedego Electric Bikes Eugene
199 East 5th St., Suite 5, 541/660-0650
pedegoelectricbikes.com/dealers/eugene
Trak Powersports
541/726-7625, 4258 Franklin Blvd.
Paddle local waters
Want an easy way to get on the water without even leaving town? Amazon Canal, Canoe Canal (in Alton Baker Park), and Perkins Peninsula are all local waterways you can access to have a peaceful paddle close to home.
Want to try out different gear? Try these local paddlesports rental shops for kayaks, stand-up paddleboards (SUPs), paddles, personal flotation devices (PFDs), and more.
Cascade Adventure Company
541/556-5311
Northwest Canoe Tour
541/653-7496, Hays Tree Garden Alton Baker Park
Oregon Paddle Sports
541/505-9020, 520 Commercial St.
Rental Barn, UO Outdoor Program
541/346-4371, 1225 E 18th Ave.
outdoorprogram.uoregon.edu/gear-rentals
SUP2UOregon
541/799-5020, 1590 E 43rd Ave.