Oregon Duck football fans are a unique breed, not to mention faithful tailgaters. After days of planning, tailgaters wake early in the morning for every home game, arriving at Autzen Stadium long before crowds arrive and TV cameras spark to life. Like green and yellow pilgrims, their simple goal is to provide food, drink, and a welcoming space for friends and strangers alike. Some do it from the back of pickup trucks parked outside Autzen, others from motor homes. Some live nearby, others travel great distances. It's a labor of love, and some have been doing it for decades—so long that their tailgating spot, reserved by a donation to the Duck Athletic Fund, will be passed down through the generations.
What all tailgaters have in common is a passion for the Ducks, football, and the community, inspired by both Duck football games and the tradition of tailgating itself.
The Home Field Advantage
Carrie Blythe has been tailgating for 30 years, as long as she's been alive. She no longer lives in Eugene, unlike her father and his best friend (both alumni of the U of O) who donate money for the spots. But she says she can't imagine not tailgating at a home football game. "The parking lot opens four hours before kickoff," she says. "I usually try and get in there three-and-a-half hours before kickoff so I can get everything setup so that when my dad and his friends roll up it's all ready to go. I'm usually getting up at about 7 am," she continues, "getting ready and loading things into the car, like tables, tents, booths, and water."
Eugene-Springfield resident Sharon Tate says she's not a football fan—her husband is. But after getting her first taste in 1991, she's been hooked on the tailgating ritual. "It's a social thing," Tate says. "A friend invited us to tailgate with him out of the back of his pickup," she recalls. "It grew from there. We ended up buying a motorhome. It's gone from being in the back of a pickup to 150 to 200 people. It's friends of friends. It's gotten so large we gate it off and we have someone who puts bracelets on. They have to know somebody that's in there or we don't let them in."
For Justin Sheppard, his love for Ducks football and tailgating became a career. In 2012 Sheppard launched Cornerstone Tailgates & Events, a mobile bartending, catering, and event company. Born and raised in Eugene, Sheppard says Ducks tailgating is Cornerstone's specialty. "We put on private tailgates," he says. "We create a fenced, private area, we set up a bar—whatever the client wants."
And for local resident John Conway, Ducks football is a family tradition. "We grew up Duck fans. My dad started when he moved over from Hayward Field—been season ticket holders ever since," Conway says. "It's something I want to keep doing for our kids, too."
A Quality Game Plan
No matter the size of a tailgate, it's important to have enough food and drink for invited and drop-in guests alike. Tate tackles the menu well in advance. "We sit down before football season," she says. "We do themes. We'll do Mexican. We'll have Italian. We do ribs and sirloin." But Tate says it's always a team effort. "Everyone brings different dishes to go along with the theme. Typically, I start on Friday," she continues. "My daughter and I will go do all the shopping. We do a full-service bar. We do our liquor runs to California before football season."
Sheppard says his company even provides a personal chef for Tailgater clients as well as "picnic tables and canopies," he says. "We usually make a day out of it. We'll have everything set up pregame. We'll have a satellite TV as well, and then they can come back after the game."
For Blythe, her tailgating food sometimes comes from as far away as California. "My dad flies up from California," she explains. Her father's friend owns a pizza place in Sacramento. "He'll bring up those pizzas."
Other times, Blythe says, the food at her tailgates is planned around the game's kickoff time. "If it's a 12:30 pm game, we'll do something more like doughnuts, bagels, or eggs. If it's an afternoon, we'll do tacos or chili," she explains. "If we're expecting a large amount of people, we'll get it catered." Other times it's barbecue or sandwiches.
And for John Conway, variety is the spice of his tailgates. "Always something different," he says. "Smoked tri-tip and brats. We've had people do salmon."
He continues: "We show up when it opens. We've got the extra site for the tent. We alternate people doing the main courses. We always have stuff to drink. It serves as a stopping point for a lot of people to grab something to drink and talk football." Or, Conway says, toss the football with kids.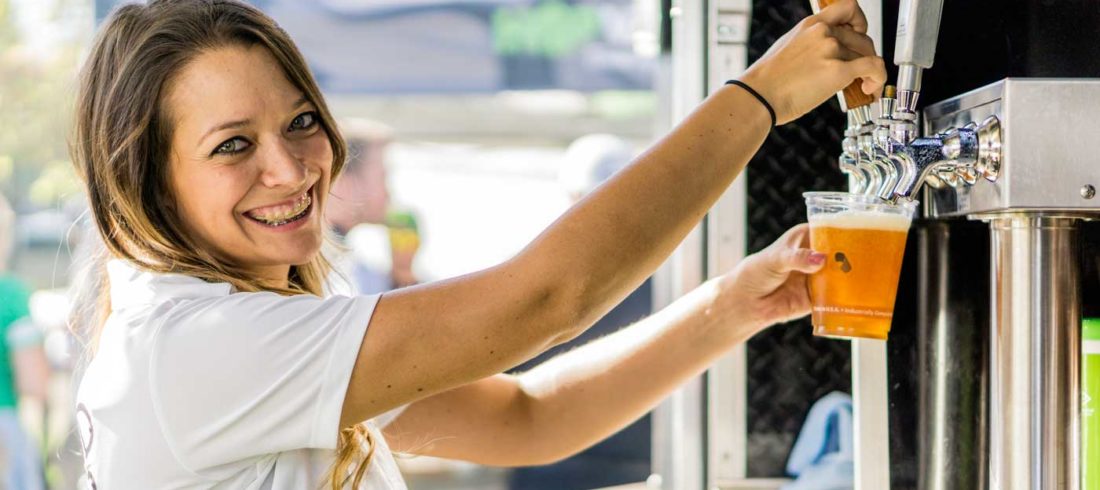 For the Love of the Game
Tailgating should be, above all, about preparing fans for the game on the field. John Conway has been doing it since the '70s, so he remembers a time when the Ducks just weren't very good. "At that time, you could just drive in and park anywhere," Conway says. "Take as many cars as you wanted. Back when we started it, people went for the tailgates. As the Ducks got better and better, it became more about the football."
Blythe says tailgating makes the football experience. "The camaraderie," she says, "talking about the game, getting everyone excited. It gets everyone hyped up. Then when you go into the stadium it takes it to the next level. I've grown up tailgating at Autzen."
Sheppard agrees. "It brings people together—for the love of football but also for the love of eating and drinking and socializing. Some say it's America's fastest growing sport."