In 2021, glassblower Bob Snodgrass will celebrate 50 years in the industry, culminating a half a century spent doing what he loves and a legacy that made Eugene a magnet for other glassblowers eager to learn the trade.
"Along the way, I've figured out a few things, came up with some accidental discoveries that led me to being somebody like the top mouse on the pinnacle," he says. "I still like to do it. It's way worth it."
It all started in Akron, Ohio, in 1971. Snodgrass and his wife would make candles on the weekends while also balancing family life and day jobs. A shop opened down the street, displaying what looked like cannabis pipes for sale in the window. His curiosity piqued, Snodgrass stopped in, meeting shop owner Chuck Murphy.
Murphy started in the glassblowing (also called lampworking) game early in his life, learning from a customer at his old paperboy job. As his training progressed and he was introduced to cannabis, the two became intertwined, and he and his mentor developed the first flare pipe. Murphy then passed this knowledge on to Snodgrass in their many years training together.
"He said fire burns and glass cuts and this is how you do it," Snodgrass says. "And I started doing simple things and progressed along the way."
In 1974, he and his wife hit the road, packing up a school bus with their candles and Snodgrass' glass creations. On their trek between maker fairs, he honed his craft, eventually developing a following among fans of the Grateful Dead—until 1990, when they stopped in Eugene.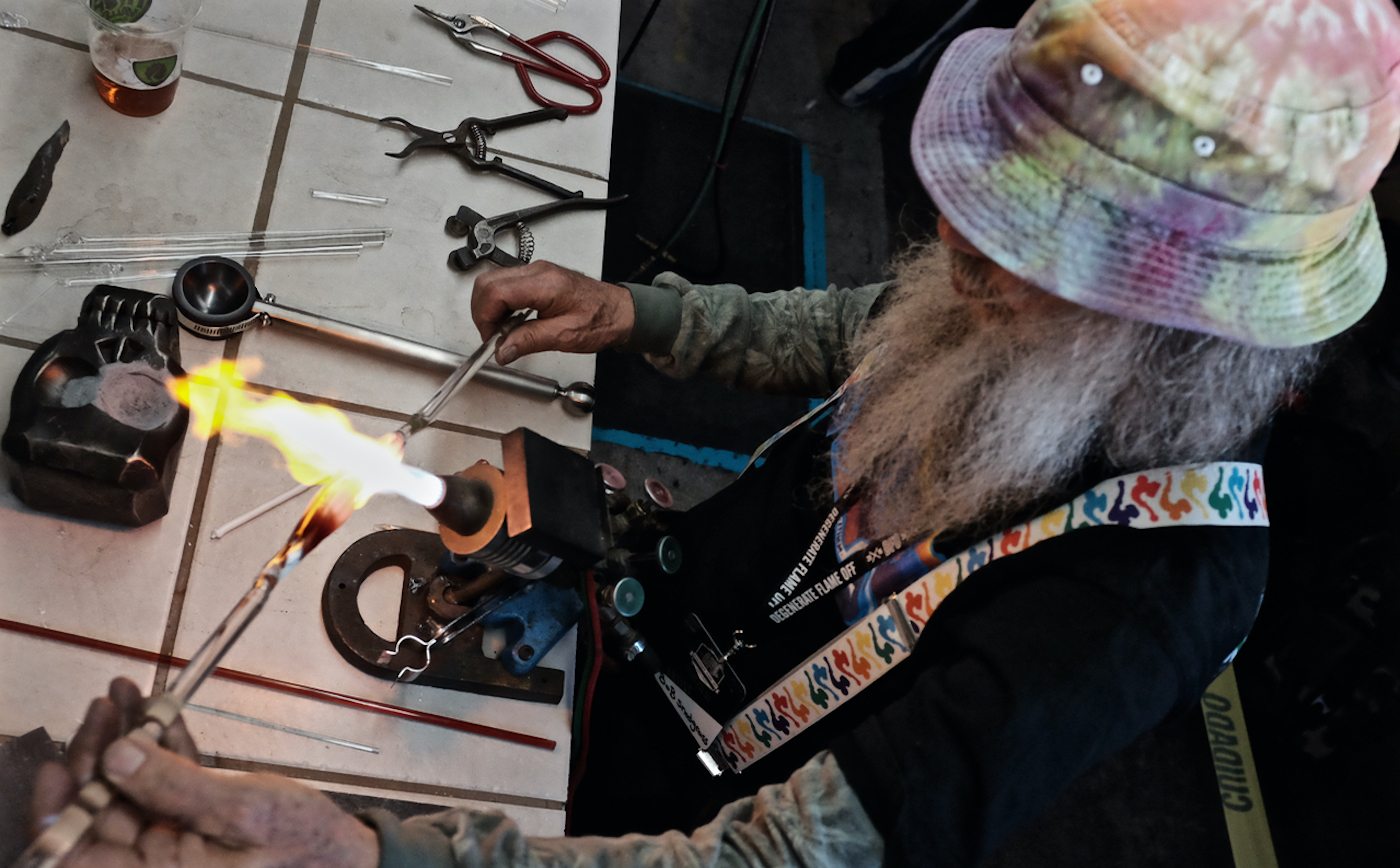 Experiments in color
Snodgrass is known not only for his innovative pipe construction, but also for his experiments and successes in color, which can be seen in both his pipes and his marbles.
"'Experiments in color' are what I called my first marbles," he says. "I crushed or filed all types of mineral samples, pieces of meteorites, old pottery glazes, even dirt from my yard. I blended this with molten clean gas in hopes of producing colors and a compatible usable color glass."
He developed a groundbreaking technique for boiling silver and incorporating the fumes into his pipes.
"Those vapors made it; after it got smoked, instead of looking dirty and ugly, it actually made it all iridescent and had an electric sheen of lightning blues," Snodgrass says. "And so I tried to incorporate that. So besides making the best smoking piece, I worked on making the best-looking piece."
He's been a pioneer for other techniques and practices as well, including around safety.
"I notice very few shops in the '70s, '80s, and even the '90s had adequate ventilation," Snodgrass says. "My stressing the importance of proper ventilation has made an impact on shop safety around the world."
The end of the time of secrets
When Snodgrass and his family landed in Eugene in 1990, he had already developed a reputation for his glass, particularly among Grateful Dead fans. When he arrived, there were only three other glassblowers in town. Soon, others started coming into Eugene to learn from Snodgrass or just watch him blow glass. Over the years, he has trained nearly 30 apprentices, happy to share his techniques after remembering what a high school algebra teacher once told him.
His teacher had drawn a bell curve on the board and told the students this is the human learning curve. He said that during their lifetime, the learning curve was going to shoot straight up. Young Snodgrass raised his hand to ask what he meant by that.
His teacher responded, "I don't know, maybe it could be the end to the time of secrets."
This memory came flooding back to Snodgrass when he first figured out the fuming technique. He could keep it a secret, he thought, or he could share what he had learned. He decided to teach, even founding the Eugene Glass School.
"There was a mania that kind of swept Eugene, where people were coming from all over the world to come here and learn lampworking," he says.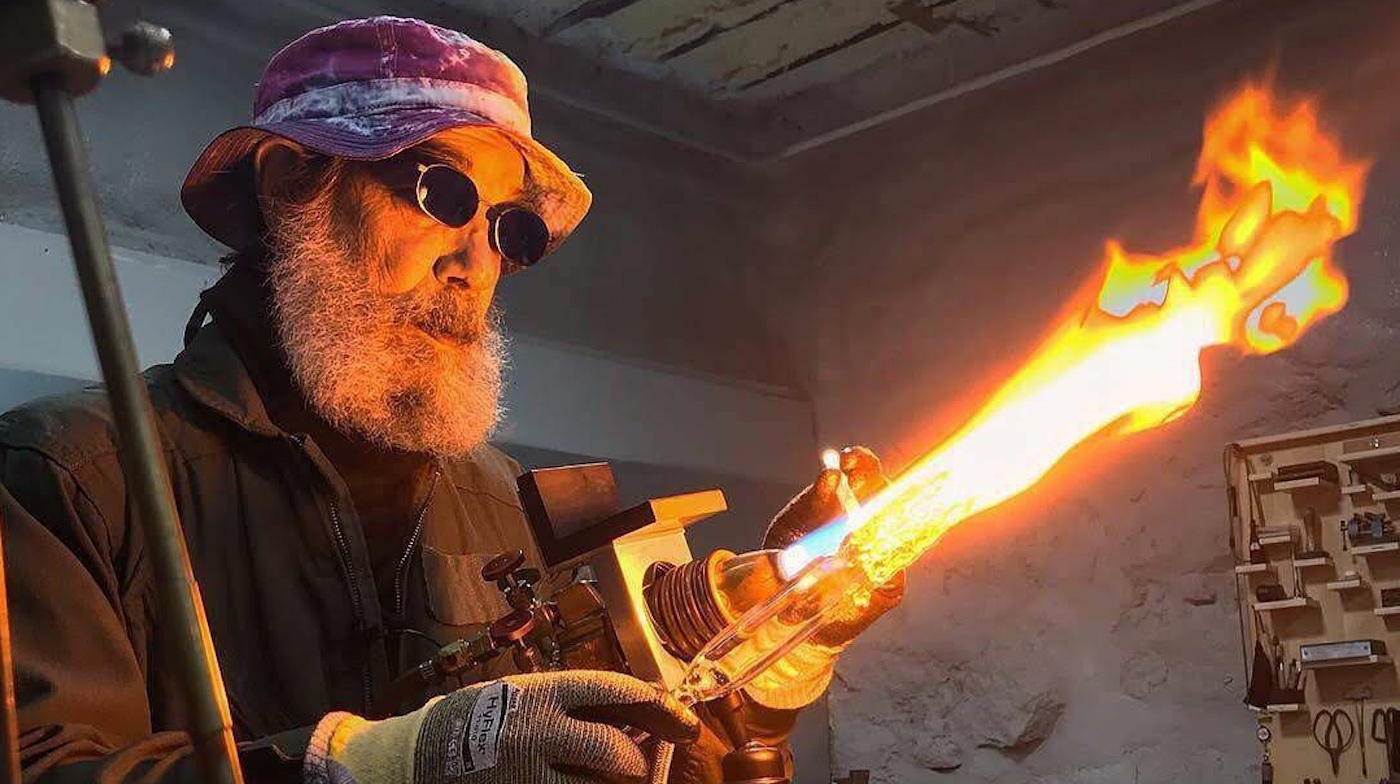 Mr. Happy
Snodgrass still enjoys what he does.
"I like making parts and pieces, prep work for future pieces," he says. "I call my finished work 'future fun.' I may make a hundred parts for my more exotic work. I get on kicks and one week it's jars, another marbles, or whatever catches my imagination. Sometimes I make parts for other lampworkers to collaborate into finished works."
Skull imagery is common in Snodgrass' work, and that symbol has a couple different meanings. When he was first training, he made a simple face with red glass thread, dubbed "Mr. Happy." Later, this morphed with Grateful Dead iconography to become a skull. But the skull also has deeper meaning.
"The biggest proof we've been on this planet is skulls," he says. "You go back and dig up the oldest artifact and it's somebody's dome. So that's where our consciousness is supposed to be."
Snodgrass continues to be inspired by his work.
"Some of it's a surprise," he says. "You can work within some specifics, but if you take it up on the edge, then things happen—things drift, things float, color floats, metal floats. . . . I made a couple entertaining pieces last night that made me happy."