If you want to know a secret about sparkling wine, don't look to France. Everyone knows about the French bubbly known as champagne, but some of the best sparkling wine in the world is quietly made right here in the Southern Willamette Valley—and that secret is getting out.
"Quality sparkling wine from Oregon's Willamette Valley is most often compared to quality champagne from the Champagne region of France," says Julia Crowley of Sweet Cheeks Winery. "Both are cool-climate regions with soils that boast remnants from ancient sea beds, where site-expressive pinot noir and chardonnay thrive. These are the benchmark varietals used in the production of high-quality sparkling wine, and some of the world's finest pinot noir and chardonnay are produced right here in the Willamette Valley."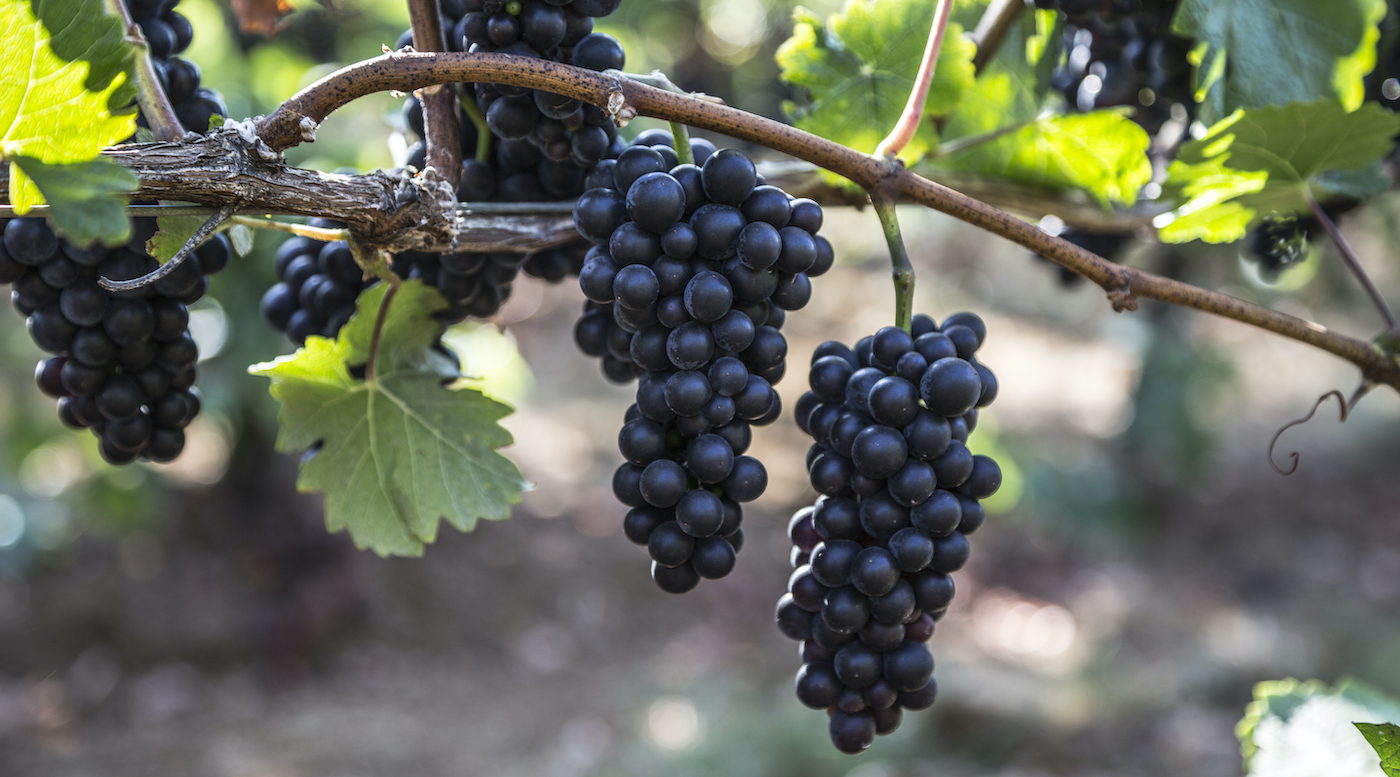 Oregon pinot noir is celebrated worldwide, but the grape's use in sparkling wine isn't as well known. Some regional wineries grow pinot noir and chardonnay explicitly for making sparkling wine, says Brent Stone, winemaker at King Estate Winery.
"The grapes are picked early to provide a bright, crisp, sparkling base," Stone says. "After being chilled at 40 degrees Fahrenheit overnight, the following day the grapes are pressed cold, yet delicately, to extract only the highest quality juice with the best aging potential. After bottle fermentation is complete, the wine is aged en tirage (in the bottle) for a minimum of three years."
During this time, the wine is aged on its leftover yeast particles, or "lees." Once the wine has rested long enough, the lees are removed through a process known as "disgorgement."
"The light pressing and extended aging result in superb flavors and complexity," Stone says.
There's a reason it's "Oregon sparkling wine," not "Oregon champagne."
Like Italian prosecco and Spanish cava, French champagne is a type of sparkling wine—but a sparkling wine can only be called "champagne" if it comes from the French region of the same name.
In the US, sparkling wines are typically made exclusively from chardonnay grapes (blanc de blancs), exclusively from pinot noir (blanc de noirs), or from a blend of the two (sometimes with a third sparkling wine varietal, pinot meunier).
Most American sparkling wines are made in the champagne style, following strict French-developed guidelines known as the "méthode champenoise" or "méthode traditionnelle." Among other requirements, sparkling wines made under the méthode champenoise can't be carbonated in a tank and then bottled. In order to get the bubbles in the bubbly, the wine must undergo a secondary fermentation in the bottle.
King Estate, for example, crafted their 900 cases of 2016 Brut Cuvée with the méthode champenoise, Stone says.
"'Brut cuvee' literally means 'dry blend,'" he explains, and the dryness lets the bubbles and aromas take center stage in the glass.
When shopping for sparkling wine, you'll often see labels that say things like "extra dry," "brut," or "brut cuvee." Brut sparkling wines have a dry taste, no sweetness, and may carry a crisper texture. An "extra dry" will actually carry a touch of sweetness and a softer, smoother mouthfeel.
Many sparkling wines are blends and don't carry a vintage. When a sparkling wine does carry a vintage year, it's a sign that the winery considered the wine special and among the highest quality they offer.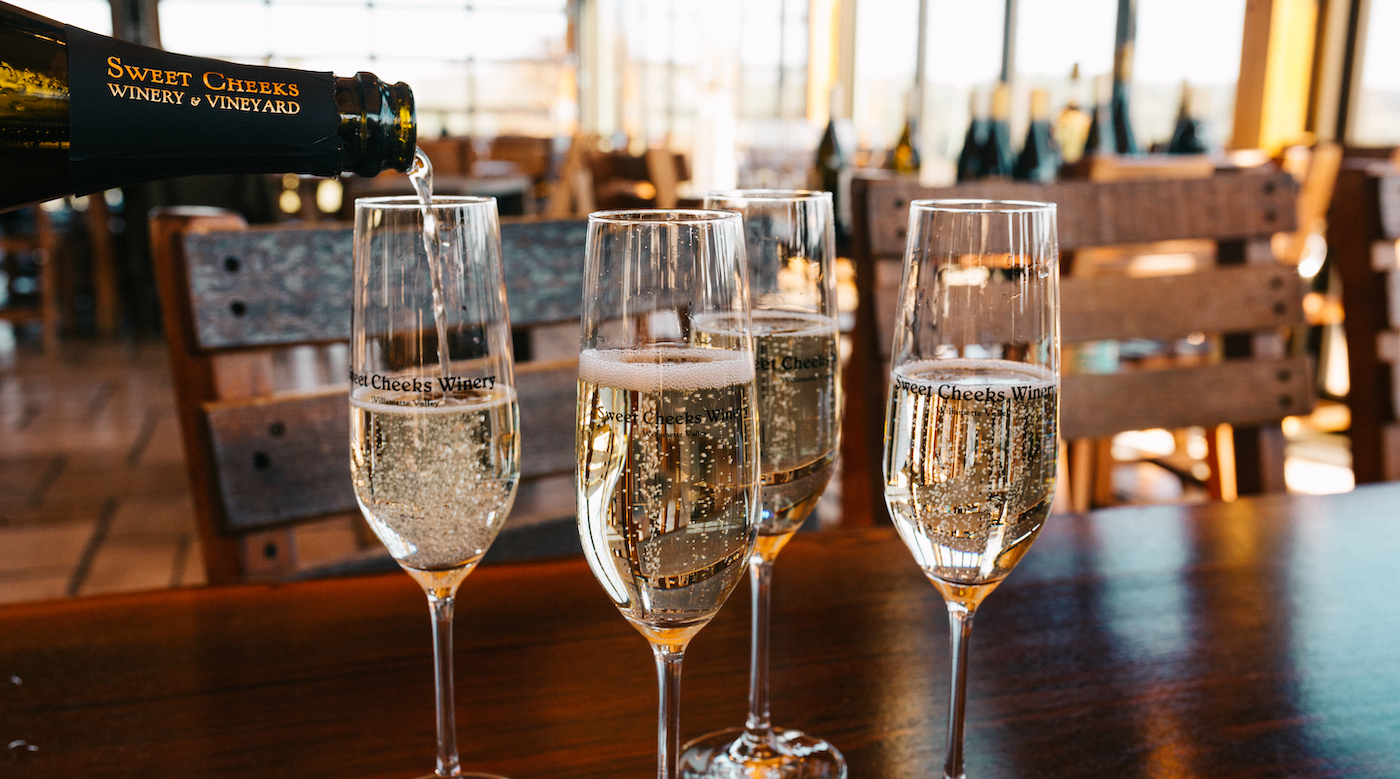 Sweet Cheeks created their 2018 Trio Sparkling Wine as a tribute "to the third generation of the Sweet Cheeks Winery family that was born the same year the grapes were harvested," Crowley says.
Trio was produced using the mèthode traditionelle style, from a blend of half estate pinot noir and half estate chardonnay.
"The standout characteristics are very similar to those of a champagne, with the exception of the Willamette Valley's notable fruit-forward characteristics," Crowley says.
With no skin contact and zero dosage, Trio pours clear. The dry wine's aromas evoke freshly baked bread, pears, pie spice, and an earthy, refreshing hint of wet stone. A lively minerality and zippy acidity present a crispness similar to apple and melon.
"Trio exhibits the best expression of our estate pinot noir and chardonnay grapes," Crowley says.
While the area's sparkling wines continue to gain renown nationwide and around the world, sparkling wine isn't actually a new thing here. Early winemakers are thought to have been testing Oregon's suitability for grape cultivation and sparkling wine production since the late 1800s.
"It's important to choose a cooler region," Ray Walsh of Capitello Wines says. "You want a nice, long hang time since you are harvesting at a younger stage. The hang time develops flavor. Warmer climates hold a heavier crop, but you don't get the same concentration of flavors."
Pinot noir drew Walsh to Oregon from New Zealand. "The complexity is a big part of the terroir, the volcanic soils, along with the passion that was already here in grape growing," he says. "That all has aided this being a great region for pinot noir and sparkling wines."
About 40 Oregon winemakers have produced sparkling wine, a number that makes Oregon bubbly less a rarity than a truly special everyday luxury.
"While every region is unique, I would compare Oregon's sparkling wines to those of Champagne," Stone says. "Our climate and winemaking methods are similar, and producers in both regions put a significant emphasis on quality."
Capitello, Sweet Cheeks, and King Estate all see the Southern Willamette Valley's distinctive climate as key for the area's distinctive sparkling wines.
"The cooler growing conditions found in the Willamette Valley are similar to those found in Burgundy and Champagne," Stone says. "Classic sparkling varieties, such as pinot noir and chardonnay, thrive here, and they have helped build Oregon's reputation as a premium sparkling wine region."
Like bubbles floating to the top of the glass, so rises Oregon's reputation for creating sparkling wines. Oregon now ranks fourth for US sparkling wine production. Our sparkling wines stand apart because of their long tirage, or the time the bottled wine rests on its lees. It's not uncommon for local vintners to age sparkling wines for two years, three years, or even longer.
"I lay them down five to nine years," Walsh says. "It gives the wines the full body that makes them stand out in the tasting. . . . Quality is how we put our best foot forward. There's been a lot of press recognizing the Willamette Valley as a fantastic region for sparkling wine. More wineries are doing more production, and that's giving the customer more variety."
Have sparkling flair in mind for your holiday cheer? Here are some bottles to bring home:
2016 King Estate Brut Cuvée, $40
"Oregon's string of remarkable years with ideal growing conditions continued in 2016. Four years in the making and eight years since we last produced a sparkling wine."
2008 King Estate Blanc De Noirs KE, $80
"Beautiful burnished gold color. Finesse to the bubbles with a complex lingering finish."
King Estate Winery | 80854 Territorial Hwy., Lorane | 541/685-5189
2018 Sweet Cheeks Trio Sparkling, $48
"Fifty percent pinot noir and 50 percent chardonnay harvested from our estate vineyard. Leaves a bright and crisp sparkle."
Sweet Cheeks Winery | 27007 Briggs Hill Rd. | 541/349-9463
Capitello Brut Sparkling, $42
"Seventy-two percent pinot noir and 28 percent chardonnay, with a tirage of 4 to 5 years."
Capitello Brut Rosé Olivia's Cuvée, $60
"A blanc de noir made of 100 percent pinot noir fruit."
Capitello Wines | 540 Charnelton St. | 541/520-3092
These other wineries have sparkling wine for all your toasting needs!
Noble Estate Winery | 2017 Blanc De Noirs, $25 | 560 Commercial St. | 541/338-3007
Silvan Ridge Winery | 2019 Early Muscat Semi-Sparkling, $16 | 27012 Briggs Hill Rd. | 541/345-1945
Sarver Winery | 2019 Estate Sparkling Pinot Noir Rose, $27 | 25600 Mayola Ln. | 541/935-2979
You can also pick up sparkling wines at these retailers:
Civic Winery and Wines | 50 E 11th Ave. | 541/636-2990
Sundance Wine Cellars | 2441 Hilyard St. | 541/687-9463
Market of Choice | See website for locations
Oregon Wine LAB | 488 Lincoln St. | 458/201-7413
The Broadway Wine Merchants | 17 Oakway Center | 541/685-0790