The magic of the 20×21 Eug Mural Project this summer is impossible to capture in words or images, but we're going to try. Nine artists from six different countries descended on our fair city armed with paintbrushes and spray cans, ready to make it fairer still, all the while working through the hottest week of summer. They stayed with locals, painted alongside locals and, in the process, became honorary Eugeneans. The mural project will continue for the next few summers, ushering in more artists from near and far, until the 2021 IAAF World Championships.
Red is the Warmest Color
Hua Tunan of China was the first international muralist to arrive in Eugene this summer, completing his mural in June on the eastern wall of Vistra Framing & Gallery at West 4th Avenue and Lawrence Street. The wall is a massive, fiery red strip—a color he says has powerful symbolism in China of luck, passion, and happiness—featuring a dragon and two tigers. He uses a technique that creates traditional Chinese ink wash paintings. Through an interpreter, Tunan says he's been drawing tigers since he was a child; he's always been attracted to their powerful physique and color. "The tiger is more important because it's dying," he says of the endangered species. The artist says he wanted the mural to symbolize the "passion between competitors," a theme inspired by the 2021 IAAF World Championships.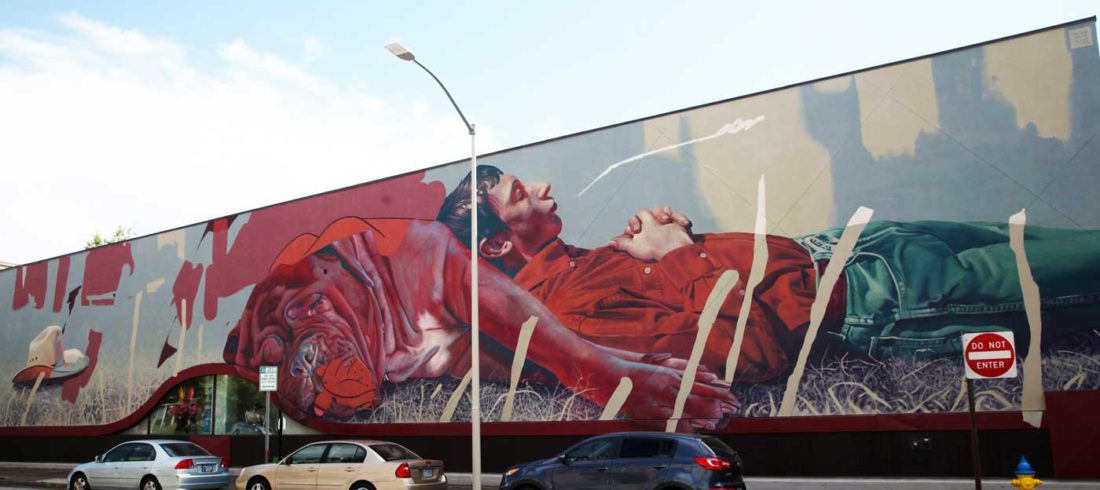 Dutch Bros.
The Dutch duo that is Telmo Miel—Telmo Pieper and Miel Krutzmann—has created murals in 23 countries and 48 cities. Now they can add Eugene to that list. Pieper and Krutzmann met at art school (the Willem de Kooning Academy in Rotterdam) 10 years ago and have been an art team ever since. When confronted with their wavy wall at Shaw Med (191 W Broadway), they knew they had to "do something with the hump." Alas, it's the resting place of the mug of a grand wrinkled pup and his young male companion, lying in the tall grass. The artists say their murals are always a reflection of the community where they reside. "Eugene is the most relaxed, mellow, down-to-earth place we've been to," Pieper told the crowds while on the mural tour of August's First Friday ArtWalk.
Shhhhh
Hailing all the way from Newcastle, England, the artist presently known as Hush is a cheeky fellow. His iconic work, including his mural next to Falling Sky Brewing on 13th Avenue, often features women of Asian descent, with glowing ghostlike complexions and juicy candy-red lips. "It's meant to be the presence of a woman," he says. "I want to take away all human characteristics." Hush's wall was in direct sunlight the majority of the time he worked on it—a stretch of days when the temps didn't dip below 100 degrees. He suffered a bout of sun stroke but powered through, completing his mural before the rest of the group––a piece he says is one of his all-time favorites.
Dreams Deconstructed
The Spain-based Argentinian artist Hyuro, perhaps the most private and mysterious of the muralists who came to Eugene, prefers to work solo. What she is able to accomplish without a support team is incredible—her mural stretches the length of the long rust-red wall of The Kiva grocery. "It's a sequence," she says. "It's the opposite of us destroying plants for food." Her muted, and at times surrealist, work has oft been compared to Magritte. Fellow Argentinian muralist Franco Fasoli, who also painted in Eugene, is close with Hyuro. "She is one of the few who is still saying something poetically," Fasoli says of Hyuro's work as a street artist. The Eugene Public Library, which faces the Kiva wall, welcomed the artist with changing messages taped inside the windows. The first exclaimed, "Thank you Hyuro! Sorry about the heat." The second, "Make art, grow plants, read books." Indeed.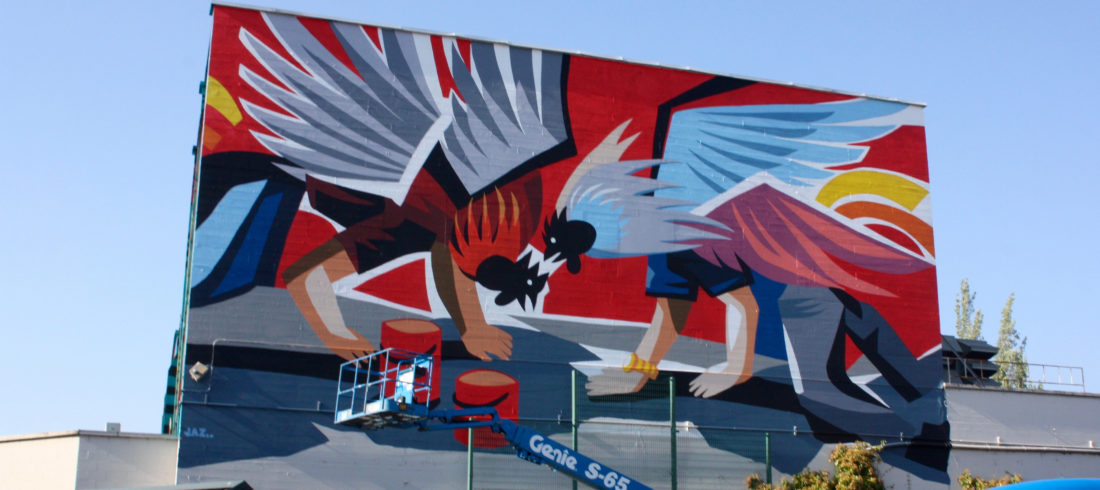 All that JAZ
Watching Argentinian muralist JAZ (Franco Fasoli) create his bright, graphic mural on the back of McDonald Theatre (adjacent to where Beau Stanton created his in the summer of 2016) was like watching a colossal exercise in paint by numbers. It's all about the grid, he explains. "I have several different processes for making murals," he says. For the Eugene mural, he created a paper collage version first, from which he designed a "very accurate grid." Joining JAZ on the wall, comrades in the pounding heat and sun, was local prolific muralist Bayne Gardner. Gardner says it was an incredible experience, and now he can reach out to JAZ whenever he has questions about the international mural scene. On average, JAZ paints five murals a year, most recently in Ukraine, Norway, Argentina, and Mexico. "The people are extremely nice," JAZ says of Eugene's denizens. "I became a muralist because I like to travel and meet people."
francofasoli.com.ar @baynegardner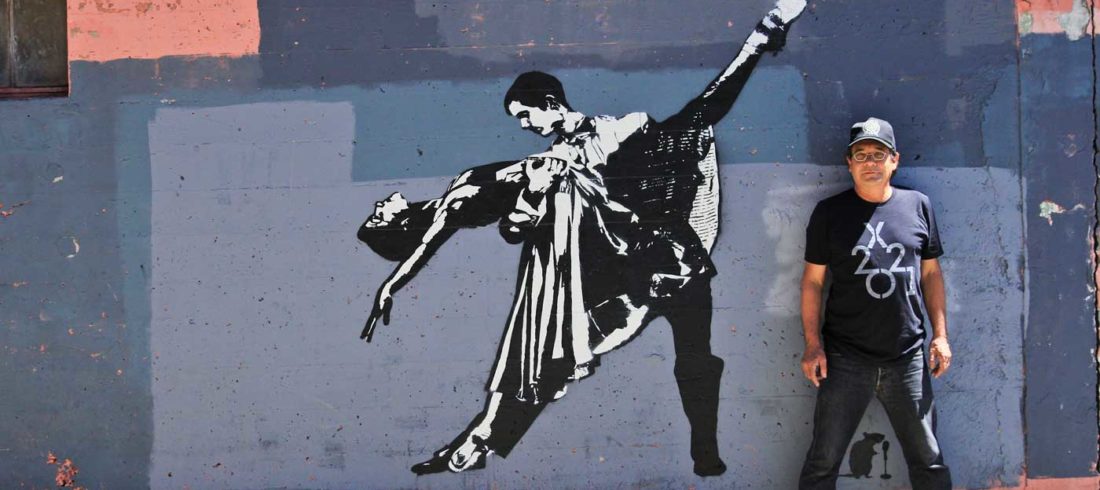 The Rat King
Legendary French street artist Blek le Rat (Xavier Prou) has been deemed the father of stencil art, with a lasting influence on the street artists that followed him, such as Banksy (creator of the documentary Exit Through the Gift Shop). Whereas most of the 20×21 artists created works on massive walls, Blek le Rat's pieces are small and playful, like leaving a trail of breadcrumbs throughout the city. "It's a surprise," Blek le Rat says of his art. The artist, whose career spans decades, says he's never been part of an event quite like this. "It's very good," he says. "It's a mix of urban artists and muralists, which is very interesting." Blek le Rat creates stencils in his studio outside Paris so he can expedite the installation process on-site––a relic of his earlier days––"Because I was arrested," he recalls of his beginnings in Paris. Now, for the most part, Blek le Rat asks for permission. Enjoy the treasure hunt to find all the vignettes he left for Eugene.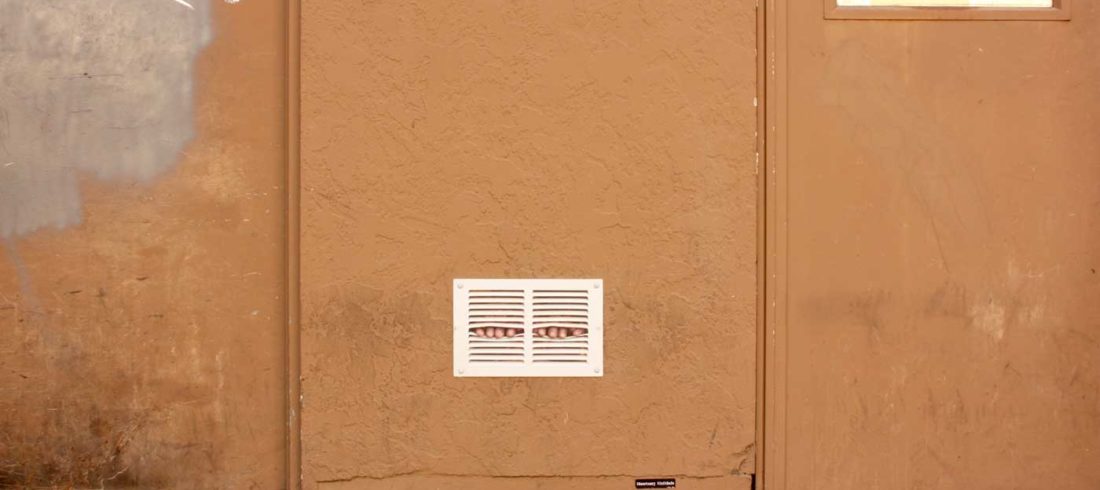 Putting on the Witz
The art of Brooklyn artist Dan Witz runs the gamut from small street installations to epic canvases of moshing concertgoers that rival any Renaissance tableau. Like Blek Le Rat, the work he brought to Eugene is on a more intimate scale, but it packs a haunting punch. He's a master of trompe l'oeil, or visual illusions that trick the eye. Is that a window screen with a real human behind it, or is that another Witz piece? Walk around downtown Eugene, now sprinkled with these Easter eggs, and you be the judge. There's the body (or is it a corpse?) in repose behind a barred window at Actor's Caberet of Eugene, a stark juxtaposition to the dancing couple by Blek le Rat a few feet away. On one of the pillars of the Davis Restaurant, look for a zombie-like yellow hand reaching out to steal your brains. Witz's work is the gift that keeps on giving—no one really knows how many he did, so Eugeneans will be discovering them for years to come.