Landscaping design trends come and go–new flower, varieties, colors, or fencing material, for instance–but the appeal of a well-designed yard is timeless. In the Northwest, many families place a premium on reclaimed materials, native and easy-care plants, and private spaces.
It can be difficult for a homeowner to maintain a lawn without professional services from a local landscaper, but new developments in automated lawn and landscape care makes that easier. Even some professional landscapers are using robotic lawn mowers, because it frees up their team for other more labor-intensive tasks. For the homeowner, robotic mowers allow for a lawn that is always mowed and always looks the same. It can keep a lawn mowed during vacation time, or mow while you're trimming hedges, cutting your maintenance time in half.
Over the past decade, the outdoor living trend has grown to mean more homeowners want to enjoy their yards in more ways and year-round. Items and designs that do double duty are more important than ever. For instance, an edible vertical garden provides both food and a privacy screen. Built in-seating in one outdoor room might form a wall for a second outdoor room. A large wall surrounding a firepit might also serve as a projection screen for lazy summer night outdoor movie viewing.
The hardscaping is just as important as ever, and there are more choices than ever for the forms that hardscaping takes. Today's homeowners expect outdoor structures to provide much more than just shade. Pergolas have long anchored outdoor spaces, but now they are sophisticated enough that they can be constructed as well as the homes themselves. It's no longer unusual to see functional windows, heaters, lighting, and sound systems. A large pergola is a natural spot for a luxury seating area and kitchen, which lets homeowners enjoy the comforts they have in their home at any time in any weather. Add in an outdoor chandelier, ceiling fans, and designer fabrics, and you may never want to go back inside at all.
And when it comes to kitchens, there's just about no appliance nowadays that hasn't been modified for outdoor use. Refrigerators and ice makers, built-in drink coolers, pizza ovens, warming drawers, smokers, sinks, and grills all make cooking outdoors fun. High-end grills that combine gas, wood, and charcoal make cooking anything easy. And in the nicest outdoor kitchens, you might even find a dishwasher and cupboards, so you can avoid carting your plates back inside.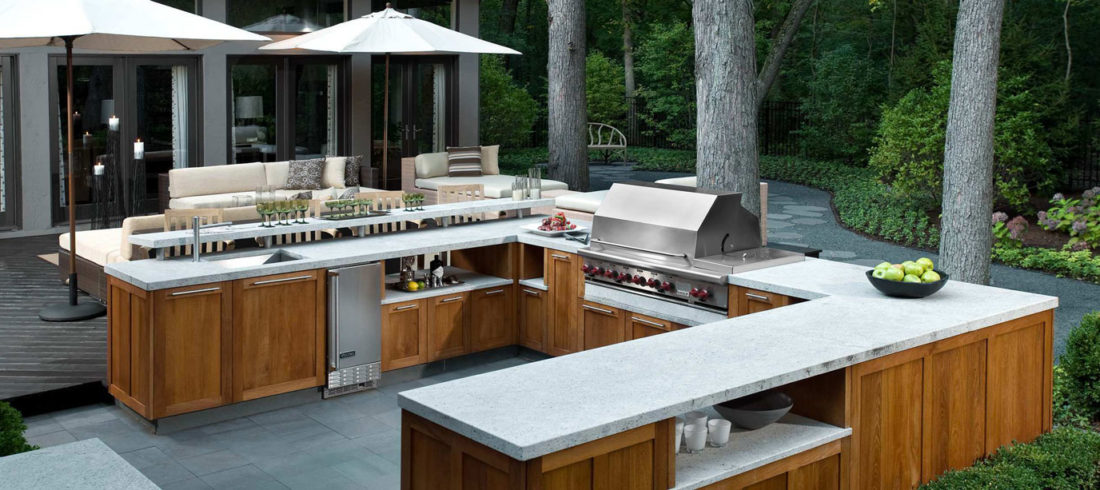 Used to be, wood was the primary outdoor material. While wood provides a natural look, metal is a more modern material. Metal can be sleek and simple, bold, or whimsical and it can blend well with just about any color. Pantone's Color of the Year for 2019 is Living Coral, a shade which blends well with both the cool or warm tones of a variety of metal. Incorporating metals can bring depth, texture, and reflection when used for decorative art, water features, or furniture and accessories. Metals that weather well are great choices for our climate. Cor-ten steel is a steel alloy which will not corrode like mild steel but instead develops a very attractive, rusty patina on its surface (unless you're near the coast in which case cor-ten is more vulnerable to salt spray). This steel is frequently used in sculptures, planting containers, or screens. Even something as humble as rusting bedsprings can add visual interest while supporting vines and adding a screen for something that you might not want to stare at every time you're sitting in your yard.
Today's landscaping options go far beyond just plant choices and a few pavers. The possibilities are limitless, and whether you want to tackle creating your dream outdoor oasis by yourself or you want to bring in a professional for design or maintenance, good landscaping adds variety and smart landscaping can add convenience and comfort.