In 2006, commercial photographer David Loveall and his wife, Nita, were searching for a modest, metro-area real estate opportunity. They were looking for an affordable building that might function as a photo studio while also providing income as a multi-unit rental property. He quickly discovered that the Springfield core offered a variety of bargain-priced options, albeit risky ones.
Despite those risks, the Lovealls set their sights on the historic Washburne Building on Main Street near Pioneer Parkway. The century-old building offered two storefronts and a pair of upstairs apartments. The property needed major renovation, so to cover costs, the Lovealls took a deep breath, sold their two small rental houses, and absorbed a big tax hit by cashing out David's 401(k).
But financing wasn't the only challenge.
"People thought we were crazy," David Loveall recalls, "because there were five bars in downtown Springfield that were drug infested, crime infested. They were seedy, and it was the worst scene ever." Plus, there were other troubling downtown tableaux—dark snapshots that few other businessmen were comfortable viewing.
Think bad street lighting, boarded-up storefronts, drug dealing, public drunkenness, fights and muggings, stores without shoppers, apartment vacancies approaching 100 percent, and a population of more than 100 regular street dwellers, many cycling through overnight stays in downtown alleys, under the Glenwood bridge, or in Lane County Jail.
"Was it a risk?" Loveall says. "Hell yes! It was a huge gamble! But maybe I was naive enough to believe I had dreams that were like other people's dreams."
Looking back now at the arc of downtown Springfield over the past 15 years, it's clear the Lovealls weren't the only locals embracing hopeful downtown dreams. Witness the dramatic emergence of the cool new vibe in the Springfield core today. That vibe can be attributed to a host of Springfield stakeholders.
The former mill town is suddenly shaping fresh dreams for downtown.
Pacing renewal
Springfield's downtown decline started decades ago, but it was never a straight-downward trajectory. Accomplishments offsetting the decline dot the historical record. And truth be told, many of Springfield's late-20th century dynamics mirrored trends in small cities across the nation: retailers relocating to the suburbs, factory slowdowns, plant closures, stagnant wages, depressed inner-city real estate values, nagging inflation, and on and on.
And yet, downtown Springfield never fully lost its pulse. After the millennium shift, scattered signals suggested that local groups and individuals were making plans for reversing downtown decline. Positive change was just a matter of time.
Chamber of Commerce
In 2000, the Springfield Chamber of Commerce orchestrated a special local summit. According to former Chamber president Dan Egan, those at the summit sought to build a task force of "civic entrepreneurs." The effort netted a nonprofit organization, the Springfield Renaissance Development Corporation (SRDC), a group of 13 citizens dedicated to "restoring the heart of the city" through fundraising and downtown redevelopment.
In 2006, the SRDC opened the Richard E. Wildish Community Theater, Springfield's performing arts center, on Main and 6th Streets. The Wildish's establishment was transformative and inspirational, fostering visions of a new direction for downtown. A few years later, the SRDC purchased and completely renovated a building further south on Main. The project produced a trio of commercial spaces that quickly attracted new businesses. Both SRDC projects were benchmarks for the downtown renewal dreamers.
Buses and jail cells
In 2008, LTD opened the Springfield Station on South A Street. The station's modern design, coupled with public art installations, slick electric EmX busses, and a retail space, brought a refreshing new look to the city center.
Then the Springfield Justice Center opened its doors in 2009. The imposing, but not unattractive structure a block north of Main housed a combination of court and detention services. It also provoked a huge change in the way Springfield confronted its downtown crime problem.
Suddenly, Springfield police and judges had enough space to lock up offenders, especially downtown's drug users and other petty criminals, for days at a time—not just overnight. It didn't take long before downtown Springfield's petty offenders drifted away from the city core to avoid close scrutiny from law enforcement.
The trend toward a perception of safety was further underscored when Springfield banned giving handouts to panhandlers and installed new street lamps in the core—moves that shed more flattering light on downtown pavement.
These days, downtown patrons, business owners, and neighborhood residents remark that it's a rare day when police get called downtown for criminal problems. A district that was once said to suffer the highest crime rate in the state is now virtually free of street crime.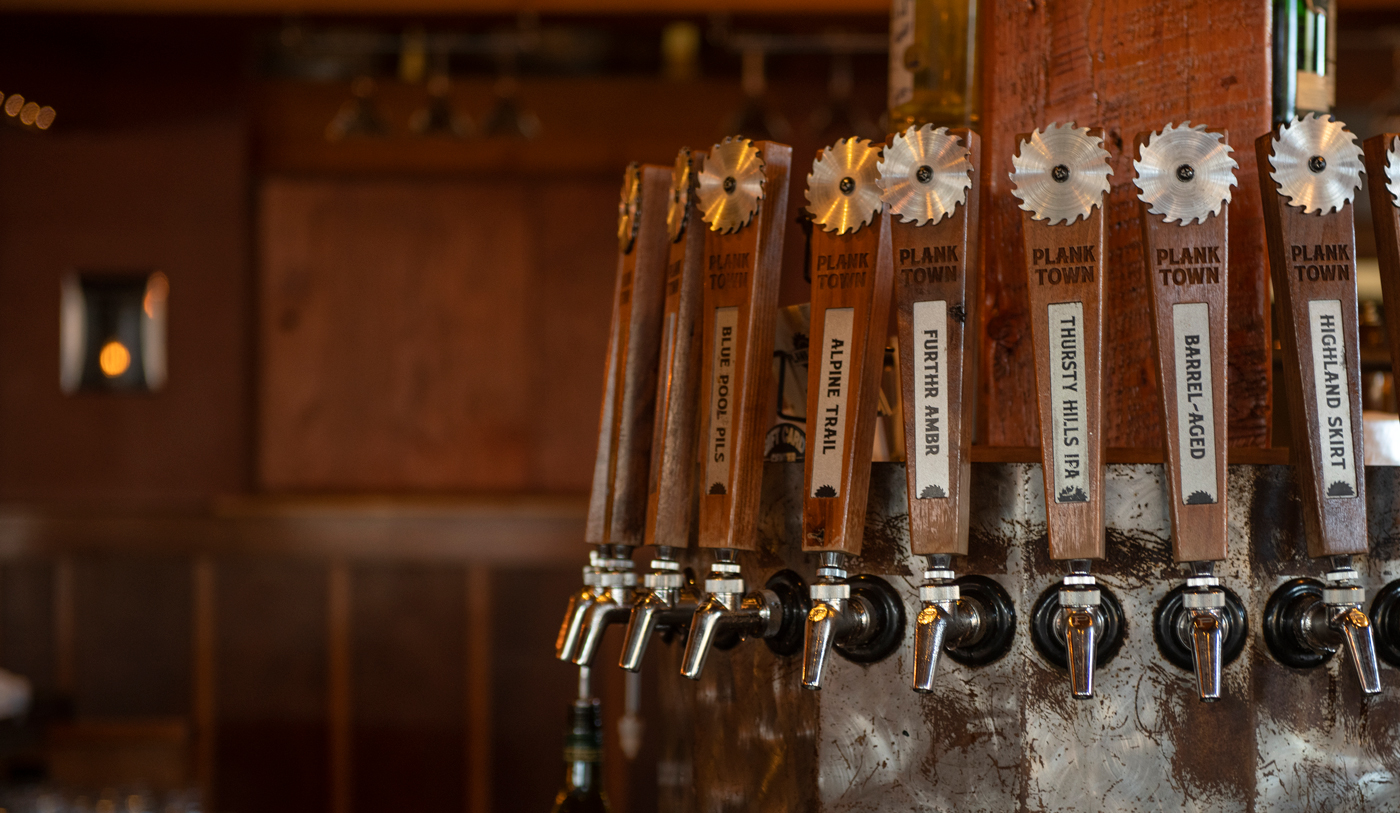 Brewing success
There's little argument that Plank Town Brewing has emerged as a heavyweight force for downtown renewal and optimism. That's been the story since 2013, when Plank Town brewed its first cask of ale. Brewery owner Bart Caridio has an impressive track record of overcoming obstacles faced by start-up businesses in downtrodden neighborhoods.
Caridio planted the hugely successful Sam Bond's Garage in the heart of Eugene's Whiteaker area back when "The Whit" was the city's black-eye neighborhood. He launched the now-flourishing Axe and Fiddle pub in Cottage Grove when that town's aging retail district was in a coma.
"As for Plank Town," Caridio says, "I've always liked underdogs. Just that whole Springfield thing—the jokes, the ridicule. . . . I was inspired by the people I met over here. It made me want to do something good for Springfield."
And so he has—ushering in formidable building reconstruction and exceeding growth projections from day one. In just a handful of years, Caridio's popular pub has established itself as an all-ages gathering spot that serves up large kegs of happiness and goodwill for Springfield families.
Back on the block
If you haven't walked through downtown Springfield in a while, here's a suggestion: Main Street between 3rd and 4th Streets—it gets to the heart of the matter.
First, it was Loveall's Washburne Building near the end of the block: upscale apartments and a stylish pair of storefronts, including the Washburne Cafe. Next, the SRDC stepped in with renovated, modern, commercial offices. And then, of course, Plank Town threw down its big anchor. Now, there's even more.
Like many insiders, Loveall saw the arrival of Plank Town as a major tipping point for downtown. So much so that he launched into the second phase of his downtown business plan soon after Plank Town opened its doors. By Loveall's count, there were 34 apartments in the 300 Main Street block at that point, but only two were occupied.
"There's a lot of potential, but nobody wants to live here yet," he once told Mayor Sid Leiken. "Just find $3 million: pay one guy a million to leave, pay the other guy another million to leave. Then guys like me and my partner Bob, who have vision and money and ambitions, will show up to re-gentrify the whole downtown."
And that's pretty much what Loveall and his partner, Bob Miller, have been shooting for.
In the past three years, Loveall's properties on the 300 block have expanded to five buildings that include multiple storefronts and 17 apartment units. Most of the apartments hadn't had tenants for 30 years and required extensive remodeling. Several were nightmare challenges because of massive amount of debris. But almost all the buildings boast historic value, and many apartments feature spectacular floor plans, now renting at high market rates.
Loveall's retail tenants in the historic Stevens-Perkins building now include Bartolotti's Pizza Bistro, the second iteration of Eugene's Cornbread Cafe, and Main Street Market, from the same owners as Eugene's Friendly Street Market. Across the street, Loveall is nearing completion on another group of retail storefronts plus several street-level apartments and combination live-in/business units.
Up and down the block, newly located businesses are flourishing: a guitar shop, a tattoo parlor, a steakhouse, an Ethiopian restaurant, a custom watchmaker's studio, a vinyl record shop, a bike shop, and even an old-school barber shop in such high demand you need an appointment for a cut.
Renewal plans have come together well. Loveall is scouting more core properties, and according to Miller, every penny of profit they've made to date has been put back into downtown projects. Locals often either steer the two partners toward potential purchases or they offer real estate. Though Loveall has mostly focused on the 300 block of Main, options there have narrowed to the point that he's weighing other areas of downtown.
The Booth-Kelly effect
Jenna Fribley is on nearly every Springfield developer's list of downtown influencers. Fribley is a University of Oregon–connected architect, designer, realtor, and a principal partner in the Springfield firm Campfire Collaborative. Would it surprise you to know that her office is located in the 300 block of Main Street?
Fribley has had her hands in many of downtown's newest commercial projects: Loveall's apartments, Cornbread Cafe, Main Street Market, Jasper's Tavern, an incoming "alternative sports bar," and the pending Map Chocolate shop.
She's also crafting a personal vision of a revitalized downtown. For example, she's confident that a boutique hotel would be a perfect fit, working her special magic to bolster such a project. She's also promoting plans for a small public plaza at the long-overlooked site of the original spring in the original downtown field where city founder Elias Briggs established a ferry service across the Willamette River.
And then there's the Booth-Kelly Makers District (BKMD). It's an organization, a destination, a high concept, and a resource for Springfield artisans, crafts people, entrepreneurs, creatives, and makers of all kinds. Fribley played a major role establishing the BKMD. The district's founding notion embraces the historical role played by the Booth-Kelly Mill on the south reach of downtown, a place where today, nearly a dozen thriving arts and artisan-styled business are housed in timber warehouses.
"This is a really exciting time to be downtown because it's so tangible," Fribley says. "I really love all the little things I've gotten to work on. You can see the changes every day, the differences. Every impact snowballs into another revitalization."
Around the corner
So, what else is there to say about revitalized downtown Springfield? A lot, it turns out. If you gaze north or south from the 300 block on Main, there are a host of notable changes afoot.
To the north, you'll find Mezza Luna Pizzeria and, next door, the outlines of a new Cornucopia location. Several food carts have sandwiched themselves into a plaza between the Dark & Stormy and Trash & Treasures. Further north are the established resources of the Emerald Art Center, the Springfield Museum, the Oregon Trail Mural, and its soon-to-be-remodeled pocket park. The City of Springfield and other players have suggested that downtown renewal could eventually extend all the way to the Paramount Center strip mall at 20th Street and Main Street.
Look south two blocks toward the Willamette River, and several buildings are potential targets for renewal. The former Springfield Railroad Station on South A Street still holds its place as a genuine Springfield landmark—in combination with the White Horse and McKenzie driftboat sculptures at the western entrance to town.
The Swallowtail Distillery is the newest kid on the south end of Main. It's also visible to folks entering Springfield from the west. Swallowtail will open this fall as a restaurant, bar, tasting site, music and socializing venue—all popular pieces in the current downtown renewal mix.
And then there's PublicHouse. Once it was the First Christian Church, then it morphed into a farmers market and restaurant training site. Most recently, it has carved out a niche as a multi-restaurant communal dining site and gathering place. It's anchored by a beer hall, the Whiskey Lab pub, and the outdoor Arbor Bar.
Down the road
Ask the movers, shakers, government staffers, owners, consumers, and players what they would like to see in downtown Springfield. You'll get lots of answers and ideas, and some consensus.
There's widespread agreement that traffic flow is a key consideration; one common suggestion includes converting Main Street into a two-way corridor with slower traffic. Many folks want development on South A that eliminates paved lots in favor of attractive buildings.
Another common discussion topic involves more storefront facelifts in the stretch of Main between 4th and 10th Streets. The consensus is that the building upgrades and infill are inevitable.
By most accounts, there's been successful collaboration between the city and downtown developers. Dreamers want to maintain that can-do partnership, celebrated as easy, comfortable, and productive: the city provides site consultation, no-cost technical support, minimal fees, minimal red tape, flexibility, and help with low-interest financing. Meanwhile, the developers provide ambition, vision, and sweat.
They have a long and intriguing list: more entertainment venues, more murals, more pocket parks, more good restaurants, better utilization of river frontage, expanded parking, affordable housing, bed and breakfast-style accommodations, community meeting spaces, and so much more.
"Abundant" is how Loveall recently characterized Springfield. "And I think it's been proven here," he added. "People do have their dreams. They just need opportunities."
Visit Main Street
Check out these new and established businesses on or slightly off of Main Street.
Arts and Entertainment
Emerald Art Center, 500 Main St., Springfield, 541/726-8595, emeraldartcenter.org
Richard E. Wildish Community Theater, 630 Main St., Springfield, 541/868-0689, wildishtheater.com
Springfield Museum, 590 Main St., Springfield, 541/726-2300, springfield-museum.com
Springfield Public Library, 225 5th St., Ste. 301, Springfield, 541/726-3766, wheremindsgrow.org
Eat and Drink
Addi's Ethiopian Food, 321 Main St., Springfield, Thurs-Sun, 11:30 am-2:30 pm, 5 pm-9 pm
Bartolotti's Pizza Bistro, 330 Main St., Ste. B, Springfield, Mon-Thurs, 11 am-8 pm; Fri, 11 am-9 pm; Sat, 9 am-9 pm; Sun, 9 am-8 pm, bartolottispizza.com
Chow Gastro Pub and Moe's Tavern, 471 A St., Springfield, Tues-Sun, 11:11 am-10 pm
Cornbread Café, 338 Main St., Springfield, Tues-Sat, 11 am-9 pm, cornbreadcafe.com
Dark & Stormy, 420 Main St., Springfield, Mon-Sat, 11 am-11 pm; Sun, 11 am-9 pm
George + Violet's, 305 Main St., Springfield, Tues-Wed, 5 pm-9 pm; Thurs-Sun, 5 pm-10 pm; Sun, 5 pm-9 pm, georgeviolets.com
Jasper's Tavern, 416 Main St., Springfield, Sun-Thurs, 11 am-12 am; Fri-Sat, 11 am-1 am, jasperstavern.com
Main Street Market, 330 Main St., Springfield, Mon-Sun, 8 am-9 pm
Mezza Luna Pizza, 115 S 5th St., Springfield, Mon-Thurs, 11 am-8:30 pm; Fri-Sat, 11 am-9 pm; Sun, 12 pm-8:30 pm, mezzalunapizzeria.com
Plank Town Brewing, 346 Main St., Springfield, Mon-Thurs, 11 am-10 pm; Fri, 11 am-11 pm; Sat-Sun, 9 am-11 pm, planktownbrewing.com
PublicHouse, 418 A St., Springfield, See website for hours, publichousehub.com
Swallowtail Distillery, 111 Main St., Springfield, swallowtailspiritis.com
Washburne Café, 326 Main St., Springfield, Mon-Fri, 7 am-4 pm; Sat, 8 am-4 pm; Sun, 8 am-2 pm, washburnecafe.com
Personal Services
The Craftsman Barbershop, 333 Main St., Mon-Tues, Thurs-Sat, 10 am-6 pm; Wed, 11 am-5 pm; Sun, 10:30 am-6 pm, thecraftsmenbarbershop.com
Queen Bee Tattoo and Salon, 226 Main St., Springfield, 541/747-9573, queenbeetattoos.com
Public and Business Services
Campfire Collaborative, 314 Main St., Springfield, 541/914-0334, campfirelab.com
LTD Springfield Station, S A St. and 5th St., Springfield, 541/687-5555, ltd.org
Springfield Chamber of Commerce, 101 S A St., Springfield, 541/746-1651, springfield-chamber.org
Springfield Justice Center, 344 A St., Springfield, 541/744-4177, springfield-or.gov
TTK Construction, inspectmynewplace.com
Signature Plumbing, 3408 Industrial Ave., Ste. A, Springfield, 541/654-4449
Lite Electric, 1901 E Beacon Dr., 541/6888996
Retail
Simply Cycle, 303 Main St., Springfield, 541/844-2183, simplycycle.com
Stahman Guitars, 329 Main St., Springfield, 541/515-7025, stahmanguitars.com
Trash & Treasures, 440 Main St., Springfield, 541/726-9656, trash-n-treasures.com