Food business in Eugene is booming. Between our area farmers, brewers, distillers, bakers, makers, and manufacturers, you could stock your pantry with Lane County-made products. Organizations like Eugene's Table bring together these purveyors to provide community and support as these food entrepreneurs build their brands and expand their delicious offerings.
A commitment to sustainability, high-quality and organic ingredients, and people-focused business practices is a common thread among these companies, which furthers the feel-good joys of shopping local.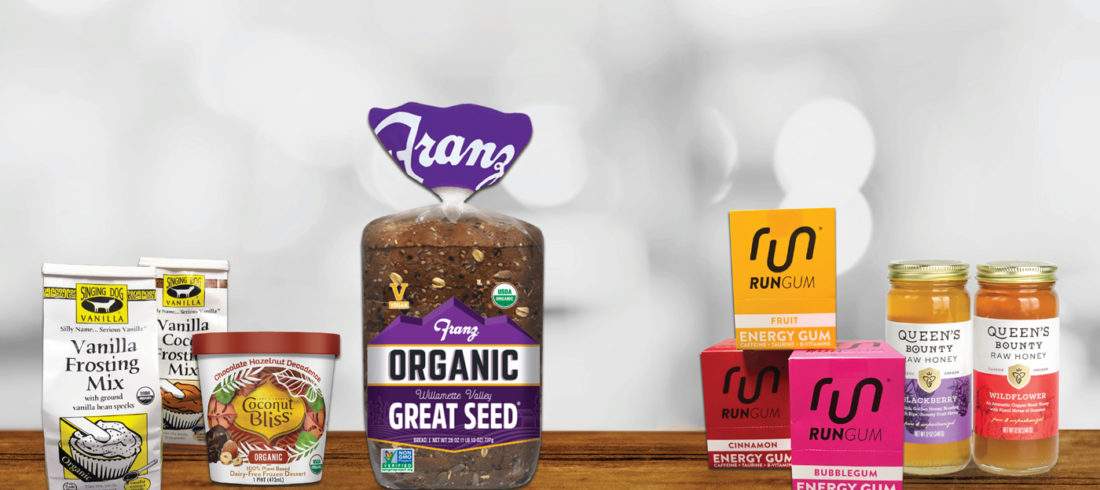 Vanilla and Vanilla Cocoa Frosting Mixes
Singing Dog Vanilla
Singing Dog Vanilla makes a point of using high-quality, organically grown, and non-GMO vanilla in all their products, which they source from their farming partners in Papua New Guinea and Indonesia.
Chocolate Hazelnut Decadence Pint
Coconut Bliss
Coconut Bliss is a pioneer in the vegan, dairy-free ice cream industry. Gluten-free and organic, their ice cream pints and bars are a great snack or dessert.
Organic Great Seed Bread
Franz Bakery
Franz offers many different options for your daily bread needs. This loaf is certified organic, vegan, and contains 12 grams of whole grains per serving.
Energy Gum (Cinnamon, Fruit, Bubblegum)
Run Gum
Developed by a two-time Olympian, Run Gum gets consumable energy into your system faster, bringing you caffeine, taurine, and B vitamins for that extra boost during your run or busiest days.
Local Raw Blackberry and Wildflower Honeys
The Queen's Bounty
The Queen's Bounty's pure raw honey is sourced from beekeepers across the Willamette Valley, with different varietals isolated by season and supplier. It also contains live enzymes, maintained through their processing practices, and is unpasteurized.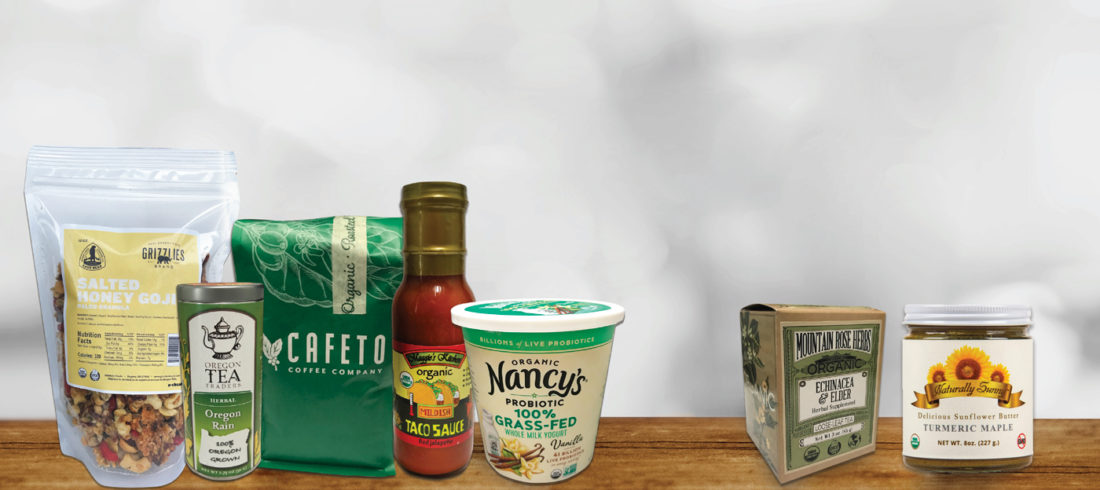 Cave Bear Salted Honey Goji Paleo Granola
Grizzlies Granola
Made in small batches to guarantee maximum freshness, Grizzlies Brand has been making trail mixes, raw grains, and granolas since 1981. Their experience has made them experts in the perfect flavor combinations.
Oregon Rain Herbal Tea
Oregon Tea Traders
Oregon Tea Traders' "Oregon Rain" Herbal Team has lemon balm and lavender with just a little bit of rosemary to get you going. All of their teas include Oregon-grown ingredients, farmed with sustainable practices.
Organic Glenwood Blend Whole Beans
Cafeto Coffee Company
Cafeto fresh-roasted coffee is certified organic and ethically sourced. They have many different gourmet coffee options, sourced from all over the world.
Maggie's Kitchen Taco Sauces
Sweet Creek Foods
Packed in reusable and recyclable glass jars, Maggie's Kitchen Taco Sauces by Sweet Creek Foods are great on everything. All the company's products are naturally vegan, allergy friendly, gluten free, and organic, with no artificial colors or flavors.
Organic 100-percent Grass-Fed Yogurt (Vanilla)
Nancy's Probiotic Foods
Family owned and operated for almost 60 years, Nancy's Yogurt offers the best in probiotic-stocked creamy goodness. Try their whole milk, non-dairy, or Greek yogurts, kefir, cottage cheese, sour cream, or cream cheese.
Echinacea Elder Tea
Mountain Rose Herbs
Brew yourself a cup of Mountain Rose Herb's Echinacea and elder tea to help support immune health. All of their teas and herbs are planet-friendly with sustainable packaging, fair trade practices, and watershed conservation.
Turmeric Maple Sunflower Butter
Naturally Sunny
Distributed by Red Ape Cinnamon, Naturally Sunny Sunflower Butter is fragrant and delicious on just about anything. On top of that, five percent of their profits are donated to protecting orangutans and their habitats.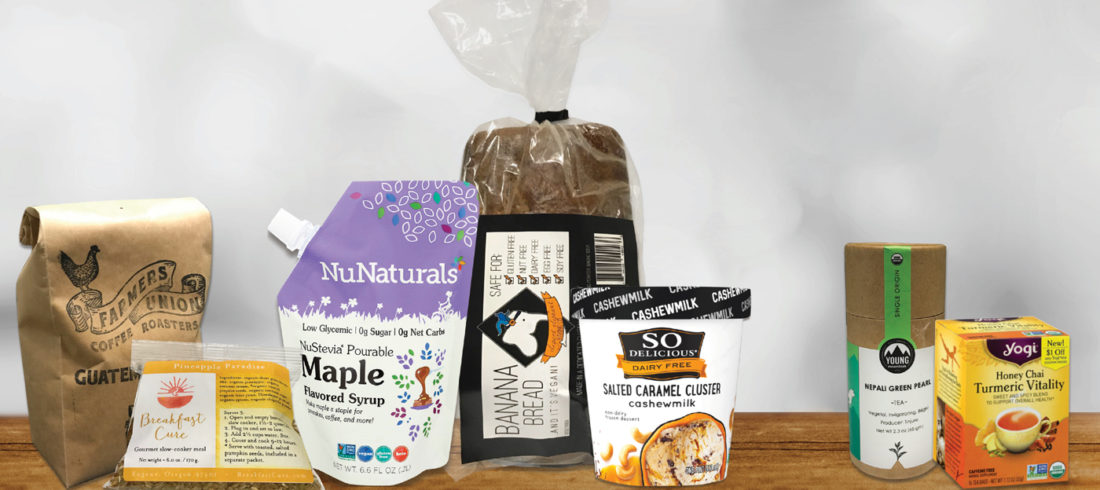 Manos de Mujer, Huehuetenango, Guatemala Whole Bean Coffee
Farmers Union Coffee
Roasted right in front of you at their coffee shop, Farmers Union Coffee runs on sustainable practices. Between their use of a solar array to heat their water, their composting efforts, and reuse of their bags, they are low-waste warriors.
Pineapple Paradise breakfast bowl
Breakfast Cure
Gluten-free, organic, and vegan, Breakfast Cure offers a crockpot-made solution to those hectic mornings where the most important meal of the day is an afterthought.
NuStevia Pourable Maple Flavored Syrup
NuNaturals
This no-sugar syrup alternative is vegan, gluten free, and keto friendly for all your maple sweetener needs. NuNaturals offers other syrups as well, along with powdered sweeteners and baking goods.
Gluten-free Banana Bread
Elegant Elephant Baking
Offering gluten-free baked goods, Elegant Elephant makes pastries, specialty cakes and pies, bread, and other items made from locally sourced ingredients at their bakery.
Salted Caramel Cluster Cashew Milk Frozen Dessert
So Delicious Dairy Free
Another dairy-free pioneer, So Delicious Dairy Free uses almond milk, coconut milk, and cashew milk in their delicious drinks, creamers, desserts, yogurts, and shredded dairy-free cheeses.
Nepali Green Pearls
Young Mountain Tea
Straight from the Himalayas, the Nepali Green Pearls tea from Young Mountain Tea is made up of tightly wound pearls that almost magically unfurl as they steep. All their products are USDA Organic and Rainforest Alliance Certified.
Honey Chai Turmeric Vitality Tea
Yogi Tea
This delicious tea from Yogi Tea will warm you inside and out with cinnamon, cardamom, ginger, clove, and turmeric, perfect for a cold day. Since they officially started in 1984, Yogi Tea has believed in the use of purposeful herbs for flavor, quality, and those feel-good characteristics.
WHERE TO BUY
Hungry? You can find these products at local stores such as:
Capella Market, 2489 Willamette St., 541/345-1014, capellamarket.com
The Duck Store, 895 E 13th Ave., 541/255-0700, uoduckstore.com
Friendly Street Market, 2757 Friendly St., 541/683-2079
The Kiva Grocery, 125 W 11th Ave., 541/342-8666, kivagrocery.com
Market of Choice, Multiple locations, marketofchoice.com
Sundance Natural Foods, 748 E 24th Ave., 541/343-9141, sundancenaturalfoods.com
Whole Foods, 353 E Broadway, 541/434-8820, wholefoodsmarket.com