In a boy's life, the ripe age of 14 is often synonymous with carefree memories of team sports, skateboarding tricks, or summer camps. The heavy notions of mortality or a drive to give back to one's community are not often associated with this period of time in a young person's life. Such is not the case with Jacob Burris, creative designer, optimist at large, and a survivor of congenital heart disease (CHD).
Burris, a local eighth grader at Shasta Middle School, is not only a survivor in the true sense of the word, but a dynamo as well. Diagnosed with CHD, a life-threating heart disease, Burris has chosen to make the most out of his hardship and raise awareness about heart health. With a little help from Nike, that's exactly what he's been able to do.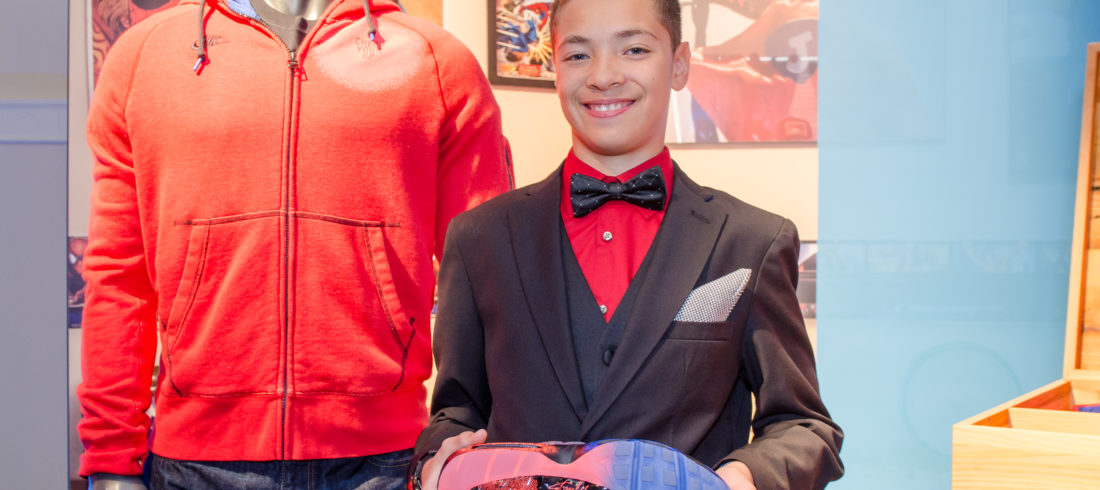 "There can always be something that goes wrong or happens to you," Burris says. "When I was first diagnosed with CHD, I just wanted to help everyone else out who was like me."
Burris was nominated by his doctor to participate in the Nike and OHSU Doernbecher Freestyle Collection. The Freestyle Collection has been providing kids the ability to design their own sneaker, and help fundraise for research, clinical care, and for families in need. The program has existed for 12 years now, and Burris' contribution and participation led to the production of an awesome shoe that doubles as a public service announcement.
Adorned with heart graphics reminding you to "Check your BPMs," an image of Burris' actual thumbprint, and spectacular coloring that pays homage to his favorite superhero (Spider-Man), Burris' custom-made Air Max '95 sneaker is nothing short of smooth. Oh, and the tongue of his shoe sports a solid "JB" logo, in case you forget the huge-hearted kid who brought you the killer design.
"I just want to keep sharing my story and volunteering," Burris says. "Getting to design my own shoe, it took about eight months with a team of designers that helped me, it was awesome."
When asked if it was at all difficult to battle CHD, handle his homework, and design his own shoe, Burris replies, "Hey, there's always time to design your own shoe."
And it would appear that Burris' aspiration to continue sharing his story is only evolving as time progresses. His next projects include public speaking at health conferences and more forays into the creative world.
"I plan to keep spreading the word about CHD and heart health," he says. "Oh, and lately I've been doing stop [motion] animation with some stuffed animals."
Could it be possible that we might see a short, animated indie film about heart awareness in this young man's future? This remains to be seen, but one thing is for sure: When he's not visiting comic book conventions, playing baseball with his brother, or hanging out with his hamster, Burris is enthusiastically committed to his creativity as well as his community.
For more information on Jacob, his story, and his custom-designed sneaker, go to jacobsheartstory.com