"For a long time, there was a push that students needed to go to a four-year college and get a degree," says Justin McCullough, who teaches "Industry and Engineering" at Willamette High School. "And personally, I think that it was the wrong way to go. Obviously, the Oregon education system agrees, because we've started to see more funding for Career and Technical Education programs." CTE programs, he explains, let students explore new career options and provide businesses the seeds of a workforce that understands industry standards.
McCullough's class is part of a larger effort to offer the students of Lane County every opportunity for success in the workforce after graduation.
When McCullough attended the same high school, he was a teacher's assistant for Mike Hodgert's Basic Metals class. Years later, in January 2018, McCullough returned to Willamette as an educational assistant for the same class. Hodgert retired at the end of 2018 while McCullough was pursuing his teaching license. At the time, McCullough applied for and was accepted into an externship program through Connected Lane County (CLC).
According to CLC director Heidi Larwick, the externship program places teachers into an industry for three to six weeks. The teachers work on a very defined project to learn both the technical requirements of the industry and the company culture, then they bring that back to the classroom and replicate it for their students. The hours, as in McCullough's case, also count toward gaining a teaching license.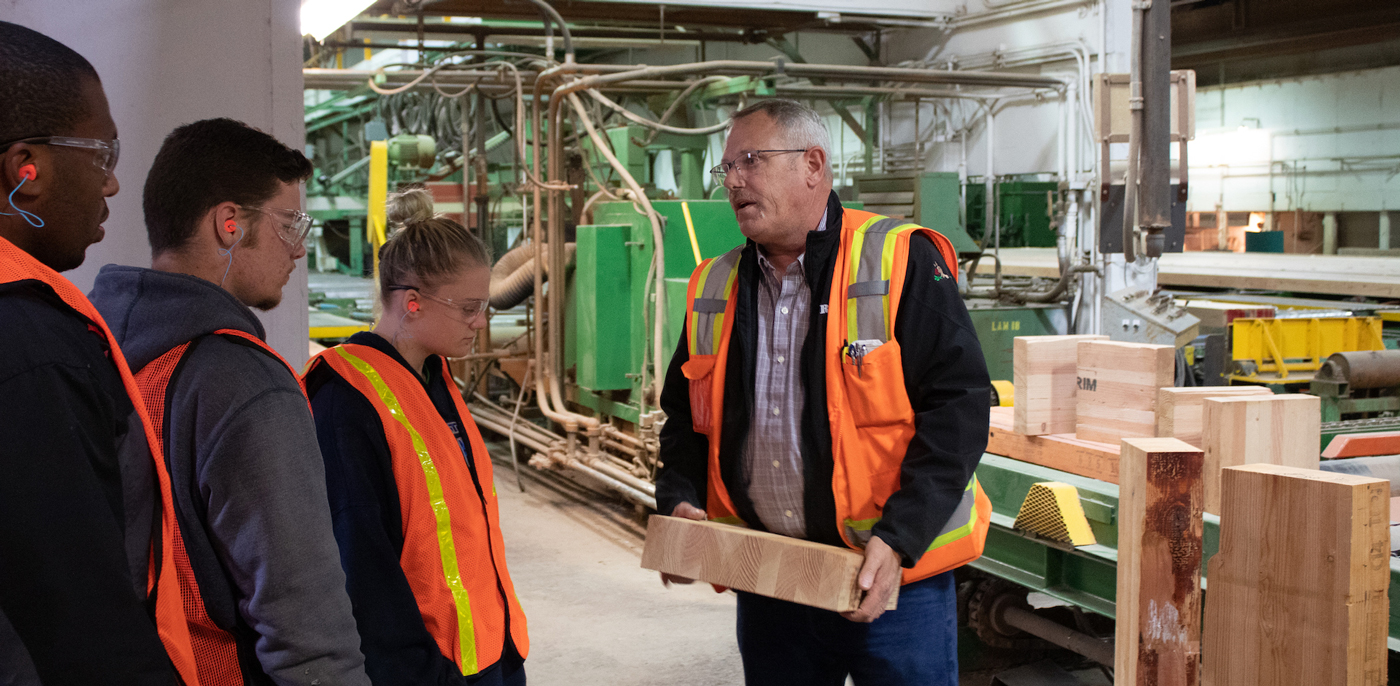 McCullough did his summer externship at Precision Machine in Eugene. "What's amazing about all of these industry partners is that all of them are willing to give you a little bit of time to take you in and show you what they know," he says. "And Precision was no different. They took me in, and I started out over on the welding side of things. . . . I already had welding experience, but some of the techniques they were using are a lot more efficient. So that was a valuable experience that I was able to take back into the classroom."
Joe Cox, manufacturing engineer at Precision, says the company got involved with the externship program because they wanted to foster the kinds of skills they are looking for in new hires.
"We're having trouble finding people to hire with the necessary skills for this trade," Cox says. "We've even implemented a training program to try to give new people the skills they need so we can hire them." The five-year program pays $15 an hour to start, which increases to $25 an hour when trainees complete the program. "It's a good job, but there's a lot more openings than there are people," he adds.
There are more than 5,000 manufacturing companies in Oregon, and 80 percent of them have fewer than 50 employees, according to the Oregon Manufacturing Extension Partnership (OMEP).
"We're constantly trying to get skilled people in, but everybody that's already trained for the field is already working," Cox says.
McCullough brings the marketable skills he learned at Precision back into the classroom through CLC helps his students broaden their job prospects and starts training the machinists that businesses are searching for.
"At Connected Lane County, we are creating pathways in the public education system, so that when students reach that graduation milestone, they feel more confident in their choice after graduation," Larwick says. "We're creating opportunities so that they can sort of explore what they're curious about and identify what they're good at, so that when they leave high school, they feel like they know their next step and know how to get there." CLC looks to OMEP for guidance on where students can best get those experiences and companies where teachers can excel during an externship.
Equipped with his experience from Precision Machine, McCullough now teaches his own class series called "Industry and Engineering," or I&E. Separate from the Basic Metals class, McCullough's entry I&E class covers an array of topics, like engineering basics, fiber-glassing, and welding. All these skills lead into I&E II, which is dedicated to building go-karts.
During the building process, the students wire the go-karts themselves and do all of the welding and sheet metal, employing engineering principles along the way. The hope is that the experience will inspire them to seek apprenticeships with someone in a related trade.
"We try to stick to industry standards as well so that when they go into a job, it's not challenging or they don't feel overwhelmed to meet that standard because it's something that they've already done and they know they can do it," McCullough says. "There are so many different industries that the cars relate to, and that allows students to just dip their toes in and say, 'That was really fun. Maybe I'd like to see what job opportunities there are in the real world.'"
Currently, Willamette High School's College and Career Center is working with the Sheet Metal Institute to connect students to apprenticeships. "Those individuals who make the ducts and sheet metal for HVACs make about $33 an hour, and that's the median wage," McCullough says. "I think a lot of the parents are understanding that there are a lot of really well-paying jobs out there that you don't need to go $100,000 in debt for. You can go to a trade school, maybe spend $10,000 to $12,000, and you can get into an apprenticeship program."
"When we look at the landscape of our local economy, both in Lane County and the state, we're seeing there's a lot of sophisticated manufacturing happening, and I think that students don't necessarily know that it's this huge industry that's here locally," Larwick says. "So for us, it's about wanting students to understand different paths and to help connect them."
Willamette High School is also able to offer students college credit that they can apply at Lane Community College through metal work, photography, woodworking, and drafting classes. "It gives students a jump-start on what a college-level course is going to be like, and it also saves them some money," McCullough says.
CLC's goals—connecting with local industries, bringing teachers and students in to talk with industry partners, then taking that education back into the classroom to prepare students directly for the workforce—offer an all-encompassing approach to ensuring that the youth of Lane County are set up for success in every way after graduation.
"For us, the idea is that we want our students to at some point have a job that they love and that they feel passionate about," Warwick says. "We're not directing kids in one particular pathway; we're not putting them into a college or a not-college bucket. Ultimately, what we're trying to do is inspire and get them to recognize what they're interested in, and then we can help map that pathway for them."