From 1961 to 1967, KVAL-TV's Cap'n Shipwreck Show was a "must see" program for Lane County's grade-schoolers.
Each weekday at 4:30 pm, the Cap'n (played by Gordon Bussey) arrived to the stage in his makeshift prop boat, the "Laf-a-Lot." From the stage, known as "Cartoon Island," he welcomed a bleacher full of kids with his standard friendly greeting, "Ahoy there, mates!"
Bussey never aspired to become a television icon. One Friday in 1961, he was approached by his supervisor at KVAL-TV, where he worked as an announcer/director; the boss gave him just one weekend to come up with a kids' cartoon show, being told that he needed to be ready to go live on the air the following Monday. He and his wife worked feverishly over the next two days to come up with a show idea and host "look," eventually settling on a scruffy beard and eyebrows, captain's cap, striped shirt, and old tennis shoes for the standard Cap'n uniform.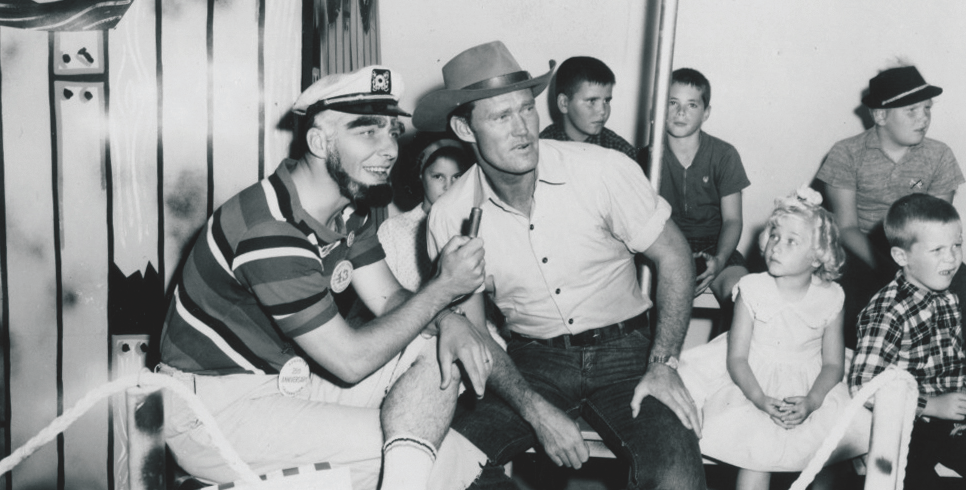 The hour-long show featured Popeye cartoons, slapstick acts, guests, and, of course, interviews with the kids, in many cases giving them their first opportunity to be seen on television. Birthday groups, scout troops, sports teams, or anyone whose parents called could join the group as space permitted, but it was crucial to plan ahead because, when the program was at its most popular, reservations were needed a year in advance!
Since the show was live and largely ad-libbed, you never knew what was going to happen. In winter, an indoor snowball fight might break out between the Cap'n and some of his camera crew, or in summer, squirt gun battles could take place. One day, as the Cap'n was interviewing some of his youthful guests, another man stepped onto the stage. He was dressed in an identical costume and bellowed: "That man's an imposter! I'm the REAL Cap'n Shipwreck!" Bussey was taken aback, and the kids looked back and forth, not sure what was happening. Then Bussey recognized him as a co-worker, and slyly retorted: "He's right. I'm a fraud." He handed the man the microphone and walked off the stage, leaving the prankster to run the show. Every day was different, and it kept the kids coming back for more.
If watching the show five days a week wasn't enough, another way to see Cap'n Shipwreck was at his live shows Saturday mornings at the McDonald Theatre. Here the Cap'n would call kids onto the stage for interviews and treats, hold special drawings, and show some cartoons followed by a feature-length film on the big screen. Those who attended can probably remember the mayhem that took place once the lights went down and the movie started!
The most dedicated fans joined the Cap'n Shipwreck's Shipmates Club, complete with pins and membership cards that entitled them to special offers from many of Shipwreck's sponsors, including Tiffany's Drug Stores, Medo-Land Dairy, Pepsi-Cola, Burch's Shoes, and Johnny's Toy House.
As popular as Cap'n Shipwreck was, television is a business, and eventually, declining advertising dollars determined the program's fate. In 1967, KVAL-TV decided it could do better in the time slot with a talk show, so Merv Griffin replaced Cap'n Shipwreck, and the Laf-a-lot boat was beached for good.
Gordon Bussey remained at KVAL-TV until 1986, and since then he has had a number of adventures, some in lands quite distant from Eugene. But wherever he goes, he is often recognized and greeted as "Cap'n Shipwreck," his legacy to a generation of Oregon's kids.