As consumers become more cognizant of what they're putting in, around, and on their bodies, businesses are taking another look at the ingredients in everyday products. Defunkify doesn't want to ask consumers to sacrifice quality for safety, so they developed a detergent that lowers toxicity and improves performance.
"We realized early on that chemical ingredients can have unintended consequences," CEO Richard Geiger says. "What sets us apart is the way we develop formulations. We intend now to do that same process to the rest of the laundry aisle."
The Defunkify brand, launched in mid-2017, offers a powder detergent, stain and odor remover sprays, and an odor shield. They are now releasing a line of liquid laundry detergent as well.
"We're thrilled to launch these detergents, which are more about everyday laundry, but deliver the same thing that Defunkify has built its brand on," chief marketing officer Eddie Rosenberg says.
The detergent delivers industry-leading odor removal that is certified by the Environmental Protection Agency (EPA) to be safe and has an 87-percent biomaterials base. Along with its traditional scent-free detergent, Defunkify now offers three scented versions that use essential oils.
"It's unique because historically we have only done unscented," Rosenberg says. "We wanted to make sure customers knew it worked, and didn't want to add any fragrances that could be mistaken as a mask."
Odor is the biggest problem area in terms of laundry, he says, particularly with the rise of synthetic materials in T-shirts and exercise wear. Those fibers smell worse than natural ones and are more challenging to really get fresh and clean.
One of the best compliments Defunkify has received, Rosenberg says, was from a customer who threw her yoga pants in the trash until she heard about the product and was able to start wearing them again.
"Laundry is impactful—the detergents and the amount of water," he says. "If you're throwing away clothes, it's a massive impact. The best way is to just not wash your clothes, which is an unrealistic thing to ask people to do. But there are better choices people can make."
Geiger says that extending the life of their clothes has resonated with consumers. He recalls one customer with a "goth" fashion sense who appreciated the detergent keeping her blacks from fading.
Defunkify has a "ProvenSafe" philosophy around its products. They start with safe ingredients, manufactured into a product through the company's green chemistry practices. Then, the product is tested for toxicity. The company finishes the formula with complete transparency, listing each ingredient on the label along with where it's from and why it's being used.
The brand has also gained popularity among those with sensitive skin, and Rosenberg enjoys hearing the success that parents have had with the product on their children's clothes.
"There are some moving and amazing stories," he says. "It's terrifying to see how much toxic stuff is in cleaning products."
Geiger says there is a measurable increase in harmful substances left behind in fabric washed with other detergents—chemicals like ethylene oxide and dioxane, which can trigger skin sensitivities.
Rosenberg adds that there's interest in helping more companies adopt Defunkify's methodologies down the line. With all the researchers at the University of Oregon, he says, Eugene is an amazing ecosystem full of opportunities.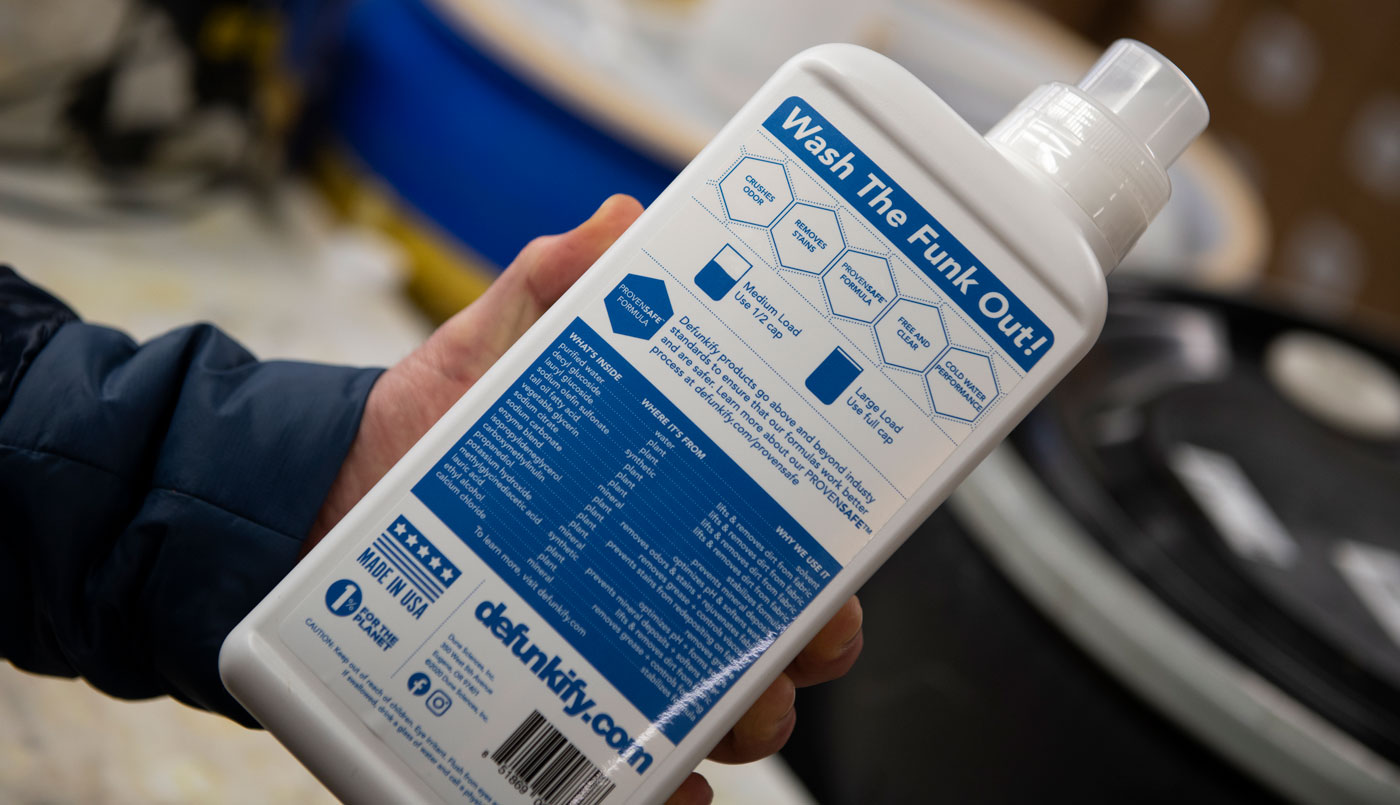 Defunkify is sold in 2,000 grocery stores nationwide. They are in every Safeway in Oregon and Northern California, as well as Market of Choice. Rosenberg says one of the challenges has been keeping up with demand as the company has grown. Although Defunkify does all of their research and development in Eugene, they use co-packers in Chicago to produce the product, and plan on expanding to add co-packers on both the East and West Coast.
Geiger says he's thankful to their investors and Eugene for the support, and says that one of the most rewarding things is seeing all the places Defunkify has reached.
"Walking down the aisle in some other place and seeing the product, that's just the coolest," he says. "That's the Super Bowl of doing the company."