A Journey for Equity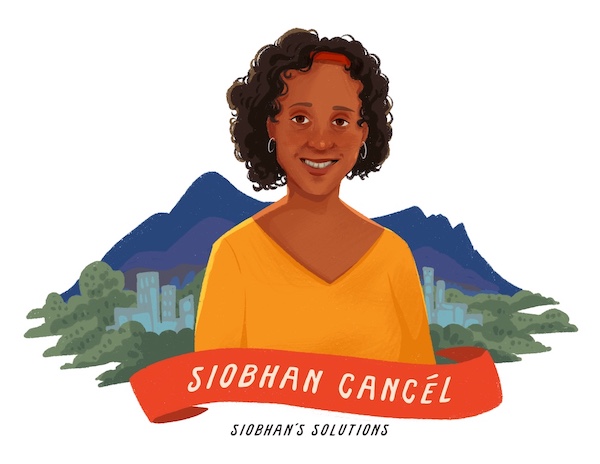 Embracing the belief that we collectively rise by lifting others, Siobhan Cancél advocates for changing the narrative of race in the Eugene-Springfield area through education. Cancél is the founder of Siobhan's Solutions, where she conducts listening sessions and education programs to help organizations become more equitable.
Early in the pandemic, the murder of George Floyd created a shift not just in the Eugene-Springfield community but across the world. Suddenly, Cancél was fielding requests from community members and organizations asking how they should provide public support and could better understand social injustice issues. She knew immediately that she could help create a testimonial for groups that would be authentic, if they were willing to educate themselves during the process.
Founding Siobhan's Solutions meant providing the predominately white Eugene-Springfield community with targeted education for understanding equity through awareness, knowledge, and skill building. Cancél was already a well-known community advocate when she started working with Onward Eugene in the ID8 program, a pre-accelerator that provided the knowledge she needed to confidently become an entrepreneur. While creating her business model, Cancél relied on the members of her ID8 cohort to give honest feedback on her startup. "I knew my journey into entrepreneurship would involve mentors, but I was shocked at the level of support and encouragement I actually received," she says.
Cancél now presents her workshop series with a step-by-step format that concludes with a directive of advocacy as an action plan. "This is not a one-and-done experience," Cancél cautions. "You can't become equitable from just one teaching moment. It is a journey, and my goal is to help guide people down the path."
Numerous organizations across Oregon, including the Eugene Area Chamber of Commerce, have already completed Cancél's education program. "Finally, communities can have a transparent conversation about equity, inclusion, and diversity, yet many organizations do not know where to begin," Siobhan explains. "I appreciate that my life experiences as a Black woman can now be translated into helping the community I live in, and I am excited to see real change happening in Eugene-Springfield."