Shortly after lockdown last year, Cottage Grove visual artist Uyen-Thi "T" Nguyen embarked on a 100-day portrait challenge, reaching out through social media to people she knew in her community. She had no trouble finding participants willing to submit a picture of themselves for her to work from.
The plan was to sketch and paint a portrait of these individuals, sharing her work to social media in a variety of mediums, including pastels, watercolors, and digital art, among many others.
"It was a dark time," Nguyen remembers, "and people were scared."
The 100-day portrait challenge, conducted virtually, was simply a way to cope.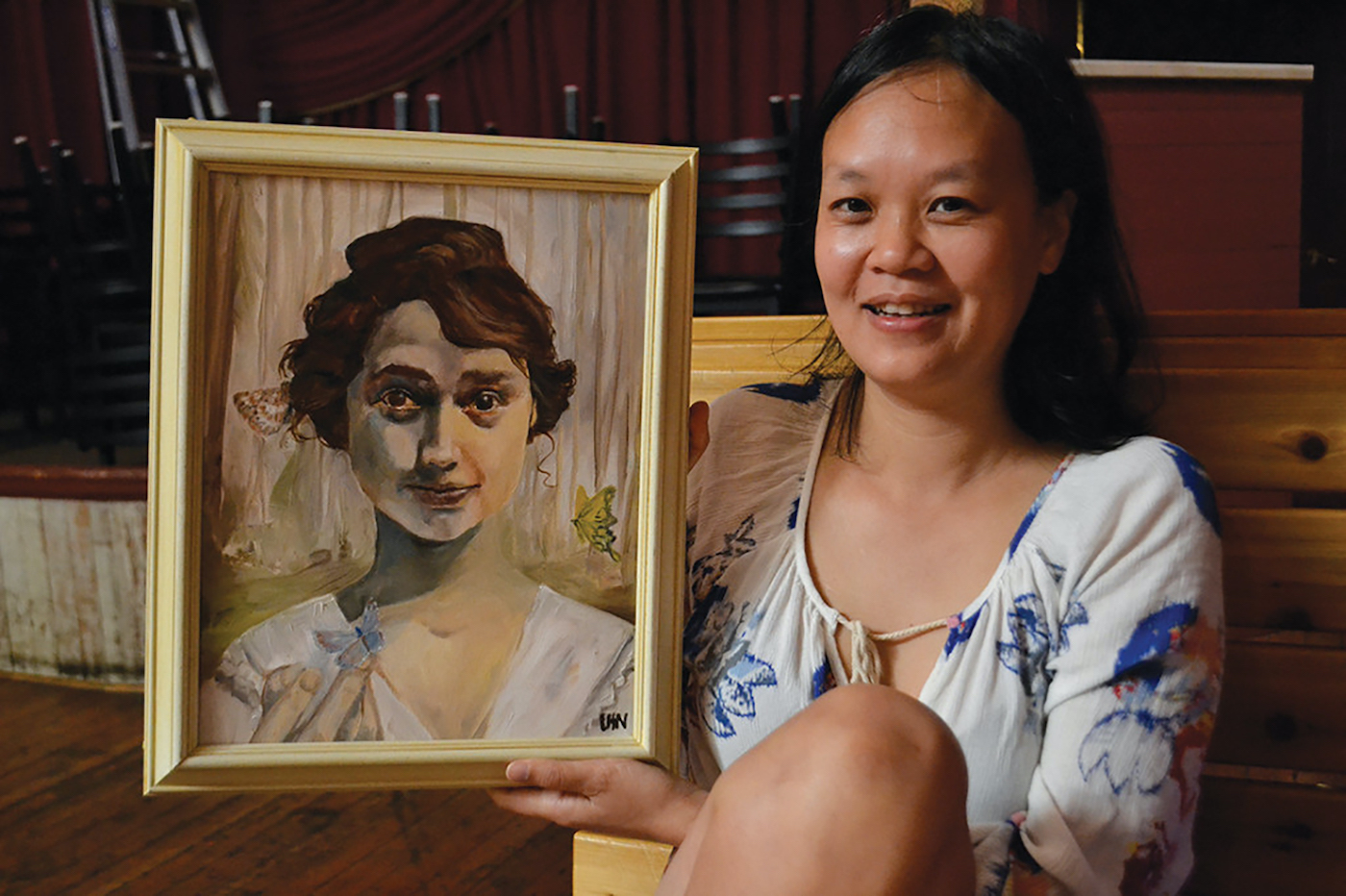 But now, A Portrait of Cottage Grove, a collection of these portraits, has been self-published, made possible with the help of an individual artist grant from the Lane Arts Council and other crowdsourced funding. This was the first time the nonprofit arts organization awarded grants of this sort to individual artists like Nguyen.
Several of the portraits included in the book were completed during the 100-day challenge, which ended in July of last year. After completing the challenge, Nguyen continued interviewing Cottage Grove residents, taking video and snapping photos to work from, hoping to represent a broad cross-section of Nguyen's adopted community, exploring age, gender, socio-economic status, and ethnic boundaries whenever possible.
To help tell their story, the book also included anonymous quotes from Nguyen's subjects gathered during the interview process, providing important context to the work.
Cottage Grove resident Anna Hoover discovered Nguyen's project through a Facebook group. Hoover and Nguyen were not previously acquainted, but Hoover says Nguyen's ability to sit quietly helped her open up during the interview process.
"You had to open up," Hoover says. "Let that barrier down. She gives you the space to do that. It felt like I was storytelling. She's just listening. It was very easy."
Based on those interviews, and playing with color and pattern in lively strokes, Nguyen's imagery captures the interiority in her subjects, generally conveyed through a gaze or expression.
Nguyen goes on to say she wanted to capture the essence of her small town of about 11,000 residents located just 20 miles south of Eugene, viewed from a deeply humanistic perspective. Her goal was to challenge assumptions and link-shared experiences in a community and an area of the country without much cultural or ethnic diversity.
In one piece, a woman looks just slightly away from the viewer, her background rendered in reds and oranges, and her steel-grey hair worn proudly with a single earring visible, looking something like the cross-section of freshly cut lumber and representing the deep roots of the timber industry throughout Lane County.
In another, Nguyen's interest in the natural world shows up with an older, kind-eyed, bearded gentlemen sitting in what could be his favorite easy chair, eyes focused on the viewer. Green vines grow into the periphery of the frame, rooting him in place.
"I like life!" Nguyen says, describing her approach to subject matter, and the act of creation for Nguyen is about challenging herself to see things differently, bringing forth intergenerational themes of poverty, economics, politics, and the power of home.
This past summer, several of the portraits included in the collection were hung in storefront windows around downtown Cottage Grove and Nguyen also participated in this year's partially virtual Visual Arts Week, presented by the Lane Arts Council, the City of Eugene, and the Maude Kerns Arts Center.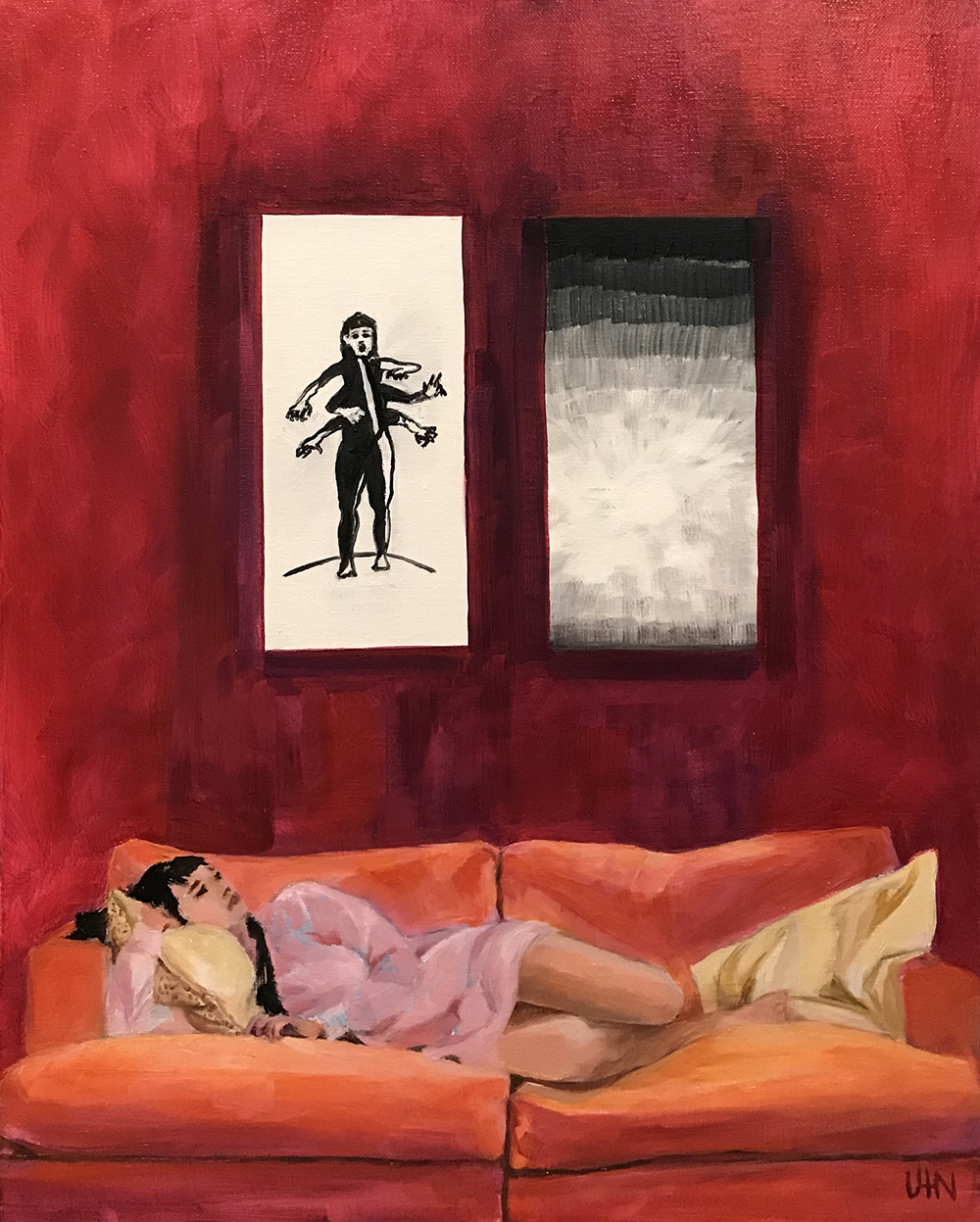 Nguyen feels showing her portraits in the heart of her town is in keeping with the spirit of the work.
Project participant Anna Hoover came upon her portrait hanging downtown Cottage Grove simply by chance.
"What the portrait said to me was that I was at a place in my life right now of doing a lot of self-care," which was something she revealed in her interview, Hoover says.
The project, she continues, "shows that there's many different people in the community that you wouldn't know. But we're all in the community. She really brings that out."
In the end, Nguyen wants these images to be viewed something like how a botanist or horticulturist would view different plants, offering new axioms to define humanity and a new lens through which to see our similarities and differences.
No one judges a flower for being a flower, she explains, and she hopes viewers will grant her subjects a similar grace.
The final interpretation, however, is up to the viewer, she says, much like a flower garden itself. She wouldn't have it any other way.
A Portrait of Cottage Grove is available now at UTNPaintings.com