It was almost three decades ago that Peter Helzer elected to leave the world of academia to become a full-time sculptor. Having taught for 12 years at various educational institutions, the then-thirtysomething Oregonian believed the time was right to switch gears and dive head first into the sometimes precarious profession of creating art.
And create he did. Since 1983, Helzer has turned out more than 100 bronze sculptures for public sites throughout the Pacific Northwest, garnering numerous awards and accolades along the way. In Eugene, you can gaze at his lovely dancers at the Hult Center, a courageous Rosa Parks at the Lane Transit District, and, of course, the acclaimed Ken Kesey Memorial at Broadway Plaza. His art is also on display at the Oregon Zoo in Portland, the Children's Library in Corvallis, and the State Capitol grounds in Salem.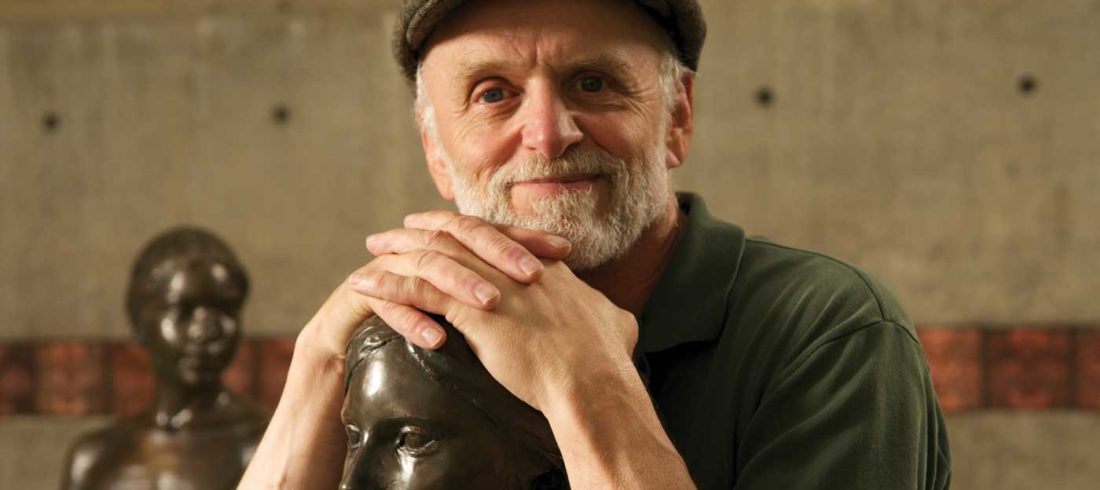 Helzer lives in the Dexter area with his wife, Marge, an anthropology instructor at Lane Community College, and their daughter, Alison, a student at Dartmouth College. He says there is something about bronze he has always found appealing. "It just has that mystique of lasting forever," he declares. "It's permanent and it's durable."
Born and raised in Portland, Helzer studied at Portland State University before transferring to the University of Oregon on a wrestling scholarship. He went on to earn three UO degrees: a bachelor of science in special education, a master of arts in art education, and a master of fine arts in sculpture. Teaching came next, along with coaching, but the thrill of being a working artist eventually won out.
Not that it was all smooth sailing. "The first five years were the hardest," Helzer admits, noting that his big break came in 1988 with the commission of two bronze statues (the dancers) at the Hult Center. "That was my first public piece, and it was successful," he says. Other commissions soon followed, and the struggling sculptor quickly became what he had always wanted to be: a genuine working artist.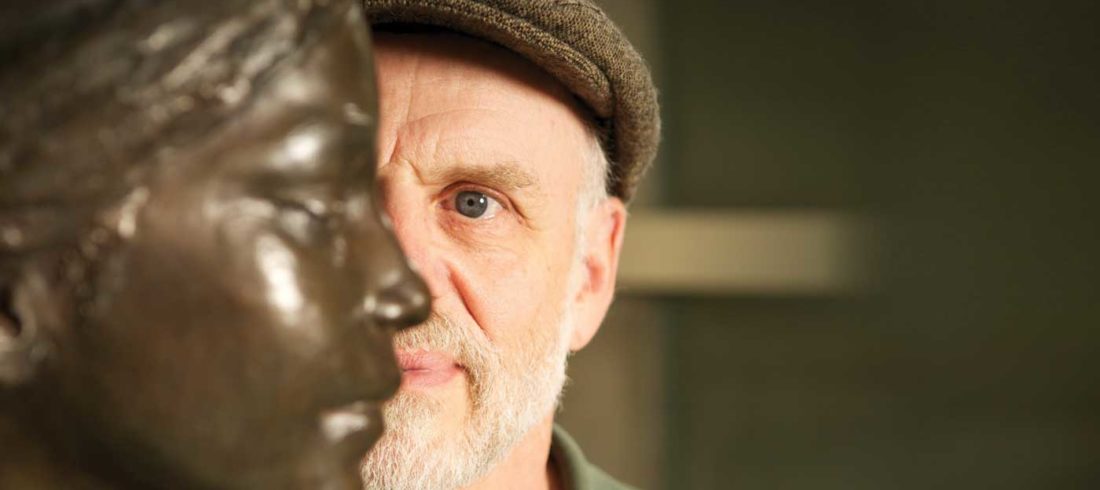 Helzer describes his creations as "whimsical children's art" because many of his pieces portray animals engaged in human-like activities. Examples include the Monster Bench at the Jackson County Public Library in Medford, which depicts a monster reading to his monster child; the Balancing Turtles at the Oregon Zoo, a humorous display of life's uncertainties with a smiling turtle on top and a frightened one on the bottom; and the Bronze Otters at Riverfront Park in Corvallis, just two companions enjoying each other's company. "These pieces are meant to be family-friendly and interactive," he says.
The artist's favorite piece, however, is the Mount Pisgah Sighting Pedestal in Buford Park, which has more serious undertones. Built to memorialize the deaths of two University of Oregon wrestlers (one of them being Jed Kesey, son of the late popular author Ken Kesey), the piece includes a relief map of local landmarks and features two slits that allow sunlight to pass through.
For Helzer, a good friend of the Kesey family, the Mount Pisgah sculpture holds a special place in his heart. "I'm more pleased with this than with anything else I've ever done," he says, pointing out that this particular piece even snagged recognition from The New York Times.
The 65-year-old Helzer, who carries a reputation for being intense about his work, admits that he can sometimes be difficult during the artistic process.  "It depends on who you ask," he says. "Sometimes I can be misread because I can come off very strongly. . . . I warn people about it now." His wife nods in agreement, although she believes "difficult" is too strong of an adjective for her husband's personality. "He's a passionate man," she states.
Flattered by Marge's kind words, Helzer says he's happy with his career's progression and enjoys being able to pick and choose his commissions now. "I'm at a point in my life where I don't have to take everything that comes along," he says. "I do things now because I have a certain kind of interest in the project."
Although noted primarily for his bronze work, Helzer enjoys dabbling in other mediums as well. "I'm one of those guys who tries a little bit of everything," he says. "I do a little painting, photography, and some ceramics." Summing up his creative journey, he recites a quote coined by Moby Dick author Herman Melville: "I try all things, I achieve what I can."
A fitting remark from a working artist.  
541/937-2417