Country mouse Julia Oldham never felt quite at home in pushy, crowded New York City. After four years in Brooklyn's Red Hook neighborhood, however, the ebullient video artist had some close friends, and her career was taking off.
It was hard for Oldham to pack up and move 3,000 miles away from some of her best pals, but she was glad her husband had accepted a post at the University of Oregon, in friendly, tranquil Eugene.
"I love it here," Oldham says. "I love the rain. I can't think of anything I don't like about this place." The wilderness outside her backdoor reminds Oldham of her intrepid childhood mucking around in the Maryland sticks.
"I needed a way to tie a thread, connecting that old place with this new place," Oldham says.
Shortly after settling down, Oldham launched the Opossum House artist residency in her new digs on the city's lush southeastern border, a home originally built by UO painting professor Jay V. Soeder in 1963. Every spring, Oldham hand-selects a new artist to spend a few weeks in her peaceful home and pursue whatever curious fancy that pops into the artist's head.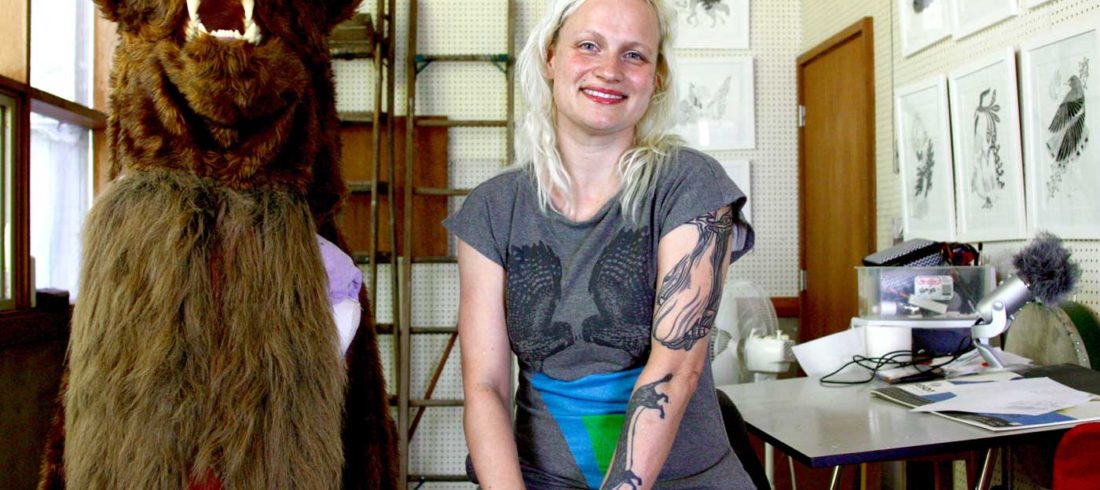 "This place is about slowing down," she says. "This place is about waking up to trees outside your window. It's about ideas unfolding at their own pace and having someone to talk to, one-on-one, if that's what you want."
Sculptor Trish Tillman was renting a crummy apartment in the noxious, industrial mazes of Brooklyn's East Williamsburg neighborhood when Oldham invited her to Oregon.
During three weeks in the spring of 2012, Oldham and Tillman hatched a collaborative video project that resulted in a short movie illustrating two completely idiosyncratic and essentially antithetical ways to crack open a coconut. Shot on Hobbit Beach, north of Florence, the sly yet sincere how-to guide doubles as a fable, illustrating that no matter how dramatically different two people may seem, and how dissimilar their perceptions, they are not necessarily opposed.
Opossum House's zero-pressure atmosphere and anything-goes ethic gave Tillman room to toy with themes and media she hadn't touched before. Tillman later published her first poetry book, some of which she read aloud at the ceremonial end-of-residency open house.
The host covers airfare, provides meals, and might even agree to some light chauffeuring, "but after that, it's completely hands off," Oldham says. "It's all pretty intuitive. I just want to provide a platform for whatever that person wants to try. I follow the artist's lead completely. There's no prep work; it gives me a lot of freedom, and it gives them lots of freedom. There's no jury, no board approval."
Shelves in the Opossum House "lounge"––Oldham's living room––overflow with skulls, bones, feathers, and other neat forest finds. Picture windows span nearly every side of the house that sees direct sunlight. At dusk, throngs of crepuscular insects radiate fire-red auras.
"I almost felt like a kid again," says Brooklyn painter Naomi Reis, who stayed at the house last spring. The long-overdue escape from the city restored Reis' bearings after wrapping up a particularly unforgiving year, workwise, and a close personal loss had her doubting whether art is worth the trouble and sacrifice.
Using a GoPro camera attached to a clutch of helium balloons, Reis recorded the haunting film Destabilized Landscape (tether) over the lava fields out by the McKenzie Pass. Reis has screened her eight-minute film at art exhibitions in New York, Berlin, and Japan.
The reason for opening Opossum House was "really actually selfish," Oldham admits. "It was me reaching back out, offering this thing that I know that I wanted when I was in the city."   
Find Opossum House on Facebook.