The holiday season is upon us, present in the glittering lights around the city. Christmas tree lots are setting up shop and parties and get-togethers are filling up our calendars. Locally, many businesses and organizations are also gearing up to celebrate the season. Between markets, family crafting events, and special shows, Eugene is rife with holiday festivities.
The Hult Center
A holiday tradition for many and an opportunity for a new tradition for others, the Hult Center in conjunction with the Eugene Ballet will again be hosting performances of The Nutcracker, the classic tale of a young girl and her nutcracker doll come to life. They are offering four performances, including two afternoon performances. For the first time, tickets will be available at a lower youth rate to make the arts more accessible to more members of the community. They will also have their Nutcracker boutique set up so attendees can commemorate the event with a souvenir.
On Christmas Eve, the Hult Center will also be hosting a free holiday concert in their lobby at 2 pm. Attendees can take in the magic of the Hult Center during the holidays while enjoying the music of the season.
The Nutcracker
Dec. 22, 7:30 pm; Dec. 23, 2 pm and 7:30 pm; Dec. 24, 2 pm | $30-$66
Holiday Concert
Dec.24, 12 pm | Free admission
5th Street Public Market
Having kicked off their holiday festivities with their annual Night of a Thousand Stars on Nov. 24, 5th Street Public Market has many different events to celebrate the season. New this year is Santa's Workshop, a greenhouse decked out in festive lights and other decorations, built in the promenade area between NEWTW!ST and Velvet Edge. Santa is available Fridays, Saturdays, and Sundays through the season and on Thursday, Dec. 7, for Greenhill Pet Night (4-7 pm). On Dec. 9, from 4-7 pm, the All That! Dance Company will perform in "Miracle on 5th," which includes excerpts from "Nutcracker Remixed."
Come by 5th Street Public Market all season for holiday-themed events such as the Provision's Kids Homemade Holiday Gifts on Saturday, Dec. 2, and the Provision's Kids Holiday Sweets Parade on Wednesday, Dec. 6. Every Friday and Saturday evening through December, watch for snowfall from 6-6:30 pm. For full details on their holiday events, visit their website.
Events through Dec. | Prices Vary
Eugene Holiday Market
Starting Nov. 16 and continuing on weekends through Christmas Eve, the Eugene Saturday Market has moved indoors for their annual Holiday Market. Perfect for finding unique gifts from more than 250 expected vendors, the Holiday Market is also a great place for delicious food and taking in the local music scene. With 13 different food vendors and eight performing acts every day the market is open, there is something to keep everyone well-fed and entertained.
Jacob Stroukel, Marketing and Promotions Manager for the Saturday Market, says Saturdays are busy, while Sundays are much calmer and see smaller crowds. No matter which day you go, you are guaranteed to find a beautiful, locally hand-crafted gift for someone on your list. "It's a wide variety of artists and creators," Stroukel says. "Every week there's something different and every week there's something that surprises me. And if the community saw that, they'd be out every week."
Dec. 2, 3, 9, 10, 16, 17, 22, 23, 24 | 10 am-6 pm
(closing at 4 pm on Dec. 24) | Free admission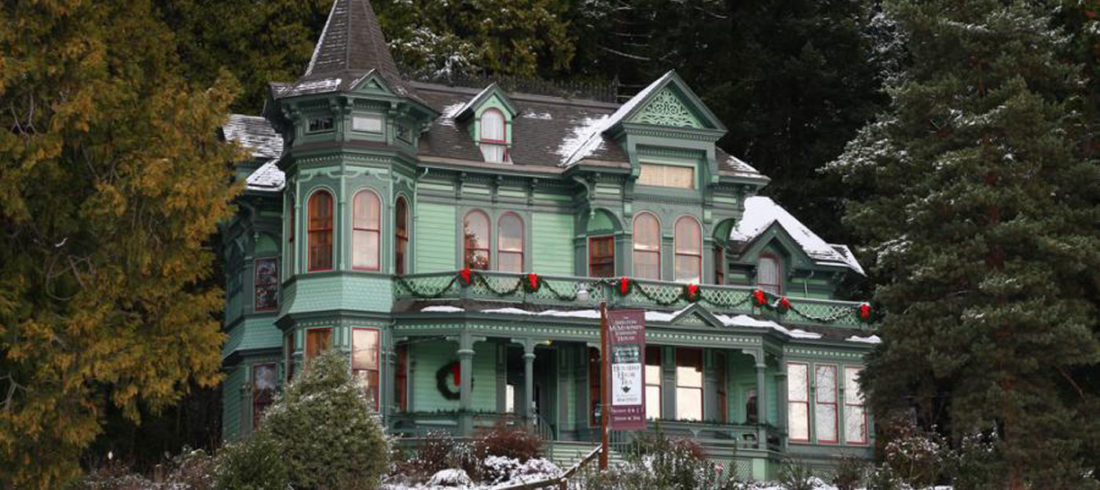 Shelton-McMurphey Johnson House
Shelton-McMurphey Johnson (SMJ) House, Eugene's own Victorian House Museum at the base of Skinner Butte, will be celebrating the holiday season with a few different events. All entries have been collected for their third annual Wreath Festival and hung at Oregon Wine Lab. The wreaths will be judged on Dec. 1 as part of the First Friday Art Walk and available for bid through Dec. 20. Claim your favorite before someone else does! All proceeds will benefit SMJ House programming.
This season, SMJ House will also be offering Candlelight Tours on Dec. 7, 14, and 21, and a holiday-themed Victorian Family Day on Saturday, Dec. 2. The Family Day invites local families to join them to create Victorian-inspired gifts, decorate gingerbread cookies, and listen to a storyteller.  
Wreath Festival auction
Dec. 1-20 | Oregon Wine Lab | Free admission
Candlelight Tours
Dec. 7, 14, 21 | 6 pm-8 pm | See website for admission prices
Victorian Family Holiday
Dec. 2 | 11 am-2 pm | Free admission