Pete Goldlust has long been attracted to whimsy and humor. He's an artistic painter and craftsman with strong leanings toward sketch art, sculpture, and architectural design; a creative with compelling artistic visions; and a man fascinated by the kid within himself and others.
His artwork often encompasses laughter and silliness, kinetic motion, vibrant colors, robotic contraptions, cartoon-like characters, strange and otherworldly creatures, and unusual vegetation coupled with outlandish insects, birds, and other wildlife critters.
Goldlust and his wife, Melanie Germond, settled in Eugene several years ago after exploring varied options for moving their family from Busby, Arizona, their tiny hometown on the Mexican border. Finding—or founding—a Montessori school for their two children was a key priority. So, too, was forging new efforts targeting creation of community public art.
"I was diagnosed with depression almost 20 years ago," Goldlust says. "Most artists I know talk about dealing with their depression and often they are all about dredging up pain. For me, that always seemed counterproductive. The things that help me get up in the morning are comedy and comics and people able to come at these issues sideways."
Shifting directions
Before arriving in Eugene, Goldlust's artistic pursuits were largely tied to the world of gallery enterprises and collecting college degrees in art. He describes this period, roughly a pair of decades, as "a total kitchen sink approach" to creating art.
These days, many of these "kitchen sink" gallery pieces he produced are boxed up and packed away. Much of the art is exceptional. The stash includes recycled poly jelly pieces, sculpted clay and wood and polymer creations, clay relief panels, recycled textile art, interactive soft sculptures, prints, scroll paintings, and carved crayons.
In effect, the eventual winding down of Goldlust's gallery period coincided with a solo exhibition at Lane Community College last year, coupled with him stepping back from his role as a gallery administrator at The Arts Center in Corvallis. To some degree, personal income figured into the equation. "I was able to have shows, yet lose money in galleries for years," he says, laughing. "Yeah, they were very indulgent in that way."
In the meantime, several years back, Goldlust and his wife began looking toward public art opportunities as a key creative interest—and as a potential source of improved family finances. More recently, as the public art projects began producing greater success, Goldlust and Germond turned their shared interest into a combined artistic partnership.
Germond brought to the endeavor a graphic arts background and 15 years touring Europe as a vocalist performing medieval period music. Her current responsibilities in the art-focused partnership with her husband fuse research duties with the organizing, packaging, and critical review of their joint art proposals. She likes to refer to her role as that of "art director."
"I make sure that our art looks cohesive and is matched to the venue," Germond says.
"And I've gotten to the point," Goldlust says with a satisfied grin, "where I'm very happy with the work we're doing now. I'm pinching myself that we're doing this full time. I don't think we ever anticipated that we'd end up being full-time artists. Ever!"
Public arts
"There are a lot of weird personalities and stuff," Goldlust says, "that comes with running a commercial gallery. What I like about the public art world is that the motivations of the people you're dealing with are super pure. They are the nonprofit and arts people. They're not in it for the money. Public art administrators? They're really in it for the artists."
"When I first started doing public art over 10 years ago, I thought it was going to be a battle every time fighting against designing art by committee," Goldlust says. "But I've found it to be an amazing, pleasant surprise that I rarely have to do that at all. One of the things that works in our favor is that the art I like doing is never about one big, single, iconic thing. It's always about doing a field of a lot of things. That makes it easy for me."
Prior to arriving in Eugene, Goldlust had successfully paved public art inroads for himself in a variety of locales. For example, his many installations scattered across the Arizona landscape includes light rail passenger stops in Phoenix, a soft sculpture interior building space in Tempe, and mural commissions in Scottsdale and Chandler.
The Children's Museum of Phoenix features his large, kid-friendly, permanent soft-sculpture environment while other commercial and public spaces in other Arizona cities highlight floor, window, and wall designs invested with other kinds of sculptural elements.
Meanwhile, Washington, DC, boasts his ornate, metal, outdoor, billboard-sized art panel installations. Anchorage has a building interior decorated with colorful jellyfish forms made of molded poly jelly plastics suspended from a ceiling. And in Loveland, Colorado, a pedestrian bridge and adjacent concrete bike path showcase wall panels adorned with his huge relief images of frolicking birds.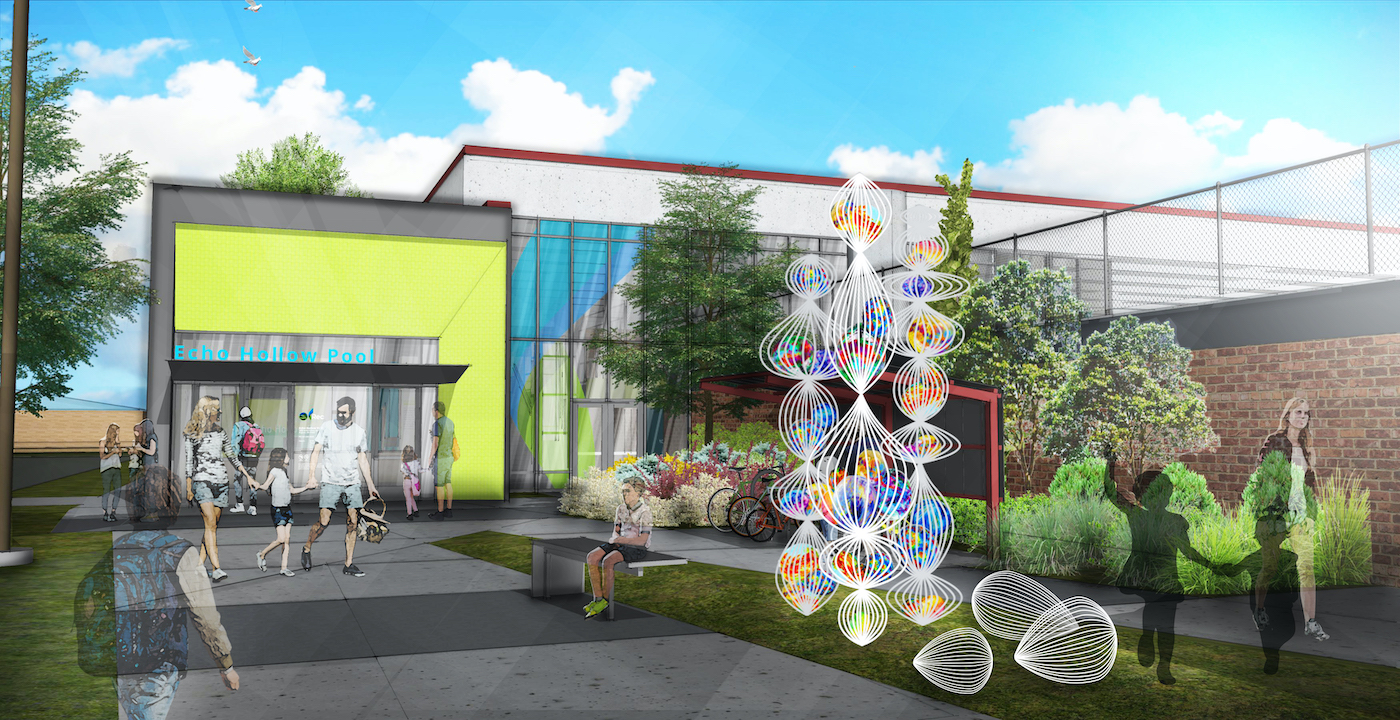 Local impacts
There are a pair of very noteworthy projects currently hovering on the outer edge of Eugene's public art radar screen. The Campbell Senior Center is one. The Echo Hollow Pool Complex is the other. Both are very ambitious, city-managed installations slated for completion this spring. Both will most certainly mark the emergence of Pete Goldlust as a special talent within the constellation of local artists with notable public art installations.
Goldlust has long considered himself a miniaturist who only migrated from small-scale creations when he shifted from gallery shows toward the public art arena. He says the large-scale orientation was promoted in graduate school as a tool for engaging art consumers. "But it really had more to do with the economy of the art world," he says. "You get paid more for the big stuff than the little stuff!"
"I would have been perfectly satisfied doing things at small scale for the rest of my life," he confesses, then grins. "Well, actually, that's not entirely true. I've lately grown into enjoying that people can enjoy my larger work."
And indeed, largeness may be part of the attraction of the makeover planned for the Campbell Center. The full project, featuring certain familiar themes and varied motifs, is titled "Camas Kaleidoscope."
Think of an intriguing mix of iconography reflecting local counterculture origins: Ken Kesey and the Further bus, ornate paisley designs, Peter Max '60s-style pop imagery, Oregon Country Fair poster illustrations. Envision Willamette River scenes, shoreline foliage, recreational activities, wildlife. Embrace the legacy of healthy, aging Eugene residents dancing, studying, and playing together.
Then call up visions of a revitalized Echo Hollow Pool Complex rich with design elements reflecting "The Shapes of Water." Outdoor seating and kinetic raindrop sculptures calling from the Entry Plaza. Intricate, laser-cut patterns decorating wall panels and fencing throughout grounds. Other spaces adorned with colorful sculptured forms suggesting water ballet, water sports, swim play, and marshes framing aquatic animals, foliage, even mermaids.
Community voices
It should be noted that over the past few years, the Goldlust-Germond team has done a commendable job finding their Eugene flow. Despite the general shortage of their art currently on public display, the folks familiar with the couple's work have mostly connected through the close-knit, local arts community.
A fair share of the creative metal fabrication and other technical components in the public installations designed by Goldlust and Germond are done in partnership with small, local shops like Matt Gurney's SO Metal. The approach eases challenges often encountered in large engineering firms, and it encourages bridge-building and business expansion between different circles in the arts community.
It isn't that Goldlust's art has no presence in Eugene. There's "Urchin," the pink, tentacled, upright piano formerly located on the Public Library's west-end patio. Urchin now resides in New Zone Gallery. There's also "Good Neighbors," the wonderfully whimsical, robot-populated mural on the south exterior wall of NextStep ReUse Store on 10th and Garfield.
There was a point last year when Goldlust was commissioned to create a collection of free-standing street signs for use as directional indicators for pedestrians participating in the Lane Art Council's monthly Downtown Art Walks. More pointedly, the designs were commissioned by Darcy Giannone, the lead planner for the scheduled Nation of Makers Conference. The national conference was ultimately derailed due to COVID concerns, at which point Goldlust's art signage found respite in Giannone's garden.
"He creates pieces that are odd—but fun," Giannone says. "Art that just makes you smile, stuff that is bright and cheery and unusual that people notice."
Charly Swing, director of ArtCity, is also a big Goldlust fan. She calls him "an artist of our times," who "utilizes public art platforms to blur the boundaries of art and whimsy to remind us that there is levity in this madness. He is an artist's artist who willingly shares his knowledge and truly wants to see his colleagues succeed."
Swing's high regard for Goldlust is echoed by Kate Ali, the City of Eugene's public art ,manager. "When he was awarded the two large public art commissions, it became really important to him that he find ways to give back to the community," Ali says. "One of the things that has most impressed me about him is that everything he does is about figuring out ways to better our community through his work."
According to Ali, Goldlust's intentions have helped foster concrete efforts by the City of Eugene and the Lane Arts Council to improve access to arts endowments for unheralded artists, especially artists of color.
That in itself should be enough to paint smiles on the faces of a lot of Eugeneans.
petegoldlust.com