Let's face it. While Eugene's spring and summer weather is just about perfect, the gray, chilly, and damp winters are a different story. Exercise is a great way to beat the cold-weather blues, and Playground Sports offers alternatives to conventional workouts with activities like dodgeball, bowling, and. . . human foosball.
"We built a life-size arena and you are the foosball pieces," says Playground Sports founder and CFO (Chief Fun Officer) Bec Williams. "You hold onto a bar with your teammates, you slide back and forth and kick a ball. There's a goal and a goalie. We have a whole league for that."
Before founding Playground Sports in 2009, Williams saw an opportunity to "expand beyond the gymnasium" for individuals with varying degrees of athletic skill and experience, as well as those interested in adding a social aspect to their exercise routine. Her organization hosts competitions at a variety of Lane County locations, including Willamalane in Springfield and Tugman Park in Eugene, plus at events and tournaments in Corvallis and Medford.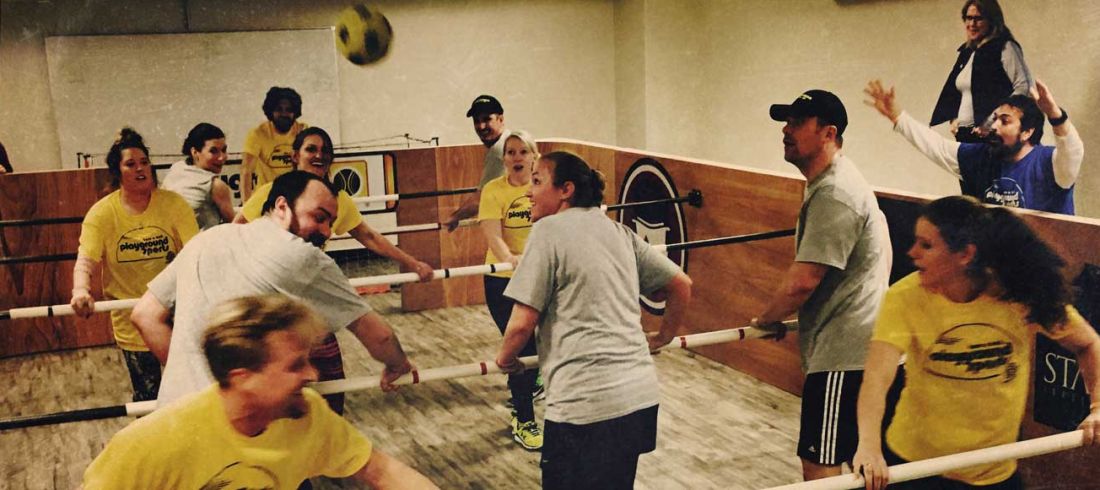 "It's more than just bowling, or just playing dodgeball," Williams explains, "but really wanting to do a little more with it." She says socializing after and during events is encouraged, and leagues offer fun things like dress-up nights and other contests. In the bowling league, Williams explains, "people have to do a turkey dance if they get three strikes in a row."
In addition to oddball sports (pun intended) like human foosball, Playground Sports offers more conventional options like volleyball, basketball, pub leagues (darts, for example), and bowling. The leagues range from relatively competitive to "social divisions focused more on the fun—some of our leagues, you get rated on your social points," Williams says. "People aren't always going to be the best. The sports we play are more accessible to people of all kinds of athletic abilities."
So, if money and facility were no issue, what's the most out-there sport Williams wishes Playground Sports could bring to Eugene? She pauses. "That's a really good question. A lot of people like to send me videos on Facebook about different sports," she says. "I recently saw one with a huge dartboard and you play it with a soccer ball, the dart board itself is made out of Velcro."
"There's also this indoor pool table that's played with soccer balls," she says. "That one we're looking at building. There are lots of other games out there we haven't expanded into yet."
A critical mass of grownups interested in playing dodgeball may seem perfectly in line with Eugene's quirky reputation, or to put it another way: Eugene being Eugene. But Williams says Eugene's interest in supporting local business has been critical to the success of Playground Sports.
"People in Eugene like things that are local," says Williams. "People like to get involved. I think that's been really key; you have to want to get out there and be a part of the community."
Williams also feels that Playground Sports is ideal for newcomers to Eugene looking to get to know their neighbors, or for anyone seeking to network with people sharing similar interests—whether those interests are basketball, volleyball, playing pool with a soccer ball on a life-sized pool table, or turning yourself into a human foosball piece.
65 Division Ave. W-1, Ste. 272
541/221-2392