My family always has grand goals of getting out to the mountains once a month for a couple nights of tent camping from May through October. Camping in the shoulder months often means chilly temperatures and rain, which we've gotten good at dealing with. Mosquito season, however, can be a little more daunting. A few summers ago, we were camping at a Southern Oregon lake with friends who had school-age children. The mosquitos were SO vicious, particularly for the kiddos, and I spent the whole time kicking myself for not having made a batch of herbal mosquito repellent beforehand. Our friends had some over-the-counter natural spray, but it was passing-useless and none of us wanted to douse the children in a toxic DEET-based repellent. I vowed never to be caught by surprise again. Now this natural spray is a must-have for camping and any other activity that puts us close to water and mosquitos.
One of the things I like about this longstanding Mountain Rose Herbs recipe is that it uses organic catnip extract, which you can certainly order from us, but you can also make your own tincture. Catnip is easy and inexpensive to grow, even in patio pots, and, in my humble opinion, tincture making is both easy and fun.
This recipe uses a 2% essential oil calculation, which creates a strong aroma and is a good choice for mosquito-heavy places like that Southern Oregon lake I mentioned. If you're planning for a trip where the mosquitos won't be so intense, feel free to use half as much essential oils.
I make this recipe at a 1% calculation when using it with school-age children. I do not recommend using essential oils with babies or young children. Please see caution below.
Note that other precautions may be necessary to manage mosquitos and this recipe is not intended to prevent mosquito-transmitted diseases.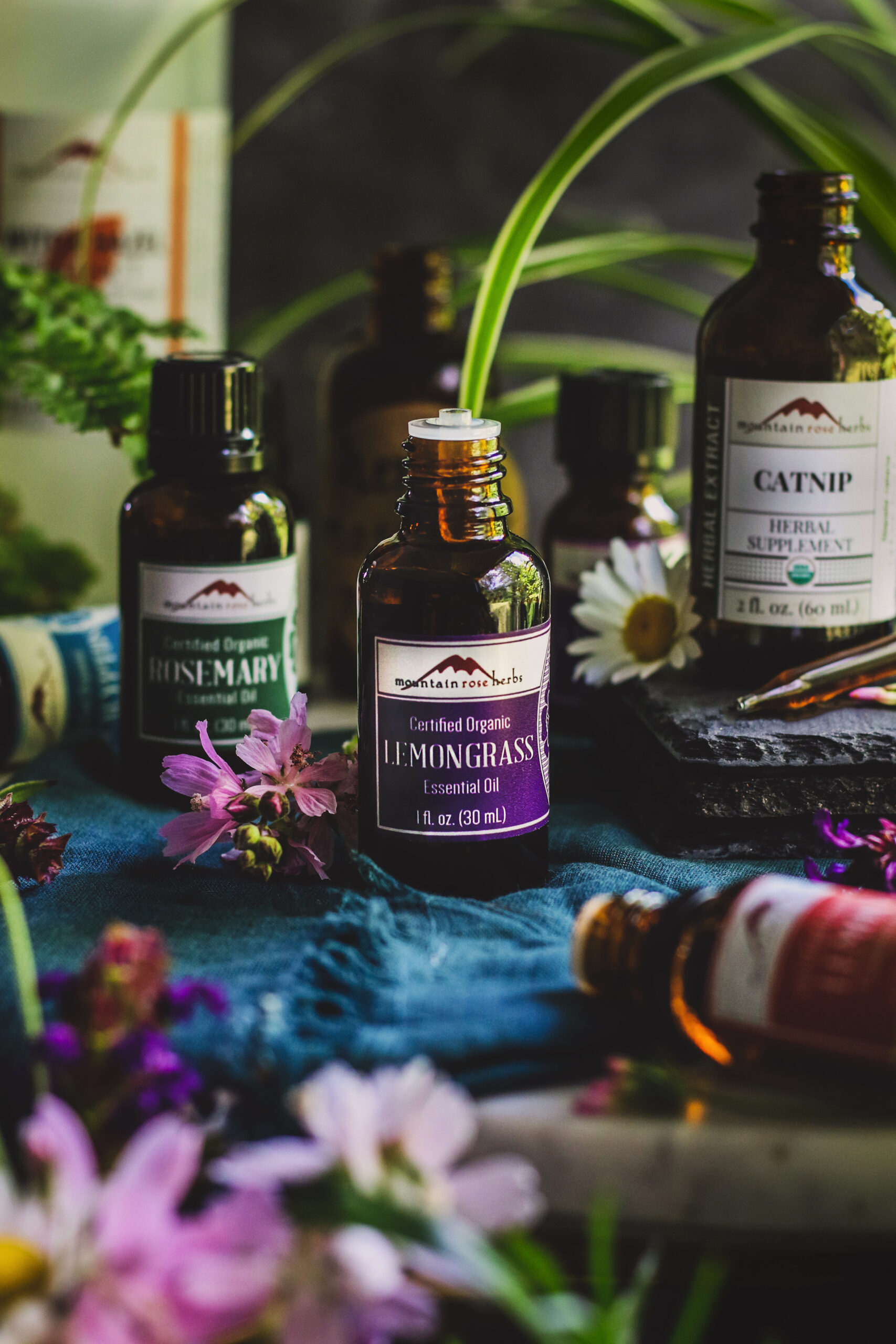 Herbal Mosquito Repellent
Makes about 8 oz.
Ingredients
Directions
Pour both catnip extract and witch hazel extract into an 8 oz. bottle. Slowly drip the essential oils into the bottle. Cap the bottle and shake vigorously to combine. Store in the refrigerator with tight-fitting lid. Mixture will be shelf-stable for up to a year when stored properly.
To Use
Replace the lid with optional mister cap or shake bottle and pour some into a smaller spray bottle that you can take with you for day trips. Return remainder to refrigerator.

Shake well before each use. Spritz over exposed skin, avoiding eyes and mucus membranes.

Reapply as often as needed.
Pro Tip: If you don't already have these essential oils on hand and plan to purchase oils to make this recipe, you can substitute an equal amount of Mountain Rose Herbs' Bug Blend essential oil instead of purchasing multiple oils.
Caution: Essential oils are generally not indicated for use on infants or young children, those who are pregnant or breastfeeding, people with serious medical conditions, or certain pets—especially cats. The National Association for Holistic Aromatherapy has an excellent webpage on safety information for essential oils and is a wonderful resource.

*These ingredients can be found at the Mountain Rose Aroma Bar (590 Pearl Street, Eugene) or at www.mountainroseherbs.com.