This chai spice oatmeal cookie recipe is definitely one you'll want to add to your recipe book. Made with flavorful seasonal spices and, in my opinion, yielding the perfect cookie texture, they will be well enjoyed at your next cookie exchange, on your holiday dessert table, or even as zero-waste gifts! The recipe makes about 2 dozen cookies.
Ingredients
1 cup organic all-purpose flour
3/4 teaspoon baking powder
1/2 teaspoon. baking soda*
1/3 teaspoon. fine sea salt*
3/4 teaspoon organic cassia cinnamon powder*
1/2 teaspoon organic cardamom powder*
1/4 teaspoon organic ginger powder*
1/8 teaspoon organic clove powder*
1/8 teaspoon organic nutmeg powder*
1 large organic free range egg plus 1 egg yolk at room temperature (or vegan flax egg substitution found below)
7/8 cup organic butter, softened (or vegan butter substitute)
1 cup organic sugar
1/4 cup packed organic light brown sugar
1 teaspoon organic vanilla extract
2 1/2 cups organic old fashioned rolled oats
Directions
Preheat oven to 350 degrees.
Thoroughly whisk together flour, baking powder, baking soda, salt, cinnamon, cardamom, ginger, clove, and nutmeg. Set aside.
Whisk together egg and egg yolk. Alternatively, mix together ingredients for vegan flax eggs. Set aside.
In a large bowl, beat together butter or vegan butter substitute with both sugars until completely blended and creamy.
Thoroughly beat in eggs or vegan flax eggs mixture.
Beat in vanilla extract.
Mix dry ingredients into butter/sugars. If you are using flax eggs, this is best done by hand.
Mix in oats half at a time until well combined. Dough will be very thick and just a little sticky.
Measure out 2 tablespoons of dough and roll into a ball with your hands. Repeat with remaining dough.
Place balls about 2 1/2 inches apart on lined baking sheets.
Bake about 7 minutes. Rotate the cookie sheet 180 degrees, and bake until edges are golden brown, another 6 to 8 minutes.
Transfer the baking sheet to a wire rack and let cookies cool on the sheet for five minutes.
Transfer cookies to a wire rack and let cool completely (although warm oatmeal cookies are delicious, just saying.)
Pro Tips
You may be asking, "Why not add a whole extra egg instead of just a yolk?" Egg yolks make richer, softer baked goods, whereas egg whites make a lighter, airier end product. In this case, I wanted more of what yolks offer.
The cookies made with flax eggs may be more brown than golden-brown on the edges when done.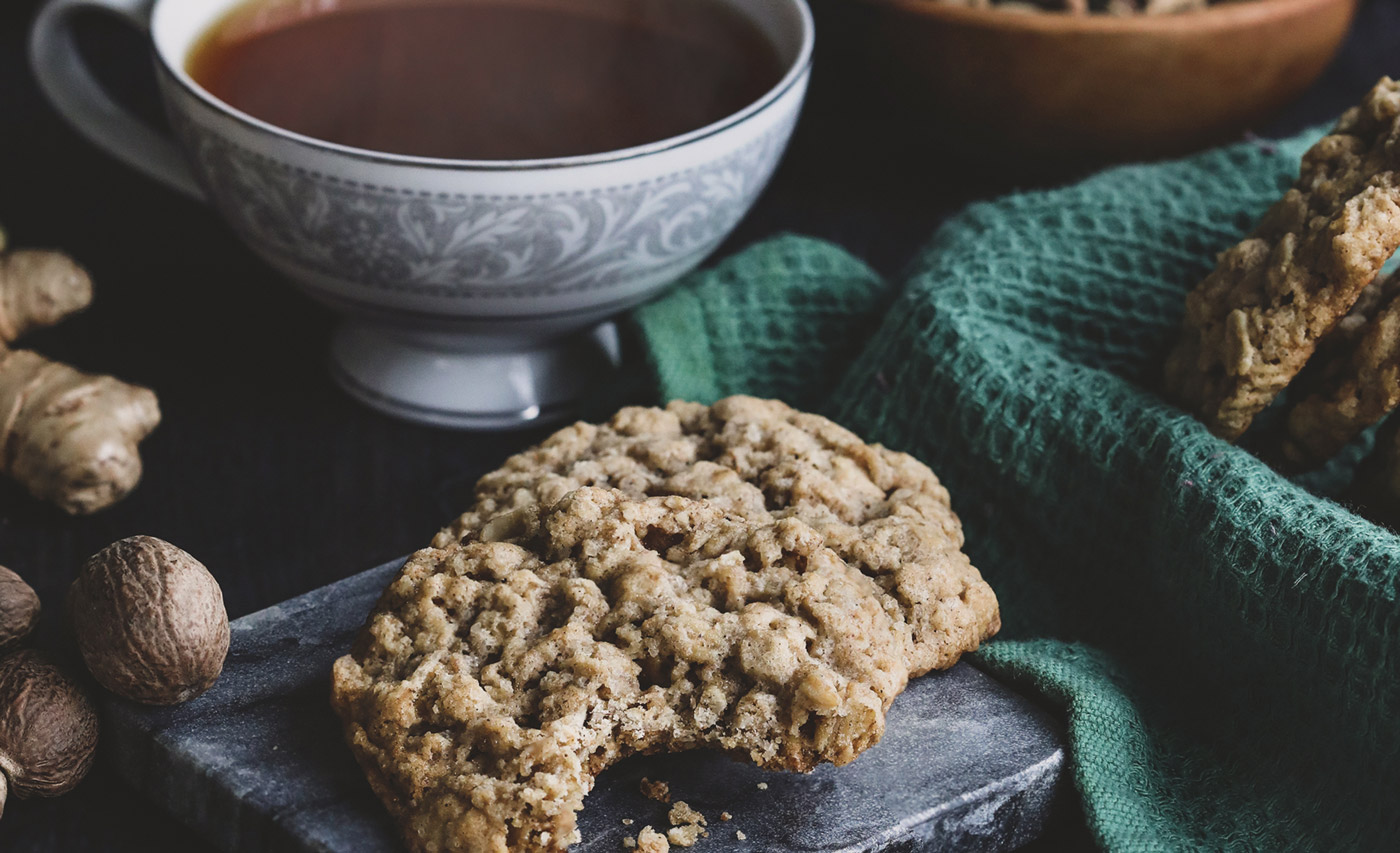 Vegan Flax Eggs
Flax eggs are not a great choice for egg-heavy recipes, but they are a wonderful option in cookies like these that only require one or two eggs.
Ingredients
1 1/2 tablespoons organic flax meal (or grind your flax seeds in a coffee grinder or food processor)
4 1/2 tablespoons room temperature water
Directions
Put flax seed meal in a small bowl.
Pour water over and mix.
Let sit about 15 minutes, until goopy/gelatinous.
*These high-quality, organic ingredients can be found at the Mountain Rose Herbs Mercantile located at 152 W 5th Avenue in Eugene.