Fire cider is a popular traditional herbal remedy. The tasty concoction of herb-infused vinegar is an especially easy way to boost natural health processes, stimulate digestion, and warm you up on cold days.
As this is a folk preparation, the ingredients can change from year to year and season to season. While the standard base ingredients are apple cider vinegar, garlic, onion, ginger, horseradish, and hot peppers, there are plenty of other goodies that can be thrown in for added kick. In our classic recipe, we used spicy jalapeños and vibrant rosemary along with organic turmeric powder and fresh (organic, of course!) lemon zest.
Other optional additions to the classic preparation include adaptogenic astragalus, beautiful beet root powder, sumptuous star anise, and plump peppercorns.
If you're truly following tradition, you can bury your fire cider jar in the ground for a month, digging it up during a great feast to celebrate the changing of the seasons. However, our versions are more suited for the modern home herbalist, where a dark, cool, dry cupboard will do.
Fire cider can be taken straight by the spoonful, added to organic tomato juice (throw in some olives and pickles for a non-alcoholic Bloody Mary!), or drizzled on a salad with organic extra virgin olive oil. You can also save the strained pulp and mix it with shredded veggies like carrots, cabbage, broccoli, and fresh herbs to make delicious and aromatic stir-fries.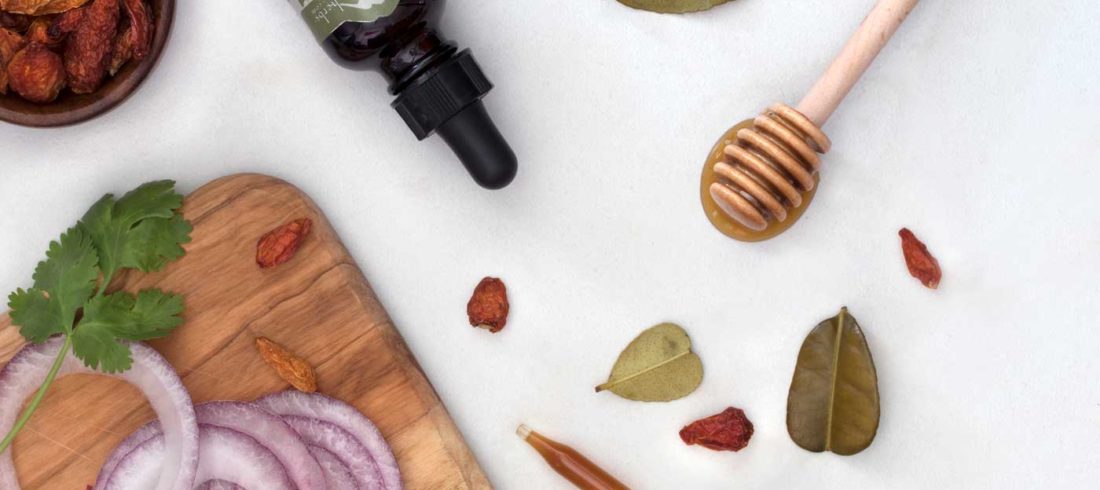 Classic Fire Cider Recipe
1/2 cup fresh grated organic ginger root
1/2 cup fresh grated organic horseradish root
1 medium organic onion, chopped
10 cloves of organic garlic, crushed or chopped
2 organic jalapeño peppers, chopped
Zest and juice from 1 organic lemon
2 tablespoons dried rosemary leaves
1 tablespoon organic turmeric powder
1/4 teaspoon organic cayenne powder
Organic apple cider vinegar
1/4 cup raw local honey, or to taste
DIRECTIONS
Prepare all roots, fruits, and herbs as noted above and place them in a clean, quart-sized glass jar. If you've never grated fresh horseradish, be prepared for a powerful, sinus-opening experience. Fill your jar to the top with apple cider vinegar and use a piece of natural parchment paper under the lid to keep the vinegar from touching the metal or a plastic lid. Shake well. Store in a dark, cool place, shaking daily for a month.
When the month is over, use cheesecloth to strain out the pulp, pouring the vinegar into a clean jar. Be sure to squeeze as much of the liquid goodness as you can from the pulp while straining. Next, add the honey and stir until incorporated. Taste your cider and add more honey until you reach the desired sweetness.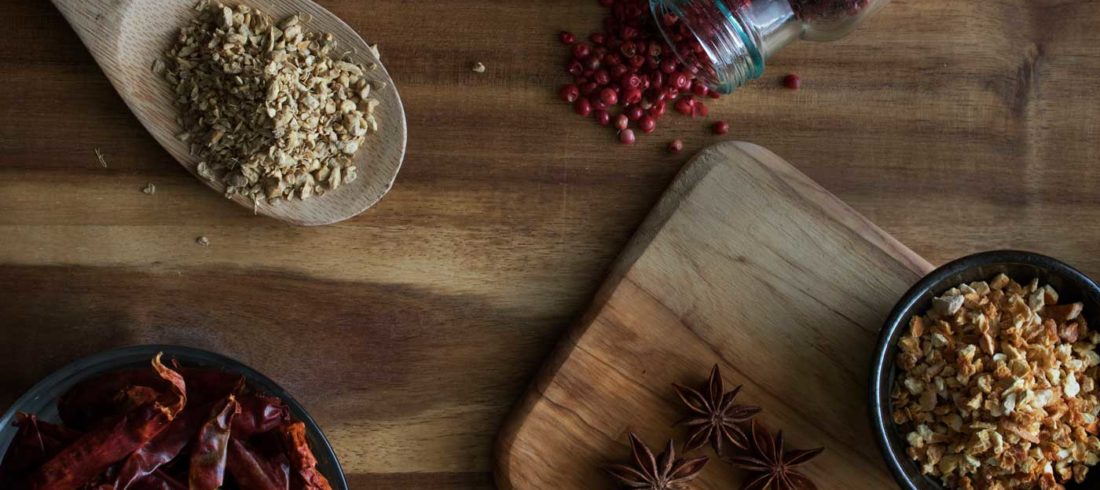 Tom Kha Fire Cider Recipe
My colleague Mason recently whipped up this Thai-inspired take on fire cider that takes its cue from the popular tom kha soup found in many local restaurants. It is delicious on its own and can help maintain your wellness as the seasons change.
3/4 organic medium red onion, diced
10 cloves garlic, crushed
1/2 cup organic fresh galangal root, chopped
5 organic whole bird's eye chilis
13 fresh kaffir lime leaves, crushed and ripped
1/2 stalk organic fresh lemongrass, bruised and diced
1/4 cup organic fresh cilantro, chopped
Juice and zest of 1 organic lime
Organic apple cider vinegar
1/4 cup honey, or to taste
1/4 cup tamari
1 teaspoon Mountain Rose Herbs Mushroom Care extract
DIRECTIONS
The directions are nearly the same as our classic recipe above. However, after the creation has infused for a month, add the tamari and Mushroom Care extract along with the honey. Taste and refine the measurements until it suits your palate. 
photos provided by Mountain Rose Herbs