Born Claire Raditzo Dangarembwa and raised in Zimbabwe, musician and vocalist Ratie D has felt the music her whole life.
"I've always loved music," she says. "My mom tells me that I started dancing before I started walking."
Ratie D grew up attending church every Sunday, singing in Sunday school and in praise and worship. In school, even through college, she always participated in the choir. Her first break came in 2012 when she joined an all-female acapela group, Nobuntu, through which she was able to take her talents to international stages, touring throughout Europe.
In 2013, she started doing backup vocals for Zimbabwean band, Bongo Love, helping them record their album and joining them for a three-month tour around the United States. Ratie D has family in Eugene and, when Bongo Love took breaks in their tour, she would stay with her family here.
"I feel in love with this place," she says. "I just enjoyed being around the trees and the people were always so wonderful to me."
She took the plunge, planting herself in Eugene to start taking steps on her own journey.
"I grew up in a country that is considered third world, so me coming out here is a win for my family, for myself, and a lot of younger people who are back home," Ratie D says. "So, I try to encourage a lot in my music, I try to inspire, I try to motivate a lot—I think because of the fact that I came from that background where people are really shunned. So, because of how we are looked at as Africans, I try to change that perspective through my music and show people that, just because we are from Africa, doesn't mean we are less-than. Just because we are from a third-world county, doesn't mean that we are incapable. So, I try to include those kinds of things in my music."
In her music, Ratie D often plays the mbira, a sacred instrument used (in conjunction with other instruments like the hosho and ngoma, as well as singing) to seek guidance from and share in celebration with those who have passed.
"The mbira to me is my way of acknowledging my culture and also my way of connecting with my ancestors because I understand the power that the mbira has," she says. "I try to incorporate it in my music and honestly, I feel like when I begin all my shows with this instrument, it opens up the whole beautiful vibration that I need to be able to spread the light that I'm trying to spread. It's an instrument, of course, but it's also a way for me to ask for guidance from my creator."
Music in general is important in Ratie D's life.
"To me, it's self-expression," she says, "and that's how I'm able to express myself and release—not only when I make music, but also when I listen to music. . . . I think music is a very wonderful way of bringing people together from different walks of life, even with language as a barrier, you can still feel the music in your heart. Music is healing and it's just a way of communicating."
Last year, Ratie D released her first solo album, Ink & Melodies, available on all streaming platforms. She was able to build a team from those she had previously worked with, including John Mambira from Bongo Love, Idit Schner, and Gilbert Zvamaida.
"I was ready to let go of the music," she says. "It was about time that I let the music out. . . . It was just a long process of me just writing when I was still back home in Zimbabwe and then getting an opportunity here to perform and perfect and also collaborate with amazing musicians to make it into what it came out to be."
The years of performing these songs together worked in their favor, recording all the songs live and even recording one song, "Walk on By," in one shot, an impressive feat for any musician. They recorded the album at Sprout City Studios with help from Thaddeus Moore.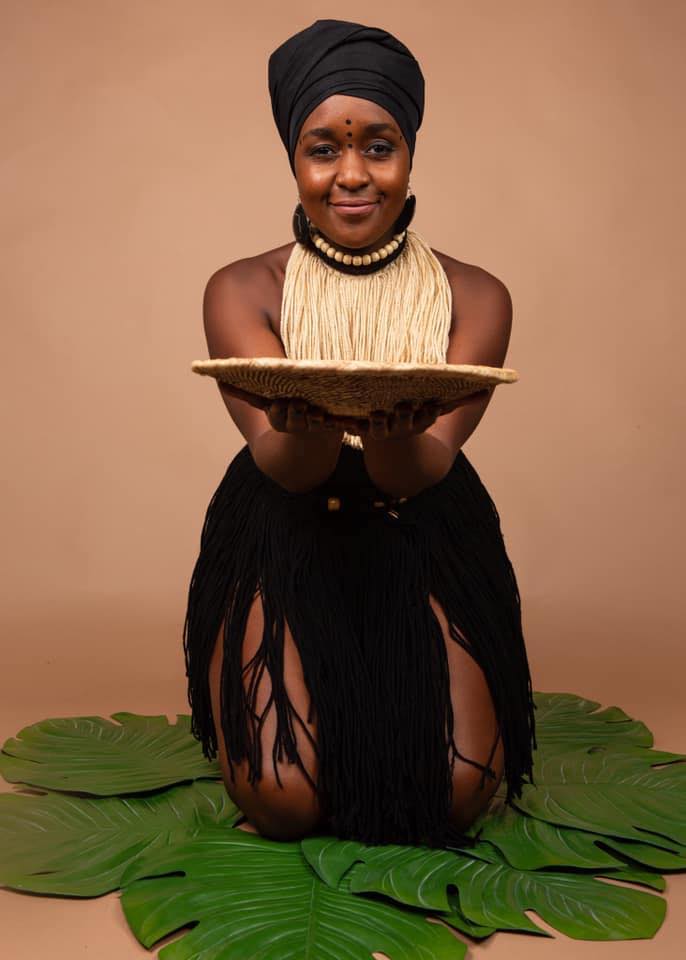 Earlier this month, Ratie D performed a Union Fest, a collaborative festival hosted by the Mambira Foundation, Eugene NAACP, the Community Center for the Performing Arts, We All Rise, the University of Oregon Music Industry Collective, and the UO School of Music and Dance. The event celebrated Black art, including performances from other local artists benefitting a number of different organizations.
"It was a way of them celebrating the local artists in the community, especially the Black community," Ratie D says, "so it was really important for me to be part of it because I enjoy representing my people, especially at a time like now where it's very important for us to stand up and showcase our talent and showcase that we are here and we have a voice."
Ratie D is working with the Mambira Foundation, headed by John Mambira, to remodel the Mzilikazi Youth Center in Zimbabwe. They're looking to improve the infrastructure of the building, including building a well and installing solar panels.
"There's no consistent electricity in Zimbabwe," Ratie D says. "So that makes it difficult for young people to even dream or want to strive to do better because just the basic needs are unavailable. So that's why it was really important for me to be a part of the Union Fest, just to celebrate us and uplift us as Black people."
This Thursday, Ratie D is performing at the Hult Center, kicking off the Hult's 10×10 Series. This is Ratie D's second time performing at the Hult, her first time being her performance at the 2019 State of the City address where she was personally invited by Mayor Lucy Vinis.
"And then now, to get a chance to go back with a full band, honestly, I feel the love from Eugene," she says. "I feel like I've been supported very much here, so it just encourages me to keep going with my dream. .  . . I'm hoping that me going into the Hult Center to perform is the beginning of more of us being represented in that space and more of us getting opportunities to shine."
Catch her live at the Hult Center as part of the 10×10 Series. Livestream tickets are $10, with the show starting at 7 pm. Tune in for this musical event!