Bavaria is closer than you think. Nestled between the granite peaks and majestic rivers of the Washington Cascades, Leavenworth may as well be a village in the Alps. Mountain panoramas, authentic German drink and cuisine, Old World artifacts, and myriad festivals, shows, and events await the Northwest traveler. And unlike Europe, this alpine haven is only a six-hour drive from Eugene.
The town wasn't always a traveler's paradise, however. Originally a logging and rail town, Leavenworth was once nicknamed the "wildest town in the West" before it nearly went defunct when the railroad was rerouted in the '30s. Fortunately, several driven community members refused to abandon their town.
"I love the story of how Leavenworth became a Bavarian village," says Jessica Stoller, media director for the Leavenworth Chamber of Commerce. "Local community leaders and business owners were determined to turn Leavenworth around."
Their plan was to transform the town into a Bavarian-style hamlet and build a recreation-based economy. Their efforts paid off, making Leavenworth the perfect year-round adventure destination. Now, visitors will find allure there in every season.
"Winter is literally like living in a snow globe," Stroller says. "Our town is decked out in lights, fresh snowfalls, skiers, and horse-drawn sleigh rides."
Along with enjoying sleigh rides and snowshoeing, winter adventurers can take advantage of Leavenworth's Ski Hill, featuring two rope tows, a Nordic jumping hill, a tubing hill, and five miles of Nordic trails, three of which are illuminated for night skiing. In January, the town hosts Bavarian IceFest, with snow sculpting, sled pulling, live ice carving, and an evening fireworks show.
The town hosts plenty of other year-round activities and amenities as well. Visitors can explore the Nutcracker Museum, which exhibits more than 6,000 nutcrackers, dating from modern times all the way back to the Archaic Period. To relax and rejuvenate, visitors can stop by Alpine Spa or Aspen Leaf Day Spa. For culture, Sleeping Lady Resort features an open Art Walk as well as organic gardens. Shopping opportunities are plentiful in Leavenworth, offering treasures ranging from handmade Christmas ornaments to cuckoo clocks to sporting goods to chocolate. No trip is complete without a visit to The Hat Shop, whose selection of headwear in every style, shape, size, and character is sure to make you smile.
In spring, wildflowers paint the surrounding mountains. In May, Leavenworth celebrates Maifest, a German tradition dating back to the 10th century. Residents and visitors alike spend the weekend planting flowers, enjoying music, dancing, playing games, and raising a "maipole," a decorated pole traditionally believed to bring good luck to the village.
Summer brings a nearly endless list of adventures in and around town. Downtown, live music adds to the village's atmosphere, while the nearby Summer Theater boasts a variety of performances. Just outside of town, the Icicle and Wenatchee Rivers offer rafting, kayaking, and tubing opportunities ranging from gentle floats to Class IV rapids.
Granite crags tantalize climbers less than 10 miles from downtown. Bikers and cyclists will find miles of trails and road routes, such as Freund Canyon Trail and the Bike Pump Track at Enchantment Park. Outfitters offer horseback rides through the countryside. For hikers, trail opportunities abound. In town, meandering paths surround Leavenworth, such as Blackbird Island Trail, offering an easy walk through spectacular bird habitats. The nearby Wenatchee National Forest hosts countless trails, such as 3.5-mile Icicle Gorge trail, featuring a thundering creek. For a challenging hike and bucket list experience, the Enchantment Lakes beckon. Two near-vertical trails climb into this otherworldly basin, rewarding hikers with sapphire lakes, impossibly shaped granite peaks, and gorgeous alpine flowers.
Fall in Leavenworth sports stunning foliage while farmers bring the bounty of their orchards to the town's farmers market. The Autumn Leaf Festival, Leavenworth's original Bavarian festival, first hosted in 1964, celebrates the turning leaf colors every fall, with parades and the selection of an annual Royal Lady of the Autumn Leaves.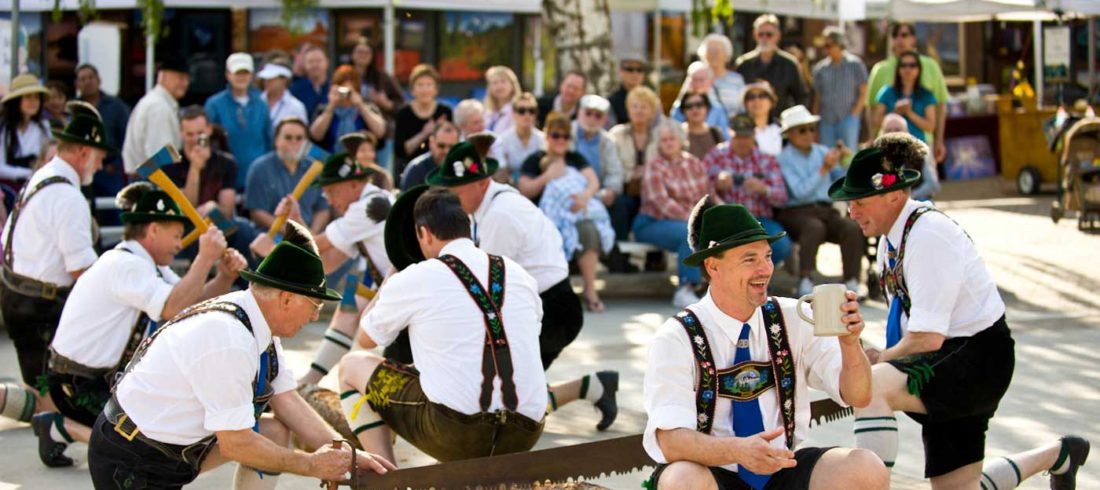 Leavenworth will surely sate every visitor's appetite. Local menus include rotisserie chicken, Bavarian sausage, sauerkraut, German potato salad, burgers, Northwest-inspired cuisine, and more. These are paired with more than 20 wine tasting rooms, breweries, cideries, and craft distilleries.
"We have so much to see and do here," Stroller says, recommending that visitors contact the chamber's welcome center for help planning and narrowing down their trip. There is probably more to do in Leavenworth than travelers can fit into one excursion. Luckily, Washington's Bavaria is not that far from home.
Upcoming Leavenworth Events:
Kid's Nutcracker Hunts | Recurring | 1 pm | Leavenworth Nutcracker Museum, 735 Front St., Leavenworth | Museum admission rates apply
Christmas Lighting Festival |Fridays, 4:30 pm; Saturdays and Sundays, 12 pm, December 1-16 | Downtown Leavenworth | Free
Bavarian Bruisefest | January 12-13 | 10 am | Leavenworth Festhalle, 1001 Front St., Leavenworth | $10-$20
Bavarian IceFest | January 19-20 | All day | Leavenworth Chamber of Commerce Front Street Park | $3-$5
Timbrrr! Winter Music Festival | January 25-26 | All day | Leavenworth Festhalle, 1001 Front St., Leavenworth | $45-$85