Lincoln City sits nestled along Oregon's central coast. You may see hundreds of kites flying through the air or vibrantly colored glass floats lining the shoreline. The local eateries invite you to sit and relax while the setting sun turns the sky a vibrant orange.
Finders Keepers
One of the first things you'll discover about Lincoln City is its "Finders Keepers" tradition. In the early days, Japanese glass fishing floats would wash up onto the Oregon Coast. These brightly colored balls became unique collector's items and people would seek them out along the beaches. In 1999, local artists partnered with the city to start a program to hide handmade artisan glass floats along the seven-mile coastline for visitors to find as keepsakes. The best part: The program runs all year, so there is always a chance to find some treasure on the beach.
"We're celebrating the 20th anniversary of the program this year, and it has become the premier program of its kind," says Scott Humpert, marketing manager for Explore Lincoln City.
The Lincoln City Glass Center is open to all who want to learn how to blow their own glass artwork, watch the process of local artists creating pieces, or purchase glass art as a souvenir.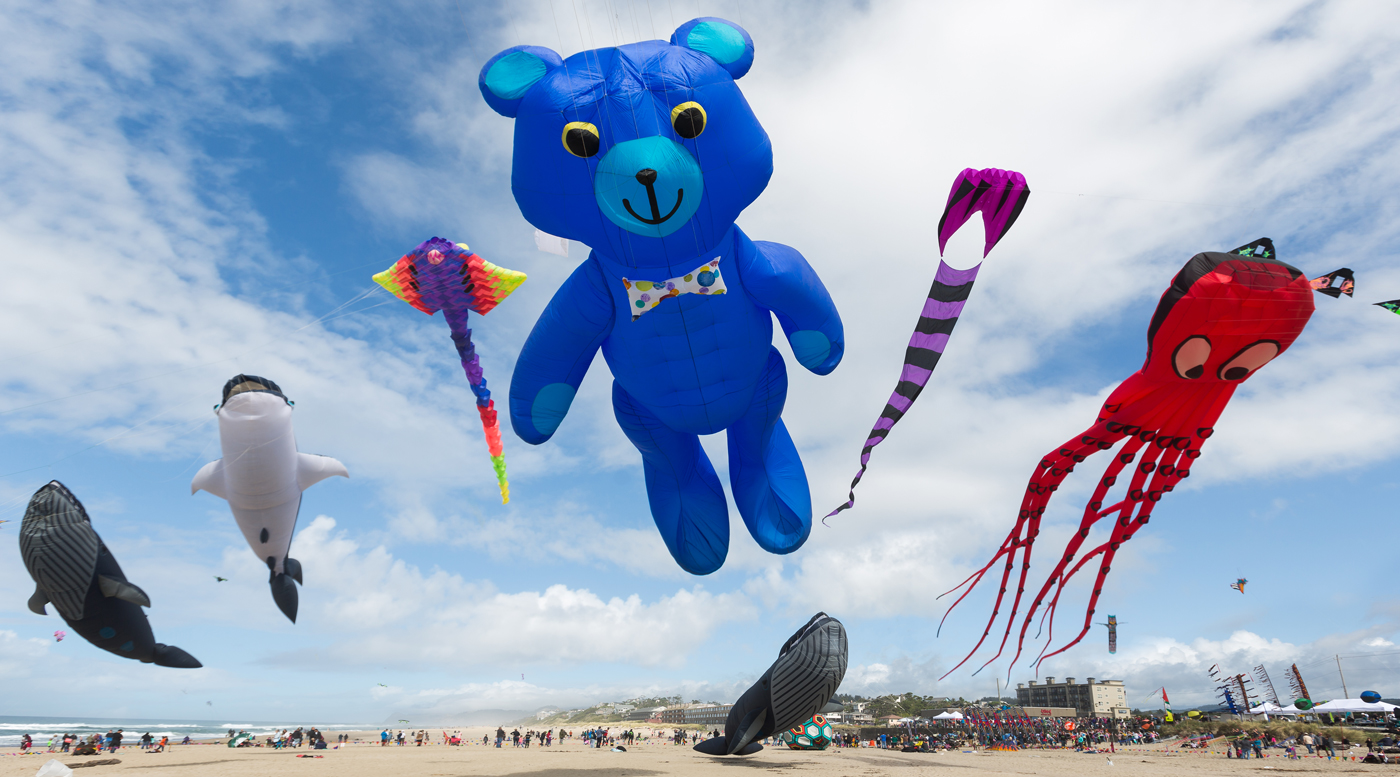 Flying High
If you visit Lincoln City in the summer or fall, be sure to bring a kite. The city hosts kite festivals twice a year, drawing about 30,000 excited kite enthusiasts to town. And it's not just little kids trying to fly their string kites (though that is always encouraged). There are actual professional fliers who come from around the world to participate. Some perform choreographed routines together high up in the sky, while others maneuver gigantic dragon and whale kites.
Other trademark festivals include the Sandcastle Contest in August and the Fourth of July Celebration.
Hanging 10
Along with the novice and professional kite fliers who come to town, surfers of all skill levels also visit Lincoln City. Oregon actually has quite a few surfing spots along its rough coast. Yes, you have to wear a wetsuit, but surfers from around the world flock to special spots along the coast to catch some waves. One of these spots is Nelscott Reef where, if weather conditions are just right, international competitions are held.
For the novice surfer who wants to try out the Oregon waves, head to the Canyon Drive beach access. There's even a restroom, surfboard racks, and showers. Local surf shops have all the gear you need, and they even offer lessons for beginners.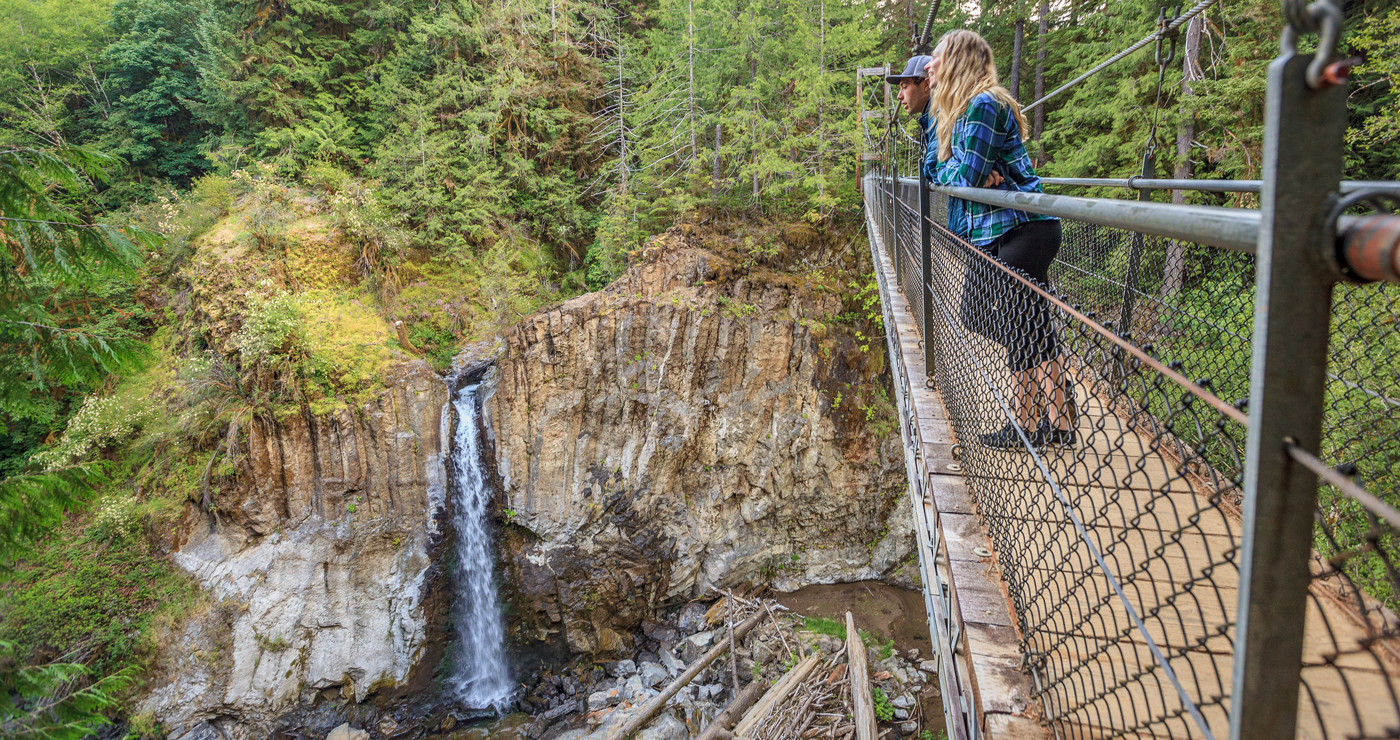 Off-shore Playing
If you love to explore but don't necessarily want to get your feet sandy, there are still a lot of options near Lincoln City. Bring your kayak and head over to Devil's Lake for an afternoon, or hike Drift Creek Falls, Cascade Head, or The Knoll. Or go a different route and spend the day strolling through the Lincoln City Outlets. The city also has more art galleries than you could possibly check out in one day, a variety of live music on weekend nights, performances at the Lincoln City Cultural Center, and, of course, the Chinook Winds Casino Resort.
After a long day at the beach or a day of shopping, grab a bite at one of Lincoln City's local eateries. If you're looking for something casual, J's Fish & Chips, HWY 101 Burger, and The Grill 1646 are great choices. For something a tad fancier, make a reservation at The Blackfish Café, Kyllo's Seafood Grill, or Fathoms at the Inn at Spanish Head. The best watering holes are Black Squid Beer House and Beachcrest Brewing Company. Pelican Brewing is also opening another location on the south end of Lincoln City along Siletz Bay.
Easy Access
With accommodations easy to find, you shouldn't have any problems planning a getaway to explore this wonderful oceanside town. And if you end up exploring everything in Lincoln City, the town also serves as a great base camp for touring up and down the 101.
"The Tillamook Creamery is only an hour north, whale watching and charter fishing in Depoe Bay are about 15 minutes south, and the Oregon Coast Aquarium is only 40 minutes away in Newport," Humpert says. "You're also close to natural wonders like the Neskowin Ghost Forest, Haystack Rock, Devils Punch Bowl, and Cape Perpetua."
UPCOMING EVENTS:
Festival of Illusions | March 24-April 4 | Lincoln City Cultural Center, 540 NW Hwy. 101, Lincoln City
Lincoln City Half Marathon and 10K | April 4 | Taft High School, 3780 Spyglass Ridge Rd., Lincoln City
Siletz Bay Music Festival | June 17-July 4 | Salishan Spa and Golf Resort, 7760 N Hwy. 101, Gleneden Beach
Summer Kite Festival | June 27-28 | D River Beach Wayside, 101 Hwy. 101, Lincoln City
VISIT
Cascade Head | N 3 Rocks Rd., Lincoln City | oregon.com
Devil's Lake | NW West Devils Lake Rd., Lincoln City | oregonstateparks.org
Drift Creek Falls | BLM Rd. 1770, Otis | fs.usda.gov
The Knoll | NE Neptune Dr., Lincoln City
Lincoln City Cultural Center | 540 NW Hwy. 101, Lincoln City | 541/994-9994 | lincolncity-culturalcenter.org
Lincoln City Glass Center | 4821 SW Hwy. 101, Lincoln City | 541/996-2569 | lincolncityglasscenter.com
Nelscott Reef and Canyon Drive Park | 801 SW 11th and Coast Ave., Lincoln City
EAT
Beachcrest Brewing Company | 7755 Hwy. 101, Gleneden Beach | 541/234-4013 | beachcrestbrewing.com
The Blackfish Café | 2733 NW Hwy. 101, Lincoln City | 541/996-1007 | blackfishcafe.com
Black Squid Beer House | 3001 SW Hwy. 101, Lincoln City | 541/614-0733 | blacksquidbeerhouse.com
Fathoms Restaurant | Inn at Spanish Head Resort Hotel, 4009 SW Hwy. 101, Lincoln City, OR | 541/994-1601 | www.spanishhead.com/fathoms.htm
The Grill 1646 | 1646 NW Hwy. 101, Lincoln City | 541/614-1646 | grill1646.com
HWY 101 Burger | 5045 SW Hwy. 101, Lincoln City | 541/418-2305 | hwy101burger.com
J's Fish & Chips | 1800 SW Hwy. 101, Lincoln City | 541/994-4445
Kyllo's Seafood Grill | 1110 NW 1st Ct., Lincoln City | 541/994-3179 | kyllosseafoodandgrill.com
STAY
Chinook Winds Casino Resort | 1501 NW 40th Pl., Lincoln City | 541/994-3655 | chinookwindscasino.com
Inn at Spanish Head Resort Hotel | 4009 SW Hwy. 101, Lincoln City | 541/996-2161 | spanishhead.com