What is it about the sky that beckons us? America's skyscrapers flirt with the firmament, brushing their shimmering shoulders against the clouds, while planes roar and swoop through the heavens. Eugene's food and drink purveyors are finding their way to our city's skyline to provide exceptional dining experiences. These lofty retreats beckon us for the food, drink, and ambiance just as much as the open sky.
Staycation state of mind
On a cool evening in early April, I answered the summons. The bright blue day was the type Willamette Valley dwellers dream about through the rainy season, and I was drawn to an unexpected oasis: a restaurant called the Sky Bar on the fifth floor of the Eugene Hyatt Place.
A hotel bar is almost the last place I would expect to look to for a casual drink as a Eugene local, and I already felt that walking into a hotel at which I don't have a room was a little taboo. But, the moment I stepped off the elevator, I was transported to vacation mode. The outdoor Sky Deck is layered with lush landscaping, heat lamps, and cheerfully draped bistro lights. I snagged a menu and cozied up to the natural gas fire pit, a trough of flames shimmering amid iridescent glass beads. Familiar, local names jump out from the cocktail menu, like Heritage Distilling and Iris Vineyards. The lavender martini and blood orange cosmopolitan were both tempting, but I settled on a margarita with house-made mix and the fajita flatbread on warm naan with chicken and crave-worthy guacamole, salsa, and caramelized onions.
Hyatt Place General Manager Bob Jagger speaks with pride about the experience he and his staff provide for travelers and locals alike. "Our guests can enjoy a cocktail or appetizers at the Sky Bar while surrounded by amazing views on the Sky Deck," he says. The daily happy hour features local libations like Heritage Distillery Co.'s Brown Sugar Bourbon (or "BSB" as it is fondly referred to) as well as a house favorite, the Red Sangria, which I'm told is full of juicy berries and topped with a cinnamon stick.
"Eugene is the hot spot right now to get locally crafted beer, wine, and spirits, so we carefully select what we offer to give our travelling hotel guests, as well as locals, a variety of what Eugene and surrounding areas have to offer," says Jena Schrieber, bar supervisor at Hyatt Place.
Ascend to the Hyatt's Sky Bar on the last Friday of every month for complimentary wine tastings with Iris Vineyard, and their daily happy hour runs from 4 to 6 pm. "The nightly sunsets are truly breathtaking and are the perfect backdrop when looking out on the deck," Schrieber says. "Our inside fireplace booths can fit a good-size group or be a cozy corner for date night."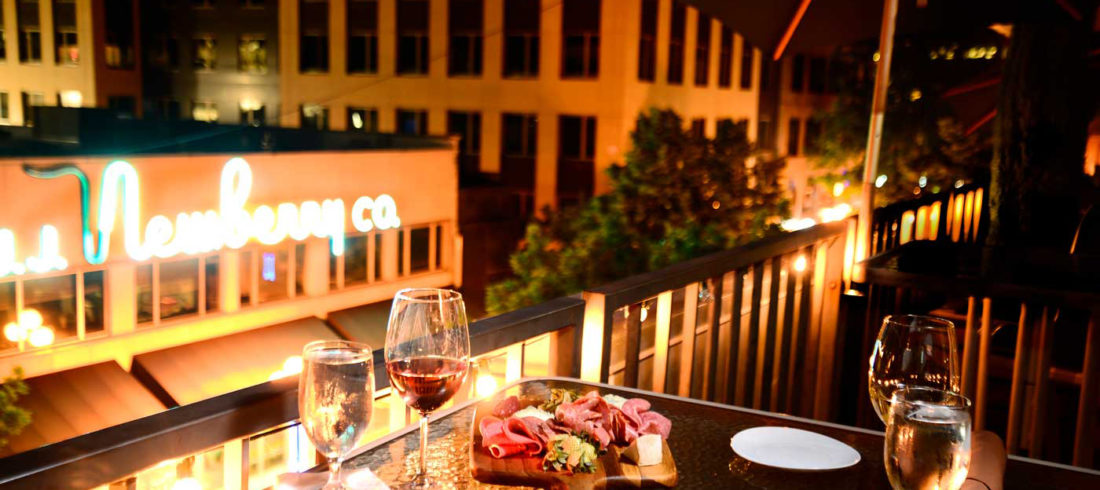 Not your typical sports bar
My usual spot is the Ax Billy Grill on the third floor of the Downtown Athletic Club, the only other rooftop restaurant I've been able to find in Eugene. Their "Wine Down Wednesday" has become an after-work staple with $3 glasses of house wine and half-price bottles. Their cozy deck space hugs the front exterior of the building and catches the afternoon rays with a view of downtown.
Thomas Pasko, restaurant director for Ax Billy, describes their passion for a locally sourced menu. "Since we are a health club, our menu is predominantly local ingredients," he says. "With the ingredients, we strive to ensure everything is organic and non-GMO."
I asked him to describe a typical day at the sports bar and adjacent dining room, and was instantly intrigued by the enthusiasm of his answer: "Nothing at the Ax Billy is typical," he says. "Our most popular dish is normally our daily special involving locally sourced fresh fish… With our wine list, we strive to provide guests with a selection of local and imported wines chosen by our sommelier."
While the Ax Billy's menu contains such items as the Tutto Mare linguine (with white wine sauce and mussels, clams, shrimp, and calamari) and steak frites that come with a slightly heavier price tag, there are plenty of items on the menu for the frugal food-seeker, too, like wood-oven pizza, fish tacos, and Jamaican jerk wood-fired wings.
The Ax Billy deck is open June 1 through Labor Day, offering pairing dinners, wine classes, and weekly events. The Ax Billy also hosts ongoing promotions like "Mambo Monday," which draws a crowd from 5 to 9 pm for the beloved burger and brew special.
Whether you're looking to embrace the sky or dodge a downpour, hop in an elevator to find two of Eugene's best-kept dining secrets. 
Eugene Hyatt Place Sky Bar, 333 Oakway Rd., 5th floor, Mon-Sun, 7 am-midnight, m.hyatt.com
Ax Billy Grill, Downtown Athletic Club, 999 Willamette St., 3rd floor, Mon-Sat, 11 am-9 pm, axbilly.com