The second round of dolcetto grapes for the year have just arrived at Civic Winery & Wines when I walk through to the back of the downtown Eugene building during the harvest. Owner Craig Weicker, hose in hand, is washing out the crusher-destemmer as the rest of the crew moves about various tasks — draining the press, cleaning, and maneuvering large clay amphorae around the floor on pallets like an elaborate game of Tetris. The annual harvest, as anyone who has participated in "the crush" understands, is sort of a free-form orchestration, with daily decisions made based on the arrival of grapes, the availability of fermentation vessels, and as always, the coordination of space, the great commodity of the modern winery.
This is the fourth vintage for Civic, and the largest by volume since its inception in 2018 in a dramatically overhauled historic building at 11th Avenue and Oak Alley. Originally constructed almost 100 years ago, the structure also houses Civic's production facility, a natural wine shop and wine bar up front featuring delicious wine-centric bites, and the excellent restaurant Lion & Owl serving brunch next door. The winery and adjacent building on Oak Street also function as event spaces. Weicker, who came to the wine world via previous work in the coffee industry and affordable housing development, envisioned the whole complex as a multi-faceted hub for wine, food, and community.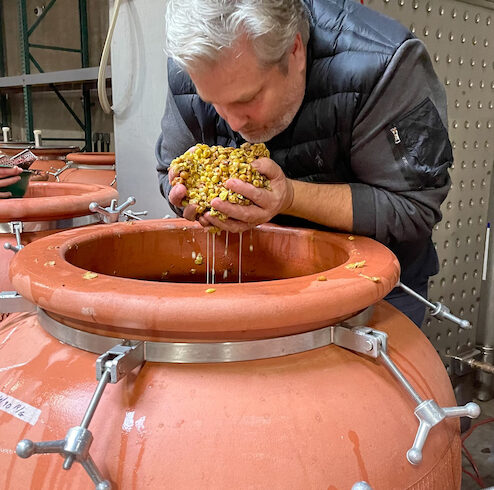 Weicker approaches wine and winemaking with attention to the local, natural, and organic, "the sort of values I have for food and for what my family eats," he says. Civic's wines, as well as the regional and international offerings in the bottle shop, also highlight his commitment to a pre-industrial or low-intervention set of ideals and techniques. This, coupled with a dedication to sourcing fruit from organic and sustainable vineyards, provides a key piece to the Civic program.
Another one of the distinct models for Civic is the near-exclusive utilization of clay amphorae for the fermentation and aging process of the wine. For about 6,000 years, particularly in the republic of Georgia in the Caucasus Mountains of Eastern Europe, amphorae were the primary vessel for winemaking, and Weicker has committed to the natural and old-school approach of this technique. Although at first these vessels might seem more at home in a museum, they are Oregon-made, designed by Andrew Beckham at his pottery studio, vineyard, and winery in the Chehalem Mountains southwest of Portland. Beckham's Novum Ceramics is the first commercial producer of terra cotta amphorae for winemaking and brewing in North America.
One of the excitements for Weicker and his team is the year-to-year variability of the wines they create. "This is my first year making a pinot noir, for example," Weicker said while enthusiastically showing me around the processing facility, dipping a wine thief into various amphorae so I could sample the new projects/experiments for the year. "One of the things that has been such a learning opportunity for me is having the bar and bottle shop up front," he added. "That means I am regularly tasting wines from all over the region and the world, trying new things and figuring out how I might be able to do that within an Oregon framework."
Fresh on the docket this year are several different pét-nats (naturally sparkling wines, formally called pétillant naturel) made from pinot noir, chenin blanc, gamay noir, and dolcetto grapes, along with a first attempt at a long-maceration red pinot and a red gamay. Also in the works are two different orange wines (skin-fermented wines from white grapes), one from pinot gris (a traditional variety for this technique) and another from co-fermented gewürztraminer and riesling.
Rounding out the list are the currently available Civic releases, supplemented by a wide array of wines from around the world, including more than 100 orange wines.
Current wines available:
2021 Amphora Pétillant Natural — 90 percent pinot noir (farmed by Nathan Wood, see Spring 2021 issue on Crew Work Wines) and 10 percent chardonnay; delicious, fresh, gently sparkling, and full of stone-fruit flavors and aromas
2021 Chenin Pét-Nat — 100 percent chenin blanc, also with Nathan Wood's Elkton fruit, clean and crisp
2020 White Field Blend — 80 percent white pinot noir from Johan Vineyard, along with 20 percent mixed grapes from an Omero Vineyard test plot featuring oddities such as Zweigelt, abouriou, and grüner veltliner; a rich, complex white wine with herbal notes and flavor density.
2020 Dolcetto Rose — from Jubilee Vineyard Estate, bright and fluorescent wine with great fruit and acidity.
2020 Gallo Rosso — a French/Italian light and chillable red featuring almost equal parts pinot noir and dolcetto, meant for fresh and easy drinking.
2019 Amphora Red — an earthy co-fermentation of syrah, grenache, and viognier from one of Southern Oregon's most celebrated biodynamic vineyards.
Civic Winery & Wines
50 East 11th Avenue
541/636-2990
civicwinery.com