We visited Bryn Mawr Vineyards to experience a new in-depth tour and lunch at the winery. It's a beautiful site, perched at 870 feet on the upper crest of the acclaimed Eola-Amity Hills — an area known for its afternoon winds. Bryn Mawr is Welsh for "high hill," and the vineyard is nestled atop one of the steepest slopes in the Willamette Valley along a windy corridor (they don't host weddings because there's too much at stake when the wind picks up — they tried it once and learned their lesson!) The 40-acre LIVE-certified estate enjoys rocky volcanic soils which anchor the vines on their steep vineyard. They have two guesthouses on the property where visitors can get an immersive experience. And, David Lauer, son of owners Jon and Kathy Lauer, recently introduced a new hospitality experience at the winery.
The Exploration Tasting is personally led by David and begins with a tour of the winery, where winemaker Rachel Rose helms Bryn Mawr's innovative program. David led our small group on a hike of the vineyard for a discussion of Bryn Mawr's sustainable vineyard practices, like their no-till approach, their partnership with Philomath-based nursery Buzz Seeds to source organic cover crops that naturally suppress noxious weeds, under-vine composting, and more. We had some really informative and picturesque tastings under the trees among the vines, which culminated in a tasting led by David along with a beautiful charcuterie plate in the winery's new private tasting room.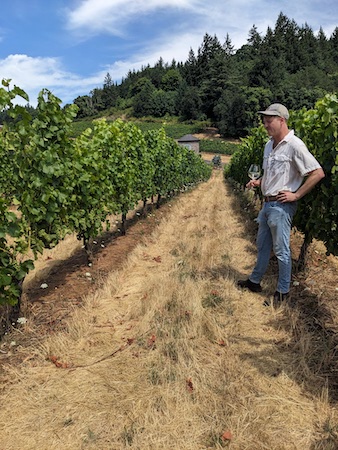 The different vineyard blocks and unforgiving exposure produce wines that range from acid-driven and refreshingly crisp to bold and edgy. They just released Base Camp, a zippy base wine of estate pinot noir bottled as a preview to their méthode champenoise wine program.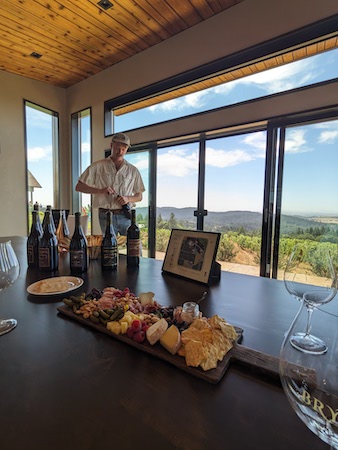 The Lauers purchased the Bryn Mawr Estate Vineyard in 2009, hiring winemaker Rachel Rose shortly thereafter. The Exploration Tasting is a two-hour experience, including a thorough winery and vineyard tour and outdoor tasting with paired charcuterie. David is an incredibly knowledgeable and friendly tour guide who is able to present the wines in ways that really display each wine's personality and their relation to the family members and to the soil they are grown from. Each of the three siblings has their own block of vines, and wines from Krista's Block and Jeffrey's Block stir up some friendly sibling rivalry. Although the two blocks are planted to the same clones of pinot and are only 500 feet apart, this small change in location creates a completely different wine. Krista's Block is planted on a steeper, rockier south-facing slope that is exposed to the cold ocean winds coming from the west, whereas Jeffrey's Block is the oldest vines and is on a gentle south-east facing slope. David is passionate about the wines, the land, the production methods, and gave a great tour. The food and wine was spectacular.
Bryn Mawr Vineyards
503/581-4286
5935 Bethel Heights Rd. NW, Salem