Like many of Oregon's flagship grapes, riesling is a celebrated variety in the Alsace region of France, an area also known for its excellent pinot gris and pinot blanc, as well as a little bit of pinot noir. While pinot plantings in our state have now overwhelmed riesling, which used to occupy almost a quarter of all wine grapes planted here, the breadth of styles and presentations of riesling have helped it maintain strong relevance in the world of Oregon wine. The grape is naturally suited to the cooler climate and often expresses the unique aspects of the soil where it is grown, so rieslings can offer a bold minerality in addition to the fruity or spicy notes.
Fortunately, several wineries here in the South Willamette Valley have been working with riesling for years, producing wines ranging from bone-dry to quite sweet, depending on the growers, the growing conditions, and the winemaking. There are rieslings out there, and particularly around here, for all preferences, and the colder weather and winter foods provide great pairing opportunities. One quick trick to determine how sweet it might be: check the alcohol level—lower alcohol often means the wine will be sweeter.
2019 Brigadoon Dry Riesling ($20)
Organically grown and produced on the estate, nestled in the hills of the Coast Range, Brigadoon's dry riesling is crisp with a salty-spicy minerality, reflective of the Bellpine soils of the vineyard. Aromas of white peach balance the clean acidity and tart citrus flavors. The wine was slowly fermented in stainless steel over 25 days, and a portion was aged in neutral oak barrels, providing a medium-bodied weightiness on the palate.
Brigadoon Wine Co. | 25167 Ferguson Rd., Junction City | 541/998-2600
2018 Territorial Equinox Vineyard Riesling ($18)
Territorial Vineyards and Wine Co., which houses a production cellar and tasting room in Eugene's Whiteaker neighborhood, produces this riesling from one of its home vineyards located northwest of town. The older vines, relatively higher elevation, and cooler climate produce a deep, rich version of riesling highlighted by a cardamom-like aroma and a denser, yet refreshing body. This is a very dry wine, with only a small amount of natural residual sugar that provides balance to this flavorful, golden, and luscious local example.
Territorial Vineyards & Wine Co. | 907 W 3rd Ave. | 541/684-9463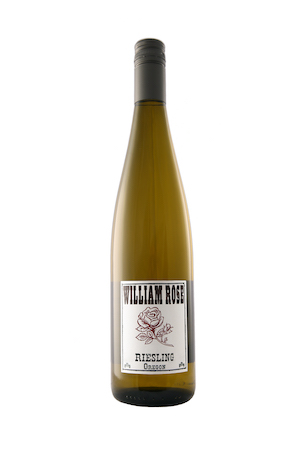 2018 William Rose Off-Dry Riesling ($22)
Based out of the Oregon Wine LAB near downtown Eugene, William Rose Wines is an urban winery that sources fruit from nearby vineyards. These particular grapes, from Dunn Forest Vineyard near Monmouth, provide a rich, stylistic take on riesling from a warm growing season. The gentle petrol-like aromas (a celebrated aspect of many great German rieslings) merge with bright and concentrated pear-like flavors and an intentional, but not overwhelming, sweetness. Lift this wine onto the palate and let it pleasantly linger there.
Oregon Wine LAB | 488 Lincoln St. | 485/201-7413
2017 Sweet Cheeks Vintage Riesling ($19)
Southwest of Eugene, Sweet Cheeks has been making rieslings for years. This medium-sweet example, made with fruit from their estate vineyard and a few other locals, is robust and juicy, showcasing an opulent apple-like flavor reminiscent of a warm summer day. By far the sweetest of the bunch, this wine balances the residual sugar with low alcohol (9 percent) and a backbone of acidity that highlights a tropical fruit quality persistent throughout the bottling.
Sweet Cheeks Winery & Vineyard | 27007 Briggs Hill Rd. | 541/349-9463