Nothing puts the "u" in summer like picking flowers, fruits, and vegetables with friends and family. From the coast to the Cascades, Lane County is full of farms that welcome the public to come and pick their fill of locally grown, farm-fresh bounty. Here are our top picks for where you can U-pick berries, flowers, and other produce this summer.
Call ahead before you visit: availability varies, plus some farms provide take-home bags or boxes, and some prefer you bring your own. Leave pets at home, but be sure to bring the camera, hats, sunscreen, water, and maybe a picnic blanket.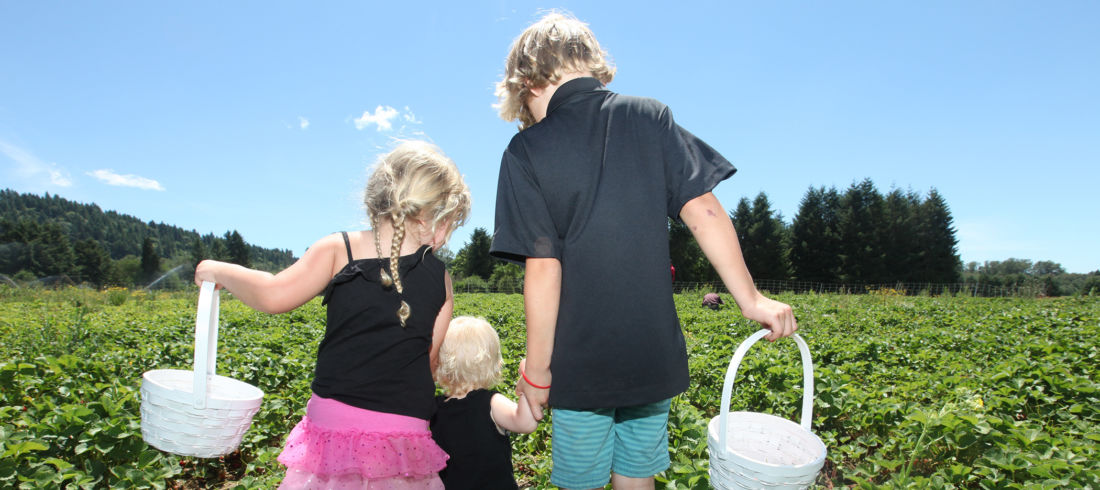 Berries
Organic Redneck / McKenzie River Farm
U-pick crops: Blueberries, Strawberries
In the foothills of the Cascade Mountains near the McKenzie River, Organic Redneck offers more than 2.5 acres of organic blueberries that are fun for roaming and easy to pick for all ages. The farm stand offers other crops and produce, from melons and leeks to carrots and peaches.
44382 McKenzie Hwy, Leaburg
541/896-3928
Groundwork Organics
U-pick: Blueberries, Strawberries
Located on 125 acres by the Willamette River between Eugene and Junction City, Groundwork Organics grows certified organic produce. Also, check their farm stand for heirloom and root vegetables, cut flowers, greens, dry beans, herbs, orchard fruits, and farm-made jams and sauces.
91360 River Rd., Junction City
541/998-0900
Whiskey Creek Organics
U-pick: Blueberries, Raspberries, Strawberries
By the Siuslaw River and Highway 126, Whiskey Creek Organics is the perfect farm stand stop for a trip to the coast. The family-owned farm also offers vegetables, orchard fruits, and other greens.
8530 Duncan Island Rd., Mapleton
541/902-5133
Flowers
Herrick Farms
U-pick: Cut Flowers
East of Springfield, off Highway 126, brilliant flowers and tasty farm-fresh produce await. Herrick Farms offers cut flowers, seasonal flower arrangements, and an array of seasonal fruits and vegetables.
88088 Millican Rd., Springfield
541/741-1046
Sparhawk Farms
U-Pick: Cut Flowers, Dried Flowers
Near Mount Pisgah Arboretum, Sparhawk Farms has grown more than 250 varieties of beautiful fresh flowers on their 35 acres since 1986. In addition to cut flowers, the farm also offers lavender, wreaths, arrangements, and classes on DIY wedding flower arrangements.
34573 Seavey Loop Rd.
541/746-8077
Wet Rock Gardens Flower Farm
U-pick: Cut Flowers
Off Mohawk Boulevard, Wet Rock offers a local, easily accessible way to pick flowers for a special event or just because. With dozens of varieties available since 1997, Wet Rock also offers pre-picked flowers, as well as delivery and arrangement services.
2877 19th St., Springfield
541/746-4444
Other Fruits & Vegetables
Patton's Country Gardens
U-pick: Beets, Cabbage, Cherry Tomatoes, Corn, Cucumbers, Cut Flowers, Eggplant, Green Beans, Peppers, Rhubarb, Summer Squash, Tomatillos, Tomatoes, and Zucchini This family-owned florist, garden, and produce stand does a lot with 5 acres. The public can U-pick a variety of produce and flowers, with other crops such as root vegetables and berries also available at the farm stand. Flower arranging services for weddings or other events are also available.
80432 Delight Valley School Rd., Cottage Grove
541/942-7672
Detering Orchards
U-pick: Apples, Blackberries, Blueberries, Cherries, Cucumbers, Green Beans, Marionberries, Nectarines, Peaches, Pears, Raspberries, Zucchini
North of Coburg, Detering Orchards has farmed since 1934. A central farm stand hosts music and themed farm days, and also has a playground and picnic area. The farm stand offers sauces, fresh-picked produce, cider, and more.
30946 Wyatt Dr., Harrisburg
541/995-6341