We all know that Oregon is brimming with unique travel destinations, recreational pursuits, and things to see. But what about interesting places to rest your head? Not surprisingly, Oregon's got those, too! If your wanderlust has you searching out Oregon's most unique places to stay, this feature is for you. Have your calendar handy—it's going to be a busy summer!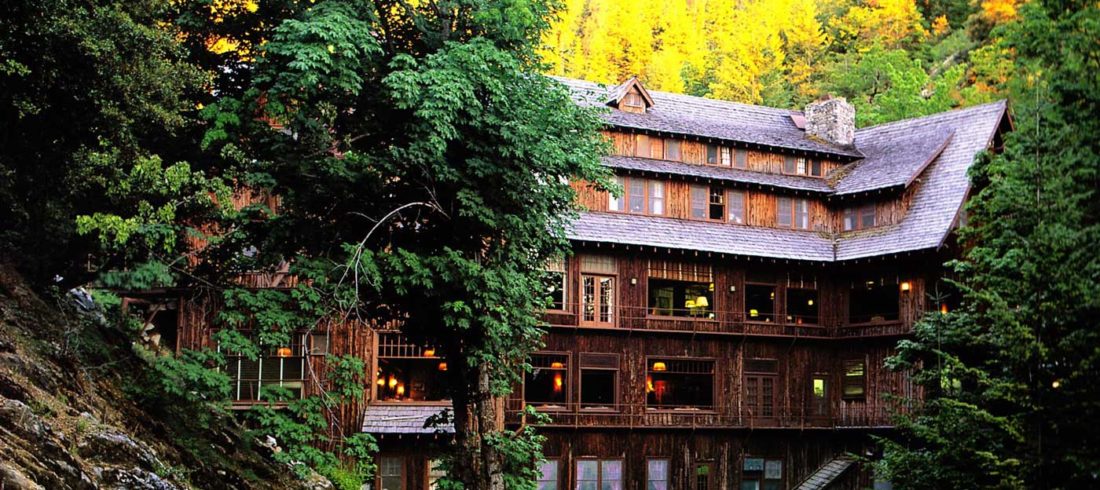 Rustic Chateau
Legendary lodge at the Oregon Caves
This gem—overlooking a trout pond and waterfalls 4000-feet up in the Siskiyou Mountains—is the definition of old-school cool. The Chateau at the Oregon Caves was even featured in the PBS series "Great Lodges of the National Parks." Opened in 1934 and declared a National Historic Landmark in 1987, the six-story chateau has changed little, still featuring its original impressive wood superstructure, 40-inch beams running through the hotel, and a 1930s malt shop. Each of its 23 guestrooms feature a custom quilt from a local quilters club, which gives the WiFi-free lodging a particularly cozy feel. "We don't offer Internet or WiFi here, so everyone has to take a step back," says operations manager Robin Russell. There's plenty to do, however, with the entrance to the Oregon Caves National Monument only steps away from the lobby. The Chateau at the Oregon Caves, oregoncaveschateau.com.
Silo Sanctuary
Return to nature in Yamhill County
Abbey Road Farm B&B is located on an 82-acre working farm in the middle of Yamhill County. Guests can stay in one of three converted grain silos, an idea that occurred to owner John Stuart after spending many sunrises looking out over farmland and seeing a lot of unused structures. "Our property is unique because we have tried to stay true to the origin of agriturismo—symbiotic farm-based enterprises that promote a sustainable and enriching guest experience," says Anthony Stuart. "Our Silo Suites were among the very first converted grain silos in America." All suites have radiant floor heat, air conditioning, Jacuzzi tubs and separate showers, heated towel racks, and a spectacular view of the valley. Breakfast is served in the Ranch House and features food grown on the farm. A couple miles down the road, dine at AgriVino for lunch or dinner for authentic, mouth-watering Italian food. "Our guests come from all over the world with only one thing in common—a desire to experience a hospitality well-known in the hills of Tuscany but a breath of fresh air in Oregon," Stuart says. He adds that the farm will continue to replenish the riparian nature of the land and raise wild birds to be released back into the wild. Abbey Road Farm B&B, abbeyroadfarm.com
Shakespeare Country
Historic hotel steps away from OSF
The historic Ashland Springs Hotel rises proudly above the small town of Ashland. Its elegant cream tower, guarded by two brass eagles on parapets, overlooks the golden-green undulating hills of the Rogue River Valley. Owner Becky Neuman says the grand old dame was once the tallest structure between Portland and San Francisco. Initially built in 1925 as the Lithia Springs Hotel, and nabbing a spot on the National Register of Historic Places in 1978, Ashland Springs was renovated and reopened in 2010 and is now home to the Waterstone Spa and Larks Restaurant, known for its tasty brunch. The rooms tap into the bygone glamour of European boutique hotels, done up in shades of peach, caramel, and lemon. Rivaling its beauty is the hotel's proximity to the Oregon Shakespeare Festival—a mere block away from the Allen Elizabethan Theater, the lush, green Lithia Park, and the shops and eateries of Ashland's bustling Main Street. Ashland Springs Hotel, ashlandspringshotel.com
Canyon Glamp-Out
Luxury tenting near Smith Rock State Park
The glamping wonderland known as Panacea at the Canyon has a lot going for it: The site is 100 percent solar-powered; the luxury tents are built on raised wooden platforms to protect the flora and fauna; and you can lose yourself in a meditation labyrinth or outdoor yoga. "We're completely off grid," says owner Darren Kling. "We wanted it to be a place where you could get back to nature and leave your cell phone alone for a while." Kling also runs Big Sky Balloon Company, so you can hop in a basket and gaze over Smith Rock State Park, only 10 miles away. Above all else, literally, however, is the view from your fluffed-up bed—the night sky. Each tent has been custom-designed for Panacea with stargazing cutouts. Dreamy. Panacea at the Canyon, panacearesort.com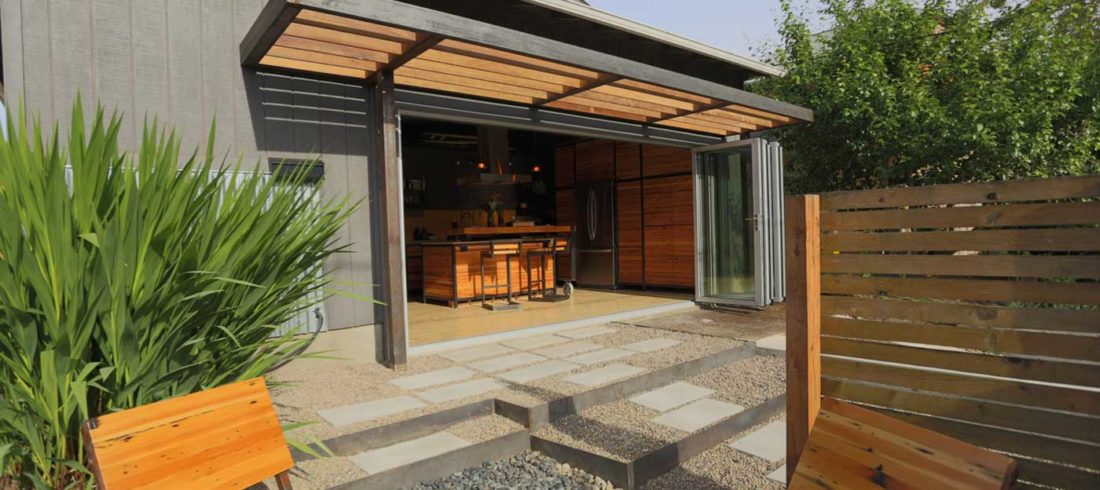 Portland Zen
Hip indoor-outdoor flat in the city
Modern and industrial, this Zen Loft sits in the thick of Portland's city life, offering guests an urban experience with a more personal, intimate touch than a downtown hotel. The loft provides for a remarkable dining experience, with a fully equipped kitchen and accordion-window door system, which completely opens up to the outdoors. Guests also have access to the private patio and hot tub. A queen loft bed is perched above the sitting area, which also includes a room with a washer and dryer. Zen Loft as seen in The New York Times, airbnb.com/rooms/2492977
Fairytale Holiday
Corkwood cabin on Mount Hood
Overlooking the Sandy River, the Little Yew Lodge in Rhododendron was built by two Alaskan prospectors in the 1920s. The lodge is the sole corkwood cabin on Mount Hood, giving its sweet polka-dot-style exterior and beautiful wood accents in the interior. The main cabin includes a living room with a wood stove, dining room, and a loft with a queen bed. Listen to records or play some of the provided board games for a cozy evening in. Just a few steps away is the side cottage, with the main bedroom and a bathroom, offering scenic views of the river and century-old Douglas-fir, cedar, and yew trees.
Little Yew Lodge, airbnb.com/rooms/2361814
The Pastoral Life
Cottage Grove's charming family farm
If you're looking for a charming country retreat, complete with goats and bunnies, the Sweet Springs Family Farm is for you. Located on 9 acres in Cottage Grove, this studio can accommodate up to four guests. The grounds include a large garden, outdoor play kitchen and sandbox, fruit trees and berry patches, and a pond. Owner and host Alyssa Gomez serves up a delicious breakfast with food from the farm. "The dream of having a farm B&B was not just about owning a business to me, it is my life's calling," says Gomez. "It was my dream to make people feel loved and relaxed. To feel like they were being taken care of for once." There is fishing, hiking, hunting, swimming, camping, horse trails, star gazing, campfires, and more just out the front door. "We love interacting with our guests and giving them the chance to participate in daily farm life if they wish," says Gomez. "Seeing the little ones feed, hold, and giggle about the animals is bound to make your heart sing!" Sweet Springs Family Farm, facebook.com/sweetspringsfamilyfarm/
Among the Vines
A craftsman cabin in wine country
The Beacon Cabin overlooks a 40-acre vineyard in Gaston. The Craftsman-style cabin is made of 100 percent recycled cedar wood and has a stunning wraparound deck, perfect for gazing at the rows of grapes. Guests can access the cabin's fire pit area for summer campfires as well as the nearby natural wooded area for sunset strolls. Stop in at the on-site tasting room for fabulous Beacon Hill pinot. "I think what makes us unique is the breathtaking view of the valley, the sense of peace and quiet, and the ability to really get away from it all and enjoy the moment," says Carla Rodriguez, Beacon Hill owner. "Our guests love the privacy, relaxation, and proximity to world-class wineries. We also offer great amenities, including a complimentary tasting at our on-premise Beacon Hill Winery and Tasting Room."
Beacon Cabin, beaconhillwinery.com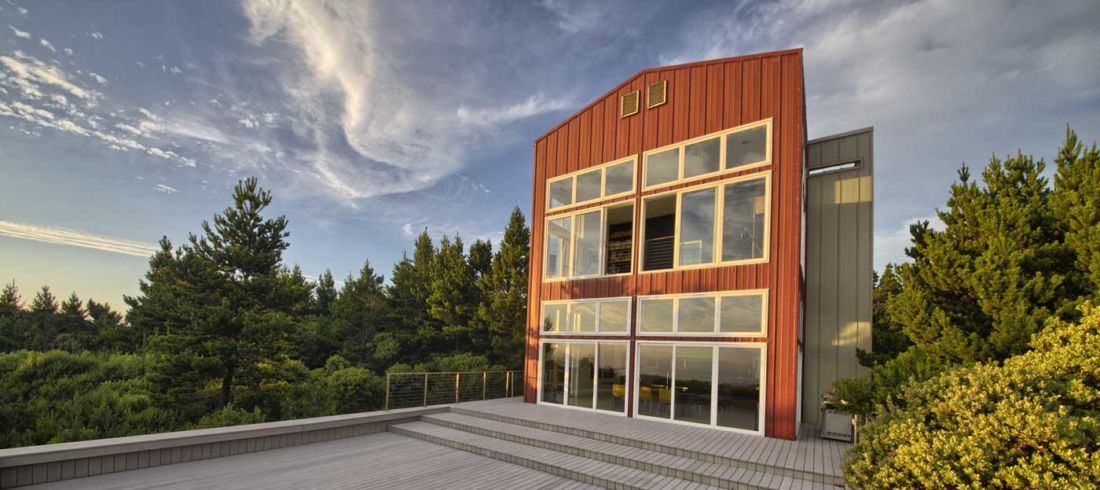 Life Aquatic
Modern loft on the ocean
Gary Robertson of Edoba Designs created the 2-bedroom China Mountain House, overlooking the wild Southern Oregon Coastline, to withstand the elements. "That's why it's all metal," the designer says, to stand up to the wind and sea spray. "It was going to be my superman fortress of solitude." But Robertson travels for work and decided that he could rent it out to others who may want to revel in this modern, self-contained sea-bluff fortress in Port Orford, complete with its own cinema, bar, and expansive deck. "It's an urban loft slash art gallery plunked down in a town of 1,200 people," he says. For those who want to explore, Robertson recommends checking out the nearby dunes or redwoods. "There's an amazing amount of natural scenery you can see in a 100-mile radius," he says. China Mountain House, chinamountainhouse.com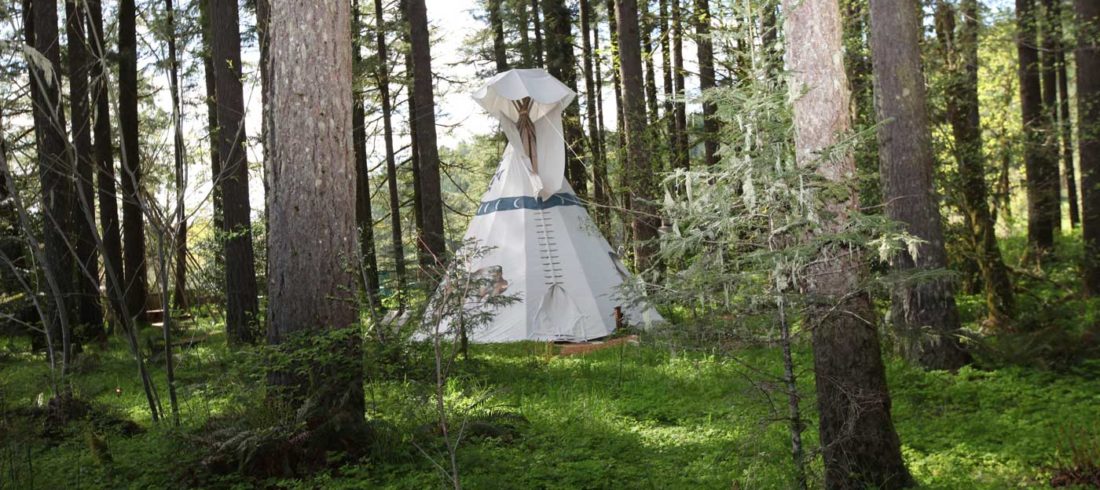 Tipi Traditions
Cozy dwellings in Mohawk Valley
"Tipis have always been a big part of my life," says Ken Froebig, who owns Tipi Village Retreat with partner Janet Becker. Set on a creek surrounded by tall firs in the Mohawk Valley, the picturesque retreat—featuring seven tipis, a garden cottage, cabin, studio, and master suite—is only open during the summer. "The tipis are traditional Lakota-style tipis, and we build them in the traditional way, facing East." Each comes with beautiful stone floors with rugs, comfy beds with down comforters, and wool blankets. At the village, everything is done outside, including cooking, so breakfast is served either by the creek or on the patio. Froebig says a fun activity is the 10-minute walk to the former timber town of Wendling, a ghost town with some interesting Wild West remnants. Tipi Village Retreat, tipivillageretreat.com
Retro Paradise
Trailer park with a vintage spin
For retro-chic, there is no better stay than The Vintages Trailer Resort in Dayton. "We searched long and hard for them," property manager Therese Straight says of the resort's 19 restored trailers. "They came from all different corners of the United States." Located in the heart of wine country, the vintage trailers sleep two to three adults and a couple of kiddos. Straight says that guest favorites tend to be the bright blue 1953 Vagabond M31, featuring a warm, wood interior with a queen bed, and the 1954 Anderson 315-TB, a turquoise wonder with gorgeous mid-century details. Fun perks include cruiser bikes, plush robes, and patios with barbecues. The Vintages Trailer Resort,
the-vintages.com