The brewers hit the road in the early morning, driving empty trucks up I-5 as the sunrise brightens the sky above the Cascade foothills. Their destination: the 350-acre Crosby Hop Farm, just outside of Woodburn. And they are here for one reason: freshly picked hops.
"I'll be in our box truck up to Woodburn at about 6 am," says Dan Russo, lead brewer at Eugene's Oakshire Brewing. "One of our brewers will start the mash at about 7 am. Once I arrive at Crosby, we'll load up the truck with about 400 pounds of fresh hops. We'll drive them back down and, upon arrival, we should be right at about the beginning of boil."
Crosby's 2018 hop harvest began in August and runs through the end of September. For about five to six weeks, the small, pale green, citrus-scented cones will be cut from vines that have grown up to 30 feet tall on vertical trellises.
Only a small percentage of Crosby's 75 hop varieties will go straight from the field to brewing kettles around the state, for seasonal, limited-time-only fresh-hop (or wet-hop) beers. For these, hops typically go from field to beer within eight hours, to best preserve their unique fresh-picked characteristics.
"Oregon hop farmers are releasing new varieties for making fresh-hop beers," Russo says. He's excited that this year is the first time he'll be able to get his hands on fresh Amarillo hops, which are highly regarded for their orange, floral, and spicy aromas.
Most of Crosby's harvest will be dried, stored, and shipped to brewers and wholesalers for use throughout the year. Nearly every hop cone powering the bitterness and aroma of America's beers comes from farms in Oregon and Washington state, and Oregon hops are in beers all over the world.
The little cone that could
Originally from Germany, hops are now cultivated in temperate climates around the world and provide three main qualities to beer: preservation, flavor, and aroma. Natural anti-microbial and anti-fungal compounds help hops preserve beer. Bitterness comes from a compound called lupulin, which, on mature hop cones, appears as a sticky, resinous, yellow powder. Aromas can be citrusy, grassy, earthy, floral, fruity, or piney. Oregon hops are regarded worldwide for their unique aromas, with newer varieties pushing the boundaries into scents such as passion fruit, melon, and even chocolate.
"Big citrus character is the most notable characteristic of Northwest American hops," says Sam Scoggin, brewmaster at Eugene's Elk Horn Brewing, "but varieties that were developed all over the world are now grown right here in the Northwest. Oregon-grown hops run the full spectrum of hop characteristics."
The Willamette Valley is both an ideal and challenging climate for hops.
While hops love our valley's soils, wet springs, mild summers, and temperate winters, downy mildew almost annihilated Oregon's hop farms by the '30s, which were serving international markets at the time because of American Prohibition. Dwindled down from the more than 1,500 individual family hop growers in the 1900s, Oregon has only about 30 hop-growing families today, with 7,000 acres of hops in production and annual yields of about 2,000 pounds of dried hop cones per acre.
In the '70s, hop breeding programs at Oregon State University both saved Willamette Valley hop production and set the stage for the hoppy innovation that fueled the modern craft beer revolution. One particular hybrid, known then as "USDA #56013" (now known as "Cascade"), showed high yield, resistance to downy mildew, and was sturdy enough for shipping—and, on top of everything else, brewers liked it.
In 1972, the Cascade hop was turned loose. After the Coors Brewing Company adopted it, Cascade went on to become a foundational hop in many of the beers that launched craft brewing, such as Sierra Nevada Pale Ale and Deschutes Mirror Pond Pale Ale.
"Cascade is the forefather hop for all American IPAs," says Scoggin.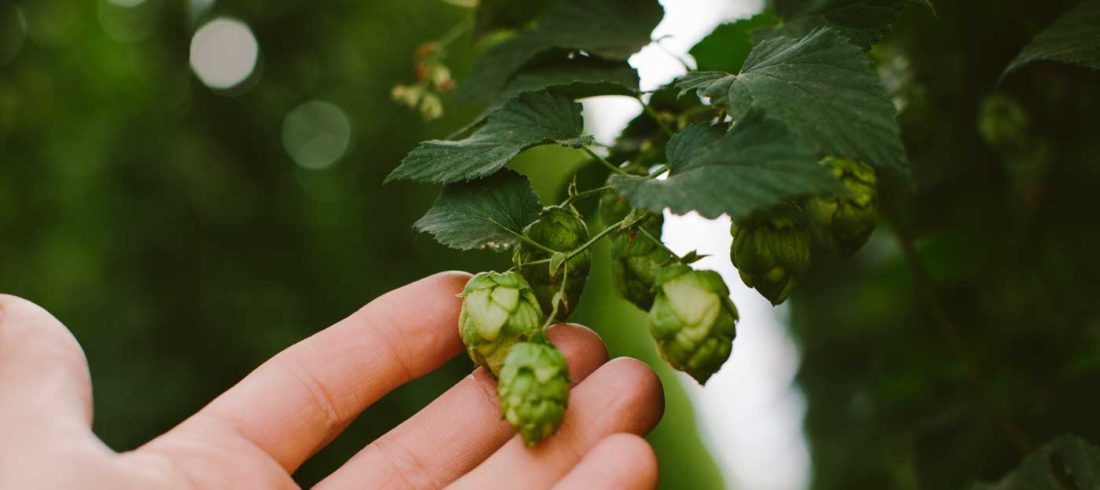 Harvest to brew
Oregon's hop production is smaller than Washington's, but Russo and Scoggin both see that as an advantage for Oregon craft brewers.
"Oregon hop farmers are able to schedule their picking down to the exact day when the hops are at their best," Russo says. "Other places, the hops sometimes come off early or stay on too long. If you aren't given the ability to hand select, you may not get the best representation of the hops."
Once the hops are ready, it's go time at the breweries.
"On a typical fresh-hop brew day or brew week, I wait on news that I can pick up the hops the exact day they are picked," Scoggin says. "Once I receive word, then I drive to the hop farm, drive back to the brewery, and begin my brew day. Hops are picked from the vine and used in our Elk Horn Fresh Hop IPA within eight hours."
In years past, Elk Horn has also used Amarillo hops, but from Willamette Valley Hops in St. Paul. "Last year, we used Mosaic," Scoggin says, "and we will be using Mosaic again this year." Released in 2012, Mosaic quickly gained renown for the mix of aroma characteristics that give the hop its name: pine, mango, lemon, citrus, herbs, blueberry, tangerine, papaya, rose, grass, and more.
Back at Oakshire, brewers waiting for the arrival of the morning's hop delivery have been mashing malted barley in hot water, extracting the colors and sugars that give sweetness and body to the final beer. Once Russo returns and backs up the full box truck to the brewhouse, he and the brewing team will split those 400 pounds of hops into two 200-pound batches.
"Oakshire's main fresh-hop beer this year we are simply calling our 'Fresh Hop Ale,' but it is anything but simple," Russo explains. "At its core, it is a 100-percent Amarillo-hopped IPA. All of the hops have been grown by Crosby." In addition to using the freshly picked Amarillo hops in the brew, Oakshire's brewers will throw in 2017 Amarillo hops during fermentation for additional aroma.
"Having to haul all the hops out of the kettle and whirlpool definitely lengthens the brew's day," Russo says. "All in all, we'll probably wrap up around 6 pm and celebrate with some tasty beverages." But the result, he knows, will be world-class beers that showcase the unique varieties of Oregon-grown hops.
After the brew day is done and fermentation is underway, Scoggin says Elk Horn's fresh-hop beer will be ready within three to six weeks. Throughout the year, Oregon craft brewers will continue bringing in hops from throughout the Willamette Valley, Washington's Yakima Valley, and also some hops from neighboring Idaho. Depending on the brewery, recipe, and availability, brewers may also import hops from Britain, Germany, the Czech Republic, Australia, and even New Zealand. They'll use a mix of whole-leaf hops, compressed pellets, and sometimes, perhaps, even a hop concentrate.
The heart of many brewers such as Russo, though, lies with the fresh hop and its fast-paced journey from farm to pint. Fresh-hop beers must be drunk young in order to best enjoy their unique and subtle mixes of field-fresh aromas.
"It's been a few years since we released a fresh-hop ale," Russo says, "so I very much look forward to getting one out to beer drinkers across the state."
Oakshire Brewing
207 Madison St.
Sun-Wed, 11 am-10 pm; Thurs-Sat, 11 am-11 pm
Elk Horn Brewery
686 E Broadway St.
Sun-Mon, 11 am-9 pm; Tues-Thurs, 11 am-10 pm; Fri-Sat, 11 am-11 pm
Crosby Hop Farm
8648 Crosby Rd. NE, Woodburn
503/982-5166
Willamette Valley Hops
18711 French Prairie Rd. NE, St. Paul
503/633-4677