Suddenly Sleepy
Ask Andre Royal about narcolepsy and you can typically expect an animated, far-reaching response.
"One, it's a rare disease. " Royal says, "Two, a lot of people can relate to it, but it's not a very popular theme. There's a lot of machismo associated with the disease, a lot of 'I'll sleep when I'm dead!' sentiment. But fact is, there are a lot of people suffering."
Given his familiarity and zeal about the topic, it's both surprising (but not really) to learn that Royal's personal life has been much about the matters under discussion. He was diagnosed with narcolepsy several years ago after multiple episodes of "falling asleep on my feet." The diagnosis launched a profoundly difficult reaction in the aspiring chef. Finding no belief or relief in the diagnosis, he slid into a prolonged period of denial. Depression consumed him. Medications failed him. He stopped driving, bounced between jobs, and struggled with homelessness and family problems.
And yet, Royal's personal crisis eventually led to him to establish a local nonprofit sleeping disorders advocacy group. His effort, he says, was inspired by hopes of forcing effective personal change in his life. He named the organization Suddenly Sleepy.
That was three years ago. Suddenly Sleepy has since endured pandemic-related obstacles and frustratingly slow recruitment of advocates. Still, enough pieces have come together that Royal is confident Suddenly Sleepy is ready to take off.
Not coincidently, one of the launch pieces is Royal's recent publication of a pair of illustrated children's books. One of the books, Little Big Bear, tells the story of a young bruin whose life changes dramatically when he unexpectedly falls asleep playing hide and seek and starting to dream about snoring question that will eventually get him caught in the game. It's an entertaining, instructive, and barely (bearly?) veiled adaptation of its author's real-life struggles.
The book's been a door opener to discussions with community members about plans for Suddenly Sleepy. It has been embraced by child educators as a tool that can be folded into school curriculum and classroom instruction. It has facilitated parent/child discussions. In Royal's view, Little Big Bear has unexplored potential as one of many creative strategies suited to building healthy awareness of sleep issues across communities.
The Mims Houses
Couple CB and Annie Mims moved to Eugene right after WWII. CB was a skilled millwright, having spent the war years working in Washington state shipyards. The couple came south expecting rich employment in Eugene's booming timber industry. Instead, they found a city with low-paying, limited work opportunities and major prohibitions against African-American residency.
The Mims were forced to adopt a squatter lifestyle in a downtown neighborhood of tents and other makeshift dwellings alongside the Willamette River—a flood-prone area largely populated by other struggling Black people.
However, in 1948, with loan money from CB's boss Joe Earley, owner of the Osborne Hotel, the Mims were able to circumvent the city's prohibitions against property ownership by Black people. They purchased a pair of dilapidated houses at 3rd Avenue and High Street that Mims family members have now occupied for more than four decades.
The Mims Houses were Eugene's first Black-owned properties. And in the mid-1980s, CB and Annie's son Willie secured historical preservation funds that enabled restoration of both buildings and placement on the National Registry.
Into the '80s, one of the Mims buildings operated as a rooming house for Black visitors in Eugene. For a time, Black people were prohibited from staying in local hotels. House guests included Louis Armstrong, Nat King Cole, Ella Fitzgerald, and a host of Len Cassanova's Black University of Oregon football recruits.
In 2016, the local office of the NAACP moved onto the Mims site. The organization helped raise a portion of the funds needed to create a memorial on the property. NAACP president, Eric Richardson describes awareness of Eugene's African American experiences through the '90s as largely neglected. "Most of the history of that Black experience was oral," he says, "with people just telling others how it was back in the day."
Willie Mims has a very personal perspective. He lived in the Mims houses, and he considers the property an important piece of Eugene's racial legacy. "It is part of the community's history, and I definitely think that it stands there as a salute to that history," he says, "but also as a reminder of what we don't want to go back to."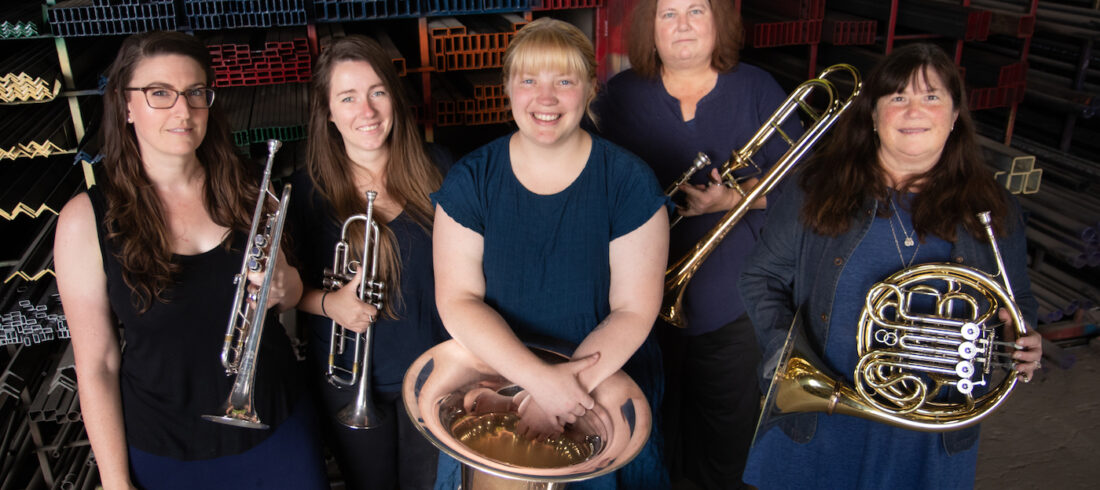 Blugene Brass
Glance back a year or so. You're a skilled musician attached to playing French horn. You observe that most of your community is twisted up in the many discomforts imposed by the COVID pandemic. Wouldn't you expect instinct and reason to suck the air out of any consideration that broaches the notion of forming a trendy new women's brass ensemble?
Apparently the West Coast has lacked such a musical entity for quite some time. Traditionally, most brass ensembles have favored more classical repertoires—not musical menus peppered with Latin spice, pop favorites, jazz standards, and yes, special classical pieces boasting clever adaptations.
Plus, a brass-blowing musical group comprised of all women performers is hardly the norm.
Never mind that it would certainly add curious notes to any project labeled as a traditional brass quintet if the venture included additional musicians such as a percussion player and vocalist. Especially if the septet called itself Blugene Brass Quintet.
Full-speed ahead into contrarian musical winds.
"It's been real therapy for us," says Sheri Pyron, French horn player and unofficial Quintet promoter. "We saw the pandemic as an opportunity, not as a hardship. It gave us the chance to get together and play consistently, to really buckle down and work hard." Per Pyron, it also afforded the ensemble a chance to establish a stable membership roster.
Pyron's half-dozen Quintet partners boast musical credentials that jointly include the Eugene Symphony, high school band leadership, UO music grad studies, Oregon Brass Society, and The Shedd. The players are Sarah Viens and Carla Lamb (trumpets), Cari Earnhardt (tuba), Shira Fadely (trombone), Julie Bounds (percussion), and Sarah B. Rove (vocalist).
The Quintet is currently looking at perhaps eight to 10 shows a year. Their performance history has included smaller venues like churches, cafes, and weddings. They've also played large church events and cemetery ceremonies. Wishes for the near future include adding winery and festival gigs.
Pyron confesses there may be some hip and nerdish undertones subtly imbedded in Blugene style. "We're very disciplined," she says. "And we're very serious about what we do. But we play really fun music!"