Harmonic Laboratory
Harmonic Laboratory is an arts feast maker—so much so, there's almost too much to talk about, or listen to, or watch. And to further complicate matters, many of the Lab's artistic endeavors reach beyond convention and are difficult to describe.
The Lab came into being a decade ago, forged in a collaboration of four creatives, all educators, all faculty members tied to the University of Oregon: Brad Garner, John Park, Jeremy Schropp, and Jon Bellona. Their collective expertise crosses boundaries incorporating dance, choreography, animation, music composition, musical performance, digital imaging, video projection mapping, audio engineering, and indeed, much more.
Over the past decade, the Lab's leaders have driven more than two dozen innovative public art performances and installations. By Lab description, the exhibits have integrated art with science and humanities "in the development of creative works that tell stories and unpack the dense cultural content around us." Most projects have fashioned collaborations between multi-disciplinary artists ranging from folk, ballet, and jazz dancers to rock bands to film makers to vocalists to string ensembles to kinetic sculptors to stage actors to electronic musicians and everyone in between.
Meanwhile, handshakes to Schropp for his role as the Lab's curator of Artistic Encounters, a venture shared with Eugene Cultural Services that brings unique arts experiences to downtown twice a week from May to October. The program showcases widely varied artists (like, for example, mask maker and effects specialist, Todd Bokich) at free outdoor workshops and performances.
What's on the current Lab menu? A couple notables.
The Winter Lights Video Art Exhibition will illuminate vacant downtown Eugene storefronts with the light, color, and the wonder of animation and video projections for much of the cold season. And in mid-January, the Lab will open an interactive gallery exhibition in the Maurie Jacobs Community Room at the Hult Center. Installations will fold technologies employed by renowned film and video performance collective, Manual Cinema, with innovative multimedia works designed by the Lab. Think shadow puppets, live actors, live music, video, and story-telling.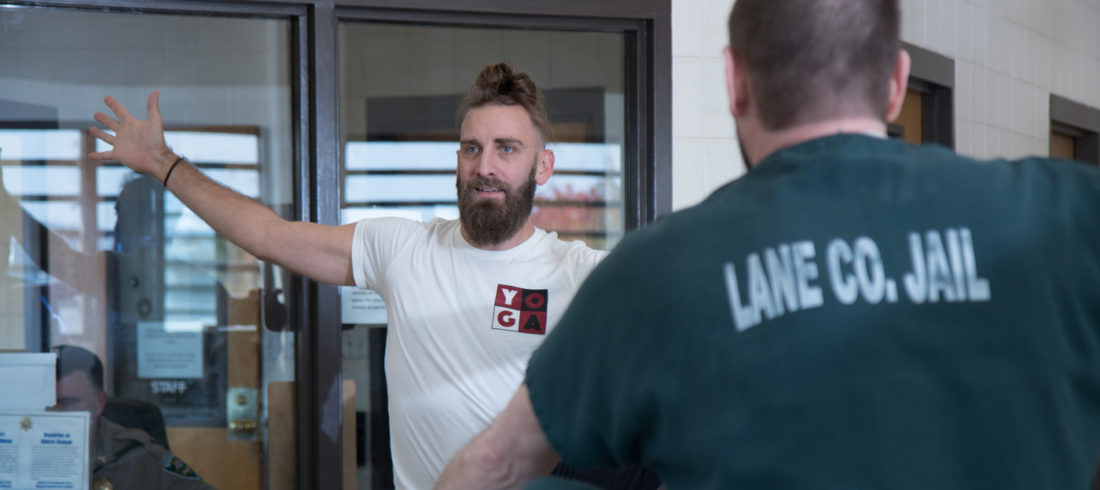 Yoga Behind Bars
Benjamin Wilkinson teaches yoga classes to Lane County Jail inmates. The inmates all live in a housing unit reserved for individuals with wide-ranging mental health challenges. Every Tuesday, nearly two dozen detainees shamble out of their single cells into the unit dayroom in quest of improved mindfulness and physical health under Wilkinson's tutelage.
Jail manager Captain Clint Riley, says that the classes—fixtures at the jail for several years—carry expectations that participants self-manage their behavior in order to stay in the yoga classes. The payoff for jail staff, he says, is that yoga instruction has produced better inmate behavior, fewer incident reports, and reduced use of staff force. For Riley, "That's more than enough for me to say this program is worth it!"
Inmates in the yoga program agree that the classes are valuable. Benefits they cite include improved self-discipline, better mental focus, stress relief, weight loss, feelings of wellbeing, and increased spirituality. They all report practicing yoga in their cells daily.
Jail yoga program capacity has doubled throughout Wilkinson's tenure. He says that early on, he employed a boot strap approach as a volunteer instructor, but his teaching approach has since evolved into a more refined, but still adaptive regular style. It's an approach typically less structured than what he uses at his Common Bond studio in Springfield.
To observe Wilkinson at work is to discern obvious notes of honesty, light sarcasm, and toughness. Clearly, he has a way of connecting to his students despite their often-common demonstrations of anger, frustration, and emotional vulnerability.
"I've learned how to improve the collective inmate group experience," Wilkinson says, "because we've grown slowly over time. Now when new members join the jail group, they move more quickly into the benefits of the overall mindfulness of the group.
"My favorite two teaching populations are the elderly and the incarcerated," Wilkinson says. "They get it! One group is willing to move in their bodies because they need it to offset the physical trauma. The others don't need all the fluff—they just want to tune in to the magic!"